Edythe Preet
1946-2020
Culinary historian, designer, columnist, and beloved friend of this magazine Edythe Preet died in late December, at 73. Owner and founder of The Heritage Kitchen, a website dedicated to the celebration of culture and the tradition of passing down recipes over the generations, Edythe brought a personal, homey touch and witty style to her bi-monthly column in Irish America, in which she explored the background of celebrated Irish traditions linked to food, drink, dress, chores, leisure, and merry-making, and never left readers without a new recipe to try, if not two.
Born in Philadelphia in 1946 to George and Ida Burns (née Musacchio), Edythe's Irish roots were firmly in County Fermanagh, where her grandmother, Margaret McCaffrey, was born. Edythe attended Philadelphia High School for Girls – known to locals as Girls' High, it was the first public high school for women in the state. Her scholarly interests and abilities earned her a full-tuition scholarship at University of Pennsylvania, from which she graduated in 1967.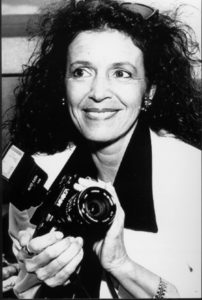 Edythe's reputation as a trailblazer and a free spirit was cemented in her wide range of travels, and fascination with cultural traditions, even outside her own heritage. In 1970, she married Gary Preet in a ceremony officiated by a Native American chief in the Hollywood Hills. In 1974, they settled in California with their daughter Jillian, and Edythe would live there the rest of her life.
She designed clothes, even opening a boutique that had her own creations on display. However, her interest in history and cultural tradition made Edythe an invaluable source of information, and the passing down of recipes and customs, often linked closely with celebrations and mythology. She started writing Sláinte for Irish America in 1994, and never missed a chance to inform readers of the wholesome joys the Irish have found in bringing people together through food and festivity. She also wrote a monthly column for the Los Angeles Times International Syndicate (Food for Thought), contributed culinary pieces to The Philadelphia Inquirer, The Oregonian, and San Jose Mercury News, and even functioned as editor-in-chief for Casual Living Magazine from 2002 to 2004. Even in retirement she kept busy, founding The Heritage Kitchen in 2004, and producing gourmet foods personally for clients until illness prevented her from doing so, and writing for Irish America.
Her cousin Lori remembers her fondly as being like a mother to her. "Edy had a universal spirit, and she loved meeting and connecting with people," Lori told Irish America. "She was brilliant, adventurous, and at times, a force to be reckoned with! Her love language was creating a food experience for you. She took you across the world through her writing and through her cooking."
Edythe is mourned by her daughter, Jillian, and a large circle of extended family and friends, including cousins Dianne Spotts and Lori Rapp, who furnished a great deal of context for this tribute. We at Irish America will miss her greatly not only as a contributor, but as a wellspring of joy and an enthusiastic bearer of the torch illuminating our past. A final Sláinte to you, a bhuanchara!
Jim Dwyer
1957-2020
Pulitzer Prize-winning journalist, compassionate storyteller, and cherished friend of this magazine Jim Dwyer died in early October, aged 63. The reporter's dedication to drawing the world's attention to injustice and tragedy offered a voice to the oppressed, initiated legislation lifting a heavy burden from the working poor, and engineered the heightened, sharpened conscience of his readers. His efforts earned him numerous accolades, including a well-deserved place on Irish America's selection of "Greatest Irish Americans of the 21st Century."
Jim was born in Manhattan to Irish immigrants from counties Kerry and Galway Philip and Mary (née Molloy) Dwyer. One of four boys, he had a Catholic education through 1979, when he obtained a B.A. in general science at Fordham University. It was there, however, that he realized his vocation lay in journalism. As he told The New York Times before his death, "I couldn't resist it. It was a joy for me to discover how much I loved reporting and writing."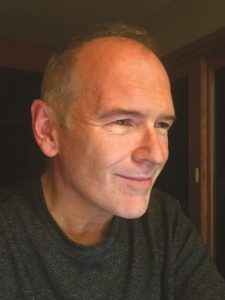 After getting his master's in journalism at Columbia University in 1980, Jim was hired by Union, New Jersey's Hudson Dispatch, moving to two other New Jersey publications in succession before taking a job at New York Newsday in 1986, where he covered the metropolitan subway system – one particular piece on a derailment for which he was awarded his first Pulitzer. He then moved on to The Daily News, then to The New York Times in 2001 as a general assignments reporter. The transfers didn't change his mission, however: using his powerful rhetoric as a weapon, he tackled issues including police brutality, wrongful convictions, dangerous and unlawful working conditions, and the handling of the coronavirus epidemic, as well as social inequality that the crisis made painfully obvious.
"He had more friends than almost anyone in journalism because he was brilliant, thoughtful and very funny," Times editor Dean Baquet and metro editor Cliff Levy wrote when they broke the news of Jim's death to his colleagues at the paper, calling him "a wondrously inventive writer and relentlessly dogged street reporter."
With a tip from Irish America's Niall O'Dowd, Jim broke the news of the I.R.A. ceasefire in 1994 in one of several columns on the state of the Troubles that helped earn him a second Pulitzer Prize. He was one of the first and few American reporters to dare travel to Northern Ireland during such a tension-fraught time.
He took on the Times' biweekly column About New York in 2007, and when asked by the Columbia Journalism Review if he had "the best job in journalism," he agreed wholeheartedly. "A big part of my job is to talk with brilliant scientists, great artists, the amazing people you meet just walking around the streets of New York," he pointed out. "What could be more fun than that?"
Jim leaves behind his wife of nearly four decades, Cathy; brothers Patrick, Phil, and John; and daughters Catherine and Maura.
Pete Hamill
1935-2020
Beloved journalist and author, treasured friend and contributor to Irish America, Pete Hamill died in early August, aged 85. Hamill's prolific body of work of novels and short stories, storied 40-year career with widely respected publications, his unfettered love of the New York where he was born and raised, and his unparalleled gift for telling a story made him a legend in his field and firmly planted him on the right side of celebrity.
The oldest of seven born to Billy and Anne (née Devlin) Hamill, two immigrants from Belfast, Pete was born in Brooklyn in 1935. Long before becoming a journalist, he launched his career in newspapers at age 11 by delivering copies of The Brooklyn Daily Eagle. After a four-year stint in the Navy and a short-lived attempt at a career in graphic design, he was hired as a reporter in 1960 by the New York Post. The job sent him all over the country and the globe – in 1966 he was enlisted as the paper's Vietnam correspondent, just one of his many postings including Lebanon, Nicaragua, and Northern Ireland. He also wrote pieces for New York Daily News, The Saturday Evening Post, New York Newsday, The Village Voice, Rolling Stone, Esquire and New York Magazine.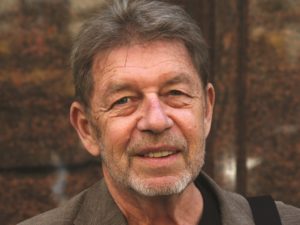 His thoughtful, descriptive, often poetic style that caught on effortlessly with his readers was less that of a deliberately distinct and objective outsider than it was the voice of someone inevitably in the know, close to the goings-on, but with a finger on the dial and an experience and keen perception that allowed him to see the bigger picture. That insight was assisted by the fact that he was very often coincidentally placed near the heart of major events. A good friend of Robert F. Kennedy, he was on the scene when the senator was fatally shot in 1968 and did not hesitate to help neutralize the assassin; he was mere blocks away from the World Trade Center when it was attacked on 9 / 11, and reported on the story for the Daily News. His was a voice that people had come to count on, that forged a bond with his loyal readers to the end of his life, and paid deference to the working-class New York of his birth. "If the pavement of this city could speak, it would sound like Pete Hamill," confirmed New York Times columnist Dan Barry in his tribute when Pete was presented with the Irish American Writers and Artists Lifetime Achievement Award in 2014.
Upon his induction into the Irish America Hall of Fame in 2016, Pete attributed his passion for writing and knowledge to his Irish parents and heritage. "They were giants," he said in his remarks, "and I rode in on their shoulders and the shoulders of many other people, who gave me my craft, my life, the books I read, and the books I wrote."
Pete is survived by his wife, Fukiko Aoki, siblings Kathleen, Denis, and Brian, daughters Deirdre and Adrienne, and a grandson. His brother John, a writer himself and decorated Vietnam War combat medic, died just a month later.
Patrick Quinn
1983-2020
ALS activist and fundraiser Patrick Quinn died in late November, aged 37. After his own diagnosis with the degenerative motor neuron disease in 2013, Quinn dedicated his life to spreading awareness and the pursuit of a cure with widely received campaigns – the best known being the Ice Bucket Challenge.
Born and raised in Yonkers, New York, Quinn was the son of another Patrick, an immigrant from County Down, and Rosemary, a fourth-generation Irish American with roots in counties Clare, and Westmeath. Quinn was a strong, passionate athlete in high school at Iona Prep, and then went on to Iona College in New Rochelle. He was diagnosed with ALS – better known as Lou Gehrig's disease, which as yet has no cure – at age 30.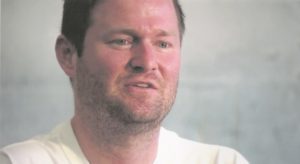 Taking the horrific prognosis in stride, Quinn started his own awareness website, Quinn4thewin, to share his experience and launch fundraisers statewide. He befriended Peter Frates, who was diagnosed in 2012, and together they hosted events and challenges to raise money for research. The Ice Bucket Challenge gathered enough steam to raise $115 million in the U.S. – $220 million internationally.
At the fifth anniversary celebration of the Ice Bucket Challenge, Quinn took the stage. "I'm not losing. I also don't plan on just living," he said. "I plan on continuing to inspire the world to find their smile. Life is too amazing for me to let this disease get in the way. What makes one truly alive is not just living. It's the way in which we live."
When he was profiled for the Irish America Hall of Fame in 2015, he credited his heritage for that steely determination. "I was put on this earth to make a difference in the course of such a horrific disease," he told us. "And I also believe my tough Irish blood has something to do with that."
Quinn was predeceased by his friend and Ice Bucket Challenge co-promoter, Pete Frates, who died in 2019. He leaves behind his parents Rosemary and Patrick, brother Dan, and half-brother Scott.
Regis Philpin
1931-2020
Iconic talk show host and six-time Daytime Emmy Award-winner Regis Philbin died in July, aged 88. A 60-year career in television earned him a number of close friendships, the affection of countless viewers across the country, and a Guinness World Record for most hours spent in front of a television camera – clearing 16,700.
Born and raised in the Bronx in New York by parents Frank and Florence, Philbin took part in every Saint Patrick's Day parade while a student at Cardinal Hayes High School. He cherished his Irish roots, coming from his father's father, an immigrant from County Mayo. That connection to his heritage only strengthened when he attended Notre Dame University, where an affection for the Fighting Irish and strong attachment to his Catholic faith took firm root and never let go – his funeral service and burial were held by the school on July 29.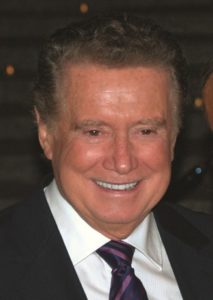 After graduating in 1953, Philbin served for two years in the U.S. Navy. His first job in television was as a page on The Tonight Show, but he made his big break on The Joey
Bishop Show as Bishop's sidekick. When Bing Crosby was a guest on the show, Bishop asked the singer to perform Irish lullaby "Toora Loora Loora" for his starstruck fan.
Philbin joined WABC's The Morning Show in 1983, and was paired with famed co-host Kathie Lee Gifford in 1985. When she left in 2001, he hosted the show alone, during which interim he won a Daytime Emmy before being partnered with Kelly Ripa in 2001. He retired in 2011.
Philbin's former cohost Kathie Lee Gifford posted her own tribute. "I smile knowing somewhere in Heaven, at this very moment, he's making someone laugh," she wrote. "There has never been anyone like him. And there will never be."
Philbin was predeceased by his brother Frank and son Danny, who died in 2007 and 2014, respectively. He leaves behind his wife and occasional co-host, Joy, daughters Amy, Joanna, and Jennifer, and four grandchildren.
Helen Reddy
1941-2020
Celebrated Australian-American singer and activist Helen Reddy died in late September, aged 78. Best known for the empowering feminist anthem "I Am Woman," Reddy won the 1973 Grammy for Best Female Pop Vocal Performance, and was the first Australian singer to reach number one on the U.S. charts.
Born in 1941 in Melbourne, Australia to parents Max and Stella, Reddy's Irish roots go back four generations to great-great-grandfather Edward Reddy, born in Dublin. She got an early start as a performer, taking part in vaudeville shows on the Australian circuit with her parents from the age of four. She took what turned out to be a temporary leave of absence from show business at age 12, choosing to live with her aunt Nell (whose given name was also Helen). An early, brief marriage at age 20 and the birth of her daughter Traci led her to relaunch her career as a performer.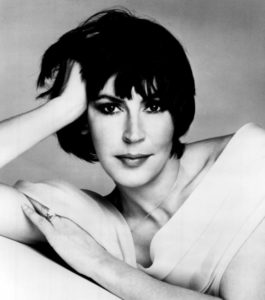 The release of 1971's "I Am Woman" saw a slow but steady climb to the top of the Billboard Hot 100, largely fueled by individual call-in requests. Reddy saw the song's success as a matter of timing. "There were a lot of songs on the radio about being weak and being dainty and all those sort of things," she told the Chicago Tribune in 2015. "All the women in my family, they were strong women. They worked. They lived through the Depression and a world war, and they were just strong women. I certainly didn't see myself as being dainty."
After becoming a U.S. citizen, Reddy was appointed by Governor Jerry Brown to the California Department of Parks and Recreation in 1977, where she served until 1980. She had a starring voice role in the 1977 Disney film Pete's Dragon, for which her performance of "Candle on the Water" garnered an Oscar nomination. Though diagnosed with dementia in 2015, she still made it to the 2017 inaugural Women's March, where she performed "I Am Woman" as a thrilled crowd clapped and sang along.
Reddy is survived by her daughter Traci Wald Donat, son Jordan Sommers, half sister and Australian actress and singer Toni Lamond, and granddaughter Lily Donat, who performs a song in I Am Woman, the Reddy biopic released in September.
Jean Kennedy Smith
1928-2020
Philanthropist, advocate for the disabled and former U.S. ambassador to Ireland Jean Kennedy Smith died in mid-June, at age 92. The longest-lived of her generation of the Kennedy political dynasty, Kennedy Smith offered a glimpse of steel backbone behind a veneer of what many referred to as shyness in her career as a diplomat.
Kennedy Smith was born in Brookline, Massachusetts, the eighth of nine offspring of financial and political legend Joe Kennedy and Rose Fitzgerald Kennedy. Her family's roots in New Ross, County Wexford and several visits to Ireland growing up fueled an interest in the country's state of affairs early on. As the more guarded, reserved among her siblings at a time when women were not encouraged to take an active role in politics, it was some years before she embraced the limelight that her family attracted. But her love for them knew no bounds, and she was an enthusiastic participant behind the scenes in all of her brother John's campaigns for office. She founded Very Special Arts in 1974 to bring programs dedicated to creative pursuits including music, dance, and writing to the physically and mentally disabled on an international level.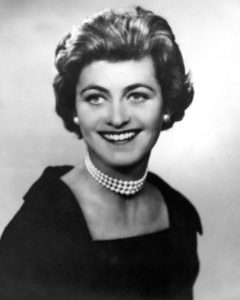 She set a shining precedent for women across the country as well as her in own family when, at age 65, she was named the U.S. ambassador to Ireland in 1993, after visiting Dublin and discussing the possibility with her brother, Edward, who asked President Clinton for her appointment. She defied policy by visiting Northern Ireland, which was British territory, and was the deciding factor in obtaining crucial U.S. visas for Sinn Féin's Gerry Adams and Joe Cahill in 1994, enabling an I.R.A. ceasefire. Though in the midst of an extremely precarious situation, she blossomed in her position, and told Irish America in an interview, "Next to President of the United States, Ambassador to Ireland is surely one of the best jobs an Irish American can hold."
Kennedy Smith resigned the position a few months after the signing of the Good Friday Agreement in 1998. That year, she was recognized as an honorary Irish citizen by President Mary McAleese, and at the ceremony Taoiseach Bernie Ahern offered high praise, saying, "You have helped bring about a better life for everyone throughout Ireland." She was awarded the Tipperary Peace Prize in 2009, and the Presidential Medal of Freedom in 2011.
Kennedy Smith is mourned by daughters Amanda and Kym, sons Stephen, Jr. and William, and six grandchildren.♦