Theater of Comedy
The Dublin-based Barabbas…the Company hit the United States with their innovative production of The Whiteheaded Boy, an Irish repertory classic, in September and October. The whirlwind tour took in dates in five cities, including the Kennedy Center in Washington, D.C. and the New Wave Festival at the Brooklyn Academy of Music. Readers who didn't manage to catch them should take note of the name: they'll be back and they're well worth catching.
Barabbas co-founders Veronica Coburn, Raymond Keane and Mikel Murfi play eleven of the production's twelve characters, with Cork actor Louis Lovett in the title role. Once described by the Irish Times as a "clown troupe," the trio employ a very physical and riotously funny performing style, which kept audiences in fits of laughter throughout.
Explaining the company's loose philosophy, Coburn noted: "We know what it is about theater that excites us. We know what it is we like to do…There would be no point in us taking a play we could just do an ordinary production of, because it's not the sort of thing that would interest us — and there are other groups doing it."

Next up for the tireless threesome? They're taking The Whiteheaded Boy to New Zealand next March, and are hoping that a commission from Australia may materialize in the meantime. Next year sees them back on stage with a play written especially for them by author John Banville, and in 2001 they're scheduled to perform a co-production with Dublin's Abbey Theater.
Contemporary Irish Art at Boston College
The McMullen Museum of Art at Boston College will host the debut of "Irish Art Now: From the Poetic to the Political," a major traveling exhibition that will be on display at the museum through December 12. Drawn primarily from the collection of the Irish Museum of Modern Art (IMMA) in Dublin, the exhibition comprises 40 works of art by 13 Irish artists and includes paintings, installations, photography and video. The show is curated by Declan McGonagle, IMMA founding director.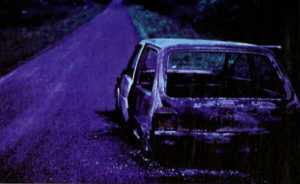 "Irish Art Now" speaks to the profound changes – political, social, economic and cultural – Ireland had undergone over the past ten years. In response to these changes, Ireland's artists have begun to reexamine and redefine traditional relationships between male and female, urban and rural, North and South, and the past and present.
Among the artists in the exhibition are Dorothy Cross, Alice Maher, Kathy Prendergast, Paul Seawright and Willie Doherty.♦