Sligoman and famous restaurateur James "Jimmy" Neary passed away on October 1st at the age of 91. Neary made a name for himself among Manhattan's elite soon after immigrating in 1954. He opened his namesake "Neary's" on 57th Street near First Avenue after having earned his stripes as a Manhattan bartender in PJ Moriarty's – where he met his late wife, Eileen.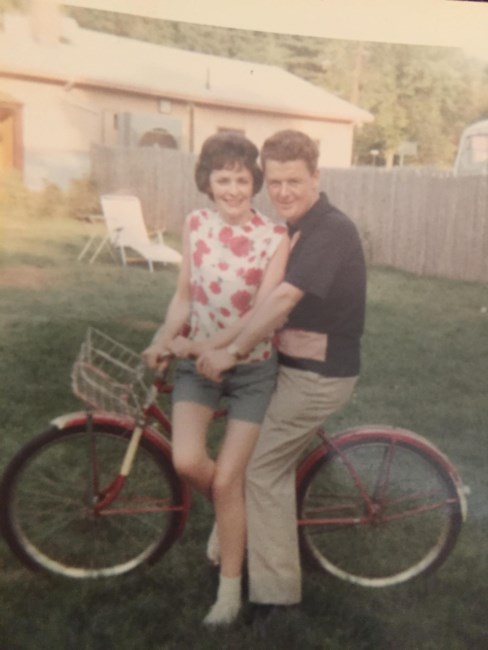 Neary's opened on St. Patrick's Day in 1967 and soon established itself as a high-end Irish eatery as many famous faces became regulars. Included in the roster of loyal clientele is Mayor Ed Koch, Ted Kennedy, Mayor Rudolph Guiliani, Kathy Lee Gifford and New York City police commissioners Ray Kelly and Bill Brattan, to name but a few.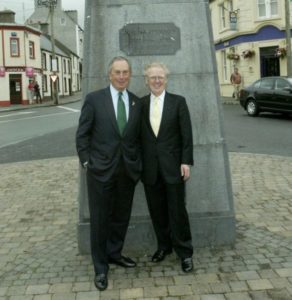 Mayor Bloomberg became so close with the Tubbercurry native that he invited Neary to accompany him in 2006 on a trip to Co. Sligo. After a ceremony to dedicate a memorial to the Fighting 69th and the victims of 9/11, Bloomberg surprised Neary with a trip to his beloved hometown. The two men caused quite a stir as they pulled onto the streets of Tubbercurry in a parade of black SUVs. It was difficult to know which man was considered the bigger name in the small Sligo town.
Neary even featured in the works of Mary Higgins Clark, another Neary's regular. Clark included her favorite publican in many of her suspense novels, including one where he helps solve a murder. According to The New York Times, these works can be found framed on the wall of Neary's though Jimmy himself claimed he was "never a reader".
Jimmy spent every day in Neary's, greeting customers in his suit, complete with a Kelly green tie or, on occasion, an American-flag tie. He commuted from New Jersey after an early morning of watching the news, visiting his local church and the graveyard where his beloved Eileen was laid to rest in 2007. The couple had 4 children together: Una, Patrick, Ann Marie and Eileen. Neary is also survived by his eight grandchildren.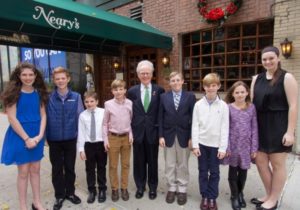 Jimmy Neary's funeral mass was held on October 9th at St. Patrick's Cathedral. The mass was officiated by Neary's longtime friend Cardinal Timothy Dolan with Mayor Bloomberg delivering a touching and humorous eulogy.
Daughter Una told The New York Times how often a new face would come through the door and enquire if "Séamus Neary" was in. If the use of his Irish name or the customer's accent itself did not give it away they would often explain, "I used to know him back in Ireland long ago before he was famous."
Hoda Kotb posted a tribute to her late friend Neary to her Instagram account. Kotb captioned a photo of Neary "Jimmy Neary…always smiling. RIP, sweet friend. We will miss you."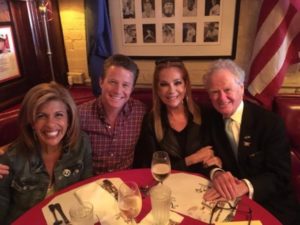 Neary had recently celebrated his 91st birthday last month with the restaurant's annual "surprise" party where all the local patrons packed the establishment to spend the occasion with the forever smiling Neary. 
 Neary began working as a bar apprentice at the age of 15 in Tubbercurry and was soon able to purchase a ticket to the United States with money won from a lucky hand in poker and further invested into the most valuable commodity in the west of Ireland at the time: sheep. His mother's friend, who had already emigrated, offered to sponsor Neary and it wasn't long before he was reunited with his older brother, John, at the docks of the Big Apple.
After a stint in the United States Army and with the experience of working as a NYC porter under his belt, Neary and his friend Brian Mulligan opened their dream restaurant after saving the $500 deposit. According to daughter Ann Marie's eulogy, it wasn't long before her father had coined 57th Street "Billionaire's Boulevard."
Neary began to spend 7 days a week at the spot after Mulligan's death and only closed the "canteen for New York's power brokers", as dubbed by The New York Times, on Christmas Day. His purchase of the building that housed Neary's allowed the establishment to survive the Covid-19 Pandemic that saw the demise of many iconic NYC institutions.
Despite the countless hours spent walking the floors and weaving through the iconic red leather banquettes, Una said her father never felt like he worked a day in his life.
"What he did is what he loved, and he just loved people. It was all about people for him," she told the New York Post. "He would say he didn't care if the restaurant ever made a penny, he just wanted to be around people."
And the feeling was always mutual. Sure, customers may have come for the famous lamb chops or corned beef and cabbage, but they always returned for the ever-smiling, cheery banter of Jimmy Neary.♦
To watch Jimmy Neary's funeral mass in its entirety click here. Poignant moments from the funeral mass include:
27:00 Cardinal Dolan's Homily
56:35 Irish Singer, Cathy Maguire sings Lady of Knock (video above)
1:03 Jimmy's daughter, Ann Marie gives a wonderful eulogy
1:17:15 Eulogy by Jimmy's daughter Una's partner, Tom Riggs
1:26 Bloomberg delivers a very personal speech (video above)
1:42 Cathy Maguire sings the Irish National Anthem and God Bless America