Patrick J. McGovern
Chairman of the Board
International Data Group
Revenue: $2.4 billion
Employees: 12,000
Patrick McGovern can trace his interest in computers all the way back to his high school years when, he says, he "became fascinated by the concept." With his paper-route money McGovern built a computer that played an unbeatable game of tictac-toe — a project which ultimately won him a full scholarship to the prestigious Massachusetts Institute of Technology.
While still an undergraduate at M1T, McGovern was appointed associate editor of Computers and Automation, the first computer magazine in the U.S., and he became associate publisher in 1959 after his graduation.
By 1964, McGovern had formed International Data Corporation (IDC) a research group, and in 1967, he launched Computerworld newspaper, which became the flagship of the organization's publishing interests. He then went on to form IDG World Expo, and the three divisions — publishing, research and expositions -now comprise International Data Group, the world's leader in information services and technology.
A second-generation Irish American, with grandparents from Counties Mayo and Cavan, McGovern is married with four children.
Judy McGrath
President
MTV: Music Television/MTV2
Revenue: N/A
Employees: N/A
Under Judy McGrath's direction, MTV has grown from a maverick cable channel to a global brand that has come to symbolize a style, an attitude and a vibrant musical landscape. From the beginning she has helped MTV bring the creativity of music to television, developing such programs and events as the Video Music Awards, the MTV Movie Awards, MTV Unplugged and The Real World.
Under her creative leadership, MTV broke into political news coverage with its award-winning 1992 "Choose or Lose" political awareness campaign; tackled the issue of tolerance around the world with "Free Your Mind;" and launched "Fight For Your Rights: Take a Stand Against Violence," an Emmy award-winning pro-social campaign.
McGrath joined MTV in 1981 as a copywriter in on-air promotions. She moved up the ranks and became editorial director, and then executive vice president, creative director and most recently co-president and creative director.
Before joining the company, McGrath held positions as copy chief of Glamour magazine, senior writer for Mademoiselle magazine, and copywriter for national advertising in Philadelphia. She holds a B.A. in English from Cedar Crest College, Allentown, Pennsylvania.
McGrath's commitment to building a more welcoming world for young people goes beyond MTV. She sits on the boards of LIFEbeat: The Music Industry Fights AIDS, People for the American Way, the New York City Ballet and Rock the Vote.
Martin G. McGuinn
Chairman &CEO
Mellon Bank Corporation
Revenue: $5.8 billion
Employees: 26,500
Martin G. McGuinn is chairman and chief executive officer of Mellon Bank Corporation. He heads Mellon's executive management group, which sets corporate strategies and policies, and is responsible for overseeing day-to-day operations. He became chairman and CEO of Mellon Bank Corporation on January 1, 1999.
Prior to this, McGuinn was responsible for Mellon's retail financial services, cash management, mortgage banking and real estate finance businesses as well as many of Mellon's corporate support units. He joined Mellon in 1981. Mellon Bank Corporation has a subsidiary in Dublin.
A native of Philadelphia, McGuinn earned both his bachelor's degree and Juris Doctor from Villanova University. He then served for three years in the U.S. Marine Corps as a captain; his tenure included a tour in Vietnam.
McGuinn serves as a director of the U.S.-Japan Business Council, Inc.; MasterCard International; and the Allegheny Conference on Community Development, to name a few.
He also serves as chairman of the board of the Historical Society of Western Pennsylvania and is a trustee of the Carnegie Museums of Pittsburgh. A second-generation Irish American, McGuinn states, "My Irish heritage is a wonderful foundation and places me in the company of many great people." His father's family is from Sligo and Mayo, and his mother's is from County Cork. He is married with two sons.
Terence F. McGuirk
Chairman &CEO
Turner Broadcasting System, Inc.
Revenue: $3.3 billion
Employees: 10,000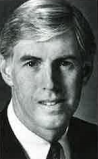 As chairman and chief executive officer of Turner Broadcasting System, Inc., (TBS, Inc.), a position he has held since the October 1996 merger with parent company, Time Warner Inc., Terence McGuirk oversees all Turner entertainment networks worldwide. Among these networks are TBS Superstation, Turner Network Television (TNT), Turner Classic Movies (TCM), and Cartoon Network.
McGuirk also oversees Turner's four sports groups — World Championship Wrestling (WCW), the Atlanta Braves, the Atlanta Hawks and Atlanta's new hockey team the Thrashers — and has financial responsibility for all news (CNN) and entertainment networks worldwide.
McGuirk joined TBS, Inc. in 1972 as an account executive and has served in numerous executive roles. He has been instrumental in launching every Turner network, setting up international sales operations, and airing the Olympic Games on cable television.
In July 1987 he was elected to the board of directors. He is also on the board of the NCTA satellite network programming committee and the Walter F. Kaitz Foundation.
A native of Bayshore, New York, he is a graduate of Portsmouth Abbey School and holds a bachelor's degree in American history. He is chairman of the board of trustees of the Westminster Schools and sits on the board of trustees of the Piedmont Hospital Medical Center. A third-generation Irish American, McGuirk is married with four children.♦