Irish Minister on Trade Promotion Visit to U.S.
The United States welcomed its first foreign visitors after 600 days of closed borders, and the Irish government was quick to reconnect with its diaspora on the East Coast.
Robert Troy, the Irish minister for Trade Promotion was in New York to meet with Irish companies doing business in the U.S., and to show support for Irish and American companies working in partnership together.
During his trip he met with sustainable construction companies, fintech firms, cybersecurity specialists, and healthcare workers, and he renewed the strategic partnership between Enterprise Ireland, Ireland's trade and innovation agency, and Northwell Health.
Northwell, whose President and CEO Michael Dowling is from Limerick, is the largest healthcare provider in New York City, providing healthcare to over 7 million people. And its access to key clinical and opinion leaders makes it a key player in assisting in the development and commercialization of new medical technologies and enabling joint ventures between U.S. and Irish companies.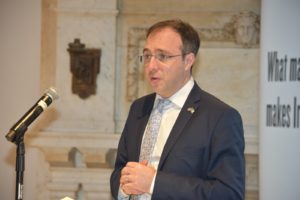 "This trade mission serves as a reminder that innovation is only possible through collaboration," said Minister Troy, "Enterprise Ireland and their Irish client companies perfectly embody this through their ability to develop mutually beneficial partnerships with New York companies," he continued.
The Minister also high-lighted Ireland's contributions to digitalization and climate impact. Roundtable discussions on these subjects were held at the Irish Consulate Headquarters in New York. Irish companies that took part included Edgescan, which specializes in cybersecurity, as well as fintech companies Global Shares, Wayflyer and Altada. A meeting was also held on sustainability in the construction industry at the Building Energy Exchange. In attendance were EIDA Solutions and APA Façade, which is working on a LEED (Leadership in Energy and Environmental Design) Platinum mixed use project. In order to become LEED certified at any of the four levels, a building must obtain points (up to 100 are available) in the following categories: water efficiency, energy & atmosphere, materials & resources, indoor environmental quality, and sustainability.
The fact that Ireland increased its Foreign Direct Investment (FDI) during the pandemic and is ranked #9 in the U.S. economy, at $240BN in 2021, was also the part of the Minister's message, and Leo Clancy Enterprise Ireland's CEO was happy to elaborate.
"Ireland's continued contribution to FDI in the United States highlights the depth of the economic ties between both countries," said Mr. Clancy. "In the last two years, over 125 Irish owned operations have been established in the US – we recognize that times of crisis are when we need to come together, and the relationship between both countries continues to be hugely important in ensuring the flow of innovation and mutually vibrant economic growth."
Minister Troy covered a lot of ground in his five-day trade and investment trip, which included meetings in Toronto, Montréal, Boston and New York.
Shalane Flanagan completes 6th Marathon in 42 Days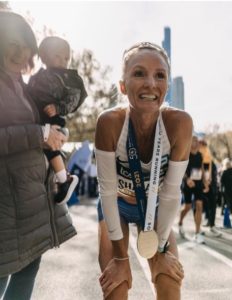 And speaking of covering a lot of ground…
Irish America would like to offer our congratulations to our 2011 Top 100 honoree Shalane Flanagan who completed the New York City Marathon with an impressive time of 2:33:32.
The event marked the sixth marathon for Flanagan in 42 days, a feat which she has dubbed "Project Eclipse". She had also competed in the Berlin Marathon, London Marathon, Chicago Marathon and Boston Marathon. Flanagan also participated remotely in the Tokyo Marathon as it has been postponed until March 2022.
In an Instagram post after the crossing the finish line, Flanagan wrote "For the past seven weeks, I have fallen back in love with running, with racing, and with the marathon…but nothing could have prepared me for what I felt today. It was my fastest. It was my funnest. It was my favorite. Which is exactly what I wanted. Delivering on all of your goals in a marathon is never guaranteed…but today, I made myself proud."
The four-time Olympian, who won the Women's New York City Marathon in 2017, retired from the sport two years ago. She spent the early months of the pandemic rehabbing from double knee surgeries before announcing plans to complete the six major marathons in September.
Flanagan's time on Sunday was the best out of the six races this year, no wonder she loves New York!
Jockey Rachael Blackmore to Receive Irish Racing Hero Award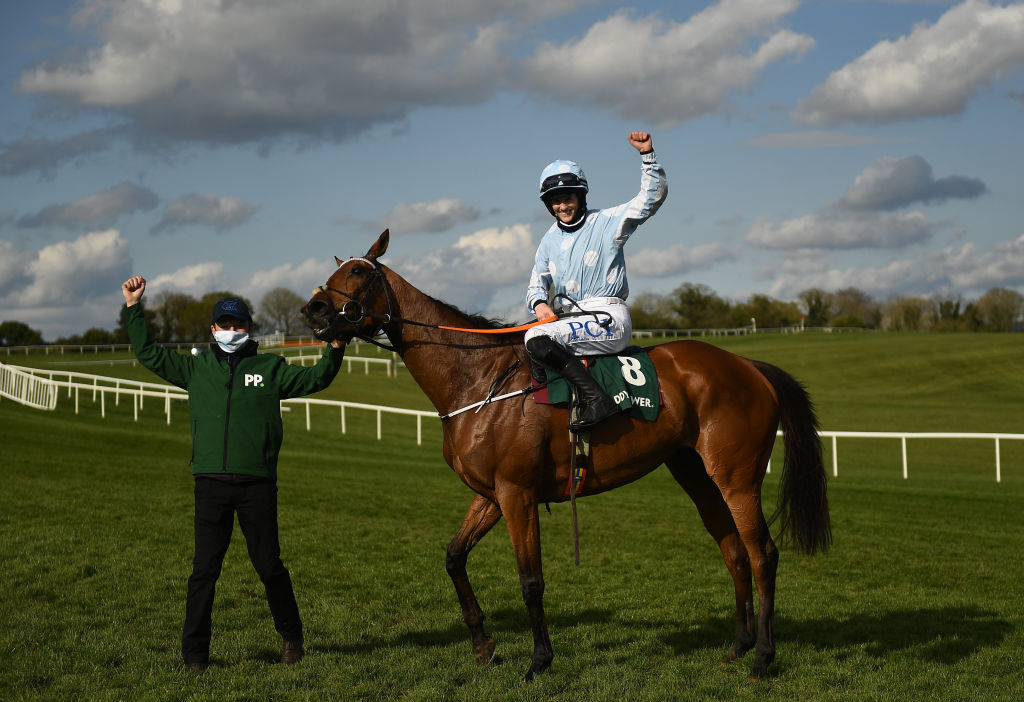 From one sporting sensation to another, Irish jockey Rachael Blackmore will add a HRI (Horse Racing Ireland) award to her collection next month. The Tipperary native already has a Grand National title under her belt as well being the first woman to claim the Leading Jockey award at Cheltenham Festival.
Rachael was also the first female jockey to ride the winner of the Aintree Grand National earlier this year.
"Rachael's achievements on two of jump racing's biggest stages are truly historic," Suzanne Eade, interim CEO of Horse Racing Ireland told The Irish Post. "Rachael has become more than a role model; she is a true icon of our wonderful sport and a most fitting winner of the 2021 Irish Racing Hero Award."
The HRI awards will take place in early December.
New 72 Mile Pilgrimage Opens in Ireland
And just down the road from Rachael's hometown of Killenaule a, new 72-mile pilgrimage has opened in Ireland's hidden heartlands.
St. Declan's Way follows the traditional route from Cashel in County Tipperary to Ardmore on the coast of Waterford, the same pilgrim path its namesake took in the fifth century to meet St. Patrick.
The trail takes a minimum of five days to complete and includes various historic landmarks along the way. Beginning at the Rock of Cashel, which was once the seat of the kings of Munster, the route also features Cahir Castle, a thirteenth century stronghold featured in many movies and TV productions, most recently The Last Duel.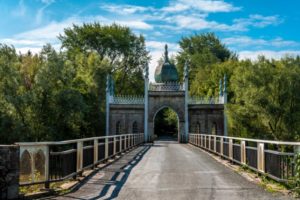 A new hostel has been opened at Mount Melleray in County Waterford, Ireland's oldest living monastery. The hostel will cater to walkers along St. Declan's Way keeping in tradition with monks welcoming pilgrims and offering them a place to rest.
On the banks of the River Blackwater walkers can visit the historic town of Lismore. The Waterford town offers various heritage sites such as a medieval cathedral and a castle with grounds open to the public.
St. Declan's Way then passes over the Dromana Bridge and through a beautiful Hindu Gothic gate dating from around 1830, the only of its kind in Ireland.
A few hours after passing through the historic gate walkers will begin to smell the sea air of Ireland's oldest Christian settlement Ardmore where they will be able to rest and take in the spectacular views.
An old Irish saying goes 'Your feet will bring you to where your heart is' and St. Declan's Way will do just that!
Tipperary Named One of the Top Places to Visit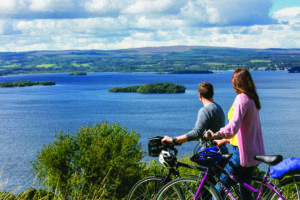 And if the historic St. Declan's Way isn't enough to convince you to visit Tipperary, the county has just been named on of the top places to visit in the world by Condé Nast Traveller magazine.
The magazine has branded the Premiere County as a haven for foodies where "a cornucopia of goodies can be gobbled up."
Tipperary features alongside the likes of Birmingham, Jersey and Serbia on the list and is highlighted for the "pleasures of an unfathomably creamy wedge of Cashel Blue."
Con Traas, owner of The Apple Farm in Tipp and horticulture member of Bord Bia, told The Pat Kenny Show the "hidden gem" county was long known for the famous song It's a Long Way to Tipperary but thanks to the magazine the food culture of the county has now been given the spotlight.
"From our point of view, we have food network here in the county…that's a big deal for us right now."
So be sure to pack plenty of Tipperary goods for a picnic along the pilgrimage!
Irish Sustainable Craft Company Exhibits at Javitts Center
Another local Irish treasure is the high-quality wool the island produces.
Irish-owned Rhyme Studio will be exhibiting its wool products at Wanted Design New York City 2021 this weekend.
Founded by Dublin native Claire McGovern, Rhyme is a multi-disciplinary interior design, art advisory and design manufacturer based in New York City. The debut company design collection consists of sculptural Irish wool rugs and tapestries that serve as customizable and functional floor art or wall mounted tapestry.
Rhyme studio designs are composed of traditionally spun high-quality wool from the west coast of Ireland. Fleece is sent for processing and spinning to Kerry Woolen Mills, one of the last surviving traditional woolen mills in Ireland founded in the seventeenth century. It is then dyed by hand in Cushendale Woolen Mills in Kilkenny before it is tufted into design by Rhyme's master craftsman.
At the Wanted Design event, Ms. McGovern will share the stage with other sustainable design experts for a discussion of Wellness & Healthy materials at 2.30pm on November 14th.
Wanted Design/ ICFF will take place at the Javitts Center and is open to the public. To register click here.
Belfast Awarded UNESCO City of Music Title
A different type of art is being celebrated in Northern Ireland as Belfast has been awarded the coveted UNESCO (United Nations Educational Scientific and Cultural Organization) City of Music status, becoming the only city on the Emerald Isle to receive the honor.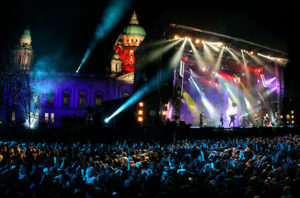 59 cities were chosen to form the prestigious UNESCO Creative Cities Network, including two other UK destinations, Liverpool and Glasgow.
Belfast home-grown musicians Gary Lightbody of Snow Patrol and Emmy-nominated composer Hannah Peel have been appointed official Belfast Music patrons.
As part of UNESCO's City of Music programme and the wider Creative Cities Network, Belfast will deliver a series of major music events over the next few years.
The events will aim to build an infrastructure to further support music creators as well as seeing music woven into public spaces in Belfast.
As a sister city of Nashville, Belfast has been nurturing musical talents for decades including Thin Lizzy, The Undertones, Van Morrison as well as new talent from the likes of Two Door Cinema Club, Foy Vance and Ryan McMullen.
The capital of Northern Ireland also plays host to various live music events, including the MTV European Music Awards in 2011. It also offers various music-inspired tours and experiences such as the Belfast Traditional Music Trail, the Oh Yeah Music Centre, the EastSide Visitor Centre and a self-guided Van Morrison Trail.
Tributes Paid to the Late Austin Currie
Northern Ireland has not only produced music legends but also political trailblazers. Tributes have been paid to the 'founding father' of the Irish civil rights movement, Austin Currie, who died this week, aged 82.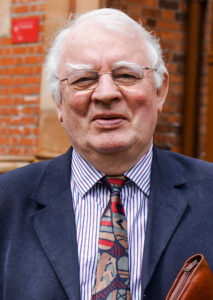 Mr. Currie helped to find the nationalist SDLP (Socialist Democatic and Labour Party) and was elected to parliament on both sides of the Irish border. However, it is arguably his 1968 protest of the allocation of council houses to only Protestant families in his native Tyrone that made Mr. Currie a household name.
On 20 June 1968, Mr. Currie squatted at a Kinnard Park house which was given to a Unionist secretary over the many Catholic working-class families also awaiting accommodation in Caledon at the time. All 14 council houses were allocated to Protestants and Mr. Currie's protest of this inequality was later accepted by the Nationalist Party. This became one of the catalysts to the civil rights movement in Northern Ireland.
Tánaiste Leo Varadkar remembered Mr. Currie as "one of the most outstanding politicians of his generation" while Taoiseach Micheál Martin said "he did so much to help people, as a peacemaker and in politics, serving in the Dáil and as a Minister of State with distinction."
SDLP leader Colum Eastwood called Mr. Currie a 'titan' of the civil rights movement and credited his "radical activism" with the creation of the party.
Following the deaths of Seamus Mallon and John Hume in January and August 2020, respectively, Mr. Currie was the last surviving founder of the SDLP.
Mr. Currie is survived by his children Estelle, Caitriona, Dualta, Austin and Emer, their partners and 13 grandchildren.♦