"It's the holiday season…"
So sings Andy Williams – as have many other crooners – in the classic Christmas song "Happy Holidays."
For many Irish Americans, that "holiday season" means it's time for our annual trip to Macy's in New York City where, in 1947, Irish Hollywood legend Maureen O'Hara portrayed a busy holiday parade planner, in the beloved Yuletide flick Miracle on 34th Street.
But there's a whole lot more to Irish American Christmas movies than Maureen's Miracle.
From the silent era right up to the Hallmark Channel's Christmas at Castle Hart (set and filmed in Clare), Irish talent has been at the center of celebrated holiday entertainment for nearly a century.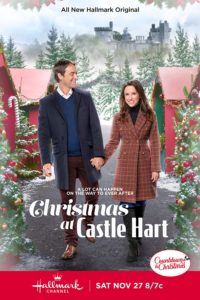 Back in 1938, it was an Irishman named Darcy Corrigan who paid a nocturnal visit to Ebenzer Scrooge (Reginald Owen) as the ghost of Christmas future.
Corrigan had a colorful life, to say the least.  Born in 1870, he was a trained lawyer who worked with representatives in Ireland's parliament.
Corrigan also appeared as a blind man in John Ford's 1935 adaptation of Liam O'Flaherty's story The Informer.
As holiday luck would have it, another Irish actor – Michael J. Dolan – portrayed another of Dickens' famous ghosts (from the past) in the 1951 version of A Christmas Carol, with Alastair Sim as Scrooge.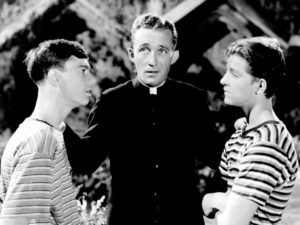 Arguably, the most iconic Irish American Christmas films are those featuring a multi-talented fellow named Harry Crosby – better known as Bing.
The wildly popular crooner also proved to be box office gold when he portrayed Father Chuck O'Malley in 1944's Going My Way, and in The Bells of St. Mary's a year later.
Also starring Barry Fitzgerald as an older, more traditional Irish-born priest, O'Malley is a breath of new air in the rough-and-tumble parish, which would have been all too familiar to generations of 20th Century urban Irish Catholics.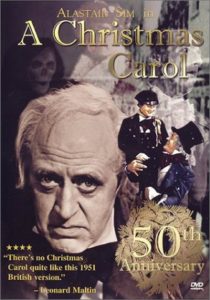 At one point in Going My Way, O'Malley is introduced to several Irish parishioners, asking them casually if they still speak any Gaelic. All in all, these two films are not only holiday favorites, but genuine time capsules of Irish American life.
Arguably the greatest Christmas movie ever came out right after Crosby's pair – It's a Wonderful Life, in 1946.
Jimmy Stewart and the Bailey family are oddly un-ethnic (as opposed to the Italian immigrant Santinis), even though Uncle Billy – the great Thomas Mitchell, Scarlett O'Hara's Irish immigrant Dad in Gone With the Wind – sings "My Wild Irish Rose."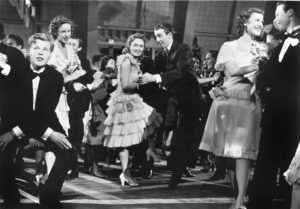 It is George Bailey's guardian angel Clarence Oddboddy who is the movie's strongest Irish link. Both of actor Henry Travers' parents were born in Ireland.
Though not a film, another great holiday story not to be missed from the black-and-white era is Irish American Art Carney's touching turn as an alcoholic Santa Claus in the Twilight Zone Christmas episode "Night of the Meek." This takes place in a gritty city of homeless men and lonely people – a "strange kind of North Pole … one part, the wondrous spirit of Christmas, and one part, magic," as narrator Rod Serling put it.
Irish links remain strong in more recent holiday favorites.
There is Scrooged, starring proud Chicago Irish American Bill Murray – and with a screenplay by Michael O'Donoghue.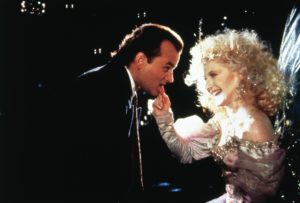 Liam Neeson, meanwhile, melts an awful lot of snow with his turn in the 2003 holiday drama-comedy Love, Actually.
A few years back, meanwhile, Netflix turned to Frank McCourt, in its effort to begin what may become a new holiday franchise.
It began in 2017 with Angela's Christmas, a touching animated tale, based on a short book by McCourt – and featuring the voice of his brother, Malachy, as well as Catrioni Balfe and Ruth Negga.
That worked out so well it was followed up by 2020's Angela's Christmas Wish – and perhaps many more to come.