Looking forward to traveling and seeing Ireland in 2022?
CIE Tours is celebrating their 90th anniversary and to celebrate they are offering travelers a 2-for-1 sale to travel on any date in 2022.
CIE Tours has reached a milestone that few companies in the travel industry have achieved – 90 years of delivering unparalleled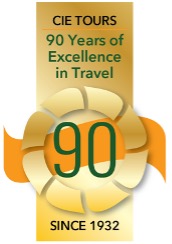 vacation experiences to Ireland, Britain and beyond. CIE Tours started operating in Ireland in 1932 as part of the Great Southern Railway; the year Amelia Earhart became the first woman to fly solo across the Atlantic. Her exploratory spirit inspired travelers to dream about adventures across the pond, and CIE Tours was among the first to share the magic and history of their country. On a vacation with CIE Tours, travelers could explore on a luxury motorcoach escorted by a professional tour director, ensuring their limited vacation time was spent experiencing Ireland's most popular sights and establishments. By 1958, when Aer Lingus started transatlantic service from New York to Dublin, CIE Tours was firmly established as the destination leader for U.S. travelers to Ireland.
In the years that followed, CIE Tours added more destinations including England, Scotland, Wales, Italy and Iceland to its portfolio to meet the growing demand from repeat guests. CIE Tours now offers more than 40 all-inclusive guided vacations hosted by nearly 160 knowledgeable tour directors, plus limitless opportunities for custom travel with self-drive and private driver/guide programs.
To mark the occasion of nine decades in service to travelers, CIE Tours will launch a series of promotions throughout the year. Through January 31, two promotions are available. The 2-for-1 Airfare Sale offers a free companion airline ticket with the purchase of select 7-night airfare-inclusive vacations to Ireland and Britain, including select guided motorcoach and itineraries with a private driver/guide. This offer is available from most U.S. and Canadian cities flying into Dublin, Shannon, Edinburgh and London for any date in 2022.
The second promotion offers deep savings for guests interested in customizing their vacation with their own private driver in Ireland, Britain or Iceland. Save up to $1,000 on custom private driver tours, perfect for a variety of travel types. This includes multi-generational families who want to travel on their own schedule; people with mobility constraints, ancestry searchers who want a little extra insider information, luxury-oriented travelers interested in unique and historic accommodations, and more.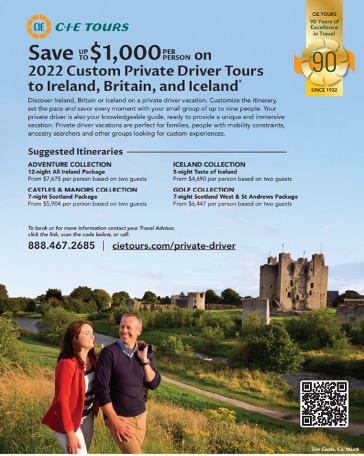 Terms and conditions apply to both offers; visit the website at www.CIETours.com for details.
In 2013 two of Irish America's contributors had the opportunity to travel on CIE Tours Taste of Ireland tour which gave one traveler the opportunity to see Ireland in a different way and the other the opportunity to visit for the first time. Sheila Langan and Tara Dougherty shared their experience and photos with Irish America.
Travelers on CIE Tours consistently rate the tours and tourguides with five stars for the accomodations, history and knowledge shared, and the experience of seeing the countryside.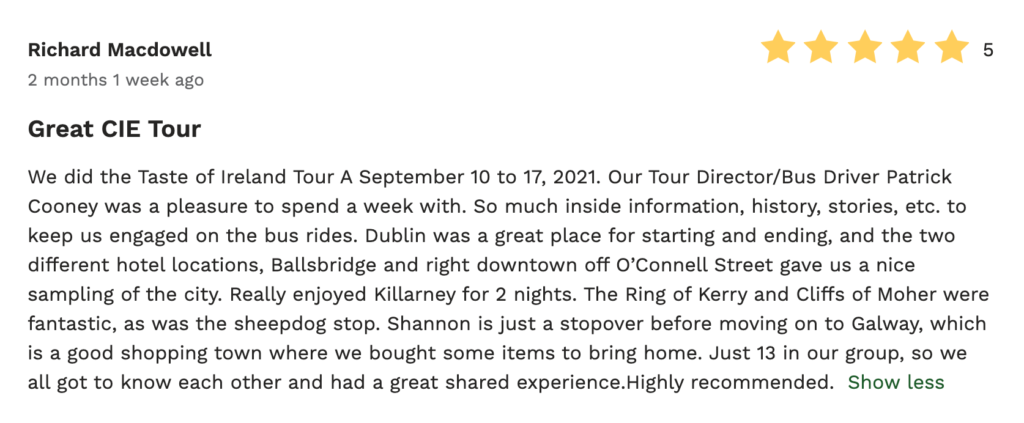 About CIE Tours
CIE Tours is the premier tour operator for Ireland and Britain vacations, earning a reputation for excellence rooted in its signature Irish hospitality since 1932. The 2022 travel season marks 90 years of operation for the Morristown, New Jersey-based company during which it has taken more than three million travelers on the vacation of their dreams. Expertly crafted vacations to Ireland, Scotland, England, Wales, Iceland and Italy suit every travel style and taste – from the camaraderie of coach tours and custom group travel to a variety of independent adventures, small group tours and personalized private driver experiences.
CIE Tours knows how to take care of every detail and provides exclusive access, authentic experiences, and in-depth knowledge of each destination. Only CIE Tours offers the "All-In Inclusive Advantage" which guarantees that every experience and most meals are included, so there are never any hidden expenses. Above all, the genuine warmth and expertise of its guides and hosts shines through, with guest satisfaction ratings of 95%. For more information, visit www.cietours.com.