The recipients of the Presidential Distinguished Service Award for the Irish Abroad for 2020 and 2021, were presented by President Higgins at a Ceremony in Áras an Uachtaráin on 2nd December 2021.
This is the tenth year in which recipients have received this award, which recognizes the contributions of members of the Irish diaspora who help build and expand Ireland's reputation across the globe.
Twenty-five outstanding individuals were honored, 14 honorees for 2020 and 11 for 2021.
In a statement announcing this year's recipients, the Minister for Foreign Affairs, Simon Coveney said, "In the ever changing world we live in, this remarkable group of individuals have been a constant beacon for Ireland and the values we hold dear." He added:
"The diverse contributions of these individuals extends across six different categories, and the impact of their work and dedication is evident across a number of countries.
As we look across the globe in these challenging times, the footprints they have left in so many fields, give us the inspiration and confidence to take on the challenges we face."
Two of Irish America's Hall of Famers are among the honorees, both of whom are part of the New York area Irish diaspora community: Adrian Flannelly, born in Mayo, the long time radio-show host, and Limerick-born, Michael Dowling CEO of Northwell, who was one of the 2020 honorees. (For a compete list of 2021 recipients see below). Congratulations to Adrian and Michael, and all of the honorees.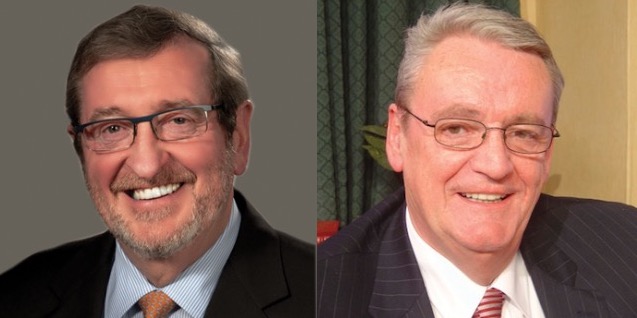 2021 Recipient Biographies
Arts, Culture, and Sports
Susan Feldman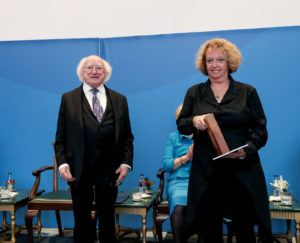 As founder and Artistic Director of St. Ann's Warehouse, Susan Feldman has enormous standing in the NYC arts world, and across the US. For more than 40 years, she has championed the work of Irish playwrights and directors in New York and provided opportunities for, and support to, a wide range of Irish artists.
The relationship between Ireland and St. Ann's Warehouse is one of the most enduring cultural partnerships between Ireland and New York. In the last decade, Susan has premiered eight original Enda Walsh productions in America, which has led to lasting and impactful relationships with a wide range of stakeholders. Over the years, Susan has collaborated with Druid, Landmark Productions, the Galway International Arts Festival, Wide Open Opera, the Gloaming, and most recently the Gate Theatre.
Susan has no hesitation in supporting Irish theatre, and promoting actors, writers and directors. She has also put resources behind Irish theatre, providing enormous support and taking risks to open up opportunities.
During the pandemic, St. Ann's Warehouse was the only theatre to present live Irish theatre ('The Approach' by Landmark Productions) which attracted audiences from across the US.
Professor Roy Foster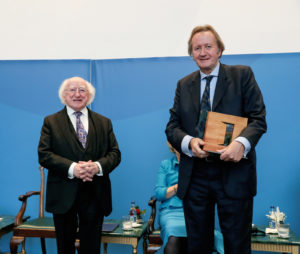 Waterford born, Roy Foster has had a long and distinguished career as a historian, academic and author, and is known for his tireless championing of Irish culture in Britain over decades.
In 1989, he was elected Fellow of the British Academy (FBA), and in 2010 he was elected an Honorary Member of the Royal Irish Academy (Hon. MRIA). He is also an elected Fellow of the Royal Society of Literature (FRSL), and a Fellow of the Royal Historical Society. In 2015, he was awarded the British Academy Medal for his book Vivid Faces: The Revolutionary Generation in Ireland 1890–1923. There is also now a Chair at the University of Oxford named in his honour.
From the start of his career, Professor Foster's intellectual authority has been matched by a personal commitment to forging mutual understanding between Ireland and Britain, whether through his own writings, or by lending his support and considerable energy to organizations such as the Irish Literary Society, and the Christopher Ewart-Biggs Prize, which he has chaired for many years.
Foster's two-volume biography of W.B. Yeats set a new bar for literary biography, re-contextualizing the great poet for a new century and giving us a refreshed understanding of his life and his work.
He has collaborated with Fintan Cullen on the National Portrait Gallery exhibition, 'Conquering England: the Irish in Victorian London' (2005); with Fergal Keane, on the major television series 'The Story of Ireland' (2011), as presiding consultant and script editor; with Bob Geldof on 'Fanatic Heart', an award-winning, two-part television film about W. B. Yeats's importance in the construction of Irish political and cultural independence; and with Thaddeus O'Sullivan as consultant and presenter on the feature film Citizen Lane, exploring cultural controversies and national identity in Ireland on the eve of the revolution.
Br. Colm O'Connell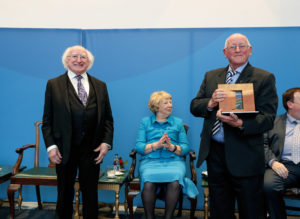 Born in County Cork, Br. Colm O'Connell has achieved global recognition for his coaching of at least six Olympic medal-winning runners, including the 800m champion of the Tokyo Olympics, Emmanuel Korir. He has also coached at least 25 Kenyan World Champion runners, earning him the title "the Godfather of Kenyan running".
He is perhaps best known as coach to David Rudisha, who won back-to-back Olympic Gold medals including in London in 2012. Br. Colm also coached 1988 Olympic 1,500m champion Peter Rono; three-time world champion and a former 800m world record-holder, Wilson Kipketer; and 1992 Olympic 3,000m champion Matthew Birir.
In 2019, he coached Rhoenix Kipruto to win the bronze at the World Championships in Doha and a month later was presented with the World Athletics Coaching Achievement Award in Monaco.
He has been awarded an Honorary Doctorate by Dublin City University and his work has contributed enormously to the small town of Iten, Kenya, earning the title "Home of Champions" and being named a World Athletics Heritage Site by World Athletics President Sebastien Coe. Iten also has named a street after Br. O'Connell.
Br. O'Connell arrived in Kenya in 1976 to join his fellow Patricians and taught in St. Patricks School, Iten, where he was also headmaster. Starting as an assistant coach in 1978, he went on to develop a world-class coaching system which saw Iten become synonymous with world-leading athletics. He introduced the training camp concept to Kenya in 1986 and today, there are over 100 camps in Kenya where most of the elite athletes live and train.
He later began training girls and young women, fostering gender equality and breaking down barriers to women's participation in high-level competitive sports.
Off the track, he has mentored thousands of students and young adults, introduced a HIV awareness and lifestyle management programme for young adults, and a peer educators' programme.
Business and Education
Sr. Orla Treacy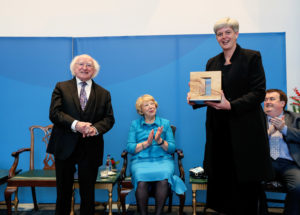 Born in Bray, County Wicklow, Sr. Orla Tracy is an Irish Loreto sister who runs a boarding school in war torn South Sudan. After leaving school, she worked as a teacher and, at the age of 24, decided to join the Loreto Sisters, and was professed in 2005.
Sr. Orla Treacy grew Loreto Rumbek Primary and Secondary Schools, in South Sudan, into what they are today, catering for 800 students. Sr. Orla is the Principal of the girls' secondary school but she also plays a key role in protecting girls against the vicious cycle of child marriage and early pregnancy, which is pervasive in South Sudan.
Sr. Orla provides these girls with opportunity, through education. In a country so fragmented with ethnic divides and persisting fragility, Sr. Orla focuses on building human bridges through her work with young students. Sr. Orla is a peace-builder, who operates with humility and quiet persistence, but who makes huge differences to the lives of the people she serves.
The vision of Sr. Orla to establish a girls' secondary school in Rumbek Country, and the determination to grow it into what it is today is remarkable and has made an incredible contribution to Ireland's reputation in South Sudan.
In 2019, Sr. Orla was awarded the International Women of Courage Award by the US Department of State.
Charitable Works
Doreen Nanibaa McPaul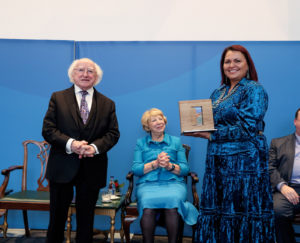 Doreen Nanibaa McPaul is of Irish and Navajo heritage. She has been prominent in highlighting the shared history between Ireland and the First Nations, and through her commitment has been instrumental in delivering positive change in her community.
A graduate of Princeton University, Juris Doctorate from ASU College of Law, and Certificate in Federal Indian Law, she has worked as a tribal attorney for several Arizona tribes, and currently serves as the Attorney General for her own tribe.
She has been recognised for her contribution to fundraising efforts to support the Navajo Nation, which has experienced extreme hardship as a result of the COVID-19 pandemic.
These fundraising efforts include a very successful collaboration with the Irish Cultural Centre and McClelland Library in Phoenix, Arizona that gathered more than $30,000 worth of donated supplies to assist the Navajo Nation at the peak of the pandemic. This coincided with an increased awareness in Ireland of our shared history with First Nations, which led to a flood of donations to Navajo relief efforts from Irish members of the public.
Notwithstanding the hardships experienced by the Navajo Nation throughout the pandemic, the global coverage of Irish attempts to 'pay forward' a famine donation made by the Choctaw Nation offered an uplifting story and the collaboration in Arizona was a tangible example of collaboration with the Irish community in action.
Phyllis Morgan-Fann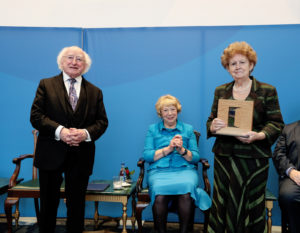 Originally from Dublin, Phyllis Morgan-Fann is a member of the survivor community in Britain, and has worked for at least 3 decades, professionally and in a voluntary capacity, to support members of the survivor community in Britain.
She continues to do all she can to support survivors in Britain. She has traced relatives, connected families, supported victims of domestic abuse and arranged repatriation and survivors' funerals in the UK and Ireland. She has assisted many survivors in obtaining correct birth certificates, passports, UK pensions, Irish pensions and UK welfare benefits. She has facilitated rehousing and survivor interaction with religious orders. She encourages survivors to receive counselling and accompanies a group weekly to a session facilitated by Immigrant Counselling and Psychotherapy (ICAP). She organises a lunch for survivors' groups at least twice a year.
For over 20 years and at no small cost personally, Phyllis has accompanied and supported many survivors who have given evidence to the commissions investigating Industrial Schools, Magdalen Laundries and Mother and Baby Homes. She has supported survivors in making complex, sometimes multiple, applications to the resulting schemes and to Caranua, and also served as a Board member of Caranua.
She has liaised with the Departments of Education, Justice and Children and organisations researching or dealing with issues relating to survivors.
Jim O'Hara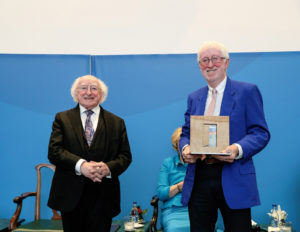 Born in Belfast, Jim O'Hara has contributed significantly to a variety of sectors and groups through his time in Britain.
In the aftermath of the Anglo-Irish Agreement in 1985, Jim co-founded the British Association for Irish Studies, which promoted the development of Irish Studies in Britain. He also established the Centre for Irish Studies at St. Mary's University in Twickenham and led it for a decade.
During the financial crisis, Jim took over as chair of the Irish Cultural Centre in Hammersmith, leading a fundraising campaign to save it from closure. Working with the local Council, and securing funding from the Irish Government, he oversaw the construction of a new fit for purpose Centre in a central location in Hammersmith. Jim stayed on as chair of the Centre until 2019, leaving a strong organisation, which continues to go from strength to strength.
He is a former chair of the Irish Youth Foundation, has been actively involved in London Irish Rugby Club for over 40 years. Jim is also an accomplished musician who has played traditional Irish music for many years all across Britain and further afield.
Irish Community Support
Adrian Flannelly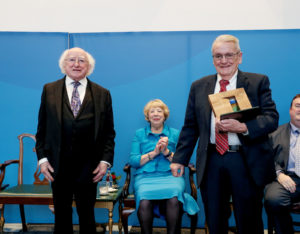 County Mayo native, Adrian Flannelly is a prominent broadcaster and leading member of the Irish-American community in New York. He emigrated to the United States in 1959, aged seventeen, and has been heavily involved in Irish Community affairs ever since. He has been described by the New York Daily News as "the Dean of the Irish Radio in the United States". His show began in a time when news between Ireland and the United States was not so easily accessible, and he provided a welcome and invaluable link for Irish immigrants in America.
He has been an active promoter of Irish causes, and hugely involved in working with vulnerable Irish communities over the past six decades.
Mr Flannelly was a major actor in the immigration reform lobby in the US. He acted as a point of liaison with the Irish community for former New York Governor Pataki and a number of New York City Mayors. He was instrumental in the Morrison Visa Program, helping thousands of undocumented Irish immigrants already in America to organise and obtain a legal pathway to remain and thrive.
Mr Flannelly played a crucial role in the development and realisation of the Irish Hunger Memorial in Battery City Park. Moreover, he was also a driving force in the $5 million restoration project to reopen the memorial in the aftermath of Hurricane Sandy.
He has served on the board of the Irish Repertory Theatre, and the Emerald Isle Immigration Centre, and has been actively involved with Project Irish Outreach, a branch of Catholic Charities of the Archdiocese of New York, of which he was a founder member.
Billy Lawless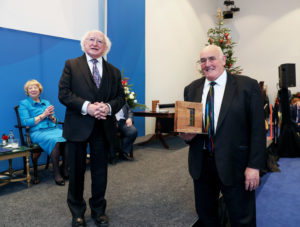 Originally from Galway, Billy Lawless has been a pivotal member of the Irish community in Chicago since emigrating there in 1998.
Billy is the founding board member of the Illinois Business Immigrant Coalition, a board member of the Illinois Restaurant Association, a board member of the DNC Ethnic Council, Chairman of the Chicago Celts for Immigration Reform (CCIR), and the Vice President of the Illinois Coalition for Immigrant and Refugee Rights (ICIRR). Through his work with CCIR and ICIRR, Mr Lawless has had a serious and lasting effect on immigrants all over the country, in his drive to secure greater rights and protections for the undocumented.
Mr Lawless played a pivotal role in the State of Illinois adopting a Temporary Visitors Drivers Licenses (TVDL) that allows undocumented immigrants and temporary visitors to drive in the state of Illinois without fear of deportation. Mr Lawless was heavily involved in other local initiatives such as the Chicago CityKey program, which provides a local ID card to undocumented residents of Chicago, and the Illinois TRUST Act, which prohibits local law enforcement agencies in Illinois from coordinating with ICE (Immigrating and Customs Enforcement) on minor offences.
Mr Lawless was nominated to the Irish Seanad in 2016. Since his nomination, he has continued his fight to find a pathway to legalization for the undocumented Irish residing in the US.
Billy is also widely respected in the business community in Illinois having held a place on the Illinois Immigration Business Coalition. Together with his family, Mr Lawless owns a number of restaurants across Chicago, employing hundreds of people in the city.
Peace, Reconciliation and Development
Bridget Brownlow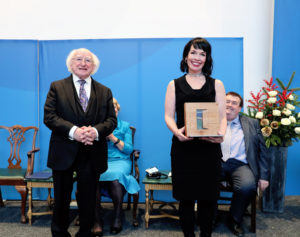 Bridget Brownlow is the Conflict Resolution Advisor for Saint Mary's University (SMU), Halifax, Nova Scotia. She is a certified conflict resolution specialist with over 25 years of extensive experience in organisational and international conflict management and peace education.
For the past eighteen years, Bridget has been the Senior Coordinator for an international conflict management / peace education initiative in Northern Ireland. This involves working directly with students, faculty and staff in the development and implementation of peace education programs in collaboration with Peaceful Schools International (PSI) – a Canadian non-profit charitable organisation dedicated to providing a safe, inclusive network of peaceful schools.
Over the past three years, Ms Brownlow has been providing peace education and conflict management training for Loyalist and Republican ex-combatants, ex-prisoners, former British soldiers, community activists and political representatives in the NI Assembly in cooperation and consultation with Yale University and Queen's University Belfast.
Bridget is currently the President of PSI, an Adjunct-Professor, Faculty of Education and a part time instructor in Political Science and Irish Studies at Saint Mary's University (SMU).
She is the recipient of several awards such as the YMCA Peace Medal, the World Peace Tartan, and the Rotary International Service Award – "Service Before Self" – all in direct connection to her work in peace and reconciliation in Northern Ireland.
Science, Technology and Innovation
Dr. Susan Hopkins
Dr. Susan Hopkins is the Deputy Director of the national infections service at Public Health England, which is the official authority that releases nationwide health figures and statistics. Dr Hopkins has played a pivotal role in the UK Government's approach to addressing and tackling the COVID-19 health pandemic. She has featured heavily in UK and Irish media through her work during the pandemic, and has been deployed by the UK government as spokesperson in interviews and press briefings. She is very supportive and encouraging of young women to study and work in STEM.
Dr. Hopkins is also the Programme Director for the UCL MSc in Healthcare associated Infection Control, which allows clinicians, nurses and scientists to develop their competencies in this area through distance learning and support.
Dr. Hopkins was born in County Kildare and studied medicine at Trinity College Dublin, including research work on infectious diseases at St. James Hospital. In her role as Deputy Director with Public Health England she is also in post at The Royal Free London NHS Trust as a Consultant in Infectious Diseases and Microbiology.
In 2009, she was appointed as a healthcare epidemiologist in the Health Protection Agency (now Public Health England) with the remit of strengthening healthcare epidemiology within the agency and improving intra-organisational working in the area of healthcare epidemiology. Since then she has led on the development of healthcare epidemiology competencies. ♦
Read about the 2020 award recipients.