On Tuesday, March 15, Manhattan's Metropolitan Club opened its doors to the best and brightest as Irish America held its annual Business 100 awards and businessman and philanthropist, Denis O'Brien, was inducted into the Irish America Hall of Fame. Honorees packed into the venue, with chatter reaching the high ceilings as reunions were abound.
Founding Publisher Niall O'Dowd stated, "after a two-year hiatus there was clear concern that our events would retain their popularity. In reality we need not have worried. An astounding 56 of our Top 100 business leaders showed up and the sense of camaraderie and delight at seeing old friends again was clearly evident."
From glen to glen, those being honored came from far and wide to attend the event, an unprecedented concept this time last year as we isolated during the pandemic.
President and CEO of FedEx Express Don Colleran travelled from Memphis while Nuala O'Connor, SVP and chief counsel of digital citizenship at Walmart came from Washington D.C., David Fitzgerald of Fitzco and Ted Sullivan of Oracle made their way from Atlanta, and Michael Clune of Clune Construction traveled from Chicago.
Special guests included, Geraldine Byrne Nason, Ireland's Ambassador to the United Nations, Northern Ireland's Gordon Lyons MLA, Minister for the Economy, Consul General Helena Nolan, Ireland's former Ambassador to the U.S. Anne Anderson, Loretta Brennan Gluckman chairman of Glucksman Ireland House, the center for Irish studies at NYU, and Mary Sugrue, CEO of the Irish American Partnership, traveled from Boston to attend the festivities.
In a week where St. Patrick's Day felt like cause for celebration more than ever before, those attending reflected on what their Irish heritage means to them.
Amb. Byrne Nason opened the program by congratulating the honorees. "I want to thank you on behalf of the Irish government for the contribution you make, not just to the extraordinary little island that I have the deep privilege to represent, but also for the contribution you're making here in North America, across the globe."
The ambassador also spoke to Hall of Fame inductee, Denis O'Brien's contribution as chairman of Frontline Defenders an Irish organization that protects human rights defenders around the globe. "This, for me, Denis, stands out as the true testament to you, not just your philanthropic spirit, but I think the sincerity of your own commitment to human rights… in the darkest corners of the globe. I'm talking now about places like Afghanistan, Syria, Yemen. And now Ukraine," she said.
Byrne Nason ended her words by invoking the Irish proverb "Ar scáth a chéile a mhaireann na daoine" which means "we live in each other's shelter" while speaking about the Irish American response to the Ukraine crisis.
In her remarks Irish America's co-founder and editor, Patricia Harty mentioned the contributions of various honorees, remarking on the inspired leadership of Michael Dowling President and CEO of Northwell Health during the worst days of the pandemic, and noting the presence of Harry Moseley, CIO of Zoom, said that we were all grateful for the technology that made it possible to socialize and work from home during the darkest days. She also gave a shout out to Don Colleran CEO of Fed-Ex, saying that watching the TV footage of the Fed-Ex planes delivering the vaccines was a "the cavalry have arrived" moment for her.
Michael Dowling reminded those in attendance of the importance of honoring our heritage and culture. "So this week, especially when we celebrate Irish history and Irish heritage, we reflect on [the effect of the pandemic]. We reflect on where we came from. We reflect on all of those that came before. The trials and the tribulations that they went through to create an environment, and an America that we can all benefit from now."
Dowling went to talk about Denis O'Brien, saying: "Denis obviously, is an excellent business person, a leader in his field. But he is more than that. He's also a humanitarian who does extraordinary work wherever he is. He believes very, very strongly in the concept of community and how it is important for all of us to be building those synergies that make communities work, that we are all interdependent. And so he has spent a lot of his time and his resources focused on promoting education, building schools, providing a lot of other humanitarian assistance all over the world."
O'Brien founded Digicel, a mobile phone network provider which has over 13 million wireless users and operates across 31 markets. He has also invested much of his time and money into Haiti following the country's devastating earthquake in 2010, and has built hundred of schools in economically-deprived areas of the world.
Publisher O'Dowd conducted a Q&A with O'Brien following his induction in the Hall of Fame (see video above). He mentioned Bill Clinton's 2012 article in TIME magazine in which the former president called O'Brien's move to make cash transactions available for the poorest in the world via cell phones "the number one idea changing the world for the poor last year."
Following a question from O'Dowd on the future of philanthropy, O'Brien said: "I think in America, philanthropy is just so much more advanced than anywhere in the world. Everybody gives small money, big money. But I think more and more now people are looking to the Chuck Feeney way of doing things and the Concern way, where if you give money, you want to see outcomes, you want to see measurement. . . rather than giving blind trust money, which sometimes works, sometimes it doesn't work. You want to see a project beginning to end and what the outcome is."
O'Brien, who grew up on a farm in Cork, also spoke about the Irish work ethic, both at home and abroad. "In Digicel we mainly hire culchies [from rural Ireland]," he said to laughter and cheers from the audience. "Anybody who worked on a farm knows commerce."
You can read O'Dowd's cover story interview with O'Brien in Irish America magazine, here.
Micaela Erin Connery, co-founder and CEO of The Kelsey, shared the sentiment of the famous Irish work ethic, in a recorded interview at the pre-luncheon reception. Connery said while growing up in an Irish American family in Rhode Island "so much of our culture and heritage was in being Irish. And particularly, work ethic and hospitality."
And in keeping with the renowned Irish hospitality the day wasn't without music. Singer Judy Collins reminded the crowd of the traditional Irish songs we hold dear. From the rebel song "Down by the Glenside" to "Danny Boy" which has become synonymous with Irish grief, Collins' voice needed no musical accompaniment to fill the large room and remind us all of home.
Dublin-born Ciarán Sheehan gave a moving performance of "You Raise Me Up," showcasing the rich tenor voice that filled Broadway theaters and has been described as touching the soul.
And of course, it wouldn't be an event celebrating the Emerald Isle without "Song for Ireland" which was performed by Niamh Hyland to a standing ovation as the afternoon drew to a close.
Also in attendance at the luncheon was writer and musician Larry Kirwan. Kirwan had extra cause for celebration as his musical "Paradise Square" debuted on Broadway the same evening.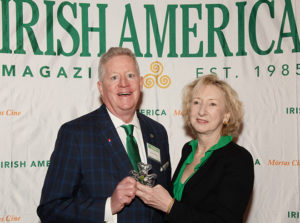 Honoree David Glidden, President and CEO of Liberty Bank also had a busy week as he received a JFK National Award ahead of the Holyoke St. Patrick's Day parade on Saturday, March 19.
Honorees included on the 35th Annual Business 100 list include Bill Byrne, Interim Chief Customer Officer for Aer Lingus in the U.S.; Elizabeth Crabill, CEO of CIE Tours International; Elaine Brennan, Head of Global Strategic Partnerships at Northwell Health and Sean Granahan, President and General Counsel The Floating Hospital. For a complete list of honoree's visit our Business 100 page.
Speaking ahead of the Business 100 awards, Glidden reflected on his Irish heritage: "My Irish heritage is incredibly important to me not only because it has defined who I am as a husband, father, son and friend but it's instilled in me the unique values that have shaped my banking career. My great grandparents hailed from Belmullet, County Mayo and their cultural influence, that has been passed down from generation to generation, will always inspire what the Gliddens stand for today, and for generations to come: family, tradition, hard work and of course humor.
"So, to my fellow honorees I say, "Slainte agus comhghairdeas."
Irish America would like to echo Mr. Glidden's congratulatory message to all honorees featured in this year's Business 100.
Beir bua! ♦
The 2022 Business 100 Honorees
To learn more about the all of the amazing honorees from Irish America's Business 100 throughout the years visit the Business 100 page.