Hall of Fame Inductee and 35th Annual Keynote Speaker
After the 2010 earthquake in Haiti Denis O'Brien, Digicel's founder enabled Haitians to make cash transfers to each other via mobile phones. Former president Bill Clinton called it one of the most innovative ways to fight poverty he had seen.
The original idea was typical of O'Brien, a simple extension of his existing business, perhaps the best ever example of the philanthrocapitalism model he admires so much, where you do well by doing good and everyone benefits.
Denis O'Brien, 63, born and raised in Dublin, educated at University College Dublin and Boston College, is one of Ireland's most successful businessmen worth an estimated $4.6 billion dollars, and one of its biggest philanthropists.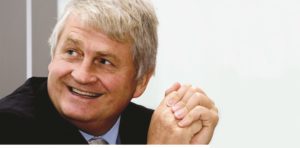 He created Digicel, one of the most successful cell phone companies in the world spanning 31 countries, and holds multiple investments in several industries in Ireland and internationally. But he is known as much for his philanthropy as he is for his business acumen, especially in the developing world.
He is a tall poppy in Ireland where business success is greeted with some hostility but O'Brien's ambitions these days are globally driven, with spreading the gospel of philanthrocapitalism among his priorities.
Among his conventional deals, Digicel announced the sale of its Pacific operations last October to Australian telecommunications company Telstra. The sale was estimated at $1.85 billion, of which 85 percent of the purchase price was funded by the Australian government. It was the initial Chinese interest in Digicel that led to the transaction, proving again that O'Brien's eye for the deal is sharp as ever.
We began our interview with his take on the current inflation scenario and the roiling impact on the world economy.
What's your view of the world economy and particularly the fear of inflation that everybody's talking about?
Well, I think the upward trend in inflation in the last six months has been extraordinary. It is at a 40-year high. Obviously, energy costs have been influenced by the behavior of the Russians and clearly, OPEC is also getting in on the action and playing the pricing game.
There is a misconception that supply chain issues are the cause of inflation. This is only partially true. The bulk of the supply chain problem is because of an over-stimulated economy in the U.S. and Europe. It is like Black Friday every day. Consumers who underspent during the Covid lockdown are spending as if there is no tomorrow. There is just too much money chasing too few items, for example, cars, fashion, building materials, and electronics. The chip manufacturers have never produced more and yet they cannot keep up with demand. All these factors are inflating prices and it is going to take a couple of years for things to settle down.
And obviously, with inflation, interest rates are going to increase. If you look at the larger members of the European Union they are borrowing money at less than one percent. Some of them don't deserve that credit rating.
The U.S. and European countries are overspending their budgets on health care and social stimulus payments. And so, the reality is that their balance sheets are not in great shape. Nevertheless, they're able to borrow money cheaply but I don't think that option is going to continue for very much longer.
If you talk to the average American, the first thing they bring up is the price of gas.
It's up to almost $5 a gallon, which is dreadful but would be nothing in Ireland.
Yes, but gas hikes are not all the fault of suppliers or producers. Governments are enjoying their share of increased tax take on gas and fuel. They certainly need the revenues. For example, Ireland's health budget has gone up by $5 billion from $17 billion in 2019 to $22 billion this year.
Financial markets around the world are overheated. Valuations for businesses have soared. I see a lot of craziness creeping back into the markets. It reminds me of 1998 and 2008 all over again.
It reminds me of 1978 when Jimmy Carter was President and he got hammered with soaring inflation.
President Carter is an outstanding human being. I saw him in Haiti post the 2010 earthquake. He was working with a housing charity, and right in the middle of things as the construction work was being done. He is a really great man with a great human rights record.
What about President Biden?
I think the Democrats have realized that they're in a make-or-break electoral battle for control of the Senate and the House and this is already galvanizing them into action. That said, I think President Biden needs to move to the center and ignore the pressures from the very left of the Democratic Party.
The other issue that we hear a lot is Brexit. How do you see that getting resolved?
I don't think it's going to be fixed any time soon. The DUP [hardline Unionist party in Northern Ireland that wants to change the Irish protocol involving cross-border checks] has taken a very extreme view of the world. Obviously, their view is that there should be no customs or checks whatsoever between the UK and Northern Ireland. But in reality, such an attitude goes absolutely against the Good Friday Agreement. I think even within the DUP party itself, a conundrum – they accepted the Good Friday Agreement by sharing power, and now they effectively want to break it. There is no consistency in their position.
Another major factor is that Boris Johnson is facing a lot of crises and I don't see Brexit and Northern Ireland being a priority for him. As for the DUP, I don't think this will be good for them. It's not going to be great for the DUP in the forthcoming May elections. It's going to be a major test.
President Biden and Speaker Nancy Pelosi have been steadfast in their support of the Irish Government's position and they have made it clear to Prime Minister Johnson that the U.S. will not allow the Good Friday Agreement to be jeopardized.
In a recent poll, the DUP was at 18 percent, behind Sinn Féin's 23 percent. You could have a Sinn Féin First Minister, which would cause a new set of complications.
I think that's true. It will really test the Good Friday Agreement and the fundamentals of power-sharing.
It seems there is a lack of real leadership on issues like Brexit. Johnson has been all over the place.
In reality, Johnson is a very inexperienced prime minister. He was mayor of London which is not really an executive position as compared with, say, New York. And he was previously a foreign minister. The British are law-abiding by nature and for their Prime Minister to be having parties in Downing Street during lockdown resonates badly with the electorate.
And what of politics in Ireland?
Generally, I think it is a worrying feature that most of our politicians have little experience in managing large organizations or financial budgets. When I look at the current Government and the opposition parties nearly all of our politicians have not been trained to manage large-scale Ministries with multi-billion euro budgets. Though very well-intentioned this is a very existential challenge to the complexity of the agendas in health, housing, education, and climate change.
In this regard there are certain merits to the U.S. system as the President can pick the best brains to advise him or her.
In a recent speech at Cambridge University, you said democracy is under threat by Facebook and the lack of European oversight of Facebook. Can you explain that?
The problem is that Mark Zuckerberg and Facebook are unregulated and are doing what they like. Facebook very skilfully avoided being deemed a
publisher so that it could benefit from the protection provided by Section 230 of the Communications
Decency Act in the U.S. But, of course, the world knows that to all intents and purposes they in fact are publishers.
Facebook allows the spewing out of hatred, racism, and lies all day, every day. And you have some very dangerous actors – individuals and organizations – fomenting hatred, peddling lies, and subverting democratically elected governments. Politicians are being viciously targeted in Ireland, the U.S., and all over the world through unregulated social media.
Senator Mark Warner in the U.S. is doing a great job. He's got the bit between his teeth and I really hope he is successful in introducing legislation to curb Facebook.
That's not the only problem with Facebook. If you look at it from a business practices perspective economically they have robbed Africa. They have generated billions of advertising revenue in Africa, employing only a handful of people. They don't even register their business and they funnel all their money back to Silicon Valley via Ireland and other tax havens. It's all one-way traffic …it is a form of economic pillage and plunder. It reminds me of what happened in Africa in the 18th and 19th centuries. African countries badly need tax revenue from sales, and corporation taxes to fund health and education services, and Facebook blatantly avoids paying up.
Whistleblower Frances Haugen has given the world some very interesting insights into how exactly Facebook operates. Facebook has lobbied to avoid regulation time and again even when it was aware of problems.
The Facebook modus operandi has very disturbing similarities to how dictators in Europe rose to power in the 1930s – becoming so powerful and so dangerous that people were afraid to confront and challenge them.
Something as simple as having to write down your own name and not a pseudonym would help. The events on January 6 would not have happened if you had to stand behind your statements.
People should be forced to identify themselves if they want to use Facebook. The wider problem is that because of the uncontrolled viciousness of social media, really good people are not entering public life. Understandably some talented people might be tempted to go into public life to contribute to their country and society generally but decide against it for reasons of safety for their families and themselves. Is that democracy?
But it's much worse than that, look at the Rohingyas. Facebook's negligence facilitated the genocide of Rohingya Muslims in Myanmar after the social media network's algorithms amplified hate speech to get what Mark Zuckerberg describes as "better engagement." The platform failed to take down inflammatory posts, according to legal action launched in the U.S. and the U.K.
The platform faces compensation claims worth more than £150 billion under the coordinated move on both sides of the Atlantic.
A class action complaint lodged with the Northern District Court in San Francisco says Facebook was "willing to trade the lives of the Rohingya people for better market penetration in a small country in south-east Asia."
It is hard to believe there is only one Burmese speaking moderator in Dublin's Facebook headquarters and she could not cope with the volume of anti-Rohingya hatred.
You have been very vocal about the need to build out broadband networks for the 50 percent of people in Africa who have no access. What is the solution?
There's about $95 billion of new investment needed to increase broadband penetration to 80 percent of the African population. Only 25 percent of Africans have access to a broadband connection. The UN Broadband Commission for Sustainable Development, of which I am a member, has recommended that every business that derives an economic benefit from a network, must contribute or give a revenue share to fund the rollout of broadband in Africa. Facebook tried to present obstacles to reaching a consensus on this matter but thankfully the Commission stood its ground. Big Tech needs to recognize its responsibilities and be part of the solution.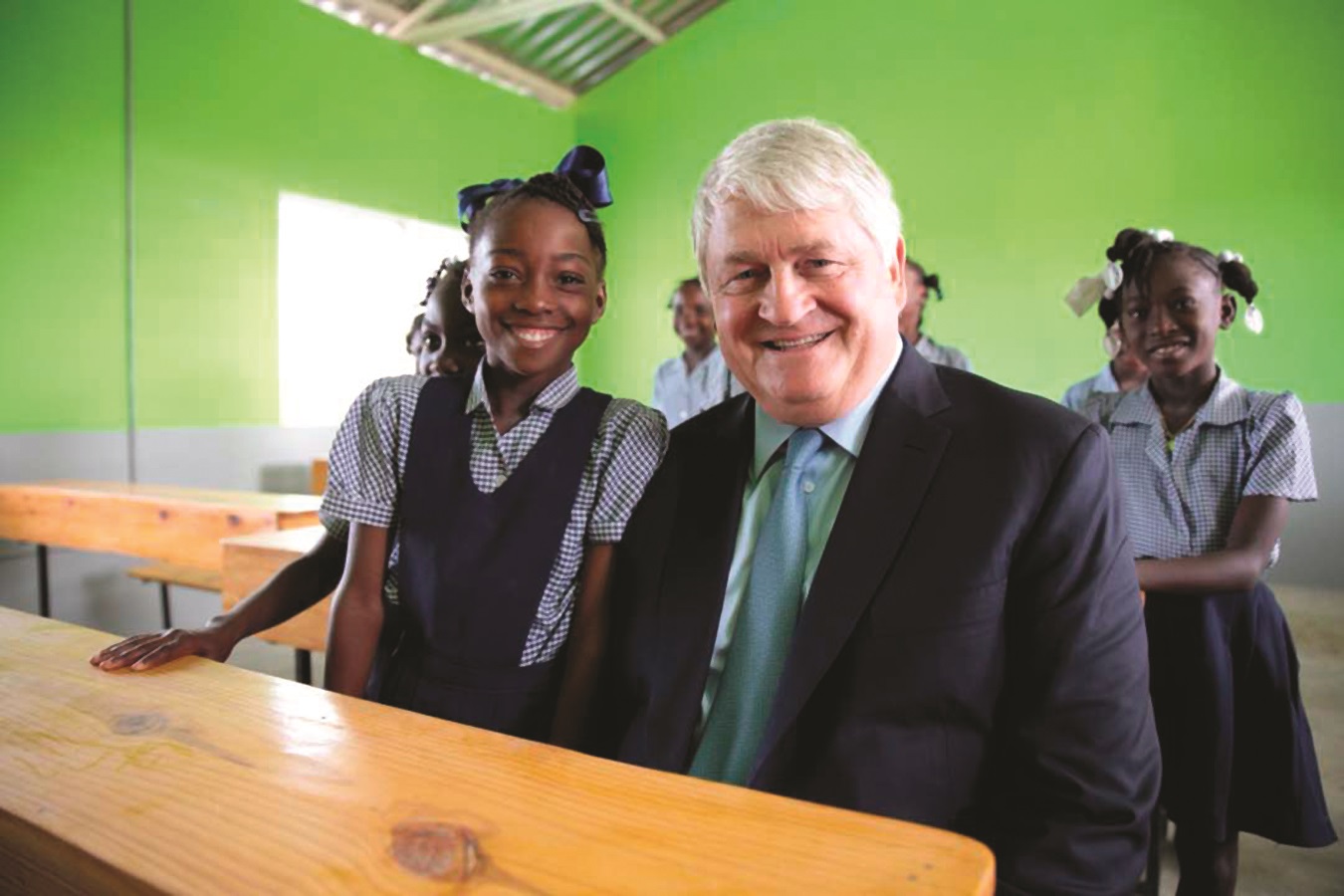 Tell me about philanthrocapitalism.
In Ireland in the 1960s 70s, 80s, and 90s, people gave money generously according to their means. Irish people are inherently generous and very aware of the Third World, its challenges, and its problems. They gave money to Trócaire, Concern Worldwide, and GOAL.
If you are in the fortunate position to have the means to give larger-scale donations, then I think you take a different approach. And one has to adopt a very business-like approach to measuring success in how you solve problems, for example, building infrastructure such as schools, training teachers, and putting in place more macro and longer-term projects to deliver real results.
Philanthrocapitalism has enormous potential because instead of giving money to a project and walking away, you identify specific projects to fund and then set goals and targets.
If you decide to build a school – you assemble all the costs for building and fit-out. You source the desks, the tech equipment, and the other items. Then you source the teachers. We train the teachers and they are there on the day the school is opened. Our ultimate objective is to provide the best possible education for as many children as possible. This could be up 600 children per school. That is the "profit."
For example, if we build a school in Haiti, we get an application from a local community group, made up mainly of women or religious order. They are responsible for managing the school. We then track on an annual basis the state exam results for the school to ensure that teaching levels are at the level they should be. Part of the process is also assessing the teachers, it is a continuous training model.
For the first ten schools, we built in Haiti, pre the 2010 earthquake, we didn't have our own engineers constantly checking that the construction company was putting enough steel into the school buildings. When the earthquake hit, the first thing that struck me was whether our initial ten schools were able to withstand the earthquake. Some of them were really badly damaged but fortunately, no one was injured. We couldn't be sure they would withstand another earthquake so we knocked them down and rebuilt them.
To date, we have built 187 modern schools in Haiti with 70,000 pupils. We are far from finished. This work is all led by Maria Mulcahy who is the chairman of the Digicel Foundation.
For the rebuild of the Iron Market, which is the main food and meat market in Port au Prince, Haiti, I wanted it rebuilt for the first anniversary of the 2010 earthquake. I pushed and pushed …it was a near-impossible task, getting supplies imported and sourcing the various skill sets. The one thing we couldn't fix was the price with our contractor. We ran $5 million over budget – what we thought was going to cost $12 million ended up costing $17 million. That was a whopper of a mistake, but you don't make the same mistake twice!
I have high regard for Irish NGOs, particularly Concern Worldwide. When my wife, Catherine, and myself first went to Ethiopia in 2001, to fund the construction of wells we met with Concern there. Their team discussed all aspects of the projects, costs, delivery, and benefits for the people living in the highlands. They implemented the plan and were a brilliant partner.
When we went to Haiti, we got involved with Concern straight away before we even started the business.
Many years ago I met Chuck Feeney and got advice from him on how he operated The Atlantic Philanthropies, which he set up to give all his money away. He is the Warren Buffett of philanthrocapitalism. His contribution to third-level education in Ireland has been enormous. He replicated his approach in Vietnam and other countries. He adopted the highest level of professionalism in philanthropy. Everything was planned and measured – from the idea to completion. He is one of my heroes and one of the greatest living Irishmen.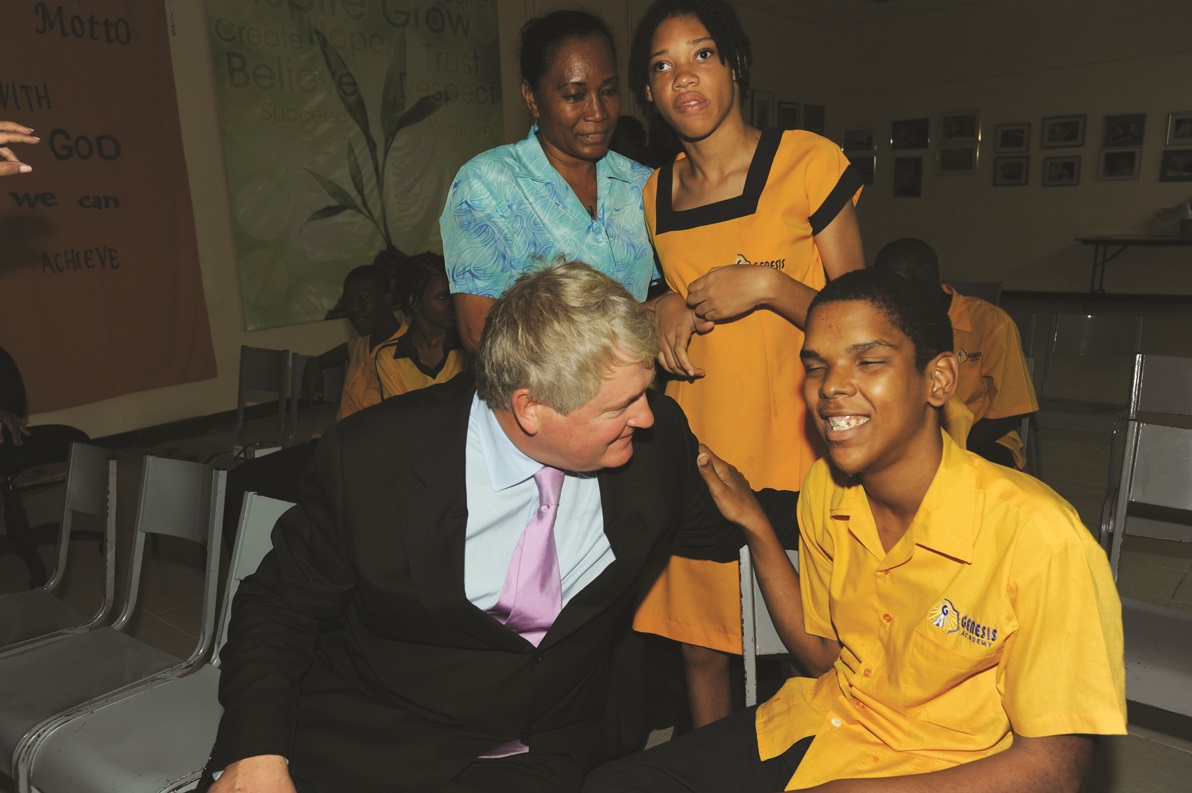 Have you been back to Haiti since the coup?
I was there two weeks ago. We went in under the dark because of the extreme security situation. It was eerie, there was nobody on the streets and it was probably the first time I ever felt unsafe. We met our team and spent the night there. I have great affection and respect for the Haitian people. I am very concerned because of the lack of interest among the international community. Countries like Brazil used to have a big interest, post-2010, in Haiti. Now they've none. France was never properly engaged over the last 30 years. Haiti had to pay the equivalent of $19 billion to buy their independence in 1804. The U.S. is too distracted – by Ukraine and the general expansionism of Russia, by Taiwan and China's influence in Asia, the Caribbean, and Latin America. Without international support and intervention by bringing all the political actors together there will be no stability in Haiti.
Even when the earthquake struck, I think of the cynicism of the then French president Sarkozy when he spent less than four hours on the ground. Of course, he got in front of a French camera crew before he flew home.
What role does Ireland have in the wider world?
Ireland has a stellar reputation in the developing world. Much to everybody's surprise Ambassador Geraldine Byrne Nason, our permanent representative at the United Nations along with a small Department of Foreign Affairs team, all working under the direction of Minister for Foreign Affairs, Simon Coveney, secured enough votes in the first round to secure a much sought after seat at the UN Security Council. Ireland continues to have a major role to play on the world stage as an honest broker in solving major disputes and our army in its role as UN peacekeepers.
America seems to be going through an anti-immigrant phase with white supremacy gaining popularity under Trump.
Inward migration from many nations helped America to grow and become the great nation that it is today. Right now there are major labor shortages that the U.S. needs to address. President Biden will face extreme criticism from Trump and the Republicans if he allows increased migration. But so be it. If you are one of the 10,000 Haitian migrants that made it to the US border last December – a display of the ultimate desperation and bravery to find a new life for yourself and your family, you must be helped. These are exactly the people America needs now. What we have seen at some American borders late last year is not the America we all admire and love. We should defeat the Trump migration dogma.
We're at the bottom of the Ferris wheel at the moment, unfortunately in terms of immigration reform.
But it can turn around. Let's be a little bit more optimistic. I'm optimistic about President Biden. I think he is authentic and genuine to his core. He's a good person and he has built a good team around him. He is more a chairman than a chief executive. I think he is what the United States needs and what the world needs right now.
Thank you, Denis O'Brien.♦