Ronan Ryan, co-founder and president of IEX, helped revolutionize the way stocks are purchased and traded, and now he has another goal in mind.
As he looks back now, on the near-decade since Flash Boys' release, Ronan Ryan says, "I feel like we've been running on a treadmill at speed ten for the last ten years."
But that hard work has paid off.
"We've done remarkably well," Ryan noted. "We've grown in market share far more than where we were at the time the book came out."
Netflix bought the rights and is said to be developing a movie adaptation of Flash Boys, which will cover, as Variety reported, "the creation of… Investor's Exchange (IEX), aimed at eliminating the advantage of high-frequency trading."
In short, Ronan Ryan revolutionized the way stocks are purchased and traded when he helped create IEX in 2012.
This attracted the attention of best-selling author Michael Lewis, whose previous books Moneyball, The Blind Side and The Big Short were made into Hollywood movies starring A-listers Brad Pitt, Sandra Bullock and Christian Bale.
Lewis eventually told the IEX origin story in his best-seller Flash Boys: A Wall Street Revolt, which dominated the 2014 media landscape, from 60 Minutes to CNBC to The Wall Street Journal.
"Technology had collided with Wall Street in a peculiar way," Lewis wrote in a New York Times excerpt entitled "The Wolf Hunters of Wall Street."
"(Technology) had been used to increase efficiency. But it had also been used to introduce a peculiar sort of market inefficiency. … (Some) large amount of what Wall Street had been doing with technology was simply so someone inside the financial markets would know something that the outside world did not."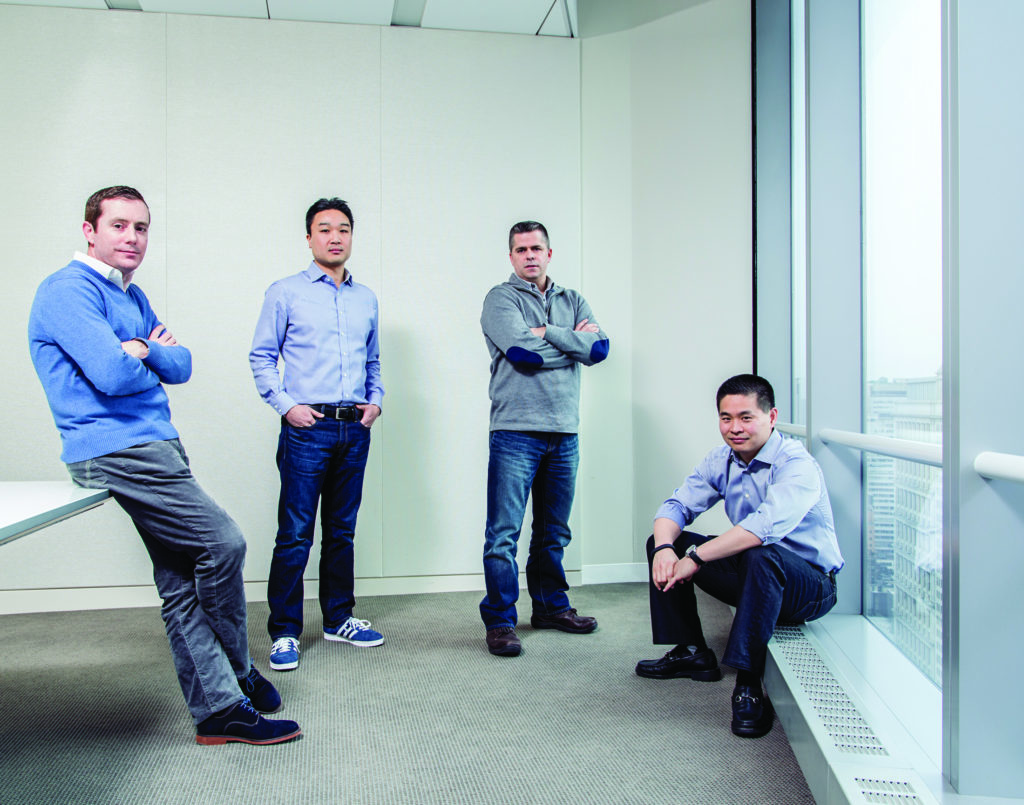 On Wall Street, meanwhile, IEX continues to be a prominent, proudly disruptive player, whose business model was recently vindicated in a high-profile court case.
In July, Citadel Securities lost a lawsuit alleging the Securities and Exchange Commission (SEC) should never have approved of innovations used by IEX, "which markets itself as a champion of fairness in pricing for the average investor," Bloomberg noted, adding that the court decision was "a notable victory" for IEX.
One finance industry magazine recently commented that "IEX has created some waves in recent years but there is no question of its influence." In nominating IEX as a top firm for 2022, The Trade added that IEX "has developed a number of innovations including the IEX Speed Bump, designed to ensure that (Ryan's company) executes trades at the most up-to-date price," as well as "the IEX Signal…a machine learning-based signal that aims to protect investors from trading while prices are unstable. Since its inception, more than $8.5 trillion in hares traded on IEX Exchange have benefited from the IEX Signal."
All in all, not bad for "an Irish telecom guy," who studied neither tech nor finance in college.
Now entering their second decade, Ryan and IEX continue to adapt and thrive, in a post-COVID business landscape more unpredictable than ever. The same week Irish America spoke to Ryan via Zoom, from his northern New Jersey home, financial news networks and social media were filled with breaking news of the spectacular rise and sudden fall of Sam Bankman-Fried, whose crypto-currency company lost an estimated $16 billion in a matter of days.
"It's hard to know what the future will yield," Ryan acknowledged, adding: "Crypto sort of reminds me of where the markets were a while ago. There's so much uncertainty about it and concern about it, and a need to regulate it."
But, Ryan added: "One of our business units is building a digital asset exchange for the future."
Over the course of an hour-long interview, Ryan talked more about the future of global tech and finance, looked back on the years since Flash Boys came out, and described ambitious, new charitable endeavors, which reflect the importance of what he calls "the value of giving back."
Ryan came to the U.S. with his parents in 1990 – but did not initially think he would stay.
"I'd always planned on moving back to Ireland," he said. "When I first came, I was 16. It felt like a prison sentence to take me away from Dublin, to take me away from my friends. But when I got here … pretty quickly it became the best thing that ever happened to me."
He went to Connecticut's Fairfield University, where he met his wife, Kara, with whom he has two children, Emma and Jack. "When I left college, I figured: Give it a crack over here and work in New York City for a while."
That was a big step for Ryan. But only a first step.
"You gotta work hard (and) make your own luck. But you gotta be lucky as well, right?"
The luck of the Irish, as it turned out.
Ryan caught a break when he met John Sharkey, MCI. Sharkey was born in the historically-Irish enclave of Hell's Kitchen on Manhattan's West Side.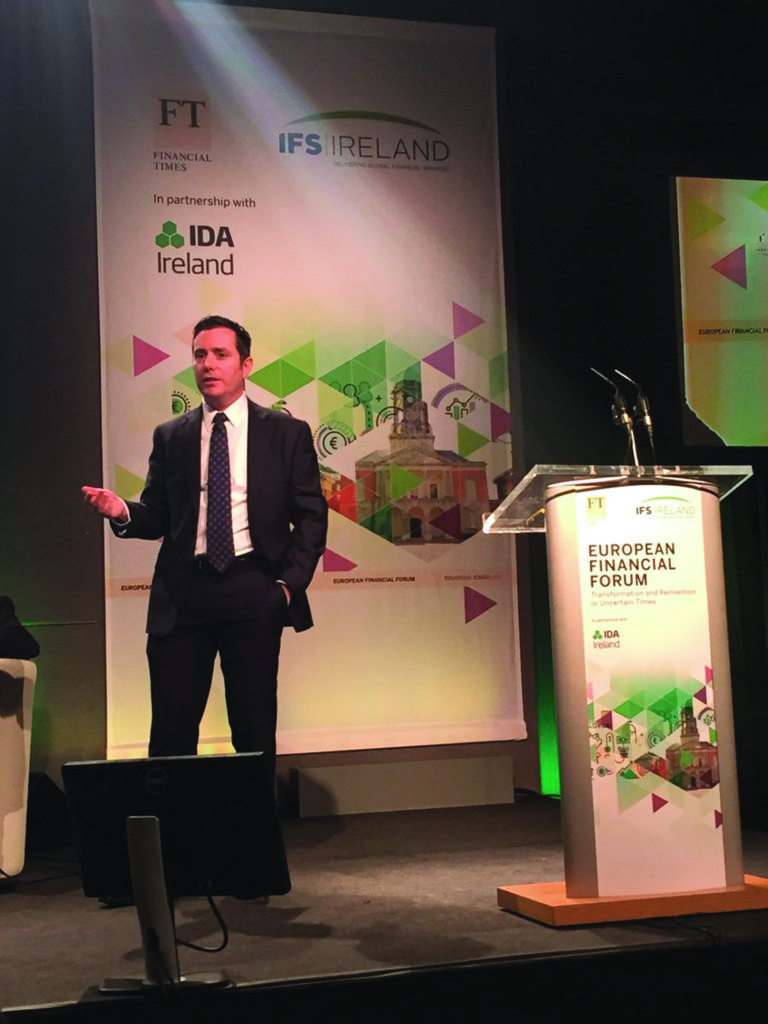 "He gave me a job in 1996 basically because I was Irish," Ryan says with a laugh. "I was called a 'Sharkey hire' (and) I got sent away to Atlanta to learn about technology." One of the many ironies of Ryan's Wall Street rise is that he majored not in tech or finance but International Studies at Fairfield University.
Furthermore, now approaching 50, he is not a so-called "digital native." Such a background might suggest a person who has trouble adapting in a high-tech business world where innovation seems to happen daily – even hourly.
"It was very hard to get a job on Wall Street – like it is today – unless you have serious contacts," Ryan noted.
So when MCI was willing to offer him training – especially with this new 1990s thing called "the Internet" – Ryan took them up on the offer.
"I was just naturally curious, and to be trained at a place like MCI, which was a massive company back in the day. They call it coding now, but I would write commands back in the day and I could make 1-800 numbers do things and ring places, and I could program people's phone systems. That's what I started off doing…. You do A and B – and C is the outcome. I thought it was great…I grew very, very curious about the Internet, and then it wasn't just about telephone calls anymore. It became about data around the world. And then, the hardware that supports it. (So) MCI was amazing. Amazing people and amazing training."
In short, a key lesson to learn from Ryan's career is to listen for that knock from opportunity – but also make sure you're in a position to answer.
"I always tell employees: Ask questions, but do something with the answers. It's great to say, 'I'm not afraid to ask questions.' But if you don't do anything with the answer, then stop asking me questions…I'm a big believer in, if you ask a question and you get an answer, do something with it. That was kind of what I did."
And by the mid-2000s, Ryan's life was about to change. Radically. And quickly. Micro-second quickly.
"Light in a vacuum travels at 186,000 miles per second or, put another way, 186 miles a millisecond," Michael Lewis wrote in The New York Times in 2014, in an excerpt from Flash Boys.
"Light inside fiber bounces off the walls and travels at only about two-thirds of its theoretical speed." Ryan would learn how to use all of this to his – and IEX's – advantage.
Lewis noted that Ryan "had always been handy, but he never actually studied anything practical. He knew next to nothing about technology. Now he started to learn all about it."
While working for a company called BT Radianz, Ryan became "an expert at moving financial data from one place to another."
At one point, he was asked by a hedge fund manager to troubleshoot cross-country trades, and the glut of data that went into the rise and fall of prices during such high-volume, high-speed purchases. Ryan was informed by one manager that his trading firm's "latency time" was "43 milliseconds."
To which Ryan replied. "What the hell is a millisecond?"
Armed with this question, Ryan set about making sure he got an answer.
By 2007, Lewis noted, Ryan "was making hundreds of thousands of dollars a year building systems to make stock-market trades faster."
At the same time, he and his co-workers figured out that tweaking this speed-based system in the most delicate way might give some traders an important edge. It gave Ryan and his partners the idea to start their own stock exchange which would – if you will – trade at its own speed.
They built in a slight delay, one which "needed only to be long enough for their new exchange, once it executed some part of a customer's buy order, to beat high-frequency traders in a race to the shares at any other exchange – that is, to prevent electronic front-running," as Lewis explained.
"The necessary delay turned out to be 320 microseconds; that was the time it took them, in the worst case, to send a signal to the exchange farthest from them, the New York Stock Exchange in Mahwah (New Jersey). Just to be sure, they rounded it up to 350 microseconds."
That delay has made Ronan Ryan, and those who built IEX, very successful – and highly influential.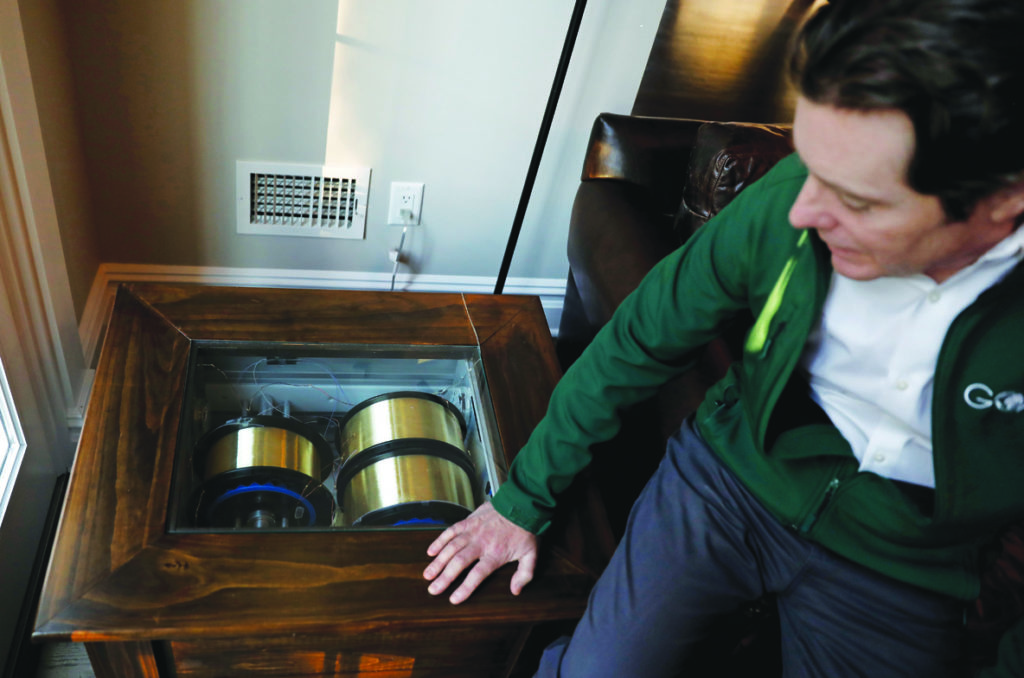 Back in October, the influential website MarketWatch celebrated its 25th Anniversary by outlining the "25 biggest market events of the past 25 years."
Near the top of the list was a seemingly insignificant SEC decision in 2001 "to stop quoting stocks in ⅛ point fractions and move to decimals."
This ended up having a massive impact on pricing and trading, while also pushing "the development of electronic trading … speeding technological trends that had been decades in the making."
There was, of course, a "backlash" over controversial, shady or illegal practices, which "spurred fresh regulatory scrutiny," MarketWatch noted. But there were also innovative, "entrepreneurial response(s)" including the IEX "trading platform with a speed bump aimed at discouraging high-frequency traders while shunning the practice of paying for order flow."
And the innovations and adaptations keep on coming – even amidst crypto-bankruptcy horror stories."
Blockchain as a technology … is always associated with Bitcoin and Crypto, and some of the negative press that you'll read about it," Ryan said.
"But if you look at blockchain … from a technology standpoint, I think it's very interesting. It's absolutely unequivocally here to stay, it's just how it's regulated, how it's embraced, and where it'll be years from now. I'm really, really excited about the next 24 to 36 months, to see what happens in that space and what it does to our business."
Meanwhile, asked about his new position as chairman of the board of the Irish charitable group GOAL, it's also clear that Ryan has started to look a little further down the road.
"This is something that I can see doing long after my time working on Wall Street. I think as a father – my son will be in college in a year and a half, and my daughter's already in college– it's good to show them the value of giving back. The culture over here (in the U.S.) is not the same as it was Ireland when I grew up in terms of giving back. And I kind of want to ingrain that into my family."
Founded by John O'Shea in 1977, after a trip to Calcutta, GOAL has since "responded to almost all of the world's major humanitarian crises, working with vulnerable communities in more than 60 countries," as its mission statement notes, adding that its staff "works with the most vulnerable communities to help them respond to and recover from humanitarian crises, and to assist them build transcendent solutions to mitigate poverty and vulnerability."
Ryan said: "I remember GOAL as a kid…in the 1980s. Ireland wasn't as wealthy as it is today. But there was always, always a culture of giving back, and that's something that was ingrained in me from the time I was a kid."
He continued: "It's a remarkable charity. I've gone to the board meetings in Dublin. I've met the workers who are stationed in some of the worst situations in the world. I have seen what they do in Haiti, Honduras, Syria, Ethiopia, Ukraine and other places. It's remarkable – wherever there's a crisis GOAL is there."
Remarkable, yes. Noble, of course. But highly complex and expensive.
Ryan is looking to work with GOAL to make sure that as much funding as possible gets to those who need it most.
"A lot of times people say: I give my ten dollars, I want all ten dollars to go to those who need it.
What they don't understand is the logistics of doing that. Because if you can't get aid workers there. If you can't get trucks on the road. If you can't get planes in the air, and you don't have the funds to do that, you can't give the full ten dollars to the people who really need it. So that's kind of my real goal in this. That's my passion."
In some ways this is a new undertaking for Ryan. In other ways, though, it just reinforces a message Ryan's uncle once conveyed to him.
"My Uncle Des runs a shop called Knobs and Knockers in Dublin City. And when he'd find out someone was going to America, he'd tell them: 'Go talk to my nephew, he'll get you a job'."
It wasn't long before Ryan had quite a few Irish applicants seeking work.
"And I remember I was home one New Year's Eve, and my aunt – my mom's sister goes, she calls me Ro – She's like, 'Ro, an Irish guy helped you. You have to give back.' And it was the little bit of the smack in the face I needed. And I went back (to the States), and I hired my first Irish guy."