PUTTING TRUST IN WEALTH MANAGEMENT
When he first started working at Merrill Lynch – before he became one of Merrill's leading wealth managers – Kevin J. McLaughlin's duties included setting up meetings and seminars across the country.
Future Merrill Lynch President and CEO Dan Tully was the featured speaker at one such gathering in Scottsdale, Arizona, when a sudden
development required Tully to get back to New York. Fast.
"No one was flying private in those days – and there were only one or two flights in and out of Scottsdale a day," McLaughlin recalled, mustering up the courage to deliver the bad news.
"Mr. Tully, the only flight is in an hour and a half, and I'm told it's at least an hour and twenty-minute drive to the airport."
But Tully responded by saying: "First, it's Dan. It's not Mr. Tully." Then as he jumped into the front seat passenger side he said: "Let's go."
As it turned out, the drive showcased many of the skills – effective communication, creative problem-solving, and nimble thinking – that have made McLaughlin as successful as he is.
When Tully wasn't serving as co-pilot – he learned that McLaughlin was aiming for a career in sales.
"I can tell by the way you drive you're assertive. I think you'd be good," Tully observed. As he boarded the plane, he instructed, "Call my office, tell them I made the flight, and call me about sales." 
Forty-five years later, McLaughlin still calls upon those skills, for his clients at Merrill, and for the volunteer and charitable organizations to which he dedicates time and treasure.
"People say to me, 'How can you work at one place for this entire time?' 
The answer is easy. "I work for my clients. And given Merrill's platform, reputation, and its 'client first' tradition, it's the best place to be." Putting it more succinctly, McLaughlin adds, "I found a second home at Merrill that aligns with my values, and I've been happy to welcome clients in."
HERITAGE
McLaughlin's maternal grandparents were immigrants from Cork City. Eight-year-old Patrick Mahoney came over in 1893, while Molly Curtin arrived at age 20 in 1907. They met when Pat, who worked for a food company, made a sales call to the Fifth Avenue apartment where Molly worked as a domestic. "My mother, the youngest of Pat and Molly's four children, would say of her father, 'He could charm the birds out of the trees,' so I reckon he was a pretty good salesman.
Molly's family would say: "Molly had to move to America to meet a man from Cork."
In many ways, high finance boardrooms were a world away from the one in which McLaughlin grew up. Literally speaking, though, Merrill's Wealth Management offices are pretty much down the block.
"I grew up on 83rd Street, between Third and Second Avenue, on the fourth floor of a five-story walk-up," said McLaughlin. "It was a front-to-back railroad apartment where my mother Julia grew up. My father, Jack McLaughlin, married in."
"I remember as a young boy asking dad where he was going and he said, 'I'm going to see the landlord. It's his birthday. He has twelve a year."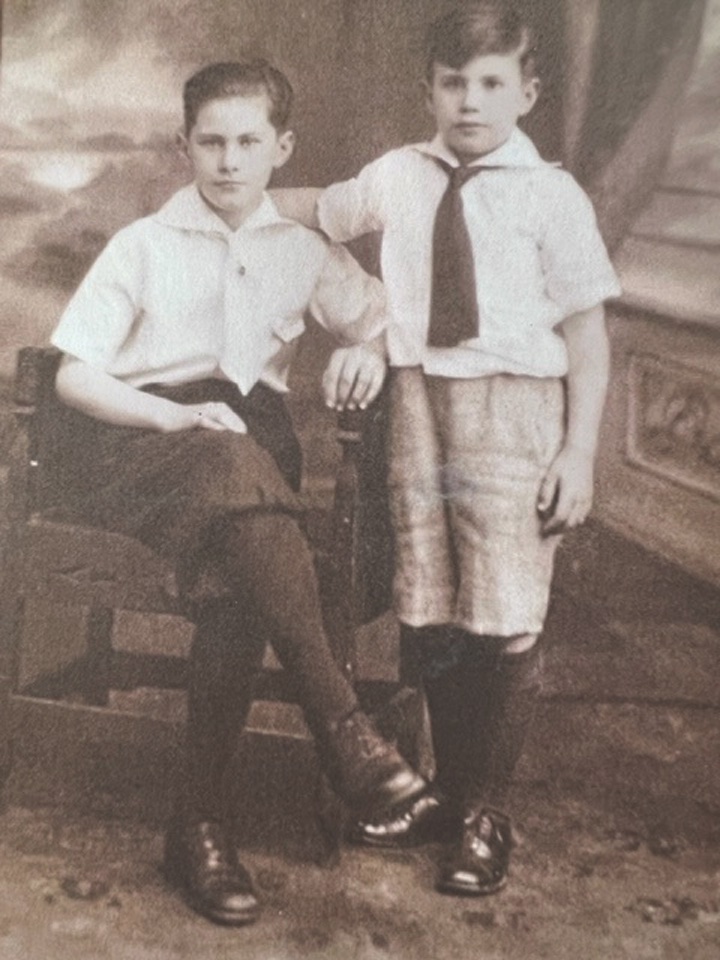 MCLAUGHLIN'S CORNER
Fast forward to today, as we sit in his corner office, at 75 Rockefeller Plaza, McLaughlin reflects on the lives of his ancestors and their tenacity that has contributed to his success. It's something that he is reminded of daily. He has a letter sent to Ireland by Joe McLaughlin, his paternal grandfather. The return address on the envelope indicates that the building his grandfather first lived in New York once stood where Merrill's offices are today – a half block from Saint Patrick's Cathedral.
In 1914, Joe married Nora Donovan whose parents emigrated from Croom, Co. Limerick and they had two sons Jim and Jack. Nora died young, and Joe decided to take his two boys back home to McLaughlin's Corner, the family-owned pub and eatery in Kilrea, Co. Antrim.
What seemed like a good idea at the time didn't work out. "Joe, having spent time in New York, had an opinion about how things should work and that didn't sit well with the family, so after a year plus there, it was back to New York.
GROWING UP
"Up until the late 1950s, Third Avenue had an elevated subway line. Everything west of Third is much nicer if you look at the architecture. We were east of Third."
This is the bygone Irish immigrant world brought to life by great New York writers like Joseph Mitchell and John McNulty, with its colorful characters and evocative urban imagery.
"J.G. Melons and P. J. Clarke's – all along there were a lot of predominantly working-class Irish bars," notes McLaughlin. In fact, his neighbors, the McKiernans lived on the 2nd floor; Mr. McKiernan, Irish-born was a bartender at P.J. Clark's.
"As I will occasionally do, I visit Clark's, and I can still see his 8×10 picture above the bar."
EDUCATION AND CHURCH
Even though there was not a lot of money – in the family or on the block – McLaughlin still considers himself "fortunate."
"The parish line ended at Second Avenue and St. Ignatius Loyola was our parish. We walked two blocks up to 84th Street and Park Avenue, a grand Jesuit church, and school run by the Sisters of Charity."
McLaughlin ended up with an impressively diverse array of friends.
"Many of the ambassadors to the United Nations who were Catholic or from Catholic countries sent their sons and daughters to St. Ignatius."
McLaughlin would go to ritzy birthday parties in giant apartments.
"You'd go into a walk-in closet filled with all these cowboy outfits from FAO Schwarz … And then you'd invite those friends back to your walk-up apartment."
McLaughlin reels off the names of pals with whom he played stickball and Johnny on the Pony: "Eddie Flynn, Bugs Bergen, and Seanie Kelly. These guys lived in walk-ups and shared hallway bathrooms."
Either way, education was always seen by the McLaughlin's as a way up.
"It's a common story, education and the ability to work hard. I knew growing up that the money wasn't in abundance. I always had jobs – in sixth grade, I was a delivery boy for the florist and the dry cleaner. When it came time for high school, I won an altar boy scholarship to Xavier."
CARRYING YOUR WEIGHT
Since the Jesuits worked out for him at Xavier, he decided – as the first in his family to go to college  – to apply to Boston College. By this time, the McLaughlins had moved downtown to Stuyvesant Town after the apartment building on 83rd Street had been sold. The biggest change in "Stuy Town" is that he had to share a bedroom with his sister Kathleen. "The envelope comes in the mail from BC and it's thick – which is good. I open it up and read it to the part where it says what the tuition is. My father says, 'We have enough for one semester.' And I thought to myself, 'Well, that's enough to get going.'"
In case it's unclear, McLaughlin's father added: "We'll make this work." 
Making it work required several on-campus jobs, including breakfast chef and dorm receptionist, finishing up as a research assistant in the Marketing Department at BC's Carroll School of Management.
During summers and breaks, McLaughlin worked union jobs for Local 32B  as a porter in midtown office buildings. "My last summer before my senior year I knew I needed something more on my resume besides my porter jobs. I found a day job at the Citibank Branch in Maspeth, Queens demonstrating  a new technology, Automated Teller Machines, an ATM that had just been installed in the branch lobby." He kept his porter job because the union pay was good. "As these things happen, I was assigned a night job at 399 Park Avenue, Citibank's Global Headquarters. By day, I'm in a Citibank blazer, at night, I'm in a Citi work uniform."
In fact – in a story you're not likely to hear from too many high finance types – it was that night job cleaning up trash that put McLaughlin on track for a career in wealth management.
"I worked the freight elevator." His duties included trash disposal, and handling large bags of old documents and records. "They were huge burlap bags. You'd fill up the elevator and bring them down to the sub-basement to get compressed and save them for 30 days in case someone had to find a memo or some other document of importance."
And ever curious how the financial world operated, McLaughlin found himself intrigued.
"I'm reading the trash as I go up and down in the elevator. I'm reading the memos and org charts, looking around at offices, and taking it all in. It was informative."
After completing a Bachelor of Science in Finance and Marketing, McLaughlin heard about a training program sponsored by Merrill Lynch. He made the cut to be interviewed on campus and was offered a position on the spot.
MERRILL LYNCH
After several years with the firm, McLaughlin took a 50 percent pay cut to switch to Wealth Management. Since then he has been working successfully with individuals, families, institutions, and private foundations on a wide range of wealth management, philanthropic, and estate-planning endeavors, following the four principles laid down by Tully. "Client focus, respect for the individual, teamwork, responsible citizenship and integrity."
He is part of a long tradition at Merrill Lynch, founded in 1914. "We're the people that brought Wall Street to Main Street after World War II, providing middle-class Americans access to the capital markets and participation in the growth of our economy. Today our work continues – from those just starting out, to the wealthiest, most sophisticated investors, and now, as part of Bank of America, our depth and breath of services is expansive."
McLaughlin completed a prestigious Investment Program at the University of Pennsylvania Wharton School and was recognized by Forbes Magazine in 2023 as a best-in-state wealth advisor.
He was also, in 2022, awarded Merrill Lynch's David Brady Award, named for the New York-based adviser who died on 9/11, having earned a stellar reputation among clients and the community.
In presenting the award, Matt Grossman, a leading manager at the firm, noted McLaughlin's positive influence at Merrill, saying, "Colleagues such as Kevin make up the backbone of the enterprise. We are thrilled to award him this coveted honor."
GIVING BACK IS STILL A PRIORITY
"I think the Irish gave back before we had anything to give back. I remember my dad raising money in the parish to help build a new convent."
Active in fundraising for Xavier High School, serving as a Trustee and chairing its Advancement and Development Committee, McLaughlin took on similar responsibilities for Boston College. He found the work "very rewarding."
"I was on the [Boston College] Alumni Association board, and I was thinking, 'Maybe I'm not doing enough.' And then I received a call from the head of the Alumni Association, asking me to stay on for the next three years as President."
In a tribute video, Jim Husson, Senior V.P. for University Advancement, described Kevin as someone who goes above and beyond. "[Kevin is someone who finds those special ways to ensure that everyone feels great about what they are doing for Boston College. And, [he] does it in a way that doesn't draw attention to the fact that he is doing it. That's a real skill. It's a real gift."
SUCCESS AND THE FUTURE
McLaughlin attributes his achievements to an Irish sense of perseverance, hard work, and empathy. That aside, his striving comes from a deeper source. "I always wanted to make my parents proud, particularly my mother" he admits.
When not helping clients, McLaughlin likes to travel, play golf, and follow Boston College sports. He lives in Pound Ridge, New York with his wife,
Jean, whom he met at Merrill Lynch.
One of the significant challenges the entire financial industry is facing is harnessing new technology.
"Access, quality of data, and speed of information have never been more democratized, "says McLaughlin. As to concerns that human workers could become obsolete. "Good advisors are needed now more than ever to sift through all the noise and provide clear independent guidance and the ability to execute." He adds, "advances in artificial intelligence will be another series of terrific tools. However, when you connect with an individual and they know you have their best interest, their back if you will, that's the opposite of artificial."
Personal and professional ties to Ireland remain strong, including Bank of America's large presence in Dublin. ♦