If "home" is a special but complicated word for most Irish people, this is doubly true for Des Bishop.
Born in New York, Bishop went off to Ireland at the tender of age of 14. But what began as a kind of lark to make sure Bishop stayed focused on school turned into a calling as a popular comedian, performer, and TV personality. For years, Bishop has been doing the thankless – but hilarious – work of explaining the Irish to Americans, and vice versa.
On top of that, this month brings with it the U.S. premiere of Bishop's show "Mia Mamma," which he is performing at several venues across New York City as part of the 14th annual Origin 1st Irish Theatre Festival, running through January 31.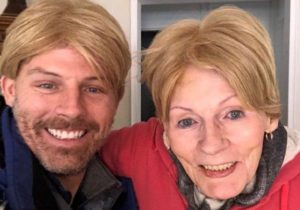 Bishop's show – a comic and dramatic exploration of his mother's recent passing – was on tour in Ireland in early 2020, when the Coronavirus pandemic shut down performances.
Eilleen Bishop died in 2019, and raised her son Des in Flushing, Queens – at least until his school work began suffering. The rest is Irish American history, as Bishop remained on the Emerald Isle, launching a successful comedy career, which included chronicling his efforts to learn Irish Galeic, as well as Mandarin Chinese. Bishop even opened a comedy club in Beijing, a process memorably chronicled on Ireland's RTE TV.
In a Zoom interview held this week, Bishop told Irish America that his hometown is providing a special opportunity to finally put on this long-awaited show about his beloved Mom in the states, that some good news that came into his life during the pandemic, and what he is hoping to do when – or if – things get back to normal. ♦