Saturday, January 15, 2022 1:00 pm MST, 3:00 pm EST, 8:00 pm Ireland time
The Rocky Mountain Roots Collective presents a Zoom program that includes radio broadcaster Adrian Flannelly and writer Turlough McConnell to highlight the movement in resistance to the proposed closing of the Irish Great Hunger Museum at Quinnipiac University.
Opened in 2012, Ireland's Great Hunger Museum at Quinnipiac University in Hamden. CT was born of a moral vision to continue the visual and artistic remembrance of the Great Hunger of 1845-1852. The museum contains the world's largest collection of art related to the Famine and includes works by some of the greatest Irish and Irish-American artists of the last 170 years. The Museum's mission is to educate future generations about the Great Hunger and the timeless lessons to be learned from this terrible human tragedy. It has been universally acclaimed for its unique focus, unparalleled collection of Famine-related art and educational programs.
In August, this year Quinnipiac's Board of Trustees announced that the museum would close permanently. A coalition of Irish-American groups, the Committee to Save Ireland's Great Hunger Museum, is seeking to reverse the board's decision and reopen the Museum.
Presenters: Adrian Flannelly and Turlough McConnell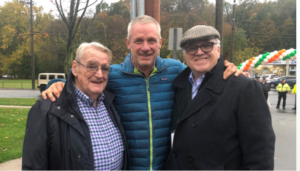 Adrian Flannelly is Chairman and CEO of Irish Radio Network USA. For more than 50 years, Flannelly has been the voice of the Irish in New York and beyond. He is best-known for his work on Irish immigration, creating the Donnelly and Morrison Visa programs which led to the legalization of 50,000 Irish immigrants. Flannelly was also a central figure in convincing NY Gov. Pataki to create a memorial to New York Irish famine victims near Battery Park, helping to populate it with grass, soil, and plants directly from his native County Mayo.
Turlough McConnell is a writer and producer who specializes in subjects of historical significance to Irish America, including art and culture, immigration, the Great Hunger, and 19th-century New York City. For over three decades, he has contributed numerous Special Features articles and supplements to Irish America Magazine and the Irish Voice newspaper. He has created many theatrical presentations and museum exhibitions across the U.S. and served as a special advisor to Ireland's Great Hunger Museum and Institute at Quinnipiac University.