Waterford Woman Sets Irish Freediving Record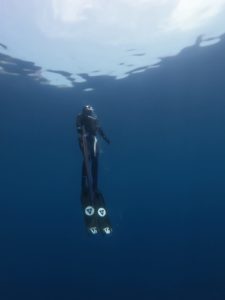 Waterford City native Kathleen Macdonald has been ranked number one in Ireland for freediving, with a time of 6 minutes 12 seconds.
Kathleen began freediving, the sport of diving without use of a breathing apparatus, just 18 months ago and has already achieved 10 national records.
During Ireland's first Covid lockdown, Kathleen's mother who lives in Greece had a relapse of cancer and Kathleen flew there to be with her. It was there she reached out to One Breath Freediving in Athens in search of an outdoor, Covid-friendly sport. Kathleen had previously attended a one-day course in the Philippines in 2015.
No stranger to adventure, Kathleen has reached Mount Everest base camp, the summit of Mount Kilimanjaro and even accidentally reached the top of Mount Toubkal while on a "leisurely stroll" in the Atlas Mountains.
"I think I was always searching for something, but I never knew what it was," said Kathleen, who works as a lawyer in Dublin. She has continued her training in Ireland's capital at the pool where she had signed up for swimming lessons just before the pandemic.
"The irony isn't lost on me, but it just shows it's never too late to try something new," she said. Speaking of her personal best time Kathleen said, "those extra seconds after the 6 minutes really matter: I jumped from 2 minutes to 3 minutes to 4 and a half to 5 and a half in some months, but it is only after you reach the 6th minute you are really pushing your body and mind to its limits."
Kathleen explained that the bottom of the ocean has provided a haven for her mental health. "For me, it is mindfulness using one breath and you return to the surface calm and free, you have emptied your mind of any thoughts, lowered your heart rate to adapt underwater and trusted your body to allow you to go to depths where you wouldn't normally think it's possible to go to."
Kathleen is planning on entering freediving competitions in both Greece and the Bahamas this year.
Subpoenas Issued to American Irish Historical Society Board Members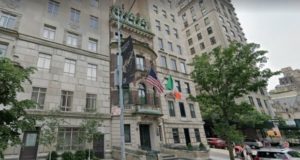 New York's Attorney General has subpoenaed key members of the American Irish Historical Society (AIHS) following the resignation of four board members.
The resignations came amidst plans to sell the society's Fifth Avenue location and move upstate to the Cooperstown region, 200 miles from New York.
Two current board members and an employee will now be questioned under oath about management and other aspects of the society. While the AIHS has long been in the hands of the Cahill family, its current president-general is Irish President Michael D Higgins' son, Michael Higgins Junior.
An investigation of the society has been underway since a petition, signed by over 40,000 people, asked for a complete review of the management of the institution which is home to invaluable manuscripts, books and historical artifacts.
Irish Central has been reporting on the saga, including the million dollars of funding given to the society by the Irish government. The funding was approved on the understanding the government would be aware of all future development plans. However, they were not advised of the plan to move the AIHS upstate.
While Irish Foreign Minister Simon Coveney has called for AIHS to keep its Fifth Avenue location, the society is reported to have reduced the asking price of the building from $52 million to $44 million.
Vigil Held on Stardust Fire Anniversary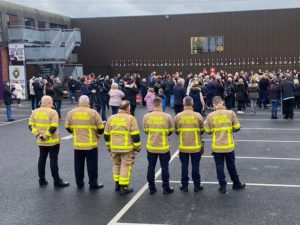 On Monday, Ireland marked the 41st anniversary of the Stardust tragedy which killed 48 people in Dublin.
The Stardust venue was hosting a disco to celebrate Valentine's Day when a deadly fire broke out.
The names of the victims were read aloud at the vigil in Artane and singer Christy Moore sang "They Never Came Home", which he wrote in honor of those who died.
Journalist Charlie Bird, one of the first on the scene that night, was also in attendance.
An investigation in the aftermath of the fire found that most emergency exits had been blocked to prevent patrons sneaking in.
The area of the venue where the fire initially started was also found to be non-compliant to planning permission regulations.
Survivors and families of the victims have been seeking justice since the tragedy, with a new inquest set to begin in March.
This week former Stardust manager Eamon Butterly was denied his request to exclude unlawful killing as a possible verdict in the upcoming inquest.
The Butterly family, who owned the nightclub, were protected from lawsuits after an inquest shortly after the fire found the probable cause to be arson. However, evidence now suggests the fire was caused due to an electrical fault.
The Stardust inquest is expected to be Ireland's longest of its kind, possibly last for four years.
Dublin Second in Europe for Improving Air Quality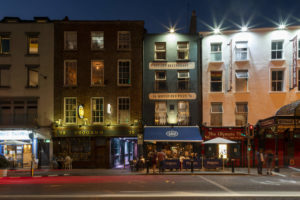 Dublin has been named the second most improved European capital in relation to air quality, according to findings from Uswitch.
Air pollution in Dublin city has been reduced significantly between 2019-2021, with a 24.76 percent decrease in pollutants. Athens, Greece topped the list with a 34.85 percent decrease.
Air pollution in Dublin was reduced by 32.8 percent between 2019 and 2020 before a 12 percent increase the following year.
Both Athens and Dublin are seeing a return to smog-like conditions as the economy resumes following the easing of lockdown restrictions.
The findings come after a delay in EU air pollution limits was announced earlier this month. A proposal for new emissions standards for vehicles was supposed to be drafted in 2021 but has now been delayed until July.
Air pollutants have a negative impact on both the environment and our health, with new research finding pollution to be a contributing factor to Covid-19 infections.
Irish Sports Star Involved in Financial Fraud
Former Irish hockey star and Kilkenny camogie player Catriona Carey has again made headlines in Ireland for allegations of financial fraud.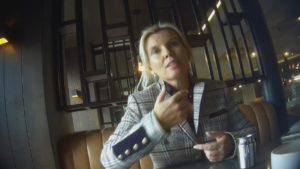 Carey is alleged to have personally spent more than  €200,000 deposited by homeowners to Careysfort Estate Assets Ltd., a business which was supposed to help clear its clients' debts.
Carey, a trained accountant, is the director and owner of the England-registered company which was set up to purchase homeowners' debts from lenders at a cheaper rate and sell them back their house with lower mortgage repayments.
An RTÉ  Investigates documentary found 15 people have accused Catriona, sister of famous hurler DJ Carey, of taking tens of thousands of euros but failing to buy their debt from the original lenders.
Over two years,  €400,000 was deposited into the company account with only  €488.10 remaining. The biggest withdrawal came from the fund in July when €55,226 was used by Catriona to purchase a BMW.
Further spending includes ski trips to Switzerland, a trip to Florida and multiple visits to high-end boutiques and outlets.
Catriona has a previous conviction from February 2020, after she forged a check for  €6,948 from a client who had hired her as an accountant. She was given an eight-month suspended prison sentence.♦