The term 'craic' is a uniquely Irish one. It means fun and enjoyment and good times had by all.
After two long years, the 'craic' is truly back in Ireland. There is a buzz in towns and cities again, laughter in the streets, and music in the air. And what perfect timing as Spring begins to appear.
Poet Gerard Manley Hopkins wrote, "Nothing is so beautiful as Spring – When weeds, in wheels, shoot long and lovely and lush." How those words ring true for the upcoming season. A time when Ireland emerges and opens its doors to a new chapter, a new beginning, and an opportunity to welcome old friends once again to our shores.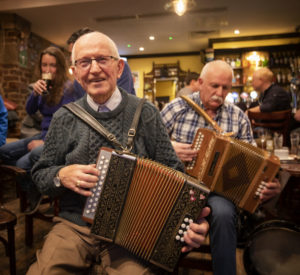 'The craic is back' and there is only one place to be…Ireland. St Patrick's Day will kick off the season in style. After two years, the St. Patrick's Festival is back— a week-long celebration of music, dance and outdoor shows culminating in the stunning St Patrick's Day Parade through the historic streets of Dublin on March 17th. One can also visit the beautiful town of Downpatrick in Northern Ireland where St Patrick is buried and check out the St. Patrick's Center which is the world's only permanent exhibit to our patron saint.
The St. Patrick's Festival is the highlight of the early vacation season and what a year 2022 is going to be. This year don't miss the new Game of Thrones Studio Tour at Linen Mill Studios in Banbridge, just a short drive from Belfast, the newly designated UNESCO City of Music. Keeping with the artistic theme, Dublin will be thronging with literature lovers this year as the city celebrates the centenary of James Joyce's revered masterpiece Ulysses. A host of literary events, exhibitions and artistic commissions are set to mark the 100th anniversary of the publication of one of the world's most iconic works of literature.
So, whether you decide to wander through 5,000 years of history in Ireland's Ancient East, discover Ireland's breathtaking west coast along the Wild Atlantic Way, embrace a giant spirit in Northern Ireland, or enjoy the unspoiled majesty of Ireland's Hidden Heartlands – you can do so in the knowledge that you will receive a welcome warmer than ever before and the guarantee of the experience of a lifetime.
'The craic is back'…it's time you returned too.
Visit Ireland.com to plan your trip to Ireland this spring. ♦