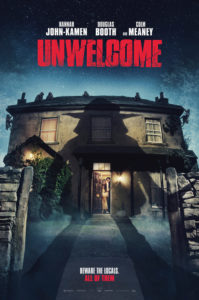 Meaney's Horror Unwelcome
It's going to be a creepy St. Patrick's Day for Colm Meaney.
In March, look for the great Irish actor in a new horror thriller –set in Ireland – called Unwelcome.
The film explores a young London couple (Hannah John-Kamen, Douglas Booth) whose exciting dreams of big city living have turned into a nightmare.
With a baby on the way, the couple retreats to rural Ireland – which is when things get really scary. It seems there may be horrible things lurking in the Irish woods. It doesn't help that their seemingly nice neighbors may be the most frightening thing of all in this movie.
Unwelcome has been directed by Belfast native Jon Wright, who's already established himself as a force in Irish horror, with previous indy films like Grabbers and Tormented.
---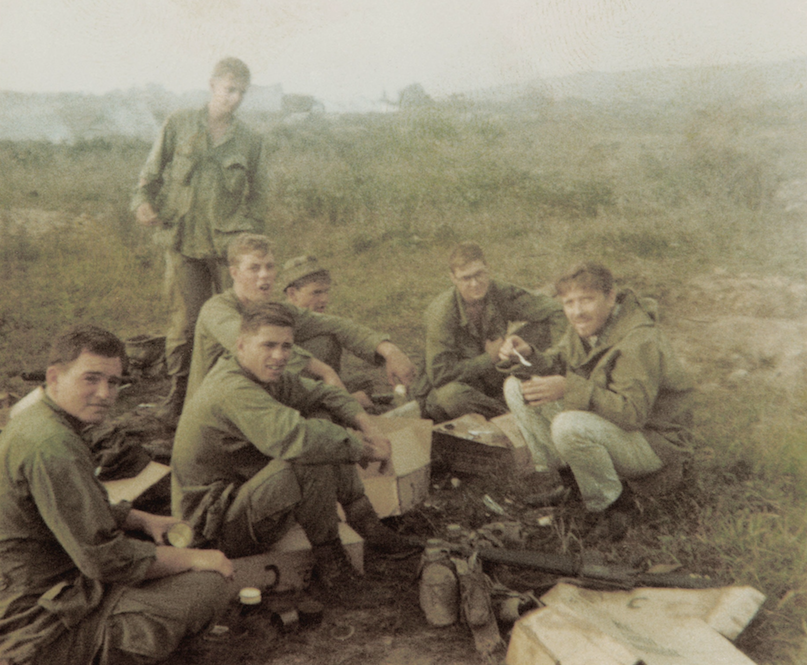 The Greatest Beer Run Ever
The "greatest beer run ever" is turning into quite a movie-making story also.
It all begins back in 1967, in the north Manhattan Irish neighborhood of Inwood, where there was a watering hole called Doc Fiddler's. The Irishman behind the bar was named George Lynch, and affectionately known as "the Colonel."
It was "an honorary title, since he had made only private first class in the army," as John "Chick" Donohue writes in his book The Greatest Beer Run Ever.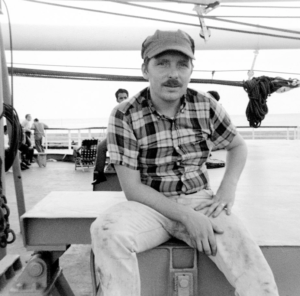 By late 1967, Donohue adds, "Inwood had already buried 28 brothers, cousins, and friends who had been killed in Vietnam."
Such sacrifices seemed to get lost in the angry protests that dominated the headlines of the day.
As he's thinking about Americans in Vietnam, Donohue also can't help but think about the English in Ireland.
Eventually, Lynch and Donohue came up with a plan to deliver beer to the Inwood boys in Vietnam, to thank them for their service.
The Greatest Beer Run Ever is now being made into a film directed by fellow Irish American Peter Farrelly (from the Oscar-nominated Green Book), and is expected to star Russel Crowe, Zac Efron and Bill Murray.
Not a bad later-in-life accomplishment for Donohue, a retired New York City "sandhog," who spent decades underground digging tunnels, after traveling halfway around the globe to deliver some pals a few cases of Pabst Blue Ribbon.
---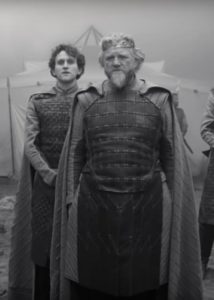 More on The Banshees of Inisheer
Brendan Gleeson celebrated the holidays in Scottish style. The celebrated Irish actor appeared in the December movie The Tragedy of MacBeth, alongside Denzel Washignton and Frances McDormand.
Now, the prolific screen veteran is returning to Ireland.
Gleeson will appear in what has become the most anticipated Irish movie in show biz, now that Kenneth Branagh's Belfast has been released.
Gleeson will star alongside Colin Farrell, Barry Keoghan and Kerry Condon in The Banshees of Inisheer, expected to be released early next year.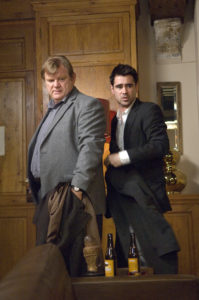 The film reunites the A-List Irish talent behind the 2008 Film In Bruges – Gleeson, Farrell and writer-director Martin McDonagh.
Plot details about Banshees remain a bit hazy.  As best as we can tell, two close friends live on a remote Irish island, but then have a falling out – which is awkward because, you know, they live on a remote Irish island.
The Banshees of Inisheer will also offer a special treat for lovers of Irish comedy – the reunion of "D'Unbelievables" duo Pat Shortt and Jon Kenny.
"I hadn't worked with Jon in ten years," Shortt told the Irish Sun. "But we found out the chemistry was still there between us."
---
Death on the Nile's Irish Talent
Speaking of Kenneth Branagh and Colin Farrell.
After directing the intimate Belfast, Branagh is going big once again in February.
As is Colin Farrell. In more ways than one.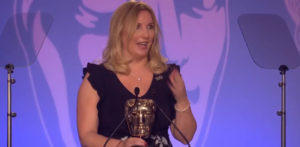 Branagh returns as Hercule Poirot, while also directing, in the star-studded, mega-budget Death on the Nile. Like his earlier blockbuster Mudrer on the Orient Express, Death on the Nile is based on the work of eminent mystery novelist Agatha Christie.
Instead of a body turning up on a speeding train, we now have a murder taking place on the high seas, with Gal Gadot, Annette Bening, and Russell Brand among the suspects.
Branagh is again leaning on eminent Irish talent behind the camera – editor Úna Ní Dhonghaíle and composer Patrick Doyle.
The former won a BAFTA award for her work on the acclaimed Netflix series The Crown, while the latter (born in Scotland to Irish parents) is on his fourth decade scoring movies, from Branagh's Dead Again and the Irish flick Into the West, to classics like Donnie Brasco and Bridget Jones' Diary, right up to the animated Brave, while picking up Oscar, BAFTA and Golden Globe nominations along the way.
---
Colin Farrell as The Penguin
Then there is The Batman, hitting theaters March 4. Robert Patinson is now the Caped Crusader, and Paul Dano is his nemesis The Riddler.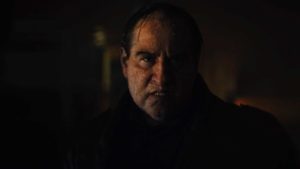 But the person you've got to see in this move is Colin Farrell, who channels the overweight and balding Robert DeNiro from Raging Bull to play Oswald Cobblepot, otherwise known as The Penguin.
Perhaps film director Matt Reeves did not realize that Danny DeVito is still alive and well and available to reprise his role as The Penguin from 1992's Batman Returns.
Either way, The Batman also features Barry Keoghan, who is currently working with fellow Irish actors Fionn O'Shea and Anthony Boyle on Masters of the Air, a World War II cable drama series from the same creative team behind Band of Brothers and The Pacific.
---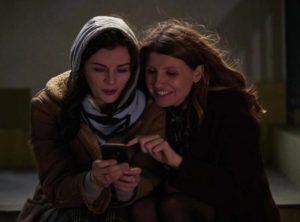 Sharon Horgan is a Winner!
For something a little lighter, check out This Way Up on Hulu.
This dramedy stars Irish comic treasures Aisling Bea, creator of the series, and Sharon Horgan, who also serves as the series producer. This Way Up is set in London and follows the chaotic social lives of two Irish sisters.
And next up for Horgan is what may arguably be the most meta movie project since John Malkovich starred in Being John Malkovich.
The Unbearable Weight of Massive Talent stars Nicolas Cage as a not-very-fictionalized version of himself. Horgan, Neil Patrick Harris and Tiffany Haddish also star.
The Cage character— his Oscar-nominated acting days long behind him- accepts a big payday to appear at a birthday party thrown by a wealthy businessman. But things go sideways, so guess who has to save the day from brutal drug gangs with his deadly fists and awkward acting style?
---
Peaky Blinders for Big Screen
Good news and bad news from the Peaky Blinders set.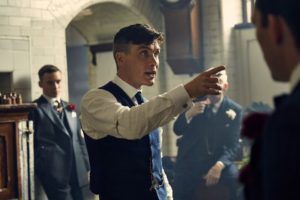 Variety magazine reports that the British-Irish gangsters show, starring Cillian Murphy, will make the leap to the big screen.
The bad news?
Series creator Steven Knight is making the movie because the show itself is wrapping up after its forthcoming sixth season, which is expected to hit screens in Spring 2022.
"Then I am going to write the (movie) which will be set in and shot in Birmingham," Knight was quoted as saying in Variety. "And that will probably be the sort of the end of the road for Peaky Blinders as we know it."
Knight did leave open the possibility of Peaky Blinders universe stories further down the road.
Next up for Murphy is the starring role in Christopher Nolan's long-awaiting, much-hyped biopic of atom bomb creaor J. Robert Oppenheimer.
---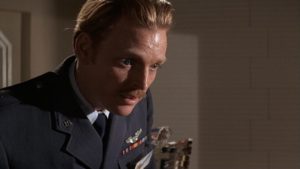 Irish Bond Villian Dies Aged 70
Finally, Irish-born actor Gavin O'Herlihy died at 70 in September, after working with legends from Robert Altman to Charles Bronson over a decades-spanning career.
Yet, O'Herlihy's greatest claim to fame may be that he vanished without a trace from a famous TV show — ironically earning him a permanent place in TV history.
Born in Dublin, this son of actor Dan O'Herlihy was cast to play the oldest brother in a 1970s sitcom which tapped into 1950s nostalgia sweeping America. The show was called Happy Days, and O'Herlihy portrayed the Cunninghams' oldest son Chuck.
At least he did for seven episodes. And then he was gone, without so much as a lame attempt to explain his absence.
"I didn't want to do it," O'Herlihy later said.
"They had me at college, I was going to grunt and bounce a basketball once every couple of weeks for probably three or four years. And at 20 years old, that's not the gig you want to be doing."
O'Herlihy later made his movie debut in celebrated director Robert Altman's 1978 film A Wedding, and later appeared in the Bond film Never Say Never Again, Death Wish 3, and Willow — directed by Happy Days co-star Ron Howard.♦