Landmarks Won't Go Green This Year
As towns and cities across Ireland and the world prepare to celebrate St. Patrick's Day, Tourism Ireland announced that it would not carry out its annual Global Greening initiative out of respect for the situation in Ukraine.
The initiative began in 2010 with the lighting of Sydney Opera House to mark the 200th anniversary of the reception of Irish ex-pats in 1810.
A statement from Tourism Ireland said "2022 is a very different year" and that while "normal promotional activity around St. Patrick's Day will continue" the Global Greening program will return next year in what the company hopes "will be a more peaceful world".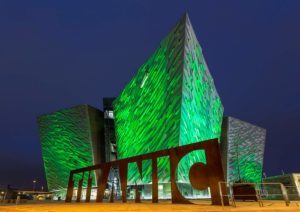 During Leaders Questions on Tuesday, Taoiseach Micheál Martin addressed the country's stance on incorporating the Ukrainian flag into St. Patrick's Day celebrations.
"As a result of the appalling situation and war in Ukraine, we have evolved our tone and theme of St. Patrick's Day next week from an overt focus on Ireland to a broader focus on the fact Ireland is an active, engaged and fully committed member of the international community that stands by democracy, the rule of law and human rights."
The Taoiseach continued, "We will use St. Patrick's Day and that week basically to highlight our solidarity with Ukraine and the values for which the Ukrainian people are standing. That is a key issue."
Ireland Fuel Prices Spike
And from one kind of green initiative to another, Ireland may have to consider increasing its renewable energy use as fuel prices skyrocket as a result of Russia's invasion of Ukraine.
A lecturer in wind energy at University College Cork has explained that while Ireland gets very little of its energy from Russia, all energy markets are interconnected.
"If a large part of the global gas and oil supply is ruled out by sanctions, then we see the effects in terms of increased prices," Dr. Paul Leahy told Echo Live. "All countries also have a wider responsibility to consider what kinds of regimes they are buying energy from, and what the proceeds of those sales might be used for."
A cut in excise duty on petrol and diesel came into effect in Ireland this weekend. The move, voted in by the Dáil on Wednesday, saw a 20 cent per liter reduction in price.
The legislation will be in place until the end of August at a cost of € 320 million ($349 million).
First Female Irish Amabassador to the U.S. Honored
In New York, Ireland's first female ambassador to the U.S. was honored by Queens University Belfast this week.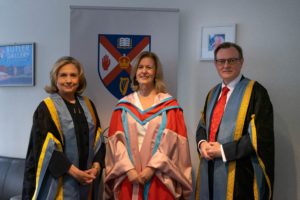 The conferral ceremony, held at the Irish Consulate, saw former diplomat Anne Anderson awarded an Honorary Degree by Queens University Chancellor Hillary Rodham Clinton.
Anne joined the Irish Department of Foreign Affairs in 1972 and over the course of her distinguished career worked in roles representing Ireland in the United States and France as well as to the European Union and United Nations. She was Ambassador to the  U.N. from 2009-2013 before becoming Ambassador to the U.S. in 2013 until her retirement in 2017.
She was the fourth woman to be elected as Chair of the United Nations Commission on Human Rights, joining an exclusive club started by Eleanor Roosevelt.
Speaking at the event, Secretary Clinton said: "As we celebrate International Women's Day and look forward to St. Patrick's Day next week, it feels extremely fitting that we are honoring a trailblazer for Irish feminism."
She continued, "Anne Anderson has spent her career breaking glass ceilings in her home country and on the world stage. I'm thrilled that we're welcoming her into the Queen's University family."
Consul General Helena Nolan, who hosted the event, said, "Anne's example, her honesty about the challenges she has overcome, and her willingness to share her experiences and her advice has been ground-breaking for women in Irish diplomacy and more broadly for women in public life, and we are grateful to her for it, as well as for her important leadership on policy, in each of her key roles."
Anne currently serves as Chair of the UN Secretary General's Advisory Group on the Peacebuilding Fund.
Chicago Students Encouraged to Study in Ireland
And in Chicago's Irish Consulate, the Institute of Study Abroad Ireland are making up for lost time from the past two years as they connected with Illinois Community Colleges, introducing the idea of Ireland as a destination for learning by highlighting Cultural Competency programs in Donegal.
To learn more about Study Abroad Ireland visit the organization's website here.
Ireland Celebrates Seachtain Na Gaeilge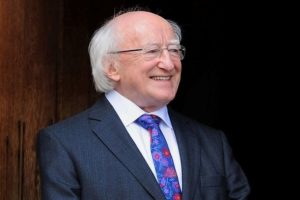 And if Ireland is your chosen study destination, then why not choose the Irish language as one of your study topics? This week, Ireland continues to celebrate Seachtain Na Gaeilge in the lead up to St. Patrick's Day.
The annual celebration promotes the use of the Irish language through various initiatives in schools, libraries and various community activities. To learn more, visit the website here.
President Michael D. Higgins, a fluent Irish speaker, released a statement in honor of the celebration.
Translated to English, the president said: "Irish is a beautiful, expressive language of communication, which connects us with our surroundings, with our past, with nature and with each other. Seachtain na Gaeilge provides us with an opportunity to engage with the language and there is a rich program of events on offer."
Bust of John Hume Unveiled in London
Irish celebrations also took place in London this week as a bust of the late John Hume was unveiled at the Irish Embassy.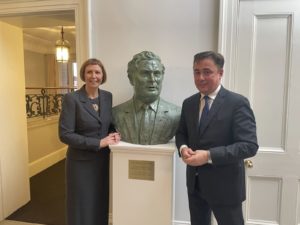 Hume, who passed away in August 2020, was a parliamentarian and the architect of the Good Friday Agreement.
Regarded as one of the most important figures in recent history, Hume was voted the greatest Irish person in history in a nationwide poll in 2010.
The bronze portrait bust was made by Dublin-based sculptor Elizabeth O'Kane who is a member of The Art Students League of New York and whose work can be found in important buildings all over Ireland.
The bust was unveiled by John Hume Jr at an event attended by MPs, Lords, members of the Hume family and representatives from the John and Pat Hume Foundation, an organization Hume set up with his wife to campaign for peaceful change. You can learn mor about the group's work by clicking here.
Speaking at the event Irish Ambassador Adrian O'Neill spoke about Hume's achievements in peacemaking.
'John Hume is rightly remembered and honored as a key architect of the peace process. His achievements as a peacemaker were uniquely honored by being the only person in history to win the Nobel peace prize, the Gandhi peace prize and the Martin Luther King award," he said.
"From John's early work with the credit union through the civil rights and political struggles his essential message never changed – in his own words, 'leaving the past behind us and building a new future together'."
A New Chapter for Dublin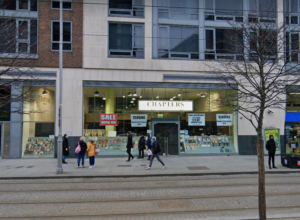 And finally, Irish history is being kept alive in the country's capital as the iconic Chapters bookstore once again opens its doors.
The shop announced it was closing in January after 40 years in business. However, Gamestop stepped in to purchase the business and save Dublin's beloved bookshop, renowned for its secondhand selection and affordable prices.
New owners Michael Finucane and Kevin Neary were compelled to save the unofficial landmark after having made their start at the back of Chapter's Middle Abbey St location where they opened their first Gameworld shop 25 years ago.
One happy customer told RTÉ News the reopening was "like Christmas come twice".
Ireland Reacts to the Ukraine Crisis
The Irish government announced that 2,500 Ukrainian nationals have arrived in Ireland, with plans in place to host up to 100,000 people seeking refuge. Irish Minister for Justice Helen McEntee confirmed one third of the Ukrainian refugees are children.
Last week we reported that TD Michael Collins helped a Ukrainian child with leukemia enter Ireland. Another child affected by the conflict was six-year-old Emil Golodnikova who had been visiting family in Ukraine with his mother during the mid-term break.
Emil and his mother, Marina, managed to cross the Hungarian border and returned to Dublin this week.
While Emil has already returned to school, Marina spoke to RTÉ News about her conflicting emotions upon returning to Ireland.
"Honestly it feels overwhelming to have so much joy around us. It's kind of almost feels wrong to be celebrating when nothing has stopped, when my city is still being bombed," she told the state broadcaster. "And once you reach Ireland, it just settles on you, it's like I left war, but war doesn't leave you."
She said she is working to "suppress the survivor's guilt" and "just transform that energy into what I can do now for people in Ukraine, for people in particular in my hometown."
Emil's classmates were delighted to have him back after the school had organized video calls to keep in touch with the family as they awaited evacuation from Ukraine.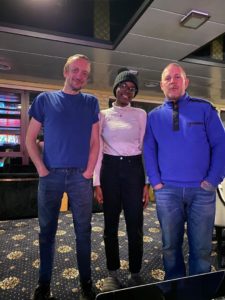 Another happy reunion, Irish medical student Racheal Diyaolu landed in Ireland this week after evacuating Ukraine. The 19-year-old from Co. Carlow had been studying in the northeastern city of Sumy, located 30 miles from the Russian border.
Speaking to RTÉ News at Dublin Airport, Racheal said she was feeling "overwhelmed but really happy" to finally be back on Irish soil. After an initial failed rescue attempt, Rachael and 6 others were safely evacuated by two Scottish volunteers. The group initially set out for the Polish border but when this option was no longer viable, they headed towards Romania.
Her family has hailed the Scottish landscapers, who travelled to Ukraine to help evacuate citizens when the conflict broke out, as "absolute heroes". Rachael's sister Christiana said the men have an open invite to dinner at the Diyaolu household for life.
Joe McCarthy and Gary Taylor, who own Ready2Rock Landscaping, had been documenting their journey on TikTok which you can see here.
And more good news for Rachael this week, Simon Harris, Irish minister for further and higher education, announced that Irish universities would facilitate any Irish student forced to flee Ukraine. At least 37 Irish students had been placed in "academic limbo" following Russia's invasion of Ukraine.
While Irish citizens and companies have united to provide essential equipment to Ukrainian refugees, including phone chargers, SIM cards, toiletries and clothes, Michael D. Higgins released a statement in solidarity with those affected.
"The hearts of Irish people go out to all those who are suffering from this completely unacceptable, immoral and unjustified violence. Our television screens carry images of all those mothers and babies crossing borders in order to flee the mayhem which is being inflicted upon them by the military forces of an invading, powerful neighbour, which is operating with total disregard for the principles of international law."
President Higgins continued, "And we think of those brave Ukrainian people struggling to defend their homes and country. This violence must stop. Its continuance has catastrophic consequences, yes most immediately for Ukraine, but for the entire world."♦