Last NYC St. Patrick's Parade for Pipe Major Joe Brady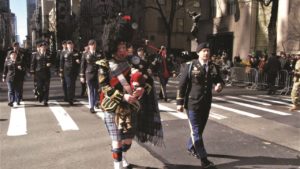 This week Ireland and various cities across the world celebrated St. Patrick's Day. In New York City, crowds of people in shamrock hats and tri-color flags flanked the streets as the city's St. Patrick's parade returned after a two-year hiatus.
And leading the parade, as always, was Pipe Major Joe Brady. The day was bittersweet for Brady as he marched for his final time.
For 33 years, Brady has marched at the head of the parade as Regimental Pipe Major of the 1st Battalion, [Fighting] 69th Regiment. The battalion have marched at the front of the 260-year-old parade for the last 161 years.
Brady, 66, has retired from the physically demanding role which requires the Pipe Major to carry over 40 pounds between the bagpipes and traditional highland dress.
"Marching with the 69th Infantry Regiment has been so special to me because of its rich military history as the most decorated Regiment in the country and its ongoing commitment to giving back to the community," said Brady, who will bestow the honor to young champion bagpiper, Sean Dalgauer.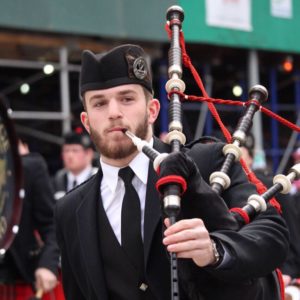 "Sean appreciates the Regiment the way I do, and it was the right time and right thing to do for the Regiment to pass the baton."
Colonel Don Makay reflected on Brady's time leading the parade. "Joe Brady is a legend and an icon of the St. Patrick's Day community. It was always an honor to march alongside him and to keep the battalion in sync with his music," he said. "He is as much a part of the 69th legacy as the soldiers in uniform. Joe is a soldier at heart, and we will miss his companionship during the parade and throughout the season."
Brady, who has strong Irish and Scottish roots, learned the bagpipes from his father at age seven. Within 10 years he was rated as a professional open grade bagpiper. Brady has earned worldwide recognition as a bagpipe competitor, judge and performer.
Brady's music career has seen him perform with the likes of the Chieftains, The Wolfe Tones, Andy Cooney and the High Kings.
Brady began his St. Patrick's Day as the Pipe Major by leading the soldiers out of the Lexington Avenue Armory over to 51st Street for a special mass at St. Patrick's Cathedral.
While the soldiers occupied the southern half of the church as the place of honor, Brady joined the Adjutant General of New York, the Governor of New York, and the Mayor of New York City in the front pew for the service and the blessing of the Regiment's soldiers.
Following the mass, the battalion marched to 44th Street and 5th Avenue, the officially starting point of the parade.
After the parade, the Regiment named Brady Pipe Major Emeritus.
While his days leading the St. Patrick's celebrations in NYC may be over, Brady will continue to play his bagpipes for as long as he can. From traditional weddings to honoring fallen heroes, his music will continue to touch the lives of many.
Taoiseach Tests Positive for COVID Ahead of White House Visit
Taoiseach Micheál Martin tested positive for COVID-19 during his visit to Washington D.C. The Taoiseach was set to take part in the annual St. Patrick's Day meeting with President Joe Biden on Thursday. The shamrock ceremony took place virtually for the third year in a row.
Martin received his positive result while attending the Ireland Funds Gala event on Wednesday evening. Martin spoke to Biden at the event and was photographed sitting maskless beside Speaker Nancy Pelosi.
Pelosi received a negative PCR result on Thursday.
Martin left the event after the positive result was confirmed and his speech was instead given by Irish Ambassador to the U.S., Daniel Mulhall.
The positive cases within the Irish delegation were not the first COVID cases to affect the White House this week. Vice President Kamala Harris' husband Doug Emhoff also tested positive for the virus. Harris has tested negative and was photographed wearing a mask at an event on Thursday.
While Martin said he was "disappointed personally" to not be able to attend the shamrock ceremony in person, he joked with President Biden about the situation. "Last year, we met virtually across the Atlantic, this year we're meeting virtually across the road. So we're getting closer."
Martin will remain in the United States for the 10 days in accordance with public health guidelines.
Irish Journalist Killed in Ukraine
An Irish photojournalist was killed while covering the conflict in Ukraine this week. Pierre Zakrzewski, 55, was a longtime war reporter working with Fox News, covering conflict in Iraq, Afghanistan and Syria. He was killed alongside 24-year-old Ukrainian journalist Oleksandra "Sasha" Kuvshynova who had been working as a consultant for the network.
Fox News correspondent Benjamin Hall was seriously injured in the attack and has since been evacuated from Ukraine.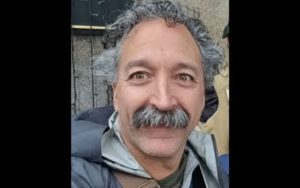 Zakrzewski's family moved to Ireland shortly after he was born, and he was raised in Dublin. His mother told the Irish Examiner he was "a proud Dubliner".
His former school paid tribute to the journalist on social media following his death.
"It is with great sadness that St Conleth's College acknowledges the tragic passing of past pupil Pierre Zakrzewski (Class of 1984) in Ukraine. Our thoughts and prayers are with his family and friends."
Fox News presenter Bill Hemmer remembered his colleague on air, telling viewers: "Pierre Zakrzewski was an absolute legend at this network and his loss is devastating.
"Our CEO Susanne Scott noted a few moments ago that Pierre jumped in to help out with all sorts of roles in the field – photographer and engineer and editor and producer and he did it all under immense pressure and with tremendous skill."
Ukrainian President Volodymyr Zelenskyy posted on Twitter that he had been in touch with Taoiseach Micheál Martin to offer his condolences. The Taoiseach also paid tribute to Zakrzewski and acknowledged the work of journalists in Ukraine.
 "Our deepest sympathies go to the family of Pierre Zakrzewski, particularly his family back in Dublin. He was reared for 30 years in Dublin.
"It's an appalling killing, illustrating again the indiscriminate and barbaric nature of the Russian attack on the citizens of Ukraine, and also brings a very sharp focus on the enormous risks that journalists are taking, in terms of shining a light on this barbaric war.
"Without journalists and without cameramen, and without their bravery, we would not know what we now know in terms of how this war is being wages on people. It's a very, very sad day for his family, for Fox News."  
Zakrzewski leaves behind his wife Michelle, as well as his parents, siblings, nieces and nephews.
Dubliner Heads to Ukraine to Help Fight Russian Army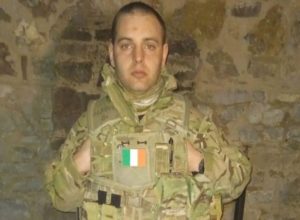 A Dublin man with military experience has traveled to Ukraine to join the country's fight against Russian invasion. Rhys Byrne, 27, has experience with the French foreign legion and Lithuanian special forces as well as training in hand-to-hand combat.
 In a video posted by the Irish Independent, Byrne is seen making his way towards the Ukrainian border from Poland.
"I'm proud to be Irish, I'm proud that there's an Irishman here standing up and I hope that more will come as well and help."
Byrne is one of 20,000 people who have signed up to fight alongside Ukraine. While his mother was against him enlisting in Ukraine's International Legion of Territorial Defence, Byrne said he would always "regret not trying to do something".
Byrne said he is willing to sacrifice his life rather than watch young Ukrainian children "bear that burden" of war.
"There's kids over there who went in 12 days from playing in the park with their friends to fighting for their existence," he said. "I think it's wrong that they're fighting and have to bear that burden at such a young age and possibly take a life or lose their own life."
Ukrainians Welcomed in Ireland Ahead of St. Patrick's Celebrations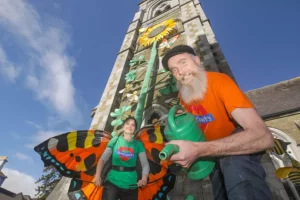 More than 7,200 Ukrainian refugees have arrived in Ireland in the past two weeks. Hotels and hostels across the country have opened their doors and a church in Killarney has installed a giant sunflower, the national flower of Ukraine, in a gesture of solidarity.
In Dublin Ukrainian nationals marched in the city's St. Patrick's Day parade while in Donegal refugees who had arrived just days earlier were made the grand marshals of a local St. Patrick's Day parade.
"The Fields of Athenry" Songwriter Passes Away
Irish singer-songwriter Pete St. John passed away on March 12, aged 90. Tributes poured in for the Dublin native who was best known for writing 'The Fields of Athenry".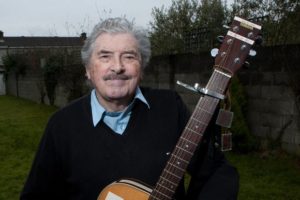 Pete also penned 'The Rare Ould Times', 'The Ferryman', 'Luke Kelly's Land' and 'Ringsend Rose'. His music was recorded by the Dubliners, Mary Black, Daniel O'Donnell, Brendan Shine and many others.
President Michael D. Higgins paid tribute to the singer, noting how he passed on the day Ireland beat England at Twickenham.
"It is noteworthy that Pete has left us on the day that Ireland play England in a 6 Nations rugby match, a sport and fixture that has been indelibly associated with his song 'The Fields of Athenry' for decades and the singing of it at today's match of course takes on a particular poignancy as people throughout Ireland remember Pete."
Victory for Irish Rugby Team in Twickenham
The Irish rugby team narrowly defeated England in a dramatic game on English soil last weekend. Despite being reduced to 14 men within the opening two minutes, the home side held out and were level with the boys in green at the 60-minute mark.
However, Ireland persevered with tries from replacements Jack Conan and Finlay Bealham following first-half scores from James Lowe and Hugo Keenan.
With their Six Nations title hopes well and truly revived, Ireland now faces another challenge: rooting for rivals England as they face France this weekend. As France hope to achieve a Grand Slam in Paris, Ireland will host Scotland in the final round of the tournament.
Belfast Student and Soccer Star Gives Speech at Duke University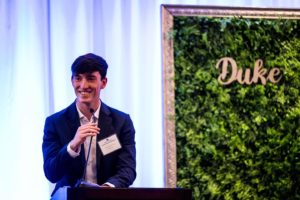 And from rugby to soccer, the star center back of Duke's soccer team Lewis McGarvey gave a touching speech at the university's Iron Dukes Scholarship and Endowment Celebration.
McGarvey, who hails from Belfast, spoke about his childhood growing up in the wake of the Troubles and the religious divide still evident in the city.
"Soccer was the antidote to the chaos of Belfast," McGarvey said in his speech. "While I love where I'm from and I am extremely proud to call it home it is certainly not without issues. Famous for all the wrong reasons, Belfast is still suffering the lasting effects of a civil war."
McGarvey turned down a contract to play for Glentoran F.C. in Belfast to pursue his lifelong dream of earning a college degree in a top U.S. college.
In his speech, McGarvey mentioned that soccer and school were his escape from the violence still prevalent in his hometown and expressed his gratitude to be able to pursue both at Duke.
"I always wanted to be able to continue to pursue both [soccer and education] at an extremely high level and unfortunately that's just not possible back home. And so, naturally, from around the age of 12 or 13 I started telling people I would be coming to America much to my mother's shock.
"Everything I did was designed to help me achieve this goal. And so, when I got the call from Coach Kerr asking if I would like to come to Duke I genuinely don't think it was possible to say yes faster."
McGarvey concluded by addressing the staff at Duke, "I am just one example of how sport can change a life and I cannot express how grateful I am to you for making my dream a reality and for giving me chance to make those back home proud. From the bottom of my heart thank you, or as we say in Belfast cheers!"
You can watch the entire speech here.
Kneecap Revives the Irish Language Through Rap
Also from Belfast, rap group Kneecap featured in The New York Times this week ahead of the St. Patrick's Day festivities.

The group is comprised of Mo Chara, Móglaí Bap and DJ Próvaí. The group are pioneers of Irish-language rap. While the group has a hardline republican stance, with anti-British slogans such as "brits out" appearing in their videos, they have faced backlash from dissident groups for featuring lyrics about taking drugs.
The band's name is a reference to the form of punishment these groups inflict on those accused of drug dealing. In the article Móglaí Bap references the complicated relationship the group have with the Irish Republican Army (IRA). "We're screaming about the 'Ra (IRA) even though the 'Ra would probably shoot us for doing all of these sort of things."
The group have a long history with Irish identity issues during the Troubles and in the aftermath of the peace process. DJ Próvaí's father was arrested at the Bloody Sunday demonstration in 1972 while the group itself began after Móglaí Bap was arrested after spray painting the Irish word "cearta", meaning rights, on a bus. He refused to speak to the police in English and it was this incident that inspired one of their first hits "C.E.A.R.T.A."
You can read the full interview here.
Irish America's Business 100 Awards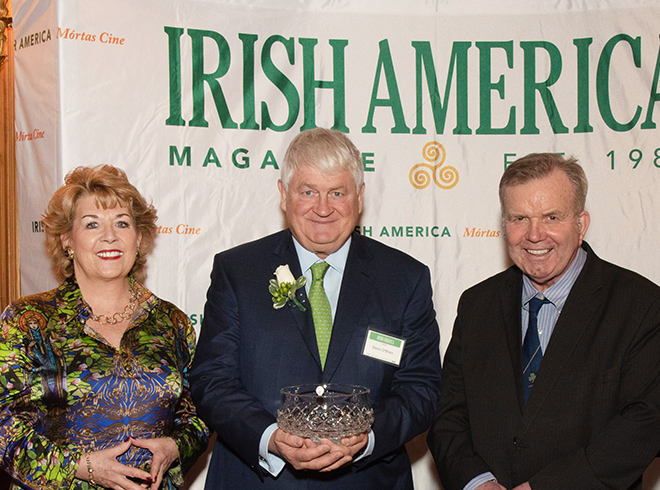 And finally, Irish America would like to congratulate our Business 100 honorees and our recent Hall of Fame inductee Denis O'Brien. Mr. O'Brien was the keynote speaker at Irish America's 35th Business 100 event held at the Metropolitan Club on March 15. Keep an eye on your inboxes later this week for a full report on the event!♦