Tourism Ireland Launches New IMAX Film
A thrilling new film, Ireland, launched in New York City this week on the largest IMAX screen in North America.
Sponsored by Tourism Ireland, the film is narrated by Liam Neeson and produced by MacGilivary Freeman Films. Ireland celebrates all aspects of the Emerald Isle from the country's rich history, culture, arts and music to the spectacular scenery.
Guests attending the premiere were treated to a magical, immersive experience, soaring over the Cliffs of Moher and climbing the steep narrow steps of Skellig Michael, that splinter of rock in the Iveragh Peninsula in County Kerry, where centuries ago, monks led simple lives in round stone-shaped huts. 3-D glasses made the virtual tour of Ireland all the more exciting as the cameras followed four young musicians through Belfast and Dublin, over lush green fields, and across a rope bridge almost 100 feet high over the rocks below that connects the mainland to the tiny island of Carrigarede, near Ballintoy, Co. Antrim.
The plan is to show the 40-minute film at many of the 1,000 IMAX theater across North America as an incentive to encourage people to visit Ireland, and it's sure to be a work, given the audience reaction. Many of those in attendance talked at the reception afterwards about how they couldn't wait to book their trip. For some, it was a longing to go 'home.' For others it was the motivation to finally book that trip. Or, as Tourism Ireland's marketing group would say, "Push the Green Button."
The premiere, held at AMC Lincoln Square in Manhattan, was also a chance for Tourism Ireland to unveil its biggest-ever marketing campaign in the U.S.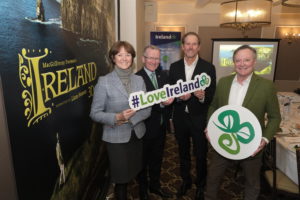 Speaking at the event, CEO of Tourism Ireland Niall Gibbons explained how the Green Button Campaign is key component in the quest to encourage vacationers to choose Ireland – to cut through the clutter and convert 'lookers' into 'bookers.'
"As we restart overseas tourism to the island of Ireland, we are rolling out our biggest ever program of promotions in the all-important United States market this year. We know from our research that there is significant pent-up demand among travelers to return to the island of Ireland as soon as possible." However, Gibbons made clear, "We also know that there is significant competition in the marketplace; every destination has experienced the impact of COVID-19 and is now seeking its share of the recovery. Our campaigns will therefore need to punch through the noise and create an immediate desire to visit,"
Alison Medcalfe, Tourism Ireland's Executive Vice President North America and Australia, explained in detail how the Green Button Campaign will reach and engage audiences with the highest potential to travel to Ireland. It will run across multiple platforms in cities such as New York, Boston, Chicago, Philadelphia, Washington DC, Los Angeles, San Francisco, Seattle and Dallas. Ads will appear on major television networks ABC, NBC, CBS and Fox as well as streaming services such as Hulu, WarnerMedia, YouTube TV, Sling TV and Discovery +. The campaign is expected to reach an estimated 92 million people this year.
"We are rolling out our Green Button restart campaign… and the message is very simple: Ireland is open for business, there is good summer air access and we cannot wait to welcome back visitors from the United States. We're telling prospective U.S. visitors that a warm welcome awaits, despite the disruption of the last couple of years," Medcalfe said.
Before COVID-19, in 2019, Ireland welcomed 1.7 million American visitors, who delivered revenue of $1.9 billion for the economy.
Other Tourism Ireland initiatives include a new partnership with Riverdance as part of the Riverdance 25th Anniversary Tour in the U.S. and Canada this year.
Tourism Ireland will also be promoting the Aer Lingus College Football Classic as Northwestern University take on the University of Nebraska on August 27 at the Aviva Stadium in Dublin. 'Game week' in Dublin is expected to generate approximately $70 million for Ireland's economy.
For more information on upcoming events or travel to Ireland visit Tourism Ireland's website.
To watch the trailer for Ireland click here.
Irish Great Hunger Museum Finds News Home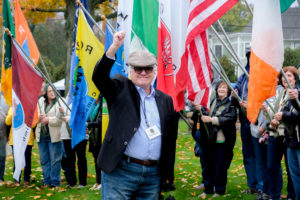 The Gaelic-American Club (GAC) was announced as the new home of the Irish Great Hunger Museum on Friday.
Quinnipiac University, which made the decision to close the museum in March 2020, confirmed the move in a statement.
"Following the unanimous vote of the Quinnipiac Board of Trustees, Quinnipiac University announced today that it will partner with the Gaelic-American Club (GAC) of Fairfield to serve as the new location for Ireland's Great Hunger Museum collection. The full collection will be displayed in a new space to be created by the GAC."
Turlough McConnell, leader of the Save Ireland's Great Hunger Museum group, made a statement on behalf of the group in response to the announcement.
"We are shocked that Quinnipiac would make a rash decision to turn such a valuable collection over to a social club, moreover, one that does not have appropriate charitable status. Even more surprising is that it would do so while the Attorney General's investigation is still ongoing."
For further details on this story click here.
Irish President Tests Positive for COVID
Irish President Michael D. Higgins and his wife Sabina have tested positive for COVID this week.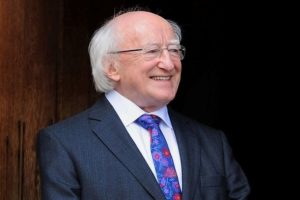 A statement from the president's residence, Áras an Uachtaráin, said the couple "displayed mild COVID-19 symptoms" and "will be isolating for the next 7 days [beginning March 4th]."
The statement also said that President Higgins would continue working remotely during this period of isolation.
The positive test came ahead of a scheduled visit to a school in Dublin.
President Higgins is 80 years old and is currently in his second term of office.
Gold Medalists to Lead Dublin's St. Patrick's Day Parade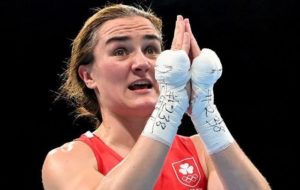 Olympic and Paralympic gold medalists Kellie Harrington and Ellen Keane have been announced as the grand marshals for Dublin's St. Patrick's Day parade.
While Harrington synched a boxing gold in the lightweight division at Tokyo 2020, swimmer Keane followed her 2016 Olympic Bronze with a podium topping performance in the 100m breaststroke.
The Irish capital will celebrate the return of the festival for the first time since the COVID pandemic. Organizers said the 2022 parade will be "the most ambitious yet".
Speaking to the Irish Independent, Harrington said, "Everyone knows how much I love my country and my beloved city. I can't wait to be leading the magic through the streets of Dublin and to see all of those faces smiling back at me, having the time of their lives."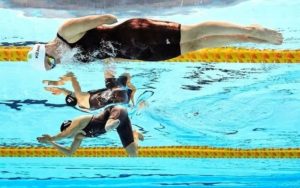 Keane reflected this excitement, "When I was younger and watching the parade in Dublin, I always wanted to be one of the children taking part and now I cannot wait for my childhood dream to come true. I am so honored and grateful for this opportunity, and I know it is a day I will remember for the rest of my life."
Festival organizers said the two Dublin athletes "represent the very best of Ireland – strength, perseverance and generosity of spirit."
The parade will be broadcast live on RTÉ One (12 noon Irish time) and on the RTÉ Player.
Ukrainian Boy to Receive Cancer Treatment in Ireland
As countries across Europe opened their borders to those fleeing escalating conflict in Ukraine, Ireland welcomed a five-year-old Ukrainian boy with Leukemia.
Leonid Shapoval traveled to Ireland with his mother and grandmother after crossing the border to Poland. He had been due to undergo a final round of chemotherapy before receiving a bone marrow transplant, which had been scheduled for March 10th.
Leonid's family are staying in Cork with a relative who had contacted local TD Michael Collins about the family's situation. Mr. Collins liaised with the Department of Foreign Affairs and the family arrived in Ireland after traveling from Poland to Switzerland.
The family had travelled for 30 hours to reach the Polish border, which had a line of cars stretching about 12 miles. However, once authorities were informed of the child's condition the family received an immediate police escort across the border.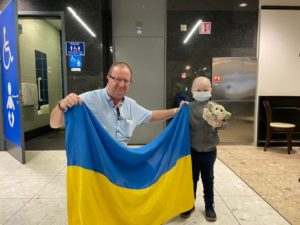 Leonid was given a full-medical assessment upon his arrival to prepare him for a return to treatment in Ireland.
"The doctor gave Yana [his mother] all Leonid's documents and said 'run, just run. There is no way he is going to get any more treatment. We have to send him home. Because of war, we don't know what's going to happen'," the boy's grandaunt Victoria Walden told RTÉ News.
The family have since learned the hospital where Leonid was receiving chemotherapy treatment in Kyiv has since been bombed by Russian forces.
Also this week, four Irish babies, including a set of twins, born via surrogate in Kyiv were safely evacuated from Ukraine. Irish model Rosanna Davison, who welcomed a child via surrogate in 2019, announced she has invited her Ukrainian surrogate to stay with her in Ireland.
Fine Gael Senator Mary Seery Kearney has been working closely with Irish Families Through Surrogacy to provide aid to Ukrainian surrogates. She estimated up to 400 surrogate mothers could be offered refuge in Ireland as a result of the ongoing conflict.
Program to Reduce Irish food waste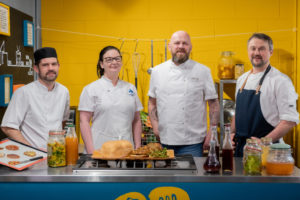 GIY (Grow It Yourself) Ireland is joining forces with Ireland's top chefs to launch a program to reduce waste in the food industry.
'WASTED' is a free 8-lesson online course that explores the ways to reduce the amount of food waste leaving the kitchen. At the end of the course participating chefs will be invited to host their own Wasted Supper Club, a dining experience showcasing the best of food that is usually discarded.
The Irish foodservice sector disposes of 200,000 tonnes of food worth 300 million per annum.
One-third of the world's food supply goes to waste. International climate research organization Project Drawdown rank reduced food waste as one of the top 3 climate solutions.
"This program can have a significant impact on not only the environment but also business efficiency," said GIY Founder Mick Kelly. "We have been striving to make GROW HQ a zero-waste restaurant over the last 5 years and we really want to help participants in identifying and managing their food waste, while continuing to learn from our peers in the industry."
'WASTED', is supported by the Irish Department of Environment, Climate Action and Communications and Environmental Protection Agency.
For more information on how to join the 'WASTED' program click here.
Dublin Store Now Offering IV Drips
A department store in Dublin city has made headlines in Ireland this week as it announced a new in-store IV drip service.
Brown Thomas released a "menu" on social media, with prices ranging from €85 for 'basic hydration' to €390 for an NADH (nicotinamide adenine dinucleotide hydrogen) drip which is said to "boost energy levels and improve memory and focus".
GPs advised against the health craze that has been popular in both the U.S. and U.K. in recent years. Speaking on Irish radio show Lunchtime Live, Dr Naomi Smith equated a vitamin C drip to eating 25 oranges in one sitting.
"Our bodies are literally not designed to tolerate that amount of micronutrients," she said. "They don't actually discuss the risks of getting this amount of Vitamin C. It cost €250 for you to actually pee it out."
Dr Smith explained that as Vitamin C goes straight to the kidneys it is "one of the main building blocks of kidney stones."
The U.K.-owned IV company, Get a Drip, states it has administered over 35,000 IV vitamin drips and booster shots from their London and Dublin locations.♦