From Strokestown to San Diego: In The Midst of Plenty brings together the founder and artistic director of Enchanted Croi Theatre Anne-Marie O'Sullivan and composer-lyricist Amy Day who offer a behind-the-scenes look at the creative process and their inspirations from the Strokestown Park Archive for their spell-binding new production with its hauntingly beautiful and heartbreaking melodies resonant with the fears of eviction, family breakdown, and inconsolable loss in the past and present. Set in 1847 at the height of the Great Hunger, it tells the story of the desperate lengths the starving tenants on the Strokestown estate in Roscommon went to in order to survive, including betrayal, deceit, and violence, when confronted with eviction and mass migration. The film features audience reaction from the Irish Outreach Center in San Diego.
---
From Strokestown to San Diego is part of the Great Famine Voices 2023 season that is hosted by the National Famine Museum, Strokestown Park, and Irish Heritage Trust with funding from the Government of Ireland Emigrant Support Programme.
Great Famine Voices 2023 Schedule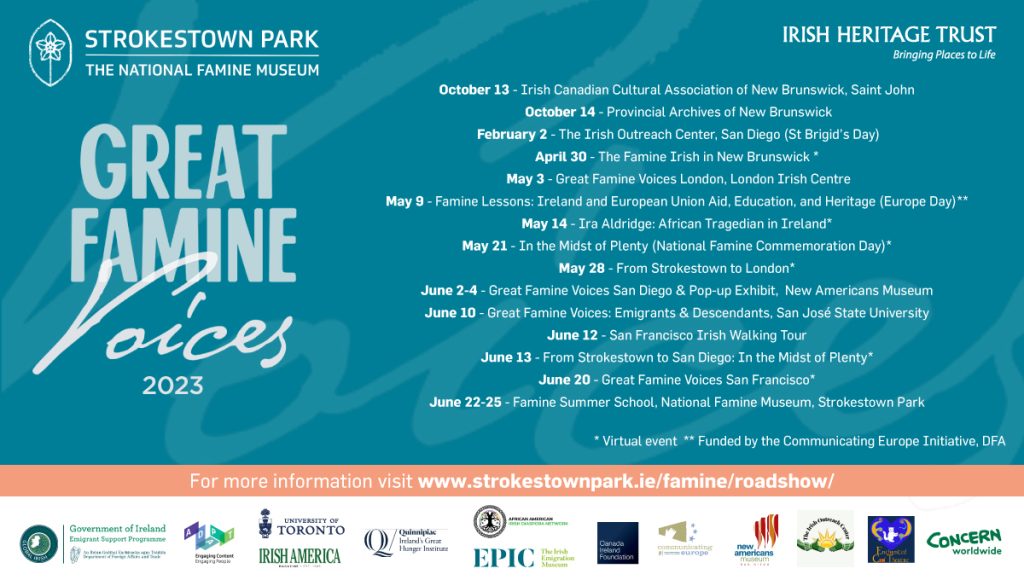 You can watch all Great Famine Voices 2023 season videos on the Strokestown website.