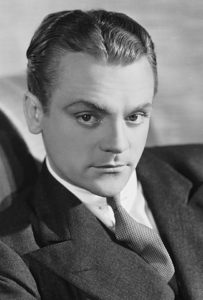 The life of actor James Cagney provides an interesting case study in defying expectations. Aside from finding success meteorically beyond his impoverished background, he was a battle-tested fighter who not only liked painting and poetry but did not hesitate to dance around in a skirt and wig. Upon later becoming a superstar, he seemed to shun the attention which stardom brings. And in a Hollywood domain of whirlwind romances, this dashing lead man enjoyed a 60-plus-year marriage. In his iron-willed but unpretentious way, Cagney followed his heart and rarely, if ever, let anyone dictate how he would spend his time.
But his time nearly ended just as it began. Cagney – born on Manhattan's Lower East Side on July 17, 1899 – was such a sickly baby that the family scrambled for his baptism, fearing he wouldn't survive long enough. His mother, Carolyn Elizabeth née Nelson, was half-Irish (roots in County Leitrim) and half-Norwegian. She was both violently protective and a fierce disciplinarian. Mom had her reasons: their neighborhood saw many kids go far astray. Among Cagney's former playmates (one of whom was later fried on the electric chair at Sing Sing Correctional Facility) included future armed robbers, carjackers, cop-shooters, and (unrepentant) killers.
Cagney's father, James Francis Cagney, Sr., was an amateur boxer, closet gambler, full-time Irish-American, and sporadically-employed bartender. The family was almost always broke, and work started young for the Cagney kids (the five of them who survived infancy, a few did not). They took any available gigs – bellhop, copyboy, custodian, etc. Along with constant work were many street fights. Cagney had some actual training and aptitude for boxing, so his street encounters tended to feature more technical skill than the usual frenzy of clumsily-thrown haymakers. As a natural and avid dancer, Cagney (who mastered the Peabody Step by adolescence) had feet fleet enough for two fights at once. Though fists tend to cause the carnage and get the glory, real scholars of fight science stress the importance of footwork.
The streets don't always observe the rules of the ring, though, and eventually, someone blindsided Cagney with a brick. Recurring spasms of pain would stalk him for years afterward. An additional source of pain was his job as a runner at a brokerage house, which he "hated with a great intensity." Cagney, who briefly attended Columbia University, preferred performing on the vaudeville entertainment circuit so prevalent in that era. For all the big-screen success he would later attain, he always regarded himself "essentially as a vaudevillian, as a song and dance man."
To his credit, Cagney was unafraid to don a skirt and wig, if the job so demanded. For $35 per week, he gladly joined the other "chorus girls" (a troop of other similarly-attired young men). This line of work also paid off in other ways: While dancing for the Broadway show "Pitter Patter," he met Frances Willard "Billie" Vernon. They would marry in 1922, raising two children, and stay together until the end.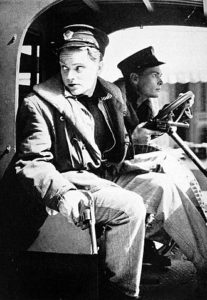 Despite lacking stature, the red-haired, blue-eyed Cagney had a striking presence. His undeniably handsome face clearly belonged to a man who could get dog ugly, if pushed. Film directors took notice, and Cagney made the jump (some might call it a quantum leap) from vaudeville to Hollywood by playing tough-guy roles. His breakthrough performance came with the 1931 film The Public Enemy, in which his Prohibition-era gangster character squashes half a grapefruit on his girlfriend's face. This citric piece of domestic violence became one of the era's most popular film scenes. In truth, Cagney was no huge fan of the scene, especially after years of waiters bringing unsolicited trays of grapefruits when he dined at restaurants.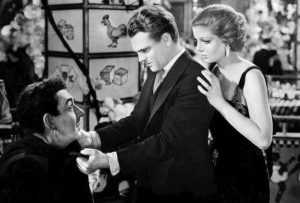 Cagney, who signed with Warner Brothers on a three-week guarantee and stayed for the next 31 years, plied his roughneck charisma in such ensuing films as Taxi! (1932) and Angels with Dirty Faces (1938). Gritty as it was glamorous, his job often involved both giving and receiving real physical abuse. Additionally, as special effects technology was then in its early stages, Cagney used real bullets for his scenes of mayhem. Hazards also came off-screen. Because of his famous tough-guy acting persona, he sometimes had to deal with troublesome people (or a group of them) seeking to test him. Random strangers would offer him a drink, then a cigarette, then a fight.
There was white-collar fighting as well. Cagney, who maintained that actors as a group received "less than two cents out of every dollar taken in at the box office," felt he and his colleagues were regarded as "expendable material, just like props or makeup." On several separate occasions, he walked out on Warner Brothers in protest of his conditions or those faced by others in his trade. Cagney's stubbornness was no secret, and he became known as "The Professional Againster."
Seeking a place where he could occasionally escape Hollywood, he bought a farm on Martha's Vineyard. There he indulged his passions for nature, horses, painting, and poetry. Having ascended to super-stardom, Cagney was more of a recluse than a seeker of the limelight. The film veteran had also grown quite cynical, saying how he and others knew all-too-well that many movie scripts were dreadful, but they were under contractual obligation to produce such films, regardless of quality.
Some of his flicks, though, were a clear critical success. Among them was Yankee Doodle Dandy, for which Cagney, having proven he could act far beyond the gangster stock character, won an Academy Award. Other acclaimed performances include his portrayal of a medical lecturer who doubles as an I.R.A. commander in the 1959 film Shake Hands with the Devil.
The year after his 1960 induction into the Hollywood Walk of Fame, Cagney acted in the political comedy One, Two, Three and found it so cumbersome that he chose to retire. Fifteen years into retirement, he published the autobiography Cagney by Cagney (a book which serves as the basis of this article), intended as a response to a series of biographies he viewed as "heavy with cockeyed conclusions and some wild misinformation."
At age 86, he died of a heart attack on Easter Sunday, Mar. 30, 1986. Delivering his eulogy was none other than Ronald Reagan, the actor-turned-politician who was then serving as President. Even more extraordinary was the collection of pallbearers, who included two-time heavyweight champion boxer Floyd Patterson and Latvian-born male ballerina Mikhail Baryshnikov. Few men other than Cagney could get a pair like that to come together and carry his coffin.