World Irish Dance Championships
Belfast is hosting the World Irish Dance Championships from April 10-17 and for the first time, the event will be streamed online in its entirety (via subscription) on FeisTV.
This annual event, which draws thousands of Irish dancers from around the world, is hosted by An Coimisiún le Rincí Gaelacha (The Irish Dancing Commission)
In 1975, at age 17, Michael Flatley, who went on to Riverdance fame, was the first American to win a World Irish Dance title. Since that time there have been many U.S. winners .
This year, Evelyn and Lucy Husband, 12-year-old identical twins from Hopkins, Minnesota are medal contenders. The twins are currently ranked in the top ten in the United States and attend Onórach Mulhern Geraghty (OMG) School of Irish Dance in Eden Prairie.
"Evelyn and Lucy looked up to our championship level dancers when they were four years old, and now they're inspiring thousands around the country," Samantha Martin, an instructor at OMG, said in a statement. "It's a good thing they have distinctive dresses and signature steps, otherwise no one could tell them apart!"
The objective of An Coimisiún lé Rince is to preserve and promote, on a global level, Irish dancing, including step dancing, céili dancing and other team dancing, and also to promote the use of the Irish language.
However, the oldest and largest governing body for competitive Irish step dancing globally, has taken a stand on the invasion of Ukraine, and dancers from Russia will not be allowed to participate in this year's competition.
In a statement, An Coimisiún le Rincí said, "Whilst we are critically aware of the impact that this will have on the Irish Dance Community in Russia, we cannot, and must not, remain silent on the senseless injustices being perpetrated on the Ukrainian people. As a cultural organization, we have consistently maintained our apolitical status since our foundation in 1930, and the above decisions were only taken after due diligence and full consideration."
Will Diaspora Vote in Irish Presidential Election?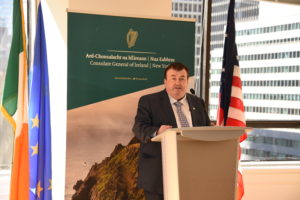 A referendum on whether Irish-born citizens abroad will be able to vote in the Irish presidential election will happen before 2024.
Irish Minister for the Diaspora Colm Brophy made the announcement to the Irish Independent this week.
"What we in Government want to do is restore to the Order Paper, a piece of legislation to allow Irish-born people who are living abroad an opportunity to participate in the presidential election," Minister Brophy said.
"One of the things that'll be necessary to do is to have a referendum and that would allow people in Ireland to decide if they wanted to extend the franchise," Minister Brophy said, adding, "I think it's a good idea, we've wanted to expand that for a while."
If the referendum passes, Irish people living abroad will be able to vote in the next presidential election in 2025 via postal ballots.
Currently, the only Irish diaspora permitted to vote from outside the country are citizens serving in the defense forces and civil servants (and their spouses/civil partners) who are members of missions and are serving outside the state.
In its Diaspora Strategy 2020-2025, the Irish government declared that "diaspora participation in presidential elections will strengthen the connection between the President, the highest office in the State, and the diaspora."
The presidency is largely a ceremonial office with limited powers.
Ukrainian President Addresses Irish Government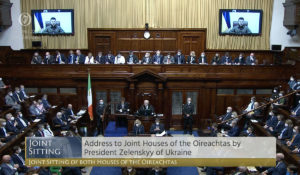 President of Ukraine Volodymyr Zelenskyy addressed the Irish government this week.
Ukrainian refugees filled the visitor's gallery of the Dáil as Zelenskyy, who spoke in his native language from his office in Kyiv, addressed both houses of the Irish government, the Dáil and the Seanad.
Diplomats from 45 countries were in attendance. No members of the Russian federation were present.
In his address, the Ukrainian president thanked Ireland for its support throughout the conflict. This included both humanitarian aid and providing homes to refugees.
However, he also urged Ireland to do more, this included showing "leadership" on tighter sanctions against Russia. The president said he "can't tolerate any indecisiveness" from countries that put financial worries ahead of war crimes.
Taoiseach Micheál Martin said Ireland would continue to support Ukraine's application to join the EU and give "safe harbor" to Ukrainian refugees.
President Zelenskyy received an extended standing ovation at the conclusion of his address.
Funding Program Announced for Irish Artists
This week, the Irish Government launched a new pilot program to support artists and creative arts workers.
The Basic Income for the Arts plan will examine the impact of a basic income on artists over a three-year period. Payments of 325 euro per week will be made to 2,000 eligible artists and creative arts sector workers
The plan was launched by Taoiseach Micheál Martin, Tánaiste Leo Varadkar, and Minister for Tourism, Culture, Arts, Gaeltacht, Sport, and Media Catherine Martin. The scheme hopes to highlight the important role of the arts in society as well as place value on the time spent developing creative spaces. The main objective of the scheme is to address the financial instability faced by those working in the arts.
A basic income for the arts was the top recommendation of the Arts and Culture Recovery Taskforce Life Worth Living Report which was set up to examine how the sector would recover following the COVID pandemic.
Speaking at the launch, the Taoiseach said the "initiative has the potential to be truly transformative in how Ireland supports the arts in the future." He went on to say, "Ireland's arts and culture in all its distinctiveness and variety is the well-spring of our identity as a people and is internationally recognized."
The scheme will open for applications on 12 April. For more information click here.
Irish American Partnership Business Leaders Breakfast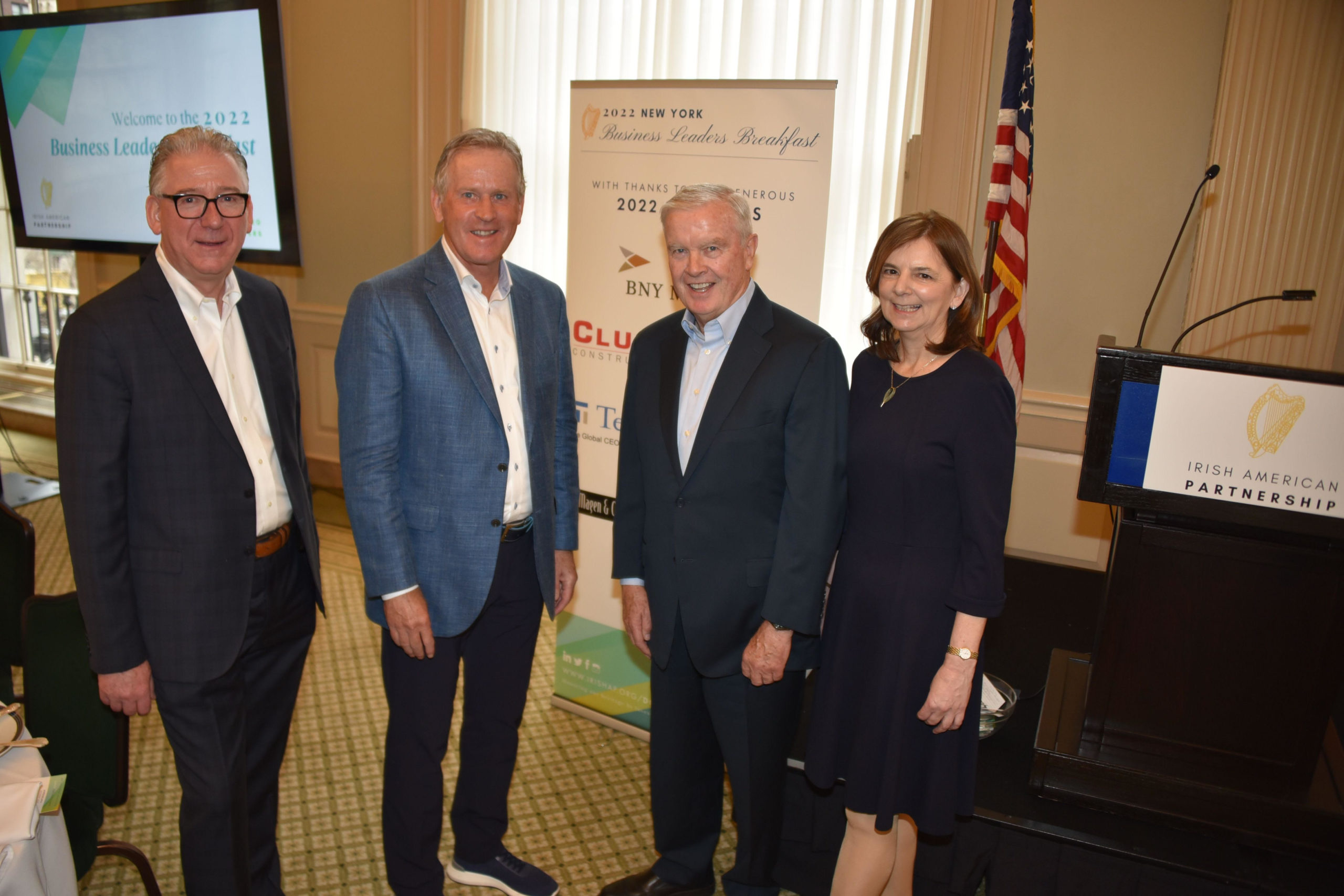 Non-executive Chairman of Ryanair, and former Chief Executive of Kerry Group, Stan McCarthy honored as Irish American Partnership's 2022 Business Leader
Since its launch in 1986, the Irish American Partnership has been championed and supported by leading Irish and Irish American business and political leaders. On Thursday April 9th, the New York Business Leaders Breakfast honored non-executive Chairman of Ryanair, and former Chief Executive of Kerry Group, Stan McCarthy.
McCarthy joined by more than 250 guests at the historic Union League Club in Midtown Manhattan, including Anne Anderson, Ireland's former ambassador to the U.S., Samantha Barry, Editor of Glamour, and Consul General of Ireland New York Helena Nolan.
In conversation with The Irish Times' Washington Correspondent, Martin Wall, McCarthy expressed his admiration for the agility and work of the Partnership and opined on globalization, aviation, and that it may have to change in light of geopolitical risks that "were unearthing themselves around the globe".
"I do not think the transatlantic or intercontinental level of traffic will be back this year, but within continents the numbers are looking very healthy at this point for 2022," said the non-executive Chairman of Ryanair.
McCarthy advised other business leaders present to "Be adaptive. You have to make decisions quickly. You cannot procrastinate. Decisions are forced upon you to a certain extent but you have to be able to make those decisions rather quickly."
Mary Sugrue, Chief Executive of the Partnership, thanked McCarthy: "It is wonderful to count Stan McCarthy among our supporters and we congratulate him on his incredible career traversing industries in the business world. As a Kerry native, Stan knows the impact the Partnership's work has on the ground in schools and communities up and down the country, and we are delighted to honor him here today."
The Partnership recently welcomed internationally renowned champion golfer, Pádraig Harrington, as organization Patron in Dublin.
To learn more visit the Irish American Partnership visit www.irishap.org.
Those We Lost
Dublin-based Ukrainian Dies in Russian Conflict
Ukrainian national Oleksandr Zavhorodniy has died in his homeland after leaving Ireland to help the country fight against Russian forces.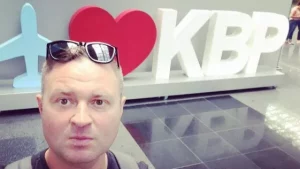 Zavhorodniy, known to his friends as Alex, worked as a deputy manager in an Aldi supermarket in Dublin. He had been living in Ireland for 20 years and working for the supermarket for the past seven years.
Alex is remembered as a "true people person" with "a huge network of friends" in Ireland by his friend Anton Burihhin.
"He felt responsible to be a good worker at Aldi and he was always very courteous. He was an outstanding person," Mr. Burihhin told Newstalk Breakfast.
Mr. Burihhin spoke of the "generous and enormous" support Alex received from the Irish people. "We have raised so far €13,000 on a GoFundMe. I think he deserves every penny because of his bravery and his decision to go back."
Alex, who traveled back to his native Ukraine in March, was just 45 years old when he died in heavy fighting in a "military shootout" Mr. Burihhin said.
"Unfortunately, Alex got hit by one of the missiles. It was a very heavy shootout."
Alex was identified following his death by his grandmother.
Another friend, Alex Cucet told RTÉ's Morning Ireland that Alex's sister and grandmother have been keeping in touch with his friends in Ireland and have "managed to bury him in a place called the Alley of Heroes."
It is understood Alex had completed military service when he was younger.
Irish Firefighter Dies From 9/11-Related Illness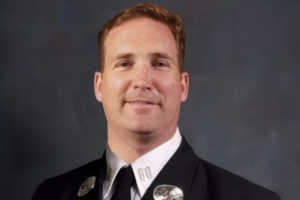 9/11 hero Michael J. Lyons has passed away from a battle with cancer aged 53.
Captain Lyons took part in the rescue of an office worker at the World Trade Center following the September 11 attacks in 2001.
The firefighter and father of two passed away this week due to an illness brought on by the event.
Born in Brooklyn, Captain Lyons spent his youth in Ireland and graduated from NUI Galway before returning to the Big Apple where he joined the FDNY in 1988.
Speaking at his funeral mass this week, Michael's brother Martin recalled the family's move to Ireland:
"I know his least favorite thing about the move was the fact that he had to study the Gaelic language which he found a bit tough, but Mike quickly adjusted from being a young city slicker to a country boy, helping out with various jobs that needed to be done around the house and the farm, and the bog too."
Even after returning to his native New York, Michael continued to follow his beloved Mayo GAA, a source of heartbreak to many Irish near and far.
After considering a career as a firefighter in Galway or Dublin "the FDNY proved too alluring" said Martin. "A few years back, when he was asked why he joined the FDNY, Mike said, 'The opportunity to make a difference and serve the greater good.'"
And on that fateful day, Lyons and countless others did just that. Pasquale Buzzelli, now aged 52, was pulled from the wreckage of the North Tower by Lyons and his colleagues. The two stayed in touch until Lyons' death.
"On September 11, 2001, I was trapped in the rubble after both towers were brought down. I prayed and called out for help and help arrived. It arrived in the forms of four of the bravest, dedicated, and selfless NYC Firemen, one of which was Mike Lyons. We have been friends ever since. From the moment we were reunited months later our friendship grew," Buzzelli said in his tribute to Lyons.
"I loved his soft-spoken demeanor, Irish brogue accent, and caring and kind gentle soul. He never wanted any attention drawn to him, he didn't want to trouble others with his troubles and illness yet he helped so many in return, again selflessly."
Captain Lyons is survived by his children Jillian and Aidan, his parents, three brothers, 10 nieces, and nephews, and countless friends on both sides of the Atlantic, including his brothers in the FDNY.
"In his own words, Mike had absolutely no regrets becoming a firefighter and making his life in the U.S.," said Martin.
21-Year-Old Irish GAA Star Dies
Irish GAA footballer Red Óg Murphy passed away this week aged 21. The Sligo native was a star player on the Dublin City University team as well as his home club of Curry. Murphy also played on the inter-county scene for Sligo at various levels including minor, under 20s, and was even a regular on the senior team for two seasons before stepping away in November 2021.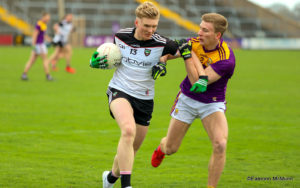 Murphy also played a stint for North Melbourne Football Club in 2018 in the Australian Football League.
Teams all over the country observed moments of silence and donned black armbands while GAA clubs flew flags at half-mast in remembrance of the young player.
Kerry captain David Clifford honored Murphy in his victory speech after his side defeated Mayo in the Division One Allianz League Final on April 3.
"I just want to send regards from everyone in Kerry GA to the family of Red Óg Murphy from Sligo," Clifford said from Croke Park following his man of the match performance.
"We were all lucky enough to see Red Óg play in the Siegerson (college championship) this year and we all saw what he could do, so sending our best wishes to the family from everyone in Kerry GAA."
Red Óg Murphy is survived by his parents Geraldine and Redmond and his brothers Oisín and Daithí.