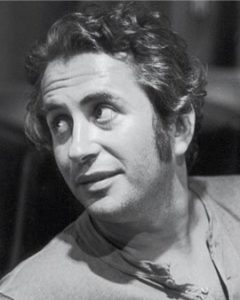 A filmmaker with a personality so outsized and full of life that it's hard to believe he could be gone, Robert Downey Sr. passed away this past July, bringing to a close a career that produced some of the most inventive, hilarious, and outrageous works in all of underground cinema. As a special tribute, Anthology Film Archives (32 2nd Avenue at 2nd Street, NY) will be screening its 35mm preservations of Downey's three early works – Babo 73, Chafed Elbows, and No More Excuses – alongside a new restoration of his breakout hit, Putney Swope.
The film festival will run from from April 27 – May 1. For more information: www.anthologyfilmarchives.org
Film director Andrew Lampert said of Downey's work: "Robert Downey Sr.'s early films are just as rebellious, reckless, and fun-loving as their maker in his youth. While perhaps best known for his advertising industry send-up Putney Swope, Downey actually emerged from the early-1960s New American Cinema scene, America's own new wave movement. Breakout hits from the underground movie circuit of that era, his outlandish satires Babo 73, Chafed Elbows, and No More Excuses are as barbed as Lenny Bruce, as absurd as Alfred Jarry, and as out-to-lunch as Eric Dolphy. Rough around the edges and all-around hilarious, Downey's first films stand as landmark works in the history of independent cinema."
Babo 73
Starring Taylor Mead, the White House, and real U.S. Generals.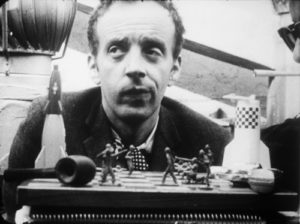 Welcome to The United States, a country led by President Taylor Mead. Say what? That's right, this ribald satire focuses on superstar Mead's blundering administration at the very brink of oblivion. Among their many problems, it seems, is that the Red Siamese have hatched a plan to flood the market with contraceptives in an effort to bring down the birthrate and debilitate the nation. The President and his crooked cabinet must plot counter-actions and defense maneuvers, as well as deal with dissension among their ranks. They spend most of their time wandering around Washington, DC, or hanging out on the beach (where all decisions of national importance should be made). As silly as it is serious, Babo 73 takes no prisoners.
"Mead looks like a cross between a zombie and a kewpie and speaks as if his mind and mouth were full of marshmallow." –Brendan Gill, NEW YORKER
"Should be required viewing at every political convention – especially in presidential election years." –Jonas Mekas
Screening dates and times:
April 27 at 7:00 PM
April 29 at 7:00 PM
April 30 at 9:00 PM
Chafed Elbows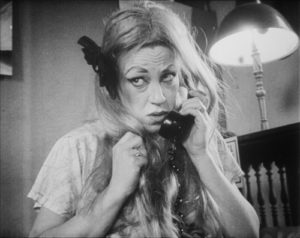 Hmm…where to start? Hapless Walter Dinsmore undergoes his annual November breakdown at the 1954 World's Fair, has a love affair with his mother, recollects his hysterectomy operation, impersonates a cop, and is sold as a piece of living art, goes to heaven and becomes the singer in a rock band. But not necessarily in that order. A manic comedy made for a whopping $25,000, Chafed Elbows was a commercial success that raised the flag of the underground film scene and elevated the good cause of bad taste. Downey actually raised part of the money with an ad in the Village Voice that read: "Walk softly and carry a blank check." Produced over a couple of years, Downey photographed most of the movie with a still 35mm camera and had the film processed at Walgreens. These pictures were animated alongside a few live-action scenes and almost all the dialogue was dubbed to a rather hilarious effect. One scene was even shot in Anthology's upstairs theater back in the days when our building was still a defunct downtown courthouse. An ingenious comedy with a rare visual sensibility, comic-book playfulness, and cheeky bad attitude, Chafed Elbows is the best of all possible worlds.
"On the basis of Chafed Elbows, the one film of his that I've seen, there's good reason to believe that Bob Downey at the tender age of 28 is already the funniest film-maker in America." –Jules Feiffer
"Chafed Elbows is a very good film. Chafed Elbows is the funniest film I have seen in years. I think Chafed Elbows is as good as anything done by the nouvelle vague (let it rest in peace). I think Chafed Elbows introduces into American cinema one of the most original satirical artists since Preston Sturges." –Jonas Mekas, Movie Journal
Screening dates and times:
April 27 at 8:45 PM
April 29 at 8:45 PM
May 1 at 6:45 PM
No More Excuses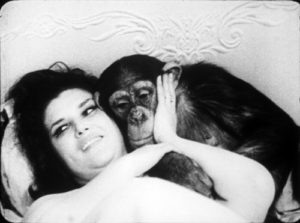 Perhaps the rowdiest of Downey's early films (which is saying quite a lot), the truly incomparable No More Excuses interweaves five short scenarios into one raucous amalgamation. A dazed Yankee Civil War soldier (played by Downey) mysteriously awakens in early-1960s NYC where, naturally, he heads to Yankee Stadium; Alan Abel, Director of the Society for Indecency to Naked Animals (SINA), speaks from the heart of his group's moral crusade to clothe all animals; Charles J. Guiteau repeatedly bungles his assassination attempts on President James Garfield; a priestly pervert and a chimp (yes, a chimp) engage with a plus-sized lover; and, in what just might be the most disorienting scenes, Downey visits the seriously swinging singles scene that is the original T.G.I. Friday's on the Upper East Side. As unpredictable as it is unhinged, No More Excuses is downright funny, and art brut to the max.
"It is hard to write a synopsis for No More Excuses so: it is a surrealistic comedy, a straight documentary, a slapstick satire, a tragedy, a farce, and an hour's entertainment." –Robert Downey
"In some grim and paranoid way, the movie often makes hilarious sense." –Vincent Canby, New York Times
As a special bonus to the screening of No More Excuses, there will also be a viewing of Robert Downey's appearance on the July 7, 1969 episode of "The Dick Cavett Show."
Screening dates and times:
April 28 at 7:00 PM
April 30 at 5:00 PM
May 1 at 8:30 PM
Putney Swope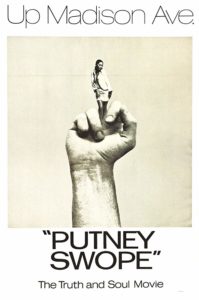 Restoration courtesy of All Channel and the American Genre Film Archive. Putney Swope was restored by the Academy Film Archive and The Film Foundation, with funding provided by the Hobson/Lucas Family Foundation.
Putney Swope (Arnold Johnson), the only African-American exec at his advertising firm, is unexpectedly elected its president and turns the industry on its ear through a series of outrageous, taboo-busting TV commercials (strewn throughout the film like comedic landmines). As Swope becomes the Generalissimo of Madison Avenue, Downey takes no prisoners and skewers the entire political spectrum. An unforgettable masterpiece of late-1960s counterculture, it remains a vital provocation on race, pop culture, and America.
"We're all in trouble no matter who we are unless we stop getting involved with systems, people, and projects that we really, deep inside, don't want to get involved with. Also, the most meaningful moment can be a moment of laughter." –Robert Downey
"Funny, sophomoric, brilliant, obscene, disjointed, marvelous, unintelligible, and relevant. If anybody tries to improve it, they should be sentenced." –Vincent Canby, New York Times
Screening dates and times:
April 28 at 8:30 PM
April 30 at 6:45 PM
May 1 at 4:30 PM
Babo 73, Chafed Elbows, and No More Excuses were restored by Anthology Film Archives with funding provided by The Film Foundation. ♦
The film festival will run from April 27 – to May 1 at Anthology Film Archives 32 2nd Avenue, New York, NY.