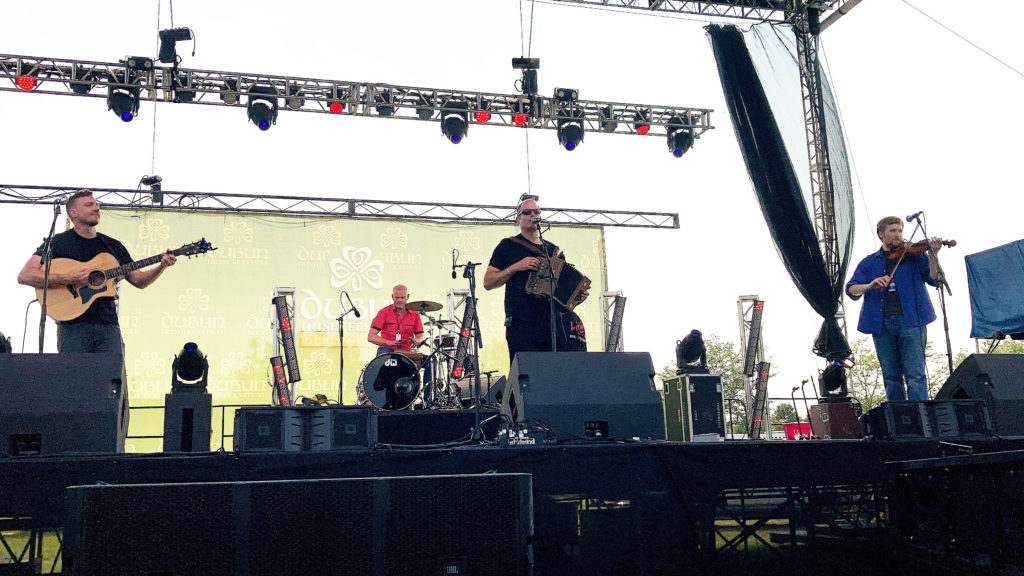 This coming Friday, April 29, 2022, the Prodigals will release their tenth album marking a quarter-century of performing across the United States, as well as in Ireland, Germany, and Canada. There will be two launch locations: 5 pm at An Beal Bocht in the Bronx, and 9 pm at Paddy Reilly's Music Bar, 29th St and 2nd Ave in Manhattan. For more information email: grenemusic@gmail.com
The lead singer, accordionist, and composer, Gregory Grene, started the band 25 years ago in NYC, but spent the majority of his childhood on a small farm near Belturbet, Co. Cavan, and the new album returns to those roots. At the same time, the sound embraces the wild musical effusion of New York, with eclectic rhythmic counterparts to the traditional melodic elements, introduced with brilliantly pyrotechnical skill by Colin Forhan on guitar and Liverpool's Eamon Ellams on percussion. Further rich textures are brought to this album by luminaries Joanie Madden on flute and tin whistle, Katie Grennan, and Grene's nephew Alex on fiddle.
The band's road has gone from headlining Webster Hall in New York to the House of Blues in Las Vegas to Dolan's Warehouse in Limerick and performing at the Guinness Fleadh, Music Midtown Atlanta, and the Dublin Irish Festival. And through it all, the Prodigals have been the flagship house band at Paddy Reilly's Music Bar, the original home also to Black 47, Eileen Ivers, Joanie Madden, John Whelan, Seamus Egan, and virtually every other iconic New York Irish act.
But perhaps appropriately, this sterling anniversary album returns to Grene's origins in Cavan. The images on the CD are those of Grene's childhood, including a picture on the album itself of him and his twin brother listening to his first accordion teacher, Sean Donaghue. The title track, "Belturbet Town," is named after Gregory's home in Ireland; the song was written for his mother when she was in her last year, and the album as a whole sings of the beautiful "ghosts on the wind" that are there for us all if we only listen for their voices.
The album contains 11 tracks including Belturbet Town, Two Sisters, Carolan's Concerto, Black Velvet Band, Say Hello, Sam Hall, Kathleen Alex, Christmas Day, Ballad of Mattie Farrell, Francis Clement, and Rattling Bog. FOR MORE INFORMATION EMAIL: grenemusic@gmail.com