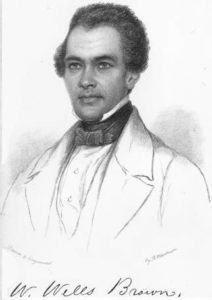 William Wells Brown: Black Abolitionist in Famine Ireland is part of the Great Famine Voices 2022 season, hosted by the National Famine Museum, Strokestown Park, the Irish Heritage Trust, and Ireland's Great Hunger Institute at Quinnipiac University, with funding from the Government of Ireland Emigrant Support Programme.  
Professor Christine Kinealy (Ireland's Great Hunger Institute, Quinnipiac University, African American Irish Diaspora Network) explores Brown's little-known visit to Dublin in August 1849. As a "self-emancipated slave", he delivered an Abolitionist lecture only days after Queen Victoria – later denigrated as the "Famine Queen" – had embarked on her own tour of the hunger-stricken country. Lenwood "Leni" Sloan (African American Irish Diaspora Network) reprises Wells Brown's most evocative utterances while he was in Ireland and afterward. Although he was only in Ireland for a relatively short period, William Wells Brown found his visit – like Frederick Douglass before him – foundational and transformative for his development as an Abolitionist and activist abroad. 
William Wells Brown was a self-emancipated slave born in Kentucky around 1814, who followed in the footsteps of his better-known friend and fellow anti-slavery campaigner Frederick Douglass to Dublin – a center of the anti-slavery movement – during the latter years of the Great Hunger. Like Douglass, he published his Narrative of William Wells Brown, A Fugitive Slave in 1847 which he sought to promote in Ireland. 
The 2022 Great Famine Voices films may be viewed on the Strokestown Park website.
Great Famine Voices 2022 Schedule