Los Angeles Ireland Week is a series of events that will run from 11th May to 23rd May across various venues in Los Angeles.
IrelandWeek live from Los Angeles aims to continue to showcase where Ireland excels, in the fields of Entertainment, Arts, Culture, Tourism, Tech, Food, Fashion & Business. New challenges, new ways of communicating, and new ambitions have transformed our approach to IrelandWeek, now planning its fourth iteration.
Many of IrelandWeek's firm favourite events will return such as the Music From Ireland Showcase, The Irish Theatre readings, and much much more, as well as announcing a new anchor event, "The Ireland Connects Networking showcase" an entertainment b2b event where Irish and U.S. leaders from Entertainment, Tech, Arts, Business and Culture will connect and do business.
Once again, this year will see dozens of events happening across Los Angeles, covering live music, Theatre, Visual Art, Film and TV, Sport, and Animation as well as many other areas of interest not just to the Irish diaspora here in Los Angeles, but to those keen on doing business in these fields in Ireland.
---

Leviathan – A Cultural & Political Cabaret Ft Waterford Whispers News Live, Donie O'Sullivan & Guests
Saturday, May 14th, 8:00 pm
TownHouse Venice 52 Windward Ave, Venice, CA 90291
Guests include CNN reporter, Donie O'Sullivan, Caroline Morahan, Actor, Sarah Murphy, VP of Curation & Marketing Technologies at MGM Resorts International; Jacinta Tobin, VP of Global Sales and Operations, Proofpoint; and Mark Little, CEO, and co-founder of Kinzen.
---
IrelandWeek Family Sports Day Event
Sunday, May 15th, 1:30 pm
City Of Santa Monica Airport Park 3201 Airport Avenue Santa Monica, CA 90405
An Irish Classic Sports Day for all the family with all your favourites such as the Egg&Spoon, the 3-legged race, and the potato sack race!! Face painting for the kids, followed by refreshments at The CloverField.
Tickets are not required for the sports day event, please arrive by 1:30 pm.
---
Samuel Beckett Symposium
Sunday, May 15th, 5:00 pm
Shatto Chapel First Congregational Church LA 540 S Commonwealth Ave. Los Angeles, CA 90020
Join us for a wonderful evening celebrating one of Ireland's best-loved and most enigmatic figures, Samuel Beckett. A novelist, playwright, short story writer, theatre director, poet, and literary translator.
We are honoured to be joined by Dr Feargal Whelan from Trinity College Dublin and Dean Katherine Weiss, Associate Dean, College of Arts & Letters, CalState university.
Using the much-lauded recent BBC documentary " Searching For Sam" as a springboard for the evening's events, we will feature music and readings from very special guests ( To Be announced) Musical direction is by Eimear Noone, award-winning Irish conductor and composer, who was the first woman to conduct at the Oscars and Craig Stuart Garfinkle, composer.
Programme begins 5:30 pm sharp.
---
Poc Fada on the beach
Sunday, May 15th, 11:00 am
Meeting at the Back on the Beach Cafe, Santa Monica, CA 90402
Join us for LA's 2nd Annual Poc Fada Hurling Competition from 11:00 am – 1:00 pm, hosted on Santa Monica Beach by LA Hurling Club and playhurling.com. Get to know SoCal's hurling players, fans, beginners, and legends while pucking a few sliotars around on the sand, followed by a social at a local Playa del Rey bar.
The winner of the competition will receive a playhurling.com goodie bag. Play Hurling is an Irish-owned online shop for hurling equipment based in Los Angeles.
Tickets are not required for the sports day event, please arrive by 11:00 am.
---
Ireland Connects
Tuesday, May 17th, 5:30 pm
IMAX HQ 12582 Millennium Dr, Los Angeles, CA 90094
Our Anchor event of the week will have a major focus on Ireland's rapidly expanding VFX and Post Production business. The event is hosted by Irelands TV and movie Agency, Screen Ireland.
IMAX will host the event at their new HQ in Playa Vista.
The event will feature the leading lights of Irelands VFXAI world as well as the major players from our post-production companies
Key exec's from across Hollywood studios / Streaming platforms to make up the guest list.
This year we celebrate the massive strides Irish VFX/AI production houses have been making on the global stage.
Irish Government Minister for Tourism, Culture, Arts, Gaeltacht, Sport, and Media Catherine Martin T.D. will address the event
Companies Presenting from VFXAI Ireland on the night will include, Egg, Outer Limits, Piranha Bar, Screenscene & Windmill Lane
The event will feature a fireside chat with Prem Akkaraju: Chief Executive Officer at Wētā FX. Additional Panel Guests are to be announced.
---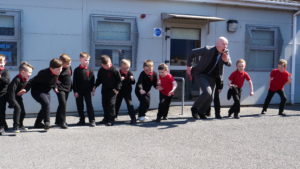 Irish Screen America presents Young Plato as part of Ireland Week 2022
Saturday, May 21st 7:00 pm
Laemmle Monica Film Center. Theater 1 1332 2nd St, Santa Monica, CA 90401
A Primary School in Belfast's Ardoyne housing estates invokes the wisdom of the ancient Greek philosophers to fight poverty, drug dealers, and the IRA–restoring hope in the heart of a battered community.
Multi-award-winning observational documentary Young Plato charts the dream of Headmaster Kevin McArevey and his dedicated, visionary team illustrating how critical thinking and pastoral care can empower and encourage children to question the mythologies of war and of violence, and challenge the sometimes limiting narratives of their own community.
The screening will be followed by a Q&A with the Director, Neasa Ní Chianáín, Producer, David Rane, and lead cast members Principal, Kevin McArevey and Schoolteacher/Head of Pastoral Care, Jean-Marie Reel.
"What results is an utterly compelling documentary that breaks down a problem and offers a solution much like an educational lesson, teaching its subjects and the audience with encouraging thought and discussion."
– FAR OUT MAGAZINE (UK) – March 2022
---

Music From Ireland @ It's A School Night
Monday, May 23rd, 7:00 pm
Bardot 1737 Vine St. Hollywood, CA 90028
Showcasing the very best of what Ireland has to offer right now, from Pop to Hip Hop via Urban soul, we are proud to announce, Denise Chaila, KneeCap, Tolu Makay, and Sorcha Richardson as this year's lineup.
---