Celebrating the Centenary Celebration of the Release of James Joyce
Bloomsday is celebrated on June 16th each year, the day depicted in James Joyce's Ulysses. The day is named after the central character in Ulysses, Leopold Bloom, and follows the life and thoughts of Leopold Bloom and a host of other characters – real and fictional – from 8:00 am on 16 June 1904 through to the early hours of the following morning.
Joyce's Ulysses was first published in its entirety on February 2, 1922, which was also Joyce's 40th birthday. Now Bloomsday is celebrated around the world and celebrations include dressing up like characters from the book and in clothes that would have been the style of the era.
Below please find information on Bloomsday celebrations taking place this week, and to learn more about Bloomsday festivities taking place around the country and around the world visit The James Joyce Centre or Bloomsdayfestival.org.
Origin Theatre's Bloomsday Revel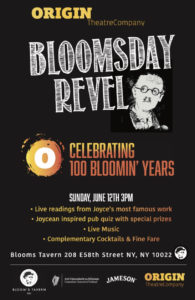 Origin Theatre Company teams up with Bloom's Tavern to celebrate the 100th anniversary of the publication of James Joyce's Ulysses in our 9th annual Bloomsday Revel. Join us as we present our "Greatest Hits" with a few new twists! Enjoy readings, music, reflections, and even a mini pub quiz to test your Joycean knowledge, all accompanied by a specialty Jameson cocktail and complimentary food!
Date: Sunday, June 12, 2022
Time: 3:00pm
Venue: Blooms Tavern NYC 208 East 58th Street New York, NY
Tickets: $20
IABNY Roaring 20s Bloomsday Soirée
The Irish American Bar Association of New York invites you to their Bloomsday Soirée on Tuesday, March 14th at Madam Mikette's 1920s Private Lounge as we celebrate the unique contribution of Ulysses & James Joyce to First Amendment jurisprudence in the United States.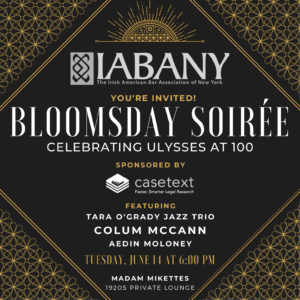 The IABNY Bloomsday Soirée includes special guests Colum McCann, The Tara O'Grady Jazz Trio, and Aedín Moloney and is generously supported by Casetext.
LIVE MUSIC & ENTERTAINMENT BY TARA O'GRADY & HER BAND:
Tara O'Grady is a jazz, blues, and folk singer-songwriter with five albums spinning on the radio. She has performed with her Black Velvet Band in NYC for over a decade. The songstress is the author of the memoir 'Migrating Toward Happiness.' Her new book is set to be published in the autumn of 2022. Her cd 'A Celt in the Cotton Club' is "tasty cotton candy. A sassy, fizzy cocktail of bossa n' blues, O'Grady puts classic melodies of the most popular Irish parlor songs into a martini mixer, shakes and stirs the life out of it, and pours out something delightful. She mixes traditional tunes with original compositions that are so good, they sound like jazz standards. A stroke of genius." (Irish Voice)
REFLECTION ON ULYSSES AT 100 BY COLUM MCCANN:
Colum McCann is the author of seven novels and three collections of stories. Born and raised in Dublin, Ireland, he has been the recipient of many international honours, including the U.S National Book Award, the International Dublin Literary Prize, a Chevalier des Arts et Lettres from the French government, election to the Irish arts academy, several European awards, the 2010 Best Foreign Novel Award in China, and an Oscar nomination. In 2017 he was elected to the American Academy of Arts. His work has been published in over 40 languages. He is the President and co-founder of the non-profit global story exchange organisation, Narrative 4. He is the Thomas Hunter Writer in Residence in Hunter College, in New York, where he lives with his wife Allison and their family. His most recent novel, Apeirogon, became an immediate New York Times best-seller and won several major international awards.
SPECIAL PERFORMANCE BY:
Aedín Moloney is an actress and theatre producer. She has worked extensively in New York, London, and Ireland. In 2019, Aedín co-adapted, with award-winning novelist, Colum McCann, Molly Bloom's Soliloquy (Ulysses by James Joyce) – Yes! Reflections of Molly Bloom. Her acclaimed one-woman performance is a daring theatrical journey into the mind and heart of James Joyce's most sensual hero – a woman of women, a soul of souls, the indomitable Molly Bloom. June 8 – July 17 at the Irish Repertory Theatre.
Date: Tuesday, June 14, 2022
Time: 6:00 pm
Venue: Madam Mikette's 1920s Private Lounge 987 2nd Ave., New York, NY
Tickets: Complimentary but you must register prior to attending
IABANY has been in existence since 1987. It is a professional organization dedicated to connecting, serving, and celebrating New York's legal professionals who are Irish-born, of Irish heritage, or simply interested in things Irish. IABANY inaugurated the Bloomsday celebration in 2009 at the American Irish Historical Society to resounding success. The centerpiece of the evening was the John Quinn Memorial Address. Over the years, it has featured an illustrious list of keynote speakers, including Susan Buckley, Judge John Gleeson, Dean Kathleen Sullivan, Irish Supreme Court Justice Adrian Hardiman, Second Circuit Judge Gerard Lynch, Lynn Oberlander (General Counsel of Media Operations for First Look Media and former General Counsel at the New Yorker), Second Circuit Judge Reena Raggi, New York Times Deputy General Counsel David McCraw, Caitlin Halligan (former Solicitor General of New York State), and Irish Times journalist and author of An Irishman's Diary, Frank McNally, Mayor Pete Buttigieg, Patrick Fitzgerald, Professor Catherine Flynn of UC Berkeley, and others. More information on the history of the event is available here: https://www.iabany.org/bloomsday-history
Between the Lines: Celebrating Bloomsday w/ Irish Ambassador Dan Mulhall
The Ambassador to the United States Dan Mulhall's Ulysses: A Reader's Guide
Presented in partnership with Irish American Writers & Artists
Moderated by celebrated author Yvonne Cassidy.
Join us for an evening of stimulating conversation and joyous celebration with author Ambassador Dan Mulhall, whose new book Ulysses: A Reader's Guide aims to dispel the notions of the impenetrability of James Joyce's Ulysses and unlock the pleasures of the novel for all readers.
"Mulhall's winningly modest tour of Joyce's Odyssey is certainly one of the better beginner's guides available: highly readable, personable and well researched…" – The Times UK
"Ambassador Mulhall cleverly decodes all 18 episodes of the novel, providing personal and funny insights that contextualize and illuminate Joyce's text, making you want to pick up "Ulysses" again." – Irish Central
Date: Wednesday, June 15, 2022
Time: 7:00 – 9:00 pm
Venue: New York Irish Center 1040 Jackson Ave., Long Island City, NY 11101
Tickets: Complimentary
Bloomsday Readings to Celebrate Joyce
Join the Irish American Heritage Museum as they present a conversation with one of the world's Joycean experts to celebrate Bloomsday,100 years since the publication of Ulysses. Dr. Anne Fogarty, Professor of James Joyce Studies at University College Dublin, will discuss the famous novel with Dr. Margaret Lasch Carroll, a trustee on the board of the Irish American Heritage Museum, and who has been leading a Ulysses Book Club here since September. The novel demonstrates that Joyce was a writer deeply embedded in Irish intellectual discourses and is a figure of vital ongoing importance in the social and cultural debates of twenty-first-century Ireland. Don't miss this unique opportunity to learn about the living legacy of a book that has shaped Dublin's identity, inspired the world, and topped Irish literature for the last 100 years.
Dr. Fogarty is the director of the UCD James Joyce Research Centre, editor of the Irish University Review, and President-elect of the International James Joyce Foundation.
Date: Thursday, June 16, 2022
Time: 7:00pm
Venue: This is a virtual event on the Irish American Heritage Museum's YouTube channel and Facebook page