Larry Kirwan is All the Rage
The East Village of the 1980s will be the setting for the next play from Larry Kirwan, a co-writer and conceiver of "Paradise Square," whose leading lady Joaquina Kalukango recently picked up the Tony Award for best actress in a musical.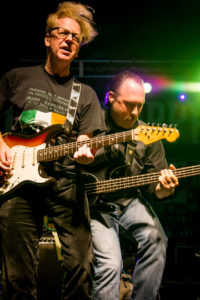 "All the Rage" is the title of the new play that Kirwan, an author and the longtime frontman of Irish rock group Black 47, hopes will be ready for a debut sometime next year.
"'All The Rage" already has two producers, with interest from some investors," he told The Village Sun. "Musicals are always a work in progress because there are so many moving parts in them. But the 'book' of 'All The Rage' is very close to completion, and all the songs are written and I'm happy with them."
The piece is set in 2009 but flashes back to the '80s when the two main characters and lovers — Rick and Shelley — were living on E. Third Street and playing music together, Kirwan said.
"They are on the cusp of making it big and have been booked for a Letterman appearance," he explained.
Rick doesn't show and Shelley "has a bit of a breakdown." She decides to dump Rick and goes back to Larchmont, marries someone else, has a daughter. But 23 years later, their old manager gets an offer for one of their songs to feature in a movie about the '80s called "Avenue A," along with a deal for a new song by the band.
"Shelley goes back and finds Rick still living in their old apartment and that's where the story begins," he said.
"The story touches a chord with many people," Kirwan noted. "Everyone seems to have had a relationship that they still wonder about — what would have happened if we'd stayed together."
Kirwan, who was raised in County Wexford, lived in the East Village in the '80s. Black 47, the Celtic rock band he formed in 1989 with Chris Byrne, was on its way after landing a coveted appearance on a St. Patrick's Day gig on "Late Night with David Letterman." In their case, all the band members showed up for a memorable show that catapulted Black 47 (named for the worst year of the Great Hunger in 1847) to the forefront of the Irish rock scene in New York City.
Kirwan made the revelation about the new play to The Village Sun only days after his "Paradise Square leading" lady Kalukango, won a best leading actress in a musical Tony for playing saloon keeper Nelly O'Brien, an African-American who is married to an Irish Civil War Union officer killed in combat.
Set in a brief utopia in New York when freed blacks, runaway slaves, and recent Irish immigrants from famine-ravaged Ireland came to live, work, play, and love side by side in the notorious working-class slum known as the Five Points. The peaceful coexistence was ruptured by the 1863 Draft Riots in New York City.
Kirwan's original version, "Hard Times," debuted Off-Broadway more than a decade ago, but it was not until he and several new co-writers teamed up with producer Garth Dabrinsky that "Paradise Square" made its debut on Great White Way in April after a successful out-of-town run in Chicago.
It was nominated for 10 Tony and snared one. Kirwan is philosophical about going only one-for-10 in the Tonys derby.
"I'm pretty pragmatic when it comes to awards," he told The Village Sun. "It's like going to the track. If you have a great win on one of them, you're ahead of the game."
Shortly before she picked up her award, the TV audience got to hear Kalukango belt out the show's signature song, "Let It Burn," during the three-hour Sunday special that aired on CBS and Paramount+ on June 12. The song drew a standing ovation from the live crowd at Radio City Music Hall.
"You can burn it down to ash and then out of ash we'll grow," Nelly sings as she confronts rioters trying to torch the tavern in the midst of the Draft Riots that raged for three days in New York City at the time. "If you think we'll run away, you've got a lot to learn. We are stronger than your fire, and I say, let it burn."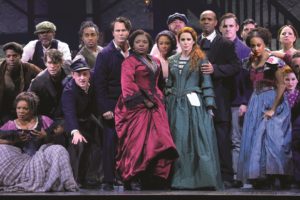 In her acceptance speech, Kalukango said, "Thank you to all of the nameless ancestors who have suffered. This song, this show gives power to that. I honor them every day."
The win kept the cast partying long into the night, first at the after-show bash at the Plaza, then to the Glass House Tavern across the street from the Barrymore Theater on W. 47th St., where the show is playing, and from there to another after-party at RPM Underground, a downstairs pub at 246 W. 54th St. Kirwan said he ended up taking a subway home dressed in his tuxedo at about 3:30 a.m.
Ticket sales had been lagging for many Broadway plays with audiences still facing COVID restrictions. Many long-running hit shows recently announced they'd be closing. "The Lehman Trilogy," another Tony winner for best play, had its run interrupted by COVID and had already closed this past January, five months before its Tony win.
"Girl From the North Country," inspired by Bob Dylan songs, was in the mix with "Paradise Square" won the best orchestration award at the Tonys, but that was not enough to prevent it from closing on June 19. ("A Strange Loop" won for best musical.) Even the long-running hit "Dear Evan Hansen," which won seven Tonys in 2017, announced it, too, would be closing on Sept. 17.
Kirwan thinks the lift from the Tonys will extend the show's Broadway run.
"Ticket sales were up for 'Paradise Square' because of the Tonys, so that gives us a new life," he said. "It was wonderful that Joaquina Kalukango won for best actress in a musical and even more important that the world got to see her blow the roof off Radio City on CBS."
He said "All the Rage," a two-person play with new songs by Kirwan, has already staged an Actors Equity workshop and he said hopes to get it into production next year.
While Kirwan was the conveiver of the play and one of the co-authors who finally saw it through to the Great White Way, he was not involved in the financing. "Like most of the other people who have given a lot to the project I'm working on new things," he told Irish America, adding: "Paradise Square is a very strong and original piece. I believe it will have another life. But when or where – I don't have a clue."
Another play by Kirwan, on the Iraq War entitled "Iraq Rose," is due for an Actors Equity workshop soon. He's also planning on readings for a new play about Irish writer Brendan Behan's life and times entitled "The Catacombs" and his staged version of the novel "The Informer," by Liam O'Flaherty, will have readings soon.
"That," Kirwan quipped, "should keep me off the streets for a while."
About the author: Keith J. Kelly is a veteran journalist with more than 40 years of experience and a past contributor to Irish America. He retired from the NY Post in July 2021 after writing the Media Ink column for the past 23 years. New York Magazine once labeled him NY's most influential media columnist. On the Irish scene, he freelanced out of Belfast in 1980 and is credited with breaking news of the imminent IRA hunger strike in Long Kesh Prison for National Catholic News Service where it ran on the front page of the Chicago Catholic weekly on Sept. 5, 1980. Prior to the Post, he was hired by Pete Hamill as a media columnist for the New York Daily News. He married Patricia Walsh, an RN and the daughter of Kerry football great Eddie Walsh, in 1994 and they have three sons Ruairi, Luke and Eamon and reside in Manhattan.