New York Gov. Kathy Hochul's Landslide Win in State Primary Elections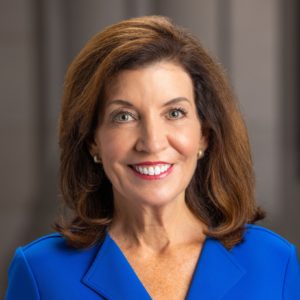 On Tuesday, June 28, New York Governor Kathy Hochul reeled in 65 percent of the votes in the state's gubernatorial primary elections and became the first woman to win a major party's primary nomination in the state.
The Irish-American politician, who took the reigns of New York state control after former Gov. Andrew Cuomo resigned last August following sexual harassment allegations and management of nursing homes during the Covid-19 pandemic, still has to face Republican representative Lee Zeldin in November's state elections. 
Hochul was the lieutenant governor under Cuomo from 2014 to 2018, which made her first in line of succession to the Governor's seat.
She is the highest-ranking Irish-American elected official in the state. 
At the election night event in Manhattan, Gov. Hochul gave a speech under a symbolic glass ceiling. 
"I'm also here because I stand on the shoulders of generations of women, generations of women who constantly had to bang up against that glass ceiling. To the women of New York, this one's for you," Hochul said.
Born Kathleen Mary Courtney, the governor's paternal grandparents met in Chicago after emigrating from the same area of Co Kerry. They later settled in Buffalo New York and were instrumental in the founding of the Buffalo Irish Center, which is still active today. 
Hochul is running on a string of long-held beliefs, including the right to safe and legal abortions, and tougher gun laws, a topic close to the Buffalo native's heart as her hometown was the victim of a mass shooting that targeted and killed ten people in a supermarket in May 2022.
Yesterday, July 1, the governor signed new legislation into law – in response to the recent Supreme Court ruling on concealed weapon carry laws. The new legislation, effective September 1, 2022, makes concealed carry in "sensitive locations" illegal. Such locations include airports, entertainment venues, mass transit, houses of worship, and bars and restaurants.  Hochul also put Time Square of the list of locations where it will be illegal to carry a concealed weapon.  Police officers, security, and active duty military personnel, will still be allowed to carry guns in sensitive places.
"We are taking swift and bold action to protect New Yorkers. After a close review of the NYSRPA vs. Bruen decision and extensive discussions with constitutional and policy experts, advocates, and legislative partners, I am proud to sign this landmark legislative package that will strengthen our gun laws and bolster restrictions on concealed carry weapons," the governor said in a statement. 
The broad state equal rights amendment also includes protections for New Yorkers wishing access to abortion care.
+ To read the 2018 article featuring Gov. Kathy Hochul in our magazine's Power Women group, click here. + 
Collins & Cohen: A Night at the Tribeca Film Festival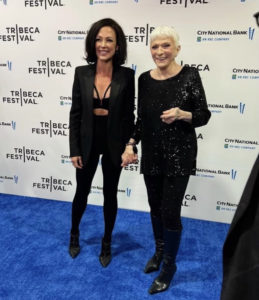 Iconic singer, songwriter, and Irish America Hall of Famer Judy Collins debuted a new hair do on the red carpet for the opening of Hallelujah: Leonard Cohen, A Journey, A Song, at the 2022 Tribeca Film Festival at Manhattan's Beacon Theatre in June.
The "Send in the Clowns" and "Both Sides Now" singer revealed a sporty, cropped, and chic new haircut at the premiere of a documentary on the late singer Leonard Cohen, a long-time friend of Collins.
The haircut, Collins explained, came about because she lost most of her hair to a virus a couple of years ago. She had been wearing a wig on stage but decided it was time to reveal her new look earlier in the month at a party for her graphic designer husband Lewis Nelson, the designer of the Korean War Memorial in Washington DC, who has penned a book about the experience and his life called "Mosaic."
Amanda Shires, pictured here with Collins, is a singer, songwriter, fiddle player, and member of The Highwomen, who wrote an ode to Cohen in her 2013 album "Down Fell the Doves".
Sharon Robinson, a singer, producer, and frequent collaborator with Cohen and Daniel Seavey, known for his 2015 cover of "Hallelujah" on American Idol, performed alongside Shires and Collins, in a musical tribute to the renowned musician at the film festival.
The bond between Leonard Cohen and Collins began in 1966 when he encouraged Collins to write her own songs as her version of his song "Suzanne" was topping the charts.
In a 2013 interview with Patricia Harty, Collins remembers Cohen asking, "How come you're not writing any of your own songs since you've recorded all mine?"
Collins in turn, prompted Cohen to perform his own work. "My recording of 'Suzanne' was up on the charts for 38 weeks at the time, and I said, 'Why don't you come [on stage] and sing 'Suzanne', it will drive the crowd crazy. And he said, 'No, I can't do it,' and I said, 'Come on. It'll be fun.'" A nervous Cohen did come out on stage and perform with Collins before succumbing to stage fright and walking off. Collins persuaded him to come back on, and the rest is history.
The quintessential hymn-inspired "Hallelujah" was originally written and produced by Cohen in 1984, but popularized in 1994 when the late singer Jeff Buckley covered the song in his only complete album, Grace.
Collins has a beautiful new album out called "Spellbound."
+ To read the full interview between Collins and Irish America Editor in Chief Patricia Harty, click here. +
SEAL Museum Honors Lt. Michael Murphy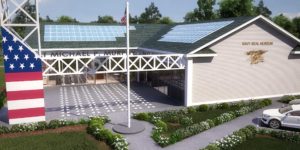 On Tuesday, June 28, over 1,000 people attended the much-anticipated Lieutenant Michael Murphy Navy SEAL Museum opening in West Sayville on Long Island, New York after a two-year pandemic delay.
It is the United States' second Navy SEAL Museum and aims to educate the public by honoring and immortalizing the U.S. Naval Special Warfare Operators who sacrificed their lives in battle.
The museum features interactive exhibits designed with the real equipment, information, and military gear of the SEALs, as well as films that explain the history and promote the values of Navy SEALs and Special Warfare Operators.
The Navy Sea, Air, and Land Museum honors Lt. Michael Murphy, a Long Island native and recipient of the Medal of Honor, on the 17th anniversary of his heroic sacrifice and tragic death in the deadliest battle in the war in Afghanistan.
Daniel Murphy, the honored lieutenants' father said "it's not about Michael. It's about his teammates and his brothers."
On June 28, 2005, Lt. Michael Murphy and members of Operation Redwing were tangled in enemy lines and a bloody battle in the Hindu Kush region of Afghanistan, where Lt. Murphy exposed himself to enemy gunfire from a Taliban-aligned militia group known as the 'Mountain Tigers' to make contact with the base to rescue his team.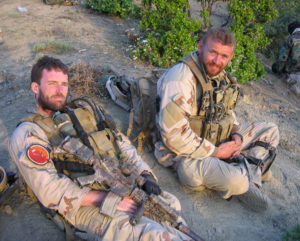 According to the museum's website, Lt. Murphy, who took a near-fatal shot to the back, picked his radio receiver up and "completed the call and continued firing at the enemy who was closing in. Severely wounded, Murphy returned to his cover position with his men and continued the battle."
The rescue helicopter was struck by a grenade, killing all 16 men aboard, but Lt. Murphy's efforts ultimately led to the recovery of the fallen soldiers.
After the two-hour gunfight, Marcus Luttrell was the only surviving SEAL of the 19 soldiers involved. An estimated 32 militia members were also killed.
Luttrell, the now-former Navy SEAL and inspiration of the film Lone Soldier starring Mark Wahlberg told reporters Lt. Murphy would have been humbled by the museum.
"I think it's come full circle. I think out of that tragedy, came new life," Luttrell said, adding he hopes it will inspire young people for a greater purpose.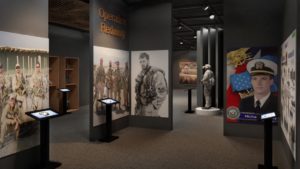 The organizers who built and designed the museum kept Lt. Murphy's personal motto, 'education will set you free' in mind, and that statement now line the walls of the entryway to the museum.
Former President George W. Bush delivered a speech via Livestream, saying he "believes that his [Lt. Murphy's] values, sacrifice, and the story will live here forever."
Robert O'Neill, a military officer who was on the team that killed Osama bin Laden, spoke at the museum opening.
"It doesn't matter if you're a four-star Navy SEAL admiral or the guy that goes into Osama bin Laden's bedroom. We all had our first day at work and we were all scared. As long as we succeeded, it doesn't matter who gets the credit," O'Neill told reporters.
The building beside the museum is a training program for the next generation of Navy SEAL cadets and Special Warfare officers.
Malachy McCourt Visits Theater 80 in the East Village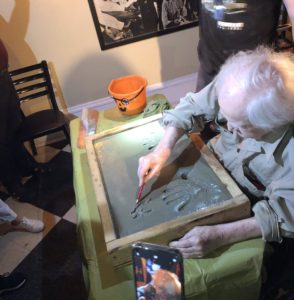 When Malachy McCourt put his handprint into cement that will be enshrined with other stars of stage and screen outside Theatre 80 in the East Village on June 30, it drew a big turnout of Irish literary and musical figures to the embattled East Village venue.
McCourt, an actor, author, radio talk show co-host, and all-around raconteur, is aged 90 and confined to a wheelchair but was his usual rambunctious self as he was led by a piper into Theatre 80 on June 30 for the enshrinement.
He led the crowd in song, singing the "Will You Go Lassie Go," and added an extra stanza for Lorcan Otway, the proprietor, and owner of Theatre 80 who is fighting the efforts by a predatory landlord to liquidate it.
McCourt was greeted outside by Father Pat Moloney, the East Village priest who has long run a shelter for troubled teenagers on East 9th St just off Ave B.
Moloney, of course, gained a degree of notoriety in the early 1990s when an IRA man was provided housing in one of the many shelter apartments that the priest maintains.
The man was one of several people involved in the notorious $7.4 million Brinks armored car robbery in January 1993, and some of the money was stashed in a safe apartment that Moloney kept in NYC's Stuyvesant Town.
Moloney always insisted he had nothing to do with the heist but was arrested and received a five-year sentence. When he was released the Melkite Catholic priest returned to doing what he always did, running Bonitas House, a shelter in the East Village.
At Thursday's gathering, Moloney raised his hands to give a blessing to all who had gathered to support McCourt and Otway, and ended it with the words, Tiocfaidh ar la – which means Our Day Will Come, a rallying cry for Sinn Féin.
Moloney recalled that he had a tie with the entire McCourt family from his native County Limerick. The McCourts moved back to Ireland when Malachy and his late brother Frank of Angela's Ashes fame were youngsters.
While the day was to honor McCourt, many also voiced their support for Lorcan Otway, the second-generation owner of the theater that was purchased by his father, Howard, from a local East Village mobster in 1965 and is now in bankruptcy.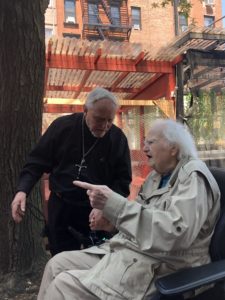 The debt is held by a predatory real estate firm, Maverick Real Estate Partners, that picked up the $6.1 million loan that Otway had taken out at the end of 2019 but which went into default when COVID-19 restrictions shut down the theater, and the other businesses in the building including the William Barnacle Tavern and the Museum of the American Gangster.

Otway and his wife Genie live in a townhouse that adjoins the theater on St. Marks Place between First and Second Avenue.
Among those turning out to lend support for both McCourt and Otway was noted author T. J. English, author of the "The Westies" and "Paddy Whacked" among other books, and Larry Kirwan, the former frontman of Black 47 and conceiver of the Broadway hit Paradise Square, which was nominated for ten Tony awards.
"It was a great event – a big and diverse crowd of New Yorkers and all of us paying homage to Malachy and hopefully keeping Lorcan's Theatre 80 open and running," Kirwan later recalled.
Also on board was John McDonagh, who does the Radio Free Erin show on WBAI with McCourt and Brendan Fay, longtime LBGTQ activist.
Bankruptcy Court Judge Martin Glenn has set July 21 as the date when he will decide whether to convert the Chapter 11 bankruptcy – which allows a business to continue to operate while it seeks to work out new terms with creditors–into a Chapter 7 bankruptcy which would likely force its sale and liquidation.
"I'm putting my hands into the cement, but I wish we could cut off the hands of the money grubbers who are trying to steal Lorcan Otway's theater," McCourt said.
Then he was off to quoting Yeats. "Live every day as if it is your last," said McCourt. "And one of these days you'll be right." – By Keith J. Kelly.
Sister of Rugby Legend Anthony Foley Swims Around Manhattan in Fundraising Effort
In a swimsuit that read FOLEY 8, the sister of the late Irish rugby international player Anthony Foley swam around Manhattan as a tribute to her brother.
Rosie Foley and her friend Andrea Newport completed the 20-bridge tour encompassing 28.5 miles of Manhattan in just under eight and a half hours.
The duo swam through the Hudson, East, and Harlem rivers to raise money for the Mid-Western Cancer Foundation, CARI, and CRY Cardiac Risk in the Young.
A former swimming instructor at the now-closed St. Edna's pool in Limerick City, Rosie Foley has also swum over 23 miles (38km) of the Lough Derg, Galway Bay, and around Cork City.
Originally from Killaloe, Co. Clare, sisters Orla and Rosie have raised over €30,000 for the foundations through Orla's Wild Ways iDonate page, which was set up in honor of their brother following his death from a heart condition.
According to the Limerick Leader, Rosie's husband Pat and their three children Oisin, Brendan, and Siofra, and Andrea's partner Alex cheered the pair on from dry land while three support boats followed the swimmers across Manhattan.
CRY Cardiac Risk in the Young is a charity group that provides resources to families who have suffered sudden and unexplained deaths.
This cause is especially important to the Foley sisters as Anthony, the Munster-area rugby legend, died in October 2016 of a heart condition that caused a buildup of fluid in his lungs, at age 42.
Amach le Chéile: Irish Pride in New York City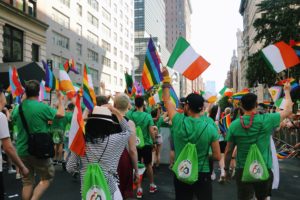 The Irish Consulate joined the New York City Pride Festival in celebration of the city's 52nd Annual LGBTQ+ Pride parade with over 120 supporters and allies, including former New York City Council Member Danny Dromm, author Yvonne Cassidy, Journalist, and broadcaster Floor MacCarthy, on Sunday June 26.
After being canceled in 2020 and scaled back in 2021, the Irish Consulate returned for its third year with a float decorated in traditional colors of the Irish flag, harps, and Pride flags for the festival in Manhattan.
'Amach le Chéile', or 'Out Together', was the theme organizers for the Consulate chose – and complimented the city's theme, 'Unapologetically Us'.
Revelers and supporters watched and cheered at the floats and crowds down Fifth Avenue, adorned in colorful costumes and waving rainbow flags.
Helena Nolan, Consul General of Ireland thanked the volunteers and supporters for participating in their float.
"What a wonderful and inspiring day to underline how proud we are of our diverse diaspora in New York and around the world. We are so pleased to march in celebration of Irish Pride, culture, and the enduring New York City-Ireland partnership," Nolan added.
The Grand Marshals of this year's NYC Pride Festival were Saturday Night Live cast member Punkie Johnson; Okra Project Executive Director Dominique Morgan, and Pose star Angelica Ross returning as a co-host and performer.
23m Euro Secured by Enterprise Ireland-backed Companies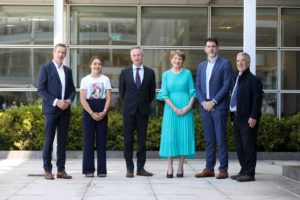 Enterprise Ireland, the agency responsible for the escalation of Ireland's business ventures and presence in the world market, secured a whopping €23 million European Innovation Council (EIC) Accelerator program grant for four Irish companies.
Mayo-based Ovagen; Selio Medical in Dublin; and Galway companies InVera Medical and Loci Orthopedics were one of the many companies selected for the program.
In the March 2022 call for the accelerator program, about 74 companies from 18 European countries were chosen to receive a total of €382 million in funding, out of the 1,000+ that applied.
The EIC Accelerator program invests in high-potential, high-risk start-ups in small to medium enterprises (SMEs). Companies selected by the EIC benefit from mentoring, coaching, and networks with investors through other businesses through the program.
Dr. Catherine Caufield, Chief executive of Dublin-based biotechnology company Ovagen, who created the first germ-free chicken eggs and birds used in vaccine manufacturing, said the funding plays a crucial role in the increase of production for customers.
"Ovagen's germ-free technology will transform the way vaccines and other Biopharmaceuticals are developed and produced. It will also ensure the security of supply and could save millions of lives each year by improving global immunization coverage," Dr. Caufield said.
Loci Orthopedics, the Galway company that developed a new treatment for thumb-base joint arthritis, was granted over €8 million – €2.5 for grant funding, and €5.5 in equity investments from the European Investment Bank.
Dr. Brendan Boland, Loci Orthopedics CEO said the funding supported by the European Investment Bank is a major endorsement toward their clinical goal.
"The EIC Accelerator Funding will enable the company to finish clinical trials and gain regulatory clearance so we can get our new technology, literally, into the hands of those that need it most," Dr. Boland said.
Enterprise Ireland CEO Leo Clancy called the large grant a great achievement, and aligned with the goal of "leading in a changing world."
Ireland ranked fifth in the EIC investment round, with companies from Germany, France, Finland, and the Netherlands receiving more based on the recommended funding value.
Chaos Continues at Dublin Airport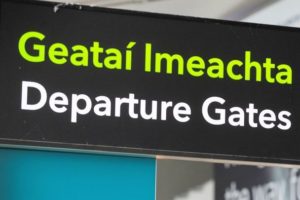 Nearly thirty percent of flyers at Dublin airport were notified of their canceled flights within 6 hours of their departure this week, and Aer Lingus is canceling twenty five more for the first weekend of July.
The airline cites several factors for the cancellations, such as the pilot strikes in France, but most significantly a spike in Covid cases which resulted in 60 flights canceled since June 23.
One couple told the Independent that they had been trying to get from Cork to Canada for the last week. The pair were rerouted from Dublin to Glasgow, Reykjavik and eventually Vancouver, before the flight was canceled.
"The original flights cost us €350 each, and the re-booked flights cost us €1,360, so it's been a bad start. But we've dropped our bags off and now we're told our flight is being delayed, but at least it's a direct flight this time so we're hopeful," the Canada-bound couple added.
Although this week's queues have been significantly shorter than the average wait time in early June, roughly between ten and forty-five minutes, the checked baggage processing time has caused major headaches among travelers.
Frustrated passengers took to social media to share their grievances with the airport.
"Another chaotic morning at Dublin airport, the bag drop off queue nearly 2 hours before u face the dreadful security," one user wrote on Twitter.
Journalist Alice Chambers shared a video of the line outside T2 at Dublin airport, saying the queue is almost a half mile long.