U.S. House Passes Gun Control Bills in Wake of Uvalde School Shooting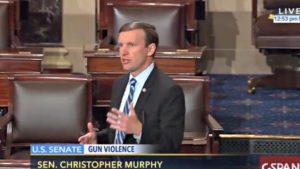 On Thursday, June 8 the U.S. House of Representatives passed a "red flag" gun control bill, with only five Republicans on board.
The bill allows law enforcement to temporarily remove the guns of an individual who is adjudged by a federal court to pose a threat to themselves or others. The bill passed with 225 votes for its approval, and 202 against. The bill now moves to the Senate, where it is unlikely to pass without bipartisan support.
In gun control talks in the Senate, Senate Majority Leader Chuck Schumer said Thursday morning that Democrats' top negotiator, Sen. Chris Murphy, (D-CT) reported that "the group is making good progress, and they hope to get something real done very soon."
Senator Chris Murphy, who huddled in a firehouse with the surviving families of the Sandy Hook Elementary School shooting ten years ago, is a fervent supporter of national gun control measures, especially the ban on semiautomatic assault weapons. In 2016, he coordinated the first 15-hour filibuster to demand gun control in response to the Orlando Pulse nightclub massacre that killed almost 50 people.
Other Irish American politicians are also working to curb the sale and trafficking of guns.
Pat Toomey, a Republican Senator in Pennsylvania, is one of the few in his party that is staunchly in favor of gun control laws. Toomey told CBS's Face the Nation that he is unsure of the outcome of the bills, but says it "feels like we are closer than we have been since I have been in the Senate."
Congressman Brendan Boyle (D-PA) is a member of the Congressional Gun Violence Prevention Task Force and has been speaking out on the need for bipartisan support for stricter gun laws.
"There is overwhelming bipartisan support across the country for legislative action to prevent gun violence. It's time for some of my colleagues who have been too afraid to take on the NRA to finally summon the courage to do the right thing — before another horrific tragedy takes place," Boyle said in a statement issued by his office.
Boyle applauded the passing of the House bill dubbed The Protect Our Kids Act, legislation separate but similar to the red flag bill, which proposes a raise in the legal age to purchase a semiautomatic weapon from 18 to 21, statutorily banning the civilian use, manufacture, sale and possession of bump stocks, and new federal offenses for the trafficking of guns or large-capacity magazines.
Bill McDermott Speaks on America's Economic Crisis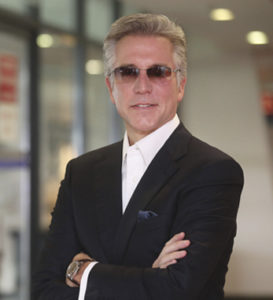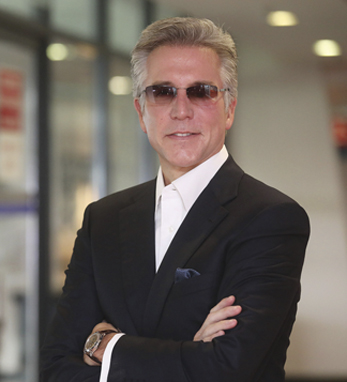 When Bill McDermott was the keynote speaker at Irish America's Business 100 in 2017, he was the CEO of SAP, a software giant with over 240 million cloud users.
Now, McDermott is the President and CEO of ServiceNow, a computing platform that optimizes digital workplace flow: and the two-time CEO has some insight and advice on the U.S.'s current economic state.
"If you don't change, and you don't transform your businesses, and you don't hit the accelerator now when headlines are down, you might not be on any list in 30 years," McDermott told CNBC's "Mad Money".
In an interview with Irish America in 2017, his main suggestion for keeping up with the ever-evolving digital age, "We have to constantly challenge ourselves in three areas. Desirability – do we have the big ideas that are going to fundamentally change the world? Feasibility – can we pull this off? If not, what will it take? Viability – do we have the right plan to create value from our ideas?"
McDermott advised companies to adapt and invest in a digital market, which is expected to make $11 trillion by 2026. The CEO also recommends keeping employees inspired and calls the market a "crisis of opportunity," especially as the Federal Reserve intends to raise interest rates to combat rising inflation, reminiscent of the Great Recession.
"This is not even close to 2008. In 2008, I was with a company where we lost a billion euros in the pipeline in a day. That was a crisis. This is not a crisis," he stated.
Tayto Park Founder Ray Coyle dies at 70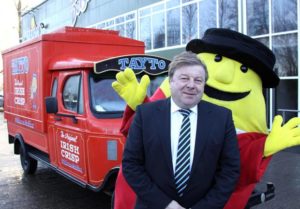 Businessman and Tayto Park founder Ray Coyle died at age 70.
Originally from Tara, Co. Meath, Coyle was best known for founding Largo Food in 1982. The company acquired snack brands like Tayto, King Crisps, and Hunky Dory in 2006.
After the €62 million acquisition, Coyle opened Tayto theme park and zoo in 2010 in Ashbourne, Co Meath, on a farm that he owned. Originally themed based on the Irish potato crisp brand Tayto, the park has grown to be one of Ireland's biggest tourist attractions.
The businessman started as a potato farmer and notably raffled 280 of his 700 acres to pay off bank debts and raise over €1.2 million in 2006. That same year, he founded Largo food and purchased the Perry brand a year later.
Coyle had sharp advertising skills: in 2011, he won the industry category for the EY Entrepreneur of the Year award, marketed the Tayto brand at the theme park, and even ran a spoof campaign for the 2007 Irish Presidential race which attracted massive media coverage for the brand.
He is survived by his wife, Rosamond, his son Charles, currently the general manager of Tayto Park, and his daughter Natalya, who has represented Ireland in three Olympic games. According to a statement from the family, Coyle intended to retain ownership of the park after the sponsorship deal with Tayto is set to expire in January 2023.
Coyle passed away peacefully in his sleep, surrounded by his family on June 8.
The Longest Try in History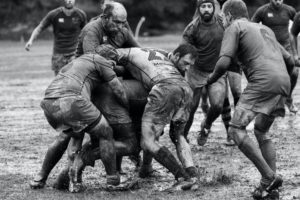 Starting June 11, four former rugby teammates will journey across Ireland: encompassing 150 miles over 11 days by walking across the country and rowing through inter-county waterways.
The teammates have named this physically and emotionally grueling journey The Longest Try in History, and their goal is to raise money for injured rugby players.
The donations will go directly to the IRFU Charitable Trust.
"We've had years of playing time, and now, we are giving back to the game that gave us so much."
The IRFU Charitable currently supports 36 Irish rugby players who have endured life-changing injuries such as severe head injuries and paralysis from spinal trauma.
One hundred percent of the donations pay for specialized equipment like wheelchairs, beds and lifting equipment, nursing and care costs, and home renovations per their needs.
The Irish American rugby quartet, Risteard Mulcahy, Bryan McShane, Joe Taylor, and Ty Storlie, all of whom are over 55 years old, met in the 90's playing for Aspen RFC in Aspen, Colorado. McShane met Storlie at the pub he ran, McStorlie's, and Taylor and Mulcahy met the others at the rugby club.
Their passion for the sport bonded them over three decades and different football clubs across the world. When Mulcahy had suggested the fundraising idea, Taylor and the team hopped right on board.
"I have had a few injuries from rugby, but I've always recovered… The Longest Try raises funds for disabled players whose injuries permanently changed their lives and livelihoods," Joe Taylor says on the website.
Their journey begins on June 11 at Aviva Park in Dublin. The team will walk and row Galway and Tipperary counties by the 19, Clare on the 21, and finish in Dublin on the 23.
Ukraine Defeats Ireland in UEFA Nations League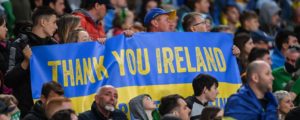 Aviva Stadium in Dublin trembled from the applause of over 3,500 fans, showing support for the players and refugees of war-torn Ukraine until kick-off.
In an act of solidarity, Séamus Coleman, Ireland's team captain, delivered Ukrainian supporters with the country's national flower: sunflowers. In response, the Ukrainian team saluted their supporters full-time.
Since March 2022, over 30,000 Ukrainian refugees and asylum seekers have been welcomed in Ireland.
Ukraine defeated Ireland in the UEFA Nations League on June 8, with a close 1-0 victory over Ireland.
The Republic's football team had a disheartening start to the Nations League games after losing to Armenia on June 4. The Republic has lost each of the 12 games in this competition.
One of the biggest first-half highlights was Callum Robinson cutting through Ukraine's defense and being felled by Valeriy Bondar until the referee waved the penalties.
In an impressive move, Ukrainian player Viktor Tsyhankov landed the ball in the corner of the net after a free-kick missed the rest of his team and bounced in front of goalkeeper Caoimhin Kelleher.
Irish player Shane Duffy had a close goal that ultimately was blocked by goalkeeper Andriy Lunin, who tipped the ball on the crossbar.
Ukraine's win against Ireland comes after their World Cup qualifying game was won by Wales on the fifth.
Trinity College Named in World's 100 Top Universities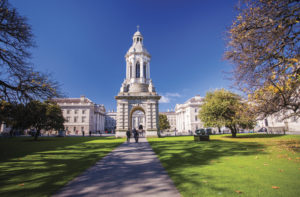 Trinity College Dublin was named number 98 on the world's top 100 universities list for 2023, climbing three spots from last year.
The 2023 QS (Quacquarelli Symonds) system uses six indicators across 1,4000 universities in 100 countries. The rankings are dependent on six key indicators: academic and employer reputation; citations per faculty; faculty/student ratio; and the international faculty and student ratio.
Dr. Linda Doyle, Trinity's provost, congratulated the student and faculty on Twitter, recognizing the greatness of the achievement in challenging times. Dr. Doyle called the ranking "great news for Ireland's global reputation."
According to QS, the jump in rankings is attributed to the rise in citations, academic performance, and employer reputation.
The QS Senior vice president, Ben Sowter, said teaching capacity investments are crucial for Irish university's improvement. Dr. Doyle hopes that the recent government investments will provide Irish students and faculty with the resources they need.
Trinity College holds the number 38 title for best liberal arts institution in the world, according to the Wall Street Journal rankings.
The 28th Annual Fitzpatrick Memorial Fund Golf Tournament
On Monday, May 16, the Eithne and Paddy Memorial Fund held its 28th Annual Golf Tournament at the picturesque Sleepy Hollow Country Club after a three-year break due to COVID-19 restrictions. 
The golf tournament honors the parents of famous Irish hotelier, John Fitzpatrick, who founded the Fund in 1993.
The Memorial Fund supports a wide range of organizations and communities in Ireland, Northern Ireland, the New York Irish Center, and across the U.S. The legacy of Paddy and Eithne Fitzpatrick's generosity and charitable spirit embodies the Memorial Fund's mission: to support crucial social initiatives for those most in need. 
This year's donations extend directly to the Integrated Education Fund, which provides access to integrated schools in Northern Ireland and its border; Solace House, a suicide intervention and crisis counseling center; and the Irish Motor Neuron Disease Association. 
The Memorial Fund has raised over 4.5 million dollars since its founding and contributed to dozens of organizations and charities.