A New Northern Ireland Protocol Bill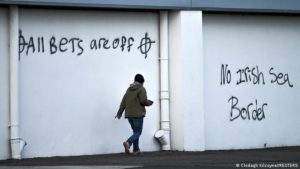 On Monday, U.K. Prime Minister Boris Johnson and Liz Truss, The Secretary of State for Foreign, Commonwealth and Development Affairs, introduced a bill that the EU says is in violation of the Good Friday Agreement.
The new plan proposes that goods being sent to Northern Ireland by trusted vendors from the U.K. are in the "Green Lane" and not subject to be checked. Products from the U.K. that are en-route to Ireland and the EU are in the "Red Lane" – meaning they must be checked and searched by custom control.
Since Brexit, the Northern Irish protocol, acting within the bounds of the Good Friday Agreement, has allowed open-border trading between the Republic and the North.
In response to the announcement of the proposed new bill, European Commission Vice-President Maros Sefcovic said renegotiating the protocol is "unrealistic" and that they will respond to any actions taken by the U.K..
Some American politicians were quick to weigh in on the proposed new protocol. Senator and Senate Majority Leader Chuck Schumer, released a statement, saying "a return to a hard border is not acceptable, nor is it wise economic policy for the people on the island of Ireland, who have benefitted mightily from the changed policies that were birthed after the Good Friday Agreement."
"As Majority Leader of the United States Senate, I join my partner in government, Speaker Pelosi, in saying that rash, unilateral actions that threaten international agreements will undermine support in the Congress for any bilateral trade proposal." Schumer added.
The U.K. Foreign Office cited a loophole known as the 'doctrine of necessity,' which they describe in their legal statement as a term used in the context of international law to "lawfully justify situations where the only way a state can safeguard an essential interest is the non-performance of another international obligation".
Truss told interviewers the bill "fixes the problems in the current Northern Ireland protocol and also protects the EU single market," and says the EU market will be "no worse off as a result of this legislation."
In contrast to Truss's claims, Sinn Féin deputy leader Michelle O'Neill says, "The reality is that the [current] protocol is working, the majority of businesses have been very vocal on that – 80% of businesses would say the protocol is working, it's actually affording them great opportunities, it's creating jobs."
Unionists are not pleased by the British move either, and worry it has weakened Northern Ireland's bond with the rest of the United Kingdom.
In order to become a law, the bill would have to pass through Parliament, which is expected to take months.
Ireland's Expanding Housing Crisis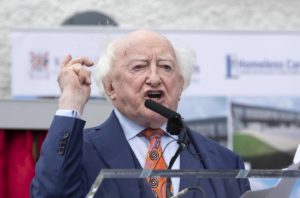 On Tuesday, President Michael D Higgins called Ireland's housing crisis "a disaster" while speaking outside the Tiglin facility for homeless youth near Naas, Co Kildare.
The former residential facility known as Jigginstown House was redeveloped in response to the increasing homeless and at-risk populations across the country.
According to the most recent homeless population report, there were over 9,800 homeless people as of March 2022, and 1,238 families living in emergency accommodations – a 3.5% increase from February.
President Higgins criticized Ireland's lack of social support for at-risk communities. "The fact of the matter is: let's house our people, let's educate our people, let's show that no one is going hungry, let's show that there is no one excluded from any part of our society."
Higgins shared his praise of Wicklow and Kildare council members in their support for the supportive housing to combat the rise of homelessness in an increasingly expensive housing market. He also commended Homeless Care chairman and builder John Cradock, who first suggested that the dilapidated Jigginstown facility be refurbished as a supportive center.
"Let all the county managers and the directors of services all over the country have a good long look at what is happening in Wicklow and Kildare and ask themselves a question before their next monthly meeting and ask themselves: 'Why aren't we doing something similar? What is stopping us?'".
Higgins said the Irish population was "very good" for opening their "hearts and homes" to Ukrainian refugees, some 30,000 of whom are being housed in Ireland, but added "but we shouldn't have to wait for that to open our hearts and homes, and more important, our policies ― local and national ― to look after the people we have watched on, that we have neglected."
During the impassioned speech, President Higgins also denounced the treatment of Travelling people, calling it "immoral, wrong and irresponsible." Irish Travellers are a nomadic, indigenous population that often faces exclusion and discrimination and often live in conditions where access to water, electricity and sanitation are often scarce.
Tánaiste Leo Varadkar responded to President Higgins speech, saying that it is devastating that many spend half their income on rent, and called the homelessness crisis a "disaster," and added "it's always much easier to describe the problem and to make pronouncements about it than it is to actually come up with solutions and operationalize them and implement them."
On top of the housing crisis, research published by the Economic and Social Research Institute (ESRI) on Thursday revealed that more than 29 percent of Irish people are in energy poverty (not enough energy to adequately heat their homes) – and if it increases by 25 percent, 43 percent of households would be at risk of energy poverty.
Medieval Remains Found Under Cork City Pub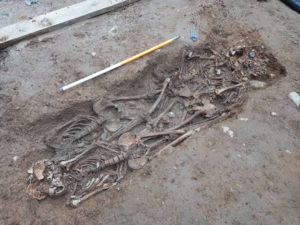 During the demolition of the Nancy Spain pub on Barrack Street in Cork City last October, archaeologist David Murphy detected something unusual as construction workers lifted the slate floor and exposed skeletal remains of what turned out to be four men.
The shallow, makeshift grave showed the men, estimated to be aged 18-25. The remains of two young men were also discovered nearby, as well as pieces of pottery, belt buckles and fibers.
Cork City was buzzing with questions about the history of the mysterious bones when Cork City Archaeologist Ciara Brett said it appears the group met a "violent and gruesome end."
Murphy and osteo-archaeologist Niamh Daly excavated the site and performed a radiocarbonation process on the fragments taken from the skeletal remains.
In a statement, the City Council said that the results suggested the men lived between 1447 and 1636, and that based on the radiocarbination results, the men were likely soldiers because of the approximate age range, gender and positioning of the burial.
During this period, cities were being established by a mixture of native Irish people and descendants of the Vikings known as Hiberno-Scandinavians. Areas of Cork and Munster were experiencing some of the most social turmoil during that period, such as the Desmond Rebellion and the Nine Years War.
Daly says that the position of the bones indicate that this was not a dignified burial. "In fact, it was In fact, it was evident that all four individuals were buried in a manner which suggests that the hands and/or wrists were bound behind the backs, and it is likely that the feet and/or ankles were also bound." Their cause of death is still unknown.
Other than plaque found on the teeth, the men are considered to have been fit and healthy at the time of their death.
Ireland Secures its First Win in The UEFA Nations League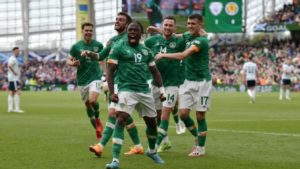 At Aviva Stadium in Dublin, Ireland won its first UEFA Nations League game against Scotland with an incredible 3-0 win last Saturday. Second-choice strikers Troy Parrott, Alan Browne, and Michael Obafemi made headlines with their impressive goals. 
Coach Stephen Kenny assigned Jayson Molumby to midfield, Obafemi as starter, and Parrott along the side.
Some of the most cohesive and aggressive plays were when the Irish team got a head start against Scotland after Shane Duffy gained the ball after a failed play made by the Scots. Duffy then passed to Browne who successfully scored a goal. Another highlight was Parrott and Obafemi's stealthy maneuver through the Scottish defense team and scoring in Scottish player Craig Gordon's net. 
In just six minutes through the second half of the game, Obafemi shocked the crowd with a carefully aimed shot that secured the team's first Nations League match.
In a post-game interview, Scottish coach Steve Clarke said "Ireland deserved to win."
The win moved Ireland to second place in the League B Group One.
Ireland is set to play another match against Ukraine in Poland next Tuesday.
Irish Language Activist Retires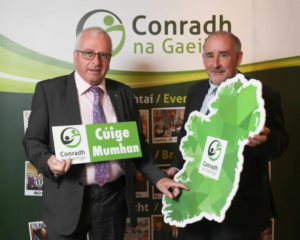 Peadar Mac Fhlannchadha, Deputy Secretary General and Advocacy Manager with Conragh na Gaeilge, announced his plan to retire after 40 years of fighting for the Irish language and the Gaeltacht.
The Conradh na Gaeilge is a forum for the Irish-speaking that aims to "promote the use of Irish as the standard language in Ireland", according to its website. After being established by Douglas Hyde, Eoin Mac Néill in July 1893, Conradh now has over 200 forum branches around the world. The organization offers Irish-language courses while advocating and raising awareness for the rights of Irish speakers.
In a statement, Mac Fhlannchadha called it a privilege to work with Conradh na Gaeilge and Irish language activists. "I have a huge respect for all the communities that have stood and stand with the Gaeltacht and the Irish language and ensure that the language is passed on to the next generation, and future generations," he said.
Mac Fhlannchadha started his activism for the language at just sixteen years old. He has led and collaborated on a number of campaigns, including the EU full-status recognition of the Irish language and particularly in presenting the EU case for the lack of bilingual text on medicinal packaging for Irish products as required by law, which the State failed to do.
"There is no doubt that Peadar Mac Fhlannchadha has achieved many advances for the Irish language and the Gaeltacht during his 40 years with Conradh na Gaeilge. He has played a significant role in various campaigns," said Paula Melvin, who is President of Conradh na Gaeilge. "The organization is grateful to Peadar for all he has done for us over the years and we wish him every success as he looks forward to new challenges in the future."
Julian de Spáinn, General Secretary of Conradh na Gaeilge called Mac Fhlannchadha a "hero for the Irish language" and that it's "hard to imagine the Conradh team without Peadar Mac Fhlannchadha as part of it in to the future. He has shared so much expertise, experience and friendship with us all over the years and I would like to sincerely thank him."
Mac Fhlannchadha is set to retire at the end of August.
"Maz & Bricks" is a Hit in Washington, D.C.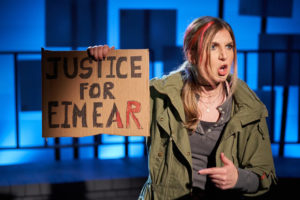 "Maz & Bricks" by award-winning County Clare writer, Eva O'Connor premiered in Washington, D.C. at the Atlas Performing Arts Center this past week. The final show will be June 26 at 2pm.
Produced by Solas Nua and directed by Rex Daughtery, the play portrays the story of two unlikely friends, and is what the Washington Post calls a "sharp, symphonic look at loss and resilience."
Emily Kester plays Maz, an rebellious abortion rights activist who meets Bricks, played by Jonathan Feuer, on the tram to Dublin. Maz plans to demonstrate in a Dublin "Repeal the 8th" rally (the 8th amendment in the Irish constitution, which makes abortion illegal), whereas Bricks is headed to meet the mother of his four-year old daughter.
Initially Bricks shows no interest in Maz's cause but as their relationship grows, the overlap of Ireland's restrictive abortion ban on their lives reveals itself. The unlikely duo share their experience of grief, loss, and trauma.
"This scenario could have veered too close to a political parable or registered as touchy-feely, but Maz and Bricks are too satisfyingly idiosyncratic to seem like devices," writes Celia Wren in the Washington Post.
"Maz & Bricks" is not O'Connor's first award-winning work. In 2014, her show My Name Is Saoirse toured internationally and was repackaged into an RTÉ radio drama.
"I never intended to be a writer who wrote about 'issues'," O'Connor said in a 2021 interview with Fergus Morgan. "I've always just written about what I feel passionate about. I don't think about it too deeply. I write because I want to write, and because I feel compelled to write. And the theater that I love and respect the most is theater that is really gripping, but also has a message at the heart of it. So that's what I try to do."
A Q&A presentation will be held June 25 after the 2 pm performance.
Tony Award Winners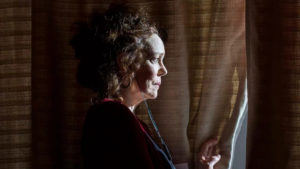 "Paradise Square" star Joaquina Kalukango received a Tony for Best Leading Actress in a Musical for her performance as Nellie O'Brien.
The play follows the conflicts and harmonies of Black and Irish communities living in the Five Points neighborhood of New York City during the 1800s, notoriously known as the "greatest slum in the world."
"It was a great validation for "Paradise Square" that we were nominated for 10 Tony Awards," said Larry Kirwan, originally from Wexford, who co-wrote the now-adapted book, and composed songs for the show.   
"Joaquina Kalukango won for Best Actress in a Musical, but even more importantly, the world got an opportunity to see her blow the roof off Radio City when performing our 11 o'clock number, "Let It Burn," on CBS Television," Kirwan added.
Kalukango received a standing ovation during the entrance to the post-Tony performance on June 14.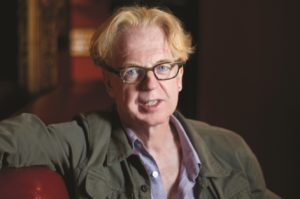 Meanwhile, the Tony for Best Leading Actress in a Play, went to Deirdre O'Connell for her role in "Dana H." It was a first Tony for O'Connell, who has been plying her trade for 50 years, and she said that viewers should take her award as a "sign to you from the universe to make weird art."
O'Connell's role in "Dana H." required her to lip-sync to a woman's account of being abducted by a white supremacist. 
Alexis Soloski for the New York Times praises O'Connells performance, saying "Some actors are simply better at the business of being alive, at seeming to present life onstage, and she is one of them."
O'Connell is currently in a play showing at the Playwrights Horizons, called "Corsicana." 
Irish Actor Daryl McCormack Stars in a Steamy New Rom-Com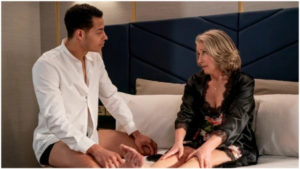 Tipperary-raised actor Daryl McCormack is starring opposite Emma Thompson in a romantic comedy on Hulu, called Good Luck to You, Leo Grande.
The Irish actor, who grew up in Nenagh, was launched into fame after commanding the role of Isaiah Jesus in the hit show Peaky Blinders.
Good Luck To You, Leo Grande, is an intimate romantic comedy that follows the relationship between sexually frustrated school teacher Nancy, played by Thompson, and a charming sex worker Leo, played by McCormack.
In preparation for the scenes of intimacy, McCormack talked to Variety about the process between him, Thompson, and director Sophie Hyde.
"What felt so significant was that we, the three of us, had to go on a journey with regards to our bodies, with regards to our sexuality, with regards to all of that, within ourselves and do some justice to this film," McCormack said.
The film debuted exclusively with Hulu on June 17.
Mariah Carey Inducted into the Songwriter Hall of Fame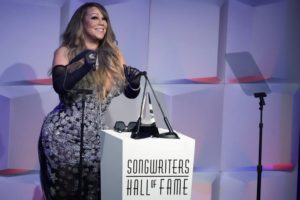 The Songwriters Hall of Fame, back after a two-year hiatus due to COVID-19, inducted Mariah Carey into its Hall of Fame on Thursday, July 16 at the Marriott Marquis in New York City.
Carey, who is Irish on her mother's side, with roots tracing back to Cork, and Venezuelan on her father's side, has had 19 No.1 Billboard Hot 100 hits. She is the only artist to have No. 1 hits in the four consecutive decades: from the 1990s through the 2020s.
She joins other iconic songwriters in the hall of fame like Bruce Springsteen, Paul McCartney, Missy Elliott and Burt Bacharach.
To be eligible for induction, songwriters must have hit songs for at least 20 years.
Origin's "Bloomsday Revel" is a Great Success
James Joyce first serialized "Ulysses" beginning in 1918. Considered a masterpiece of modernism, it was banned in the U.S. before the book was published in its entirety in France in 1922. Bloomsday observances, now worldwide, commemorate June 16, 1904, the day, chronicled in the landmark novel, when the Leopold Bloom takes his walk around Dublin, and date back to 1924, five short years after the last world pandemic.
Of the many Bloomsday events that took place in New York marking the 100th anniversary of the publication of Joyce's novel, Origin Theatre's "Bloomsday Revel" proved to be a lively in-person event. Held
on Sunday, June 12 at Bloom's Tavern in mid-town Manhattan

, the "Revel" c

ombined readings from "Ulysses" by notable
actors including

Terry Donnelly, Ed Malone, Aidan Redmond, Gina Costigan, Paula Nance

, and Michael Mellamphy, Origin Theatre's artistic director

. Music was provided by Irish folk-rock troubadour, Alan Gogarty. The Quiz was emceed by Charles Arrowsmith. Ireland's Consul General to New York

Helena Nolan

presided over the opening ceremonies, and Paula Nance served as "Bloomsday Revel's" curator.