New York Play First Championship Game in Ireland in 21 Years
New York Senior GAA team will travel to Ireland to take on Offaly in the Tailteann Cup on June 4.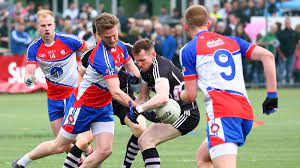 The largely Irish American team will join the new football championship at the quarter-final stage following Offaly's win over Wicklow.
The Tailteann Cup, debuting this year, will see any team from division 3 or 4 of the national league compete against each other following failure to progress further in the All Ireland Championship.
New York qualified for the new competition after a home defeat to Sligo in the opening round of the Connacht Championship.
The Tailteann Cup will continue on June 5 as Carlow host Westmeath, Leitrim take on Sligo and Ulster will see an eagerly anticipated Fermanagh v Cavan showdown.
Offaly v New York will be available for streaming at GAAGO at 9am (EST) or 2pm Irish time.♦
Ireland Honors Victims of Holocaust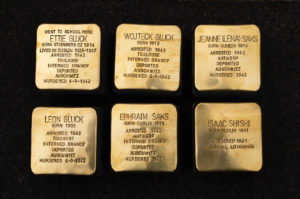 Irish victims of the Holocaust were commemorated at an event in Dublin this week.
Six Stolpersteine "stumbling stones" were unveiled by Holocaust Education Ireland and Dublin City Council to honor each Irish citizen who were victims of the Nazi regime.
The stones were unveiled at a commemorative event at a local primary school where Councillor Mary Callaghan spoke.
Speaking on behalf of the Lord Mayor of Dublin, Cllr. Callaghan said the Stolpersteine Project is the "largest de-centralised memorial in the world with more than 90,000 memorial stumble stones in 27 countries around the world."
She continued: "We are proud that Dublin City is now part of this ever-growing remembrance project."
The six Irish victims remembered were Esther (Ettie) Steinberg, Wojteck Gluck, Leon Gluck, Isaac Shishi and siblings Ephraim and Jeanne (Lena) Saks.
Ireland Recognizes Russian Crimes in Ukraine as Genocide
This week, the Senate of Ireland passed a resolution recognizing the crimes of the Russian army in Ukraine as genocide.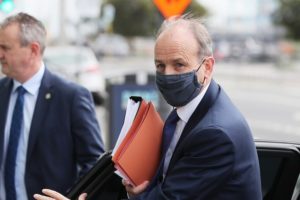 Senator Mark Daly shared a portion of the resolution on Twitter which referred to "the illegal invasion of Ukraine by the Russian Federation" as an "Act of Genocide."
The document urges to hold accountable the Russian political leadership for Russian crimes in Ukraine, strengthen sanctions on Russia, and continue to work to end imports of Russian energy which is funding Russia's illegal attempted occupation of Ukraine.
The parliaments of Estonia, Latvia, Canada, Poland, Lithuania and the Czech Republic have recognized Russia's crimes as genocide against the Ukrainian people.
The resolution comes as EU leaders, including Ireland's Taoiseach Micheál Martin, met in Brussels this week to define a sixth round of sanctions against Russian President Putin's regime.
The Taoiseach said Ireland is in favor of "eliminating" imports of Russian oil and gas into the European Union.
In Ireland, the decision could put the cost of petrol and diesal at roadside pumps above €2 per liter. This would mean fuel would become up to 40 cent more expensive than before Russia's illegal invasion of Ukraine.
Speaking from Brussels, Martin told the Irish Independent that progress on the oil embargo was needed "because Russia is using income from oil to finance its war."
Continued Chaos at Dublin Airport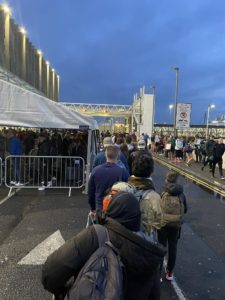 Dublin Airport has experienced a repeat of extensive queueing seen in the lead up to the Easter holidays earlier this year.
As lines extended outside the terminal, the airport announced travelers arriving too early for their flights would be placed in holding areas to prevent overcorwding.
Durin peak times, terminal lines will be "triaged" so that only passengers with a flight within two and a half hours for short haul or three and a half hours for long haul will be allowed into the departures level.
The return to pre-pandemic travel and the delay in training new staff has created "the perfect storm" Dalton Philips, CEO of Dublin Airport Authority (DAA).
An "anomaly" which led to 17 new recruits being rostered on security detail on May 29 added further chaos.
Criticism over treatment of staff, in regard to pay and hours available, first made headlines in Ireland in April following the lengthy disruptions to travel.
Staff are also facing backlash from disgruntled passengers, an anonymous worker told Dublin Live. The worker reported that staff had been spat at and verbally abused by frustrated customers who had become impatient in the lengthy queues.
Sinn Fein transport spokesman Darren O'Rourke TD said the DAA made a management error in letting experienced staff go during the pandemic.
Speaking to Newstalk, he said: "It was a gross misjudement. Whatever the motivation was I think there has been lots of criticism, and I would share it, in terms of how aggressive they were, their cuts and the amount of experienced staff they lost.
"I understand that 80 per cent of experienced members of the unit could have been lost. That makes a difference because it means your organization capacity is significantly reduced."
Minister of State in the Department of Finance Seán Fleming said the situation at Dublin Airport is a "reflection of bad managment, full stop."
Speaking on RTÉ's Today with Claire Byrne, he said: "Why the daa chose to let so many people go, when there was Government support to keep them on the payroll during that period, I find inexplicable."
Dublin Airport has warned of continued delays at peak travel times over the upcoming weeks.
Ireland Faces Obstacles to Renewable Energy Retrofit
Recent findings reveal significant barriers to retrofitting Irish households as the energy price crisis continues to worsen.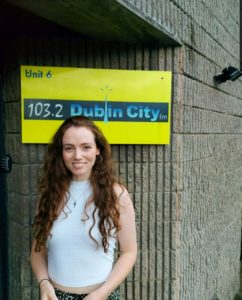 A report by Friends of the Earth found that policy design and finance options for a renewable energy retrofit are not sufficient to the needs of low-income households, tenants, rural dwellers and the Traveller community.
Key barriers included high upfront costs, a lack of trust in the process of retrofitting and low awareness of the benefits.
The report found the Irish government has continued to fail to produce an updated Energy Poverty Strategy, leaving questions around whether homes most at-risk of energy poverty are being sufficiently identified and targeted in retrofit schemes.
In February 2022, the government announced a new National Retrofit Scheme. The majority of housing stock is energy inefficient, with only 0.4 to 1.2% of the stock being renovated each year.
Over 80% of Irish homes and other buildings have an energy performance rating of C or worse. Irish homes use 7% more energy than the EU average and emit 60% more CO2.
There are approximately 1.5 million residential homes in Ireland that need retrofitting.
"Although barriers are significant, experts put forward a range of solutions. A focus on retrofitting of social and local authority housing and the introduction of local community energy advisors must be prioritized this year," said Clare O'Connor, energy Policy Officer at Friends of the Earth.
"The Government must also live up to long-standing commitments and produce an updated Energy Poverty Strategy to ensure the energy transition does not leave our most vulnerable households out in the cold."
A shortage of skilled labor and materials available was also referenced as a key finding in the report.
To read the full report click here.
Irish Woman Found Guilty of ISIS Membership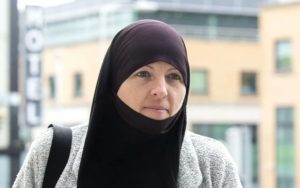 Irish woman Lisa Smith has been found guilty of membership of terrorist organization ISIS.
Smith had pleaded not guilty to being a member of ISIS between 28 October 2015 and 1 December 2019.
The former member of the Irish Defence Forces was, however, found not guilty of financing terrorism after being accused of sending €800 ($860) to a man for the benefit of the terrorist group in 2015.
Dublin Special Criminal Court found that the money, sent via Western Union, was most likely forwarded for charitable or humanitarian considerations.
Smith, who had converted to Islam, travelled to Syria after terrorist leader Abu Bakr al-Baghdadi called on Muslims to travel to the Islamic State.
The prosecution argued that Smith became the "life blood" of ISIS propaganda while her defense team countered that she went to Syria to be a dutiful wife and create a home.
Smith left the Irish Army in 2011 and married a British man in Syria. Her husband took part in armed patrols for ISIS during this time. Smith was deported with her then two-year-old daughter after the fall of ISIS in 2019. She was arrested at Dublin Airport upon arrival.
The judge presiding said Smith had travelled to Syria with her "eyes wide open", having viewed propaganda videos showing extreme acts of violence.
Smith was the first person in Ireland to be prosecuted for membership of a terrorism group outside the state.
Irish Actress Debuts in Netflix Hit Stranger Things
Irish actress Amybeth McNulty made her return to Netflix as the eagerly anticipated fourth season of Stranger Things aired on May 27.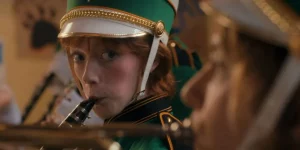 The Donegal native had previously starred as the iconic Anne of Green Gables in Netflix hit Anne With an E, which concluded in 2019.
McNulty joins the 80s nostalgia that is the penultimate season of the sci-fi horror as high school band member Vickie, the object of main character Robin's desires.
Volume 1 of Stanger Things fourth season has shattered Netflix's premiere-weekend viewing records as the platform revealed 287 million streams between Friday and Sunday.
In honor of the season's premiere, McNulty took to Instagram posting a photo of herself dressed in her character's band costume, captioning it "Welcome to the Vickie era."
The final two episodes of the season are scheduled to hit Netflix next month.
Irish Boxer Wins Gold at European Championship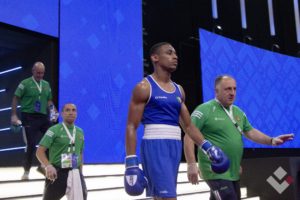 More victories for Ireland's boxing scene as Irish middleweight Gabriel Dossen won gold at the European Amateur Boxing Championships in Armenia.
Dossen defeated England's Lewis Richardson with a unanimous decision on the judges' scorecards on May 31.
Dossen, who was born in the Ivory-Coast before moving to Galway, put on a confident and consistent performance in what was his very first senior tournament.
Speaking to RTÉ's Morning Ireland after his victory, Dossen said he was still processing it all.
"I don't think it has really kicked in yet that I'm European champion," he said. "It just feels like another win. My phone has blown up. It all feels so surreal."
Dossen's gold medal performance is yet further vindication of Head Coach Zaur Antia's work in Irish boxing. The win comes just two weeks after Amy Broadhurst and Lisa O'Rourke made Irish sporting history with a double gold medal victory at the World Championship in Istanbul.♦