Ireland has taken in more Ukrainian refugees than any other European country. An estimated 30,000 people have entered the Emerald Isle following Russia's invasion of Ukraine in late February.
1,331 of these Ukrainian nationals have sought refugee in the northwest of Ireland. County Donegal, often referred to as Ireland's "forgotten county", is home to many seaside towns which are popular among visitors from Northern Ireland.
Bundoran, nestled in Donegal Bay near the foot of neighboring Sligo's Benbulbin, is a town built for visitors. As well as countless attractions from beaches to amusement parks, Bundoran has plenty of accommodation in the form of hotels, hostels, B&Bs and surf lodges. Some are now home to the 318 Ukrainian refugees who have settled in the town.
Kyiv native Artem Baranovskyi has been living in the Viscount Hostel with his family since they arrived in Ireland, just days after the country opened its borders.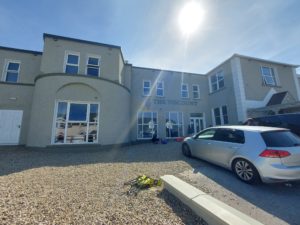 On the 24th of February, Artem and his wife Lou were in Poland for their work with green engineering systems when they heard the news that Ukraine had been invaded.
They received a call from Artem's mother Valentina, who along with her husband Over, was minding Artem's 12-year-old son Ilia when "they first heard the explosions."
Despite Artem's panic, his parents decided to wait out the conflict, thinking it would be over "maybe after one week [or] two."
Eventually, as the conflict grew into a war and it became clear neither side would be backing down, Artem convinced his parents to flee to Poland.
"I said 'No! [When] the war starts, you will not get a chance to go to another country," Artem told Irish America. "They got a bus to Poland soon after."
Speaking from the reception area of the Viscount Hostel, now strewn with toys, and plastered with job advertisements translated into Ukrainian, Artem recalled being reunited with his parents and son two weeks after the invasion began.
Describing the family's reunion, Artem can only muster up one word. "Phew."
Despite the familiarity of Poland where he had been working for five years, Artem made the decision to travel to Ireland.
While Ireland's early decision to open its borders to Ukrainian refugees was an obvious draw, Artem had a deeper reason for choosing his new home.
"It's burned in my head. I remember a similar situation of Ireland with England. Problems with religion, language, culture, territory. I thought maybe its similar, maybe we have parallels in our history."
Encouraged by the peace process in Northern Ireland, Artem thought the Irish people would not only have empathy for those fleeing Ukraine but that the country would be able to provide hope to his young son in the wake of the conflict.
It was by chance that Artem's family would end up living so close to the border of Northern Ireland. After landing in Shannon, the family made their way to Dublin to fast track the process of receiving their PPS (social security) numbers.
The family was then randomly assigned accommodation in Bundoran, just 9 miles from the border. While conflict in Northern Ireland has trickled into Donegal in the past, the county is now a peaceful region which encourages cross-border visitors from all backgrounds. Rossnowlagh, another seaside town located just 11 miles from Bundoran hosts marches to commemorate the 12th of July, a largely Protestant holiday in Northern Ireland.
The area's historical ties to colonialism were not the only happy accident for Artem. He told Irish America that he had always dreamed of one day settling in a small town by the ocean. After a childhood growing up in Kyiv and having spent most of his adult life living and working in various cities, Bundoran was everything he had been hoping for.
"Irish people have such open hearts and there is also a big Polish [community] here," he said. Polish is one of the five languages Artem speaks and Sami Swoi, a Polish grocery store located on Main Street Bundoran has also helped alleviate his homesickness.
"There are three groups of us [Ukrainian refugees]. The first, plan to stay and live. The second, don't understand and are waiting. The third, are waiting to go back and fight," Artem said. "I am in the first group."
While daily life for Artem consists of looking for work (he is eligable having been granted Temporary Protection under the EU Directive) and helping translate for others at his hostel, his son has been studying at the local primary school located across the road from their temporary home.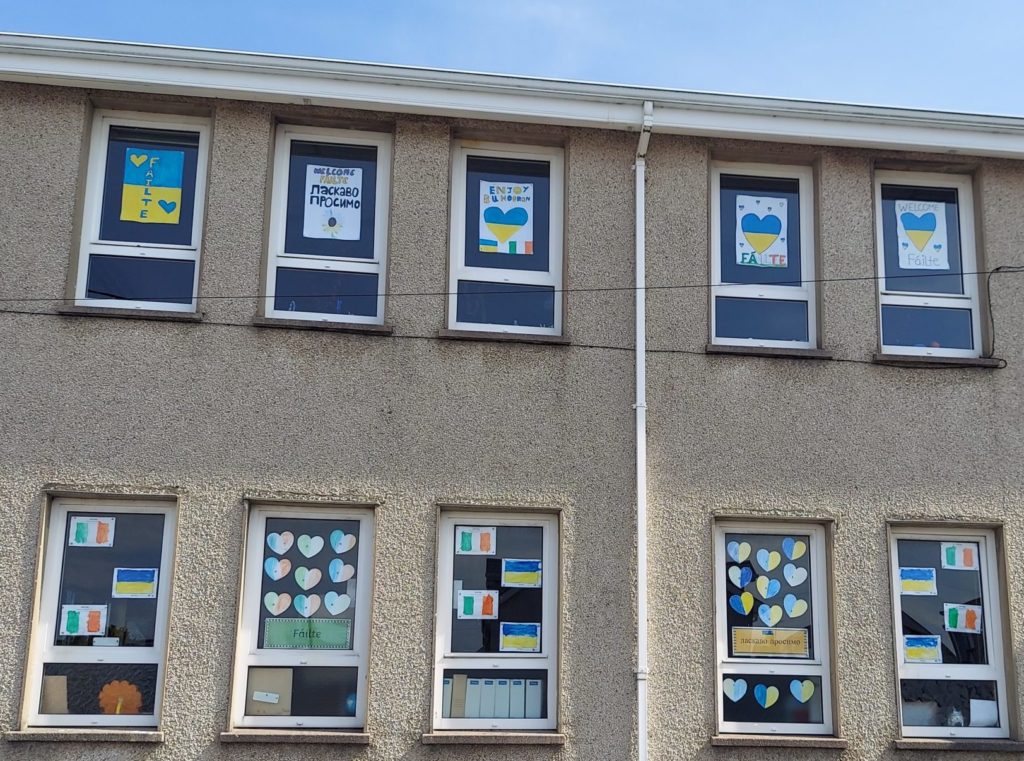 St. Macartan's National School is the only primary level school in the town and is currently undergoing an expansion given its increasing numbers.
Ilia is one of many Ukrainian children attending the school, though Artem and his wife plan to enroll him in the local high school, Magh Éne College, in the fall. They think the move will help improve Ilia's English, which he had little interest in learning before now, believing he would never need it for his life in Ukraine.
Local Sinn Féin Councillor Michael McMahon has been central in helping the Ukrainian refugees in Bundoran. Along with business owner Conor McEniff, Cllr. McMahon has organized accommodation and medical care for the town's newest residents. But he says Bundoran's limited resources will soon prove a problem as more refugees begin to settle in the town.
"Irish Red Cross had been looking for towns to accommodate refugees. It has been such a dramatic and hard time for them, especially those with families still in Ukraine," he told Irish America. "Trying to get them sorted out has been a big job, especially with medical care and education."
Cllr. McMahon said some children were still waiting to be enrolled in the local schools as they are currently at capacity. "There is a slight danger in services. Both medical and education. People have been very good to them. Donating clothing, toys etc. Everybody is trying to make them as welcome as they can in the circumstances."
Another Ukrainian national, who has been living at Bundoran's Bayview B&B, spoke to Irish America about his experience in Ireland.
Choosing to remain anonymous, the 28-year-old, going by V, told Irish America about his childhood growing up in Donetsk where he lived until 2014 when conflict forced him to migrate to Kyiv.
"With the Russian plan to invade Donetsk I moved to Kyiv. Now I would say I'm from Kyiv," said V.
He fled Ukraine shortly after the conflict began and on the 25th of February, just 24 hours after the invasion began, he made the decision to come to Ireland.
"I was watching the U.N. [security council] and Ireland was one of the first countries to open for Ukrainians. I am able to speak English so the opportunities with the language made sense. A lot of Europe doesn't speak English and the UK was not as welcoming."
V travelled to Ireland by himself, his stepfather and grandmother were unable to undertake the journey.
"My grandmother is in Donetsk and it is hard to get in contact with her," V said. His stepfather remains in central Ukraine, helping the country's defense initiative.
Unlike Artem, V is undecided on his future in Ireland. He had a self-described "dream life" in Kyiv where he worked in the music industry. However, the legacy of his work remains uncertain as majority of the albums he has helped produce are released primarily in Russian.
While the lives of thousands of Ukrainian nationals in Ireland remain equally uncertain, the hospitality they have received on the Emerald Isle knows no bounds. Its hard to look at the front garden of the Viscount Hostel, scattered with donated tricycles, bicycles, scooters and toys and not feel proud of Ireland's action.
Inside the hostel, as Artem's family prepares to pose for the above photograph, his elderly parents take turns bouncing a young child on their laps. When Cllr. McMahon enquires who the child belongs to they simply shrug and tell him, through Artem's translation, "this is all of our child. We are now a big family."
And from the support of Irish locals to fellow Ukrainian nationals, the saying becomes clear: it really does take a village.♦