Sinn Féin Vice President Michelle O'Neill Meets with U.S. Lawmakers to Secure Good Friday Agreement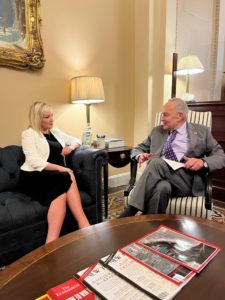 On Tuesday, July 19, Sinn Féin Vice President Michelle O'Neill met with U.S. Senators and State Department officials during her visit to Washington, D.C., in an effort to strengthen the Good Friday Agreement.
The Good Friday Agreement, or the Belfast Agreement, was ratified on April 10, 1998, by popular vote in Ireland and Northern Ireland. The agreement created a power-sharing government across the region and marked the end of a long, violent era.
Since Brexit, the agreement has come under threat, with some politicians suggesting a total collapse of the deal – but Sinn Féin's O'Neill has been campaigning for its security.
While meeting with lawmakers on Capitol Hill this week, O'Neill urged the Biden administration to appoint a special envoy to Northern Ireland. "It is particularly important as we move into the [year of the] 25th anniversary of the Good Friday agreement. In the past we have benefited from special envoy, and I would like to see that [post] in place again," O'Neill said, according to a report from The Irish Times.
O'Neill met with Chuck Schumer, a Democrat from New York who has been a committed supporter of the Good Friday Agreement.
"I was pleased to meet with Michelle O'Neill, Northern Ireland First Minister-designate, and I congratulated her and the members of Sinn Féin for their historic electoral victory," the senator said.
"We spoke about my deep commitment to the Good Friday Agreement, as well as the need for the U.K. government to not undermine the already-negotiated Northern Ireland Protocol, and the critical need to preserve access to justice for the victims of the Troubles," Sen. Schumer added.
O'Neill also met with Democratic Senator Chris Murphy from Connecticut, who has been a loyal defender of the Good Friday Agreement.
"Very productive meeting with U.S. Senator Chris Murphy in Washington. We discussed current political events & the vital importance of the U.S. keeping faith with the Good Friday Agreement," O'Neill wrote on Twitter.
The fifth-generation Irish American senator discussed the Good Friday Agreement at Quinnipiac University in 2018. In 2021 he met with a diverse cast of Irish, Northern Irish, and English politicians and advocates during the Northern Ireland initial Protocol agreements.
Following O'Neill's visit to Washington, D.C., the EU sued Britain over the Northern Ireland protocol bill disagreements.
The European Commission, which oversees EU-U.K. relations, lists seven "infringement procedures" against Britain, citing a failure to respect the original agreements on the Northern Ireland protocol bill, the Brexit divorce deal, and trade pre-negotiated trade rules at Northern Ireland's borders.
"This is the decade of opportunity. There is opportunity to plan for a future that is better than we have right now. Partition has failed everybody on the island. Brexit has been a real catalyst for change," Sinn Féin Vice President O'Neill said.
Record-Breaking Heat Waves Across Ireland and Europe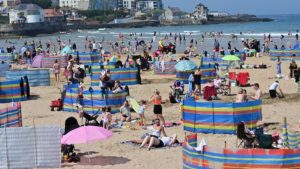 Record-breaking heat swept across Europe this week, with the highest recorded temperature at 33.1C (or 91.5F) in Dublin's Phoenix Park in Ireland and 31C (or 87.8F) in Derrylin Co. Fermanagh.
The last time Irish temperatures reached this high was June 1887, with Kilkenny Castle at 33.3C, or 91F, though experts debate the reliability of 19th century mercury readers.
Dozens of people flocked to nearby beaches and strands to find relief from the heat, a scene typically uncommon due to Ireland's average summer climate – of 68-degree mist with a mix of sun and showers.
During the week, Irish Water imposed night-time restrictions on water supplies in 12 locations across the country after seeing a 4% increase in the water demand. The areas at highest drought risk were Bennettsbridge and Clogh Castlecomer in Kilkenny; Coalbrook in Tipperary; Clonakilty, Roberts Cove, Whitechurch, and Coppeen in Cork; Wexford Town and Bunclody in Wexford; Inis Oirr in Galway; Swan in Laois.
Scorching temperatures in London were also breaking records, reaching 104.4 degrees at London's Heathrow Airport and 104.5 in the village of Coningsby, England.
The extreme heat combined with furious winds caused wildfires to overtake parts of the French, Italian and Portuguese coasts, causing thousands of people to flee and over 1,000 fire-related deaths in Portugal alone. In addition, numerous bushfires in England required the attention of hundreds of firefighters as black smoke poured across communities, as well as a wildfire in Lickey Hills Country Park in Birmingham, England.
In Tuscany, Italy, over 900 acres of land was destroyed after a blaze broke out in the Massarosa forest hills. In Spain, photos of wildfires spreading around the train en-route to Galicia from Madrid circled the Internet, and Spanish officials suspended service. In France, fires have overtaken over 75 miles of the Bordeaux countryside, forcing over 34,000 people to evacuate the region.
This is the second heat wave hitting most countries in the European Union, the most recent in June, with some countries reaching 40C (104F).
The Met Eireann says, "Human-caused climate change resulting from greenhouse gas pollution is the main driver of this increase in extreme heat," and urges people to stay indoors or away from sunlight, maintain adequate hydration, and be safe if swimming for heat relief.
According to a February 2022 United Nations report, the number of extreme wildfires due to human-caused climate change is expected to increase 30% within the next 28 years.
Galway vs Kerry: The 2022 All-Ireland Football Final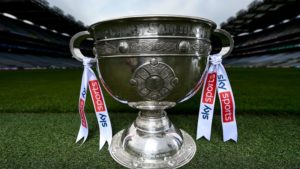 The All Ireland Football Final will be held at Croke Park in Dublin on Sunday, July 24.
At 3.30 pm IST, Kerry and Galway will kick off the most anticipated game of the season and play to win the Sam Maguire Cup.
Both teams have won championship games by a whopping 23 points each this year, making it the biggest winning margin alongside Dublin's against Wexford.
Currently, Kerry has had twelve All Ireland titles, and Galway has only seven. And although Galway hasn't won an All Ireland title since 2001, the team shocked fans by winning the Connacht title against Armagh and Derry earlier this season.
Fans predict Galway will have a tough time keeping up with Kerry's all-stars like Seán O'Shea and David Clifford. At the same time, Tribesman Damien Comer has been a fierce player, scoring two goals in one game on July 9.
The teams have not released the lineup [idk if this is the right word] for the game. Still, it is expected that Kerry's Gavin White won't be playing after sustaining an injury in the semi-final against Dublin.
In Sunday's All Ireland Final, the key players are Galway's Shane Walsh, whose goal against Roscommon in the Connacht final was described as "a beautiful feint and shimmy and a powerful shot into the corner." And for Kerry, it is forward position player David Clifford, whose goal accuracy and agility won the team four points from a play in Dublin and one against Mayo.
"Every team does train to win the All-Ireland. They might not say it, but they do train to win the All-Ireland and I was no different. I wanted Galway to win the All-Ireland and I still do, we haven't won anything yet. We are on a journey this year that might help us get there – we are as close as we have ever been," Galway coach Pádraic Joyce told GAA.
Croke Park turnstiles will open to fans at 1pm on Sunday, and the All Ireland Final coverage starts on RTÉ2 News at 2 pm.
Irish Royal Sites on Tentative List for Unesco World Heritage Site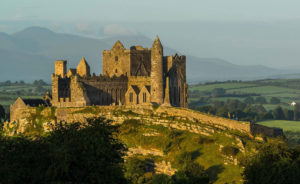 Each province on the island of Ireland has its own royal historical site – a sacred Neolithic royal inauguration and ceremonial site, to be exact.
And after 12 centuries of existence, three of the Royal Sites are on Unesco's tentative nomination list for 2020-2030. 
Unesco is the United Nations Education, Scientific and Cultural Organization. Their selected sites are designated by their importance or contribution to cultural, historical, or scientific advancement. 
The Rock of Cashel, Rathcroghan, the Hill of Tara, and the Hill of Uisneach have made it to the list. There is also a potential for a cross-border nomination at Emain Macha, or Navan Fort in Northern Ireland. 
The other Neolithic landmarks are Dúne Ailinne in Leinster, Tara in Midhe and Uisneach, also in Midhe, in the center of them all. 
Except for Cashel, the landscapes are pre-Christian ceremonial sites dating back to the 8th century. And after 12 centuries of existence, the Royal Sites are on Unesco's tentative nomination list for 2020-2030. 
On the Unesco World Heritage Convention tentative list, the organization recognizes the profound historical significance of the Royal sites. "There is a wealth of historical sources, medieval manuscripts (e.g. 'The Martyrology of Oengus', c. 830 AD; Book of Leinster, c. 1160 AD) and academic literature testifying to the mythological and legendary values of the royal sites and their role in Irish history and culture," according to the report. 
Currently, Ireland has only two dedicated Unesco World Heritage sites. One is Skellig Michael, a rugged, remote island off the coast of County Kerry. Skellig Michael, also called Great Skellig, is a twin-pinnacle and rocky formation with a Gaelic Christian monastery from the 6th century. Only 180 people can visit the site each day.
The second dedicated site is Brú na Bóinne in County Meath, an archaeological landscape estimated to be from the Neolithic of the Late Stone Age, or 3300 B.C.E. The landscape is within the bend of the River Boyne and includes three massive tomb passages, the Knowth, Newgrange, and Dowth. Brú na Bóinne was inscribed on the Unesco World Heritage site for meeting the 'masterpiece of human creative genius' criteria.
The Royal Sites, similar to County Meath's Brú na Bóinne, are both on a "prominent or hilltop location with a commanding view of the surrounding area. The sites collectively illustrate significant stages in Irish prehistory and medieval history stretching from the Neolithic period (c.6000-4500 years ago) and Iron age (c 2500-1600 years ago) into the early Medieval period and are also linked through a strong body of myth and legend in both written and oral traditions," according to the Royal Sites executive summary.
The Valentia Island is also getting recognition for its 1866 installation of the transatlantic copper cable that stretched 3,000 kilometers across the Atlantic. The long line of cable reduced international communication time from months to moments. The transatlantic communication cable centered the small island of Valentia in the history of engineering and technology until 1960, when copper cable technology became obsolete. 
The Valentia Cable Station was rehabilitated and is now a functional, interactive museum called the Eighth Wonder at the Valentia Transatlantic Cable Station. 
Leonard Hobbs, Chair of the Valentia Transatlantic Cable Foundation, called the communications cable an "extraordinary accomplishment" for its time and said, "We are continuing our efforts to pursue World Heritage status for the Transatlantic Cable ensemble at Valentia in partnership with Kerry County Council and the community at Valentia." 
Kennedy Summer School Program Announced
The Kennedy School, based in Co. Wexford, is hosting a summer school program that features more than 40 influential Irish and Irish-American figures as guest speakers throughout the program.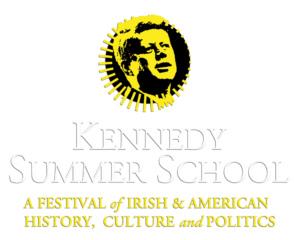 The Summer School program starts on September 8 with the U.S. Ambassador to Ireland, Claire Cronin, opening the ceremony, and ends on September 10 after a discussion on Irish and U.S. politics.
Among the many attending is Joe Kennedy, U.S. politician and grandson of Robert Kennedy, who will hold a keynote address; Matthew Jebb of the National Botanic Gardens; Senator Grade O'Sullivan, and the American Irish State Legislator's Caucus.
The Summer School program will focus on various topics such as Irish politics, the history and political relationship between Russia and Ukraine, and a panel discussion on 'Sustainable Futures,' an initiative for policy and political change to combat the effects of climate change.
Chairman Willie Keilthy said the organization is "delighted to announce an exciting program of events for what is the tenth year since we commenced the Kennedy Summer School. There is no shortage of topics from our own politics in Ireland and the impact of the Ukrainian war on Europe,"
"It is a joy to this year be in a position to welcome audiences back into St Michael's Theater, we have missed what has always been insightful and lively audience interaction and look forward to faces old and new in New Ross this September."
The program schedule is full of panels, debates, and discussions ranging from the impact of the coronavirus pandemic on Irish tourism, how the invasion of Ukraine transformed Europe, and a journalist led-session discussing Irish women covering politics.
Ambassador Dan Mulhall and Professors Philip McGowan and Sarah Churchwell are hosting a discussion about Ulysses and the legendary author James Joyce in honor of its hundredth anniversary.
Tickets have been available since Wednesday, July 20, 2022. They can be purchased at the kennedysummerschool.ie or by calling St. Michael's Theater at 051 421255.