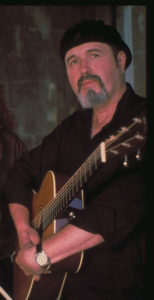 Gifted Irish-American guitarist Dennis Cahill passed away June 20 at age 68 after a long illness. Tributes have poured in from his fans, his fellow musicians, and from Irish President Michael D. Higgins, who heard him perform at The White House and at Royal Albert Hall in London.
"It is with great sadness that those with a love of traditional Irish music across Ireland, his native Chicago, and around the world will have heard of the death of Dennis Cahill," Higgins said. "Dennis brought a unique and innovative style to his guitar playing while being deeply respectful of the essence of traditional Irish music."
Born in Chicago in 1954 to Anna and Dennis Cahill of Ballydavid in Co. Kerry, Cahill began learning the guitar at age 9. He tried his hand at rock music and wedding bands but switched to Irish music in college. He was best known for his collaboration for many years with fiddler Martin Hayes as part of The Gloaming, though their first partnership was in the rock fusion group Midnight Court.
Cahill and Hayes played together for decades in the U.S. Ireland and England as well as Mexico, Australia, China, France, Germany, Holland, Hong Kong, Italy, and Poland. They performed with stars including country-bluegrass legend Ricky Skaggs, Paul Simon, and Sting.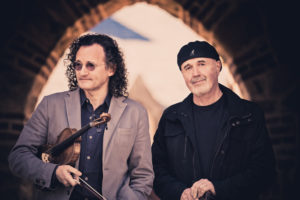 Hayes posted an emotional farewell to Cahill: "We started on a musical journey many years ago in the bar rooms of Chicago, we didn't think we'd ever make it out of those bars to the concert stage, but today the President of Ireland and the government minister for the arts were both writing about the huge impact you had on the world of traditional music. You made it out of the bar scene and on to some of the finest stages of the world. You really did succeed, you pulled it all together into a most beautiful crystallization of your musical loves and influences. Nobody before you had ever played those chords and rhythms with Irish music, in the way you did."
Cahill studied music at DePaul University, then switched to classical guitar at Roosevelt University. He didn't play traditional Irish music as a kid, and that, he said, gave him a unique take on the music. "Coming into the music late, the one thing that is different is that there is no nostalgia about, it" he said in an interview. "I can't think back to, 'Oh, I heard that when I was 12.' It floats on its own merits for me. The first time I heard De Dannan and the Bothy Band, I thought, 'This stuff is spectacular! This stuff is great,' so it holds."
Chicago fiddler Liz Carroll met Cahill while they were both in college.
"What a kind and gentle soul Dennis Cahill was, and a friend for what seems like my entire musical life. I loved walking into pubs like The Abbey and Chief's as a session or a traditional concert was about to begin, and having the catchup with Dennis," Carroll posted on his Facebook page. "He had wonderful insight into the beauty of tunes and how to bring the most out of them and how to connect with listeners."
The world learned of Cahill's passing from a facebook post by his friend Jimmy Keane: 
"Our dearest Dennis passed away peacefully on Monday evening, with his beloved Mary by his side as she has throughout his journey," he writes.
"Just moments before — we were comforting Dennis while 'The Lament for Limerick' from Dennis' album with Martin was on in the background — and as the track advanced to 'My Love is in America,' Mary turned off the player, leaned over to hug and kiss Dennis one last time – and then he was gone… 
Too heartbroken to write any more…
Play a tune today.
Sing a song.
Tell a corny joke.
Sip a whiskey.
Cherish a memory…" 
Cahill is survived by his sister, Mairéad, his wife, Mary Joyce-Cahill, who he met at the Feakle Irish Music Festival in Co. Clare, and his stepdaughter Clíodhna.
"I'm just so sad he's gone. I yell at him every morning, 'What the hell, Dennis, you better come back and haunt me, or I'll go find you,'" Joyce-Cahill told the Chicago Sun-Times. "He was kind to everyone. If he saw someone with special needs, he'd be kind to them. If he saw an older person, he was so kind. 'Mary,' he said, 'the most important thing in life is get up in the morning and not piss anyone off and do the best you can.'"
A Funeral service is planned for 11:00 am Friday, July 8, 2022, at St. Priscilla's Church, 6949 W. Addison St., Chicago.
To learn more about Dennis and to listen to his music visit denniscahill.com. ♦