Ever since we learned the shocking news on Wednesday last that Mick Moloney had suddenly died, thousands of tributes have been written by people of all walks of life who dearly loved him.
Mick was a giant in every way, in traditional Irish and Irish American music, in research and writing, in teaching and in mentoring new generations of musicians. His achievements were recognized by the President of Ireland who awarded him the Distinguished Presidential Service Award for contributions to Irish culture in Ireland and worldwide. In the United States, Mick was awarded the National Heritage Award from the National Endowment for the Arts. These recognitions are the highest honors bestowed by each government on a traditional artist.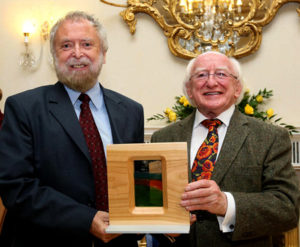 For the last quarter century, Mick was Global Distinguished Professor at New York University and Glucksman Ireland House. He taught and supervised students in Ethnomusicology and Irish and Irish American Studies. The growth and maturation of the public and educational programs at Glucksman Ireland House are unthinkable without his contributions. These include his award-winning undergraduate teaching, numerous Ph.D. and MA mentees, the Washington Square Harp and Shamrock Orchestra, and most especially, two research programs in cultural history: one centered on Irish and Jewish relations in New York City (captured in his Compass Records CD, "If It Wasn't for the Irish and the Jews"), the other centered on the long and complex history of collaboration and competition between Irish and African-Americans. A documentary film of Mick's collaboration with Lenwood Sloan on this subject was being made at the time of his untimely death.
Loretta Brennan Glucksman, Chair of the Advisory Board at Glucksman Ireland House, said, "I am so devastated at Mick Moloney's sudden death. As a beloved Professor at Glucksman Ireland House, Mick will always be remembered for his seminal research on Irish American music, teaching, joyous concerts, and exuberant banjo playing. All of us at Glucksman Ireland House – faculty, students, Board, and friends – send sincere condolences to his family.
Professor Kevin Kenny, Director of Glucksman Ireland House, noted, "I knew Mick as a colleague and a friend for twenty-five years, both at NYU and at Boston College. I have many warm memories of our time together but what I will always remember most is his extraordinary calm as a performer, his complete mastery of his art."
Mick was unfailingly generous in sharing his many talents, only last weekend playing to large crowds at the Belfast Celtic Festival in Maine, including patiently encouraging the young musicians who attended the festival.
Although we've been friends for decades, I had the pleasure only recently of taking his History of Irish American Music MA class at NYU, relishing Mick's immense love of research, his inclusivity, his humanity, and his talent for teaching. After class, Mick was always happy to join students for a cuppa tea at a local hostelry.  
Mick combined in remarkable ways the scholar's wisdom and deep learning, the teacher's ability to convey that wisdom in fresh and memorable language, the entertainer's bravery and charisma to be at home on stage before dozens or tens of thousands, and the gentleman's regard for all other humans of whatever station.
Mick donated his talents to many public causes, memorably performing online from Thailand for a series of "Irish for Biden" events in 2020. 
On Wednesday evening our family listened to recordings of his music, including "If it wasn't for the Irish and the Jews." During this song, our two-year-old granddaughter suddenly got up and started dancing joyfully to the music and we all joined in. It seemed a fitting way to remember Mick, a constant source of joy and inspiration.
There will be many occasions to mourn our great loss and to celebrate Mick's achievements. For now, we send our deepest sympathy to his family. For Mick it can truly be said, Ní bheidh a leithéid ann arís. ♦