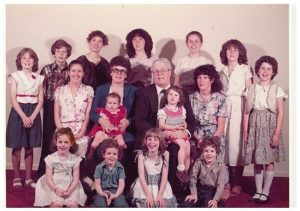 Elizabeth Crowley spent this week knocking on doors and shaking hands at subway stations across the New York City boroughs of Brooklyn, Manhattan, and Queens – where she was born into an Irish Catholic family of 15 children.
"I wouldn't be the person I am today if I didn't have the love and support of my big Irish family," says Crowley, a one-time member of the New York City Council, who is now running for a hotly-contested seat in the New York State Senate.
"You're never alone in a big family," adds Crowley. "They taught me how to fight for what's right."
Irish America magazine caught up with Crowley on Friday afternoon, after a morning spent in Astoria talking to commuters, which was followed by a lunch stop at the Queensbridge Houses.
"We're out there every day, meeting voters. Every night we're knocking on doors," says Crowley, whose cousin, Joe Crowley, was a longtime congressman and Democratic Party power broker.
Elizabeth Crowley's father, Walter, was also a council member, as well as a Democratic district leader. When he died, in 1985, his wife, Mary – who had already served on the local school board – completed her husband's term in office.
When Crowley was elected in 2008 to represent a portion of Queens in the council, she became the third member of her family to serve.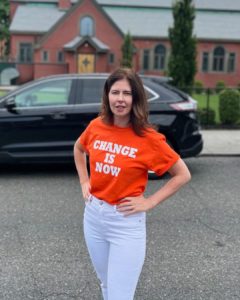 Now, Crowley is looking to represent a newly-drawn district, for the upper house of the statewide legislature, which convenes in Albany.
So, voters in New York City will be going to the polls on Tuesday, August 23rd, as part of a special election process. Crowley is running against several opponents to be the Democratic Party's nominee in November, to represent this new State Senate district, which covers swaths of Brooklyn, Queens, and Manhattan.
A few weeks back, the TV station New York 1 said Crowley's race is one of just "a handful of competitive primaries for the state senate." The station also characterized this race for a "newly formed district along the Brooklyn-Queens waterfront" as "closely watched," adding that Crowley has "received endorsements from top city leaders, Mayor Eric Adams and City Council Speaker Adrienne Adams."
Crowley has also picked up a bunch of endorsements from organized labor, which has long been a backbone of Crowley's family's political support.
Crowley herself is a member of District Council 9, which represents "Painters and Allied Trades."
Before serving as an elected official, Crowley worked on historic preservation projects at Radio City Music Hall as well as St. Patrick's Cathedral.
The district Crowley is now looking to represent covers neighborhoods such as Manhattan's East Side, Brooklyn's Greenpoint and Williamsburg, as well as Astoria in Queens.
Each of these areas has historically had distinct enclaves of Irish, Polish, Greek, and Jewish immigrants.
In recent years, the neighborhoods have become more trendy – and expensive, leading to a much higher cost of living for residents.
And that was before COVID and the skyrocketing inflation that followed.
"Affordability," Crowley says when asked about one issue that has dominated the campaign trail.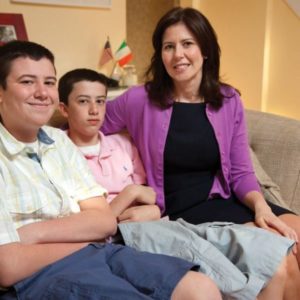 "We've been hearing a lot of residents talking about housing, and the high cost of living. It's spiraled out of control for far too many," adds Crowley, herself a single mother of two children, Owen and Dennis.
Crowley says she has also heard residents voice concerns about rising crime rates, and the need for improved transportation and infrastructure.
Crowley has tried to make the case to voters that she has the experience needed to do this job.
"I'm the only one who's been elected before," she says.
Observers have said that turnout for Tuesday's election could be low, meaning the final results could be tight, and it may even take some time to finalize the vote counts and determine an official winner.
This is why Crowley is making sure she uses the final days before the election to continue crisscrossing the district and pounding the pavement.
Whenever she is able to take some kind of break, down the road, she says she hopes to visit the hills of Donegal, one of her favorite spots in Ireland.
She last visited Ireland in 2019, for the opening of the James Connolly Library in Belfast.
"It was an amazing experience," says Crowley. ♦
To learn more about Elizabeth Crowley visit her website.