IFTA Announces 'An Cailín Ciúin' as Ireland's submission for Best International Feature Film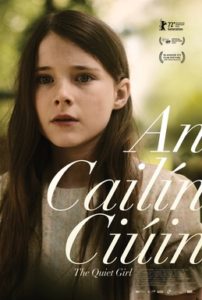 An Cailín Ciúin, or The Quiet Girl, was selected as Ireland's submission for the Best International Feature Film category for the upcoming Academy Awards.
The Irish Film & Television Academy (IFTA) announced the Irish language film entry, written and directed by Colm Bairéad and produced by his wife, Cleona Ní Chrualaoi, on August 3.
It is the first Irish language film to win the Irish Academy Award for Best Film. It took home six additional awards for best director, actress, editing, production design, cinematography, and original score.
Cáit, played by twelve-year-old Catherine Clinch, is a nine-year-old girl from an over-crowded and highly dysfunctional family. She is mostly withdrawn and un-talkative, largely due to her neglect at home. While her mother prepares to have another child, her father places her with distant relatives on a rural farm in Rinn Gaeltacht, County Waterford, for the summer, where she discovers a painful family truth.
An Cailín Ciúin is an adaptation of Claire Keegan's 'Foster,' the acclaimed short story that moved Bairéad to tears.
"I fell in love with the story in such a profound way," Bairéad told The Guardian.
Feeling so inspired by the story, Bairéad began arranging its production. "I was sure someone had snapped up the rights. But, miraculously, they were available."
Bairéd is passionate about the Irish language as a bilingual Irish-English speaker, who grew up speaking Irish with his father at home. He recruited students from Irish-language schools to find a fluent speaker to play Cáit. That's when Clinch; a fluent Irish speaker auditioned for the role.
"Irish people have this sort of strange relationship with the language," Bairéad told The Guardian. "Everyone's forced to do it in school, but most leave with very little. They can ask: 'Can I go to the toilet?' in Irish or whatever." But the director believes that the younger generation has a closer connection with the language.
"I don't know whether that's because they're more culturally sensitive. I think, after going through a recession and a pandemic, that society started to look inward a little and reappraise identity a little, you know?" Bairéad said.
An Cailín Ciúin / The Quiet Girl has a 100% score on the critically-analyzed website Rotten Tomatoes, where film reviewers praised Clinch's performance and commended Bairéad's cinematography.
"A peaceful poem of grief, sadness and learning to find your voice, told with empathy and care by first-time feature filmmaker Colm Bairéad," wrote John Nugent, a top critic on the site and a writer for Empire Magazine.
Clinch's performance has gotten rave reviews, with Variety's Jessica Kiang writing: "If you're looking for the next Saoirse Ronan, you might well have found her here."
"At a stretch, we could see in Cáit's reticence some sort of analogy for her native Irish tongue — there's a certain eloquence in having such an inarticulate character speak a language that was, and still is, in danger of being silenced," Kiang continued.
The 95th Academy Awards shortlist nominations will be announced on Wednesday, December 21, 2022. In the meantime, An Cailín Ciúin / The Quiet Girl is available to watch in Ireland and the U.K. through Google Play or Amazon Prime.
GAA Community Shocked by Tragic Death of Tipperary Hurler Dillon Quirke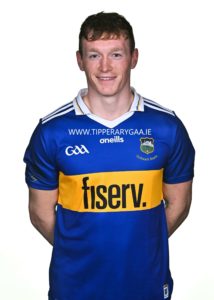 Up-and-coming hurling star Dillon Quirke passed away after collapsing during the GAA Senior Hurling Championship for Clonoulty Rossmore against Kilruane MacDonaghs in Tipperary on Friday, August 5.
The match was stopped, and Quirke was given medical attention on the field before being taken to Tipperary University Hospital. He passed away shortly after.
"He was a young man in his prime with so much potential and promise and on behalf of the GAA family I would like to extend my sympathies to Dillon's father and mother, Dan and Hazel, and his sisters, Shannon and Kellie, at what is an unimaginably difficult time," GAA President Larry McCarthy said.
Quirke established himself as a top player after climbing through the minor ranks to the Senior team in his 2020 debut against Limerick in the GAA National League. He started all four of Tipperary's championship games this year and was the team captain.
The beloved clubman's funeral took place on Tuesday, August 9, at St. John the Baptist Church in his native town, Clonoulty in Co. Tipperary. Following the service, he was buried in the church cemetery.
On the 2km ride from his home to the local GAA pitch and, lastly, the church, hundreds of silent mourners stood alongside the roads of Clonoulty.
Massive crowds of people attended Qurike's mass service, including President Michael D Higgins' aide, Commandant Deirdre Newell, and Commandant Claire Mortimer, the aide of Taoiseach Micheál Martin.
In a tender tribute to his only son, Dan Quirke said: "Dillon was a beautiful son, my best friend, our hero. He came into this world a fighter, born premature following a road accident, and he left it a champion and a true legend."
Clonoulty Rossmore chairman Andrew Fryday, who is also Quirke's uncle, led his eulogy.
"Dillon was going so well in that match last Friday night, he was a leading player, a leading player, leading from the front, showing his ability and his skills. Then a nightmare struck and we all know what happened."
"It was a disaster for us to see him leave Semple stadium in the way he left, but while he was in there, lads, he left it the way he wanted to leave it – he left it as the shining star that he was," Fryday said in his speech.
Although the cause of death has yet to be released, Quirke told Pundit Arena sports that he had been diagnosed with myocarditis, inflammation of the heart muscle, in 2019.
He is survived by his parents, Dan and Hazel, and sisters Shannon and Kellie.
Conor McGregor Set to Star Alongside Jake Gyllenhaal in Remake of 'Road House'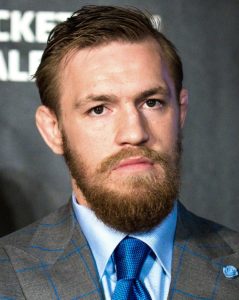 Two-time UFC champion Conor McGregor is making his first Hollywood debut.
The Dubliner is set to join Jake Gyllenhaal in Amazon Prime's remake of the 1980s cult-classic action movie Road House.
"Conor McGregor is very excited to expand his storied career to Hollywood and join with Jake Gyllenhaal in this reimagining of 'Road House,' a beloved classic," McGregor's spokesperson, Karen J. Kessler, said in a statement.
McGregor's role in the movie has yet to be revealed, but Deadline confirmed that he would be playing an original role in the upcoming film.
The reimagined plot follows a former UFC fighter, played by Gyllenhaal, who gets a job at a roadhouse in the Florida Keys when everything takes a turn for the worse in the troubled paradise.
McGregor, 34, has not fought since fracturing his leg in a July 2021 match against Dustin Poirier. And although fighting remains his top priority, he views the role as another successful business venture. He is "eager to get started filming," according to Kessler.
Road House will start filming in the Dominican Republic this month and will be available to stream on Prime Video in over 240 countries upon its release.
Féile an Phobail Festival Diverts 10,000 Young People from Internment Bonfires in Belfast
In an effort to divert young people from large-scale internment bonfires, the organizers of the Féile an Phobail set up a music and dance festival on Monday, August 8, at Falls Park in west Belfast.
Historically, bonfires that are dozens of feet tall and embellished in anti-Irish messages and symbolism are set fire to celebrate the introduction of internment without trial on August 9, 1971, just two years after the first outbreak of violence known as The Troubles.
The introduction of the harsh and highly controversial internment policy forced over 1,900 Irish nationalists and ordinary citizens suspected of wrongdoing into prison throughout the early 1970s.
But over the last several years, the organizers of Féile an Phobail call the bonfires an "unwanted feature" of the Belfast community and have been promoting "positive images of young people enjoying themselves" and encouraging young people to attend their festival instead of the bonfires.
This year, over 10,000 people were in attendance for the annual music and dance festival.
Féile director Kevin Gamble called the festival a "massive success."
"I want to specifically praise the young people who attended. They conducted themselves fantastically and they deserved a great night. They are an absolute credit to themselves and to the community," Gamble said.
"Féile will continue to work hard along with others to provide our young people with real positive alternatives and a platform to showcase all that is good about Belfast."
There was only one unplanned bonfire in the Market area of Belfast.
Sinn Fein's Community Minister, Deirdre Hargey, praised the efforts of the organizers, youth workers, and attendees.
"As a result of the amazing efforts of Féile an Phobail, youth workers and local community organizations in delivering top-class diversionary events, there were no organized bonfires in Belfast last night," Hargey said.
"It's a real credit to everyone involved in the running of a series of fantastic community festivals right across the city which promotes everything that is positive about Belfast."
Ireland's Women's Football Team Jumps to #26 in FIFA International Rankings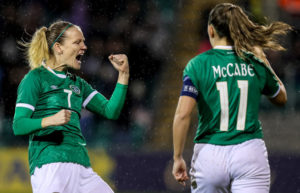 Ireland's women's football team broke a personal record when ranked at number 26 out of 187 countries in FIFA Women's World Rankings.
In June, the team set a record-matching rank of 27 under new manager Vera Pauw. Since Pauw took charge of the team in 2019, Ireland has climbed six spots in the FIFA rankings.
Finland, who Ireland is scheduled to play on September 1 at Tallaght Stadium in Dublin, is at the 26th rank.
"It is fantastic to see the Republic of Ireland women's national team rise up to their highest ever position in the FIFA women's world rankings because this is a reflection of the tremendous work that the players and staff have put in over the years," Pauw said.
"We have been growing together and improving with each game, so while this achievement is brilliant it is only one part of our journey that continues with two hugely important FIFA women's World Cup qualifiers at home to Finland and away to Slovakia in September."
The updated rankings follow an exciting month in women's football. The continental championship qualifiers for North and South America, Africa, and Oceania occurred in time with the UEFA Women's Euros.
"Everything that we achieve is as a team and that includes our amazing fans, our sponsors and everyone at the FAI. We will continue to work hard to keep climbing those rankings as we aim to qualify for next summer's World Cup," Pauw said.
Historic U.S. Flag Donated to Co. Laois in Remembrance of Colonel James Fitzmaurice
In honor of Irish pilot Colonel James Fitzmaurice, who was the first man to fly across the Atlantic from Dublin to Canada, a 94-year-old American flag is set to be donated to the Colonel's native county, Laois.
On April 12, 1928, Col. Fitzmaurice and his co-pilots embarked on the impressive feat from a military base in Baldonnel, Dublin and arrived on Canada's Greely Island on the 13th on a German plane dubbed the Bremen.
The priceless 48-star flag, made before Hawaii and Alaska had joined the states, was acquired by a relative to Fitzmaurice, B. Ross MacMahon. The flag was gifted to Col. Fitzmaurice and his co-pilots after their cross-Atlantic excursion by then-President Calvin Coolidge, along with the United States Distinguished Flying Cross. The Flying Cross medal is awarded for "heroism or extraordinary achievement while participating in an aerial flight."
The pilots were also granted a Freedom of the City of Dublin for their contributions to life in the city.
"One of the first planes to fly in Ireland was built by the Aldritt Brothers in their motor garage with the help of carpenter John Conroy and mechanic William Rogers. It was to inspire the young James Fitzmaurice first gained his enthusiasm through the kindly disposition of those in the garage," MacMahon said in a statement.
"I am delighted to add to the treasure trove of aviation artifacts already in Portlaoise by formally presenting this flag to Laois County Council."
There is also a school named after the brave pilot, called the Fitzmaurice Flying School in Baldonnel, Co. Dublin. The school opened in 1998.
Teddy Fennelly, a Co. Laois expert on Col. Fitzmaurice, is scheduled to give a presentation on the pilot's time in America.
The flag will be presented at the kickoff of Heritage Week in County Laois, at the Midlands Park Hotel in Portlaoise on Saturday, August 30.
Ireland's 'Wild Atlantic Way' Named Best European Road Trip Site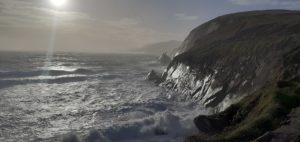 The Wild Atlantic Way, a 1,600-mile driving route along the western coast of Ireland, has been named the best European road trip tour.
Researchers from Euro Car Parts took data from social media apps like Instagram and Tiktok, where the route has been mentioned over 48,500,000 times. Combined with social media popularity and average trip lengths, Euro Car Parts compared the Wild Way to other popular road trip excursions.
"Having access to these stunning roads across the UK and Europe makes the prospect of traveling around in your car all the more exciting. With so much choice, we hope our research makes it a little easier for people to choose their next destination," said Helen Robinson, the Corporate Communications Director of Euro Car Parts.
The Wild Atlantic Way starts in the Inishowen Peninsula in the northernmost corner of Co. Donegal. It covers 15 Signature Discovery Points along the way, as highlighted by the Wild Atlantic Way online guide.
Some iconic views include the Malin and Fanad Head in Donegal, Downpatrick Head in Mayo, the Cliffs of Moher in Clare, Skellig's View and Valentia Island in Kerry. The route ends with a spectacular view of the Atlantic Ocean from Old Head of Kinsale in southern Cork.
Euro Car Parts suggests planning 2-3 weeks for the coastal road trip.
In April of this year, the Wild Atlantic Way was named one of Europe's most 'Instagrammable' road trips, with over #1,373,838 hashtags. It was ranked the fourth most popularly Instagrammed road trip in the world, based on a study conducted by car insurance company Uswitch.
The Causeway Coast in Northern Ireland ranked fifth in the Best European road trip tour for its landmarks like the Giant's Causeway and Dark Hedges road, popularized by the Game of Thrones series.
Darryl Hunt, Bassist of The Pogues, Dies at 72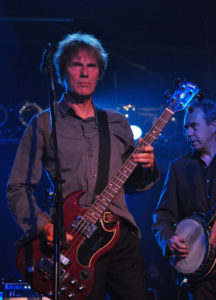 Darryl Hunt, the longtime bassist of Anglo-Irish Celtic folk-punk band The Pogues, died on Monday, August 8. He was 72.
"We are saddened beyond words. Our Darryl passed away yesterday afternoon in London. Darryl Gatwick Hunt 04/05/1950 – 08/08/2022," The Pogues shared a black and white photo of young Hunt holding a guitar case via Instagram and Twitter. The cause of death is unknown.
The Pogues were a massive hit in Ireland and the U.K., but their 1987 single "Fairytale of New York" with Kirsty MacColl and the 1989 single "Yeah Yeah Yeah Yeah Yeah" were international hits. Hunt was an occasional songwriter for the group and is credited with many hits, including "Love You Til the End," "Modern World," "Big City," and "Living In a World Without Her."
He first joined The Pogues as a member of the tour crew. He performed the duties of a touring manager until bassist Cait O'Riordan left the group in 1986, and Hunt officially replaced her.
Hunt was also known as a DJ in underground nightclubs across Europe, including a residency at Germany's Ultraschell club in Munich. He was also a member of the rock bands Plummet Airlines and the Favourites.
Throughout the years, The Pogues cycled through several musicians, including Shane MacGowan, Jem Finer, James Fearnley, Andrew Ranken, Terry Woods, and Hunt.
Hunt was The Pogue's bassist until 1996, when they first broke up, and again through 2002 before disbanding for the second time in 2014. Frontman Shane MacGowan shared a heartfelt tribute to Hunt on Twitter, writing: "May he have a happy state of eternal bliss,"