Patrick Radden Keefe's book Say Nothing: A True Story of Murder and Memory in Northern Ireland was described as "a murder mystery political history," when it was presented as a finalist for the 2019 National Book Critics Circle Award, which Keefe eventually won.
"Shifting smoothly among scenes with explosive, thriller-like pacing and deeply engrossing psychological profiles," critic Walton Muyumba added, "Keefe takes us from the ambush at Burntollet Bridge in 1969 to Bloody Sunday in '72 to the 1973 bombing of the Old Bailey Courthouse in London to Dolours Price, Brendan Hughes, Bobby Sands, and the Hunger Strikes of '80-81 to Margaret Thatcher to the political legitimization of Sinn Féin to Gerry Adams' deradicalization and disavowal of IRA membership to the Good Friday Agreements in 1998."
In other words, Keefe's portrait of The Troubles was one of the best, and most comprehensive, ever written.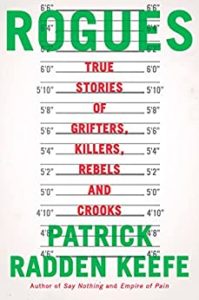 A Massachusetts native and New Yorker magazine staff writer, Keefe has a new book out, called Rogues: True Stories of Grifters, Killers, Rebels, and Crooks (Doubleday).
It has already spent time on the big best-seller lists, and Keefe spoke to Irish America this week about his globe-trotting new book, the afterlife of Say Nothing, and his family's Donegal roots, on his father's side.
"I grew up in Boston…Dorchester, in a big Irish American family," he explains in this interview.  "It was a very happy upbringing, with lots of uncles and aunts and cousins who all lived not too far from where I grew up."
Keefe opens his new book with a partly-hilarious, partly-terrifying anecdote about "the fugitive drug baron" widely known as El Chapo, the focus of one of Keefe's reliably fascinating profiles in The New Yorker – and included in Rogues.
Overall, this collection looks at a wide range of personalities – American and international – from beloved, tragic chef Anthony Bourdain, to reality TV big-wig Mark Burnett, who not only married Irish actress Roma Downey but was also stationed in Northern Ireland as a soldier during The Troubles.
"These stories were written over a dozen years, and they reflect some of my abiding preoccupations," writes Keefe, "crime and corruption, secrets and lies, the permeable membrane separating licit and illicit worlds, the bonds of family, the power of denial."
Clearly, Keefe has stumbled upon a formula that readers love.
"Rogues is a wonderful book, not only because Keefe's prose is masterful, but because he has a preternatural gift for reading people," NPR's Michael Schaub wrote a few weeks ago.
"(Keefe) recognizes that we're all unreliable narrators of our own lives, and writes about his subjects with a keen sense of understanding. … The book is a joy to read." ♦
Raden's books Say Nothing and Rogues are available for purchase on Amazon.
Peter Quinn reviews Say Nothing and John Hume in America: From Derry to DC for Irish America in The Troubles in Two Books.