Ambassador Geraldine Byrne Nason talks to Patricia Harty about her pride in her hometown, her career; the hard reality of work on the U.N. Security Council; and her new role as Ireland's Ambassador to the United States.
At the time of our interview in July 2022, Geraldine Byrne Nason is winding down her role as Ireland's Ambassador to the U.N., reflecting on her life as a diplomat, her last five years at the U.N., and her time on the Security Council.
She joined the Department of Foreign Affairs in 1981 and quickly rose to prominence. By 2008, she was in Brussels serving as Ireland's Permanent Representative to the European Union. The year 2011 saw her back in Dublin as second secretary general in the Department of the Taoiseach. In 2014, she was named Ambassador to France and Monaco. And in 2017 then-Taoiseach Leo Varadkar appointed her as Ireland's representative to the U.N. in New York. As I write this, she is in Washington, D.C., settling into her role as Ireland's Ambassador to the U.S., a position she took up in August.
A passionate advocate of human rights and gender equality, Byrne Nason believes "women just want a fair shot," and she has worked hard to give them that shot.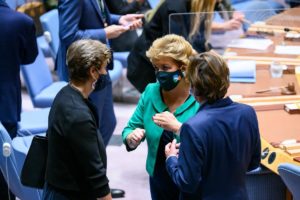 In Paris, she inaugurated a network of female journalists, ambassadors, and political figures. And as chair of the U.N. Commission on the Status of Women in 2018 and 2019, she used her powers of persuasion and formidable charisma to pass resolutions on the empowerment and education of women and girls. In fact, one of her last acts before leaving New York for Washington, D.C., was to draft a paper on the plight of women in today's Afghanistan.
Byrne Nason is a dynamic presence. She exudes energy and confidence, strides rather than walks, and speaks with authority from a deep well of knowledge on world politics, Irish history, culture, and literature – her candor often softened with wry humor.
It's an open secret that she's known as the Ambassador of Drogheda. "I have happy memories of growing up there." Her dad worked at the Drogheda Independent newspaper, and she grew up following the news and understanding local politics.
She was educated by "fantastic women," the Presentation Sisters at Green Hills College. From there she took a degree in English and Irish Literature at St. Patrick's College, Maynooth under Professor Pete Connelly, "a courageous public voice as a literary critic." She had imagined a life for herself in academia, but Connelly pushed her to take the Foreign Service exam, which she did, and the rest is history.
"I was a small-town girl at a small university, and that was suiting me fine. Then I suddenly had the Foreign Service option, and a whole new world opened up."
Our meeting took place at the Permanent Mission of Ireland to the United Nations, located at 1 Dag Hammarskjöld Plaza. While she's loath to believe in destiny, a childhood memory says otherwise. "There was a pile of books on the table beside my parent's bed, one of which was called Markings by Dag Hammarskjöld, the only book the most revered U.N. Secretary-General ever wrote. My father used it as a sort of personal bible, and I remember sneaking into my parent's bedroom to look and hold that book."
Hammarskjöld described the book as conversations with himself and with God, and that resonates with Byrne Nason. "The more time I spent at the U.N., the more conversations I've had between myself and God. The issues Hammarskjöld faced, for which he paid with his life – protection of international peace and security – are issues we still face," she says, adding, "You are challenged morally and ethically every time you enter that building. It's a very grown-up place to be," she declared.
Looking back on her time at the Security Council table, as her role as Ambassador to the U.N. winds down, Byrne Nason remembers receiving the news of the Russian invasion of Ukraine as probably the most shocking experience, she's had.
"We deal with a hierarchy of misery at the council table, but nothing compares to the night that Russia invaded Ukraine. We went into that chamber firm in the conviction that what we needed to do was to convince Russia not to act. The Secretary-General, who sat just two seats away from me that night, made the most emotive plea I've ever seen him make, saying, 'Mr. Putin, don't do this. President Putin, don't do this.'"
Shortly after the Secretary-General finished speaking, the phones began to light up around the room. There were messages coming in saying the military operation had started. "There was incredulity, certainly in our corner," she recalls. "The Irish team was initially stunned by the brazen affront."
Byrne Nason, who had been an early speaker at the debate in session, asked for the floor again when the news of the invasion was confirmed by reputable sources. "We couldn't let it pass. Our duty was to call it out immediately. I felt that those of us in the chambers were going home to the safety of the Upper East Side or down to Battery Park, while the women, the men, and the kids in Ukraine were hearing, at the same time as we were, that the Russians were coming. It was shocking." Her fury continued. "Russia had torn up, violated, and affronted the charter that we spend every single day defending, that the Irish government stands full square behind, and what spurred us to be at [the security council] table."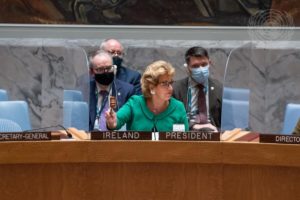 For all that, her relationship with the Russian ambassador to the U.N. "is a good, professional working relationship," she says. "We believe in talking to people. It's very hard to change people's minds if you stop listening and stop talking." Getting a consensus can be difficult, however, especially if it's on an issue such as Syria.
"There's a war in Ukraine – and there's certainly an ongoing war in Syria that's a decade-old conflict. People are dying every single day in Syria, even if the spotlight isn't on them," she expounds.
Ireland and Norway are what's called the Security Council penholders. "We're the lead negotiators on Syrian humanitarian issues, and as such, we had to sit down with the U.S., on the one hand, the Russian Federation on the other, and all the members of the council to find a way through on a very divisive issue."
The agreement up for renewal was related to keeping a border crossing at a place called Bab al-Hawa on the Turkish border in northwest Syria open. Just behind that border crossing, there are 4.1 million people dependent on the aid that comes through there on trucks. "It's very simple," she explained, "count them in, count them out. Trucks. U.N. trucks with food and medication – that's what they rely on. If that agreement hadn't been renewed, it would have been a catastrophe for almost the same number of people who live on the island of Ireland."
"We worked with the Russians. We came up with an agreement. Was it perfect? No. It fell slightly short of what we wanted in terms of an outcome. We wanted this agreement to last for twelve months, and they would only agree to six months. But we got an agreement; we were able to find a way through. So we can work together, even if we are fundamentally opposed and disagree on many big issues."
The ambassador admits that she does get discouraged but not despondent. At times she finds the degree of cynicism at the Security Council table very hard to take. A good example of this is the work that she and others did on climate and security.
One small and very challenged Sahel country that she talks about is Niger, which knows the realities of climate insecurity. "Those people are being pushed to the limits by the impact of climate on the ground. They face hunger, fear of displacement, and security challenges where young men who might have been absorbed in the past by agricultural jobs are pushed north by challenges due to climate change, where they can become susceptible to Jihadist enticements.
"We are convinced that climate has an impact on security, domestically and internationally, for countries," she declares. "We worked on a really excellent resolution that simply said, in essence: 'The Security Council needs to understand what's happening in the link between climate and insecurity.'"
The resolution was supported by most of the members of the General Assembly – 113 – a big majority of the U.N. But the Russian Federation vetoed the resolution.
Russia is one of the five permanent members of the U.N. Security Council, which gives it power to veto any security resolution, and it used its veto. "That meant that despite the views of 14 other members at the table – China abstained – and the majority of the General Assembly – one country could just say, 'No.'
"It reinforced in me the injustice of the current structure of the Security Council. As long as there's a veto, cynicism and political brinksmanship will prevail. Russia is not the only one to have ever used the veto, but I will say countries like France and the United Kingdom haven't used it for 20 years.
"Not using the veto allows the Council to do its work in a much more constructive manner. The veto is just a bad idea, always was, and always will be," she insists.
Is there a chance that the veto will be done away with? She holds some optimism that common sense will prevail but believes that "it will be very far down the road."
On the question of Ireland joining NATO and its neutrality – now a matter of public debate. Byrne Nason says: "I think we need to hear all the issues around it."
Ireland already cooperates with NATO in a variety of areas, including peace-support operations. "We have the longest unbroken record of peacekeeping in the U.N.," she declares, emphasizing that problems arise when the peacekeepers leave. She mentions Sudan as a recent example of civilians being brutalized and murdered after peacekeeping operations ended.
"Peacekeepers go in, whether it's in Lebanon or Africa or the Democratic Republic of Congo, which is particularly difficult right now – they perform their duties and they fold-up their tents and leave. Then there's a cliff face where the U.N. political system, the U.N. peacebuilding, and all of the support the international community, needs to give to a country after the peacekeepers leave. "There isn't a framework for working that out. So we put together a resolution on transitions and brought it to the Security Council. "It was the first resolution Ireland alone ever brought to the Council. We've gotten a lot of respect on that, and we'll work more on it while we're still on the Council through the end of the year," she promises.
Ten of the 15 seats on the U.N. Security Council are held by rotating members serving two-year terms. The last time Ireland held a seat was 2001-2002. What was the motivation behind campaigning for a seat in 2020?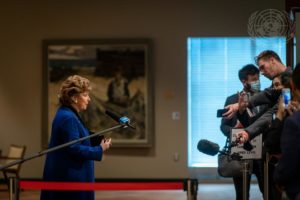 "Every 20 years, we put up our hands and say we have something to bring to the table. We thought this was a moment when we could step up to assume a responsibility, morally as well as politically. It was time to play our part in trying to stabilize the international order and bring some clarity to some of the conflicts underway. I would say more than clarity, we wanted to try and help resolve them."
Byrne Nason, with the backing of the Irish government, was central to Ireland's campaign, hosting any number of events that showcased Irish culture and history and highlighted Ireland's credentials and track record on climate change and poverty reduction. She believes that its value as an independent partner, and a country that has a clear set of principles that favors international law, as some of the reasons why the campaign was successful.
Ireland also has empathy with countries that are in crisis, and that's important. "If you think about what the Security Council looks at, its hunger, its migration, and its conflict. Which of those three does Ireland not know well?"
As her time at the U.N., and Ireland's time on the Security Council draw to a close, Byrne Nason is pleased that praise is being offered for the role that Ireland has played thus far.
"People are saying the clarion voice they heard during the campaign was that Ireland would be a friend of the oppressed. We promised that we would speak out for humanity. We would look out for the rights of countries like the small island states, who suffer from climate injustice, and for the Palestinians. The situation in the Middle East, in the occupied Palestinian territory, is something very much that Simon Coveney, as the Foreign Minister, has been identified with in a very constructive way.
"I'm very proud that people can say to us, 'You did what you said you would do. You have been yourselves, you've stayed true to your colors, you've been a partner, you've been independent as a voice."
Security Council business aside, perhaps people will remember Byrne Nason, most of all, for her role as Chair of the Commission on the Status of Women.
During that time (2018-19) she managed to have two consensus agreements passed, one for each year. In both cases, it was under two different U.S. administrations. "So, the politics of gender were very different, and it was very challenging," she recalls.
"There were voices on the floor of the CSW that took advantage of the change in administration, so it became, at times, a toxic and difficult argument.
"We were looking at women's land rights, which particularly affect those in the developing world. But coming from Ireland, a country where a lot of women's rights were indeed won by our accession to the European Union – it's not that long ago that we needed a non-woman to sign our checkbooks – the discussion on women's access to land use, was something that meant a lot to me, and we managed to get a resolution passed on it in the first year."
Another important issue that was debated the following year was in relation to access to basic social services. "That raised the politics of birth control, the politics of abortion. It raised questions about access to education," she recalls, adding, "while we would like to dream that women are given rights and that they are protected, we know absolutely that they're not. They're not even protected in this country."
Education for women is something she spoke about a good deal to the Security Council, particularly in relation to Afghanistan. "The Taliban are essentially showing utter contempt for the international community and targeting women absolutely in every possible despicable way," she says, adding, "education is a basic human right."
U2's Bono, thinks so too. "We had a special event early in 2020, that Bono attended and supported. We called it 'The Drive for Five,' and we made a pitch for just five demands for girls as basic as having a desk, having a light on the road going home from school, and having at least an education until age 11. Very simple basic asks. But of course, COVID and politics and developments like the fall of Kabul contrived to make sure that the 'Drive for Five' hasn't yet been realized."
It's a given that women often have to work twice as hard as men to be successful. What about her own life/work balance?
"There's no such thing as balancing," she offers. "I used to think that I'd find a balance somewhere, but there isn't. There's a lot of fire brigade action in the background."
That background support includes her husband, Brian Nason. "He was a diplomat himself – he retired as Ambassador to Belgium and NATO about 12 years ago – so he understands the pressures.
"Brian served at the U.N. as a young diplomat. But that's not to say that [the work life balance] doesn't challenge us at times, and certainly in relation to our son Alex, who is now a 21-year-old graduate of NYU, I haven't always had the time I would like to have had with him. On the other hand, Alex has been bitten by the bug of U.S. politics. He has found his mojo here in the United States, so our time here has been good."
She adds, "I'd like to think at some level that both Alex and Brian think that the sacrifices they've made have been in the national interest as well."
Of her role as Ireland's Ambassador to the U.S., she says she is very much looking forward to the challenge. It helps that President Biden has ancestral roots in her own county of Louth, and that politicians such as Congressman Richie Neal have issued statements on Brexit protocols and protecting the Good Friday Agreement.
"The U.S./Irish relationship is a deep and affectionate one but it's also an important political and economic relationship. It goes in both directions, both in terms of investment by the United States in Ireland, and certainly by all the hundreds of Irish companies here which create jobs for American nationals."
As to the thorny question of immigration, and a fairer shot at visas for Irish nationals, she said it will be on her agenda, "We want to make sure that our people can come here legally and that their status is recognized, and that they can continue to contribute to this great country."
While Byrne Nason prepares for her new role, she finds herself inspired, again, by literature. She looks forward to deep-digging through Ireland's culture through artistry in history – but also in the present through writers such as Dublin-born Colum McCann.
"He has inspired us in the Security Council because of his latest novel, Apeirogon. What it says about truth and reconciliation, not just for Ireland but more importantly, in this case, for the Middle East, is rather extraordinary."
Harking back to her college years, she admits that her first passion is literature, and as such, she looks forward to meeting writers, artists, scholars and other creative people who come across her path.
"I hope that in that wonderful deep people-to-people relationship, I can help foster the next generation of young Irish-Americans to flourish, both politically and culturally," she said, adding: "I have big shoes to fill, given the legendary ambassadors who went before me, but it's with great relish and with some humility that I assume the role, and I certainly hope I will do my country proud."