Dr. Jim O'Connell and his Health Care for the Homeless Program
In the pitch-black Boston night, the constant ache of being homeless – of being lonely, sick, cold and hungry – frightens poor souls into quiet desperation and smoldering panic.
Dr. Jim O'Connell, Boston's street doctor, searches out men, women, and children living in the shadows, helping them fight off their demons, and bringing them medicine, blankets, comfort, and hope. Working out of a medically-equipped homeless van, O'Connell and his team provide nightly health care as well as counseling, clothing, shelter, and whatever else their patients need. In many cases, because of mental illness and addiction issues, O'Connell must often rescue his patients from their unsuspecting selves.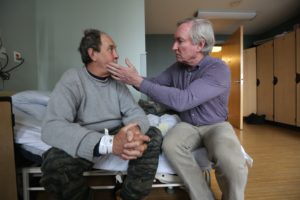 As founding physician and now president of Boston Health Care for the Homeless, O'Connell has been patrolling the streets of Boston since the program launched in 1985. What started as a staff of eight has blossomed to a team of 400+ people conducting clinics in more than 45 locations across the city of Boston and beyond.
Working with the Pine Street Inn homeless shelter and alongside the city's world-renowned hospitals such as Mass General, Brigham & Women's and Boston Medical Center, O'Connell has pioneered bringing health care to the homeless. He helped create the nation's first medical respite program, designed and implemented the nation's first computerized medical record for a homeless program, launched primary and dental care programs for the homeless and a program for homeless families living temporarily in hotels. In 1987 the group created an HIV team to battle the AIDS epidemic on the streets.
But even while making a tangible difference for tens of thousands of homeless patients throughout his illustrious career, O'Connell likens his task to Sisyphus rolling the mythic boulder up the mountain for eternity.
"Homelessness (has) been a surprisingly intractable societal problem and it involves urban and rural settings across the country," O'Connell says in a 2018 interview. "Since I started in 1985, we've done lots of things to ameliorate the problem, but we yet haven't been able to get it to scale. The problems, despite everything we're doing, just get a little worse each year in urban settings like San Francisco, Seattle, Chicago, New York, and Boston, where the cost of finding an apartment is so exorbitant that people who are really poor are finding it more and more of a struggle to find housing."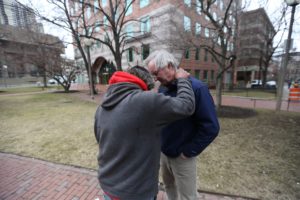 In 2015, O'Connell's book, Stories from the Shadows: Reflections of a Street Doctor, charted his remarkable personal journey from a curious, adventure-seeking wanderer to an all-consumed physician and healer. The book begins with a quote from James Joyce's Ulysses:
"Every life is many days, day after day. We walk through ourselves, meeting robbers, ghosts, giants, old men, young men, wives, but always meeting ourselves."
A native of Newport, RI, O'Connell graduated from Notre Dame in 1970, studied philosophy and theology at Cambridge University in England, then taught and coached at a high school in Hawaii. He moved to New York City and earned his master's degree from the New School for Social Research under the direction of philosopher Hannah Arendt. He bought an old dairy farm in northern Vermont and enjoyed skiing and riding his motorcycle for a couple of years.
On a visit to the Isle of Man in the Irish Sea, O'Connell helped a badly injured motorcyclist from Manchester lying on the side of the road, "trying not to look at the exposed bone fragments in his leg," he writes. But the experience moved him, and he returned to the states determined to become a country doctor.
In 1982, O'Connell received his medical degree from Harvard University and completed a residency in Internal Medicine at Massachusetts General Hospital. His mentor, Boston physician Tom Durant, asked him to delay his fellowship for a year to work on a new homeless project, and O'Connell agreed. In 1985, at age 37, O'Connell began full-time clinical work with the homeless.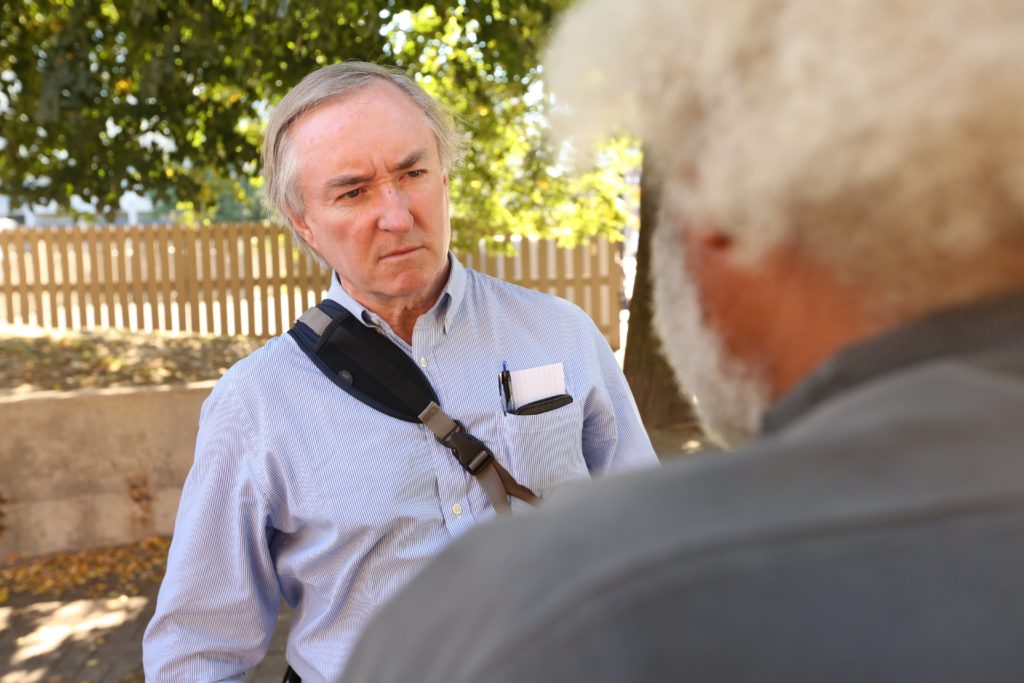 But despite four years of medical school and three years of residency, O'Connell got a rude awakening the first week on the job, when he met veteran nurse Barbara McInnis, one of several devoted nurses working with the homeless at Pine Street Inn since 1972.
"Pardon our skepticism," McInnis told him, "but we've been burned too much and don't trust doctors to take good care of our folks. But you will do just fine if you listen to us and do what we say. You'll have to forget much of what you were taught in residency. Nothing changes in the life of a homeless person unless you slow down and take the time to earn trust and develop a lasting relationship. Consistency and presence are essential. Never judge. Remember people have lived through hell and listen carefully to their stories."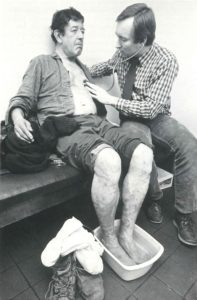 That said, O'Connell received his first daily assignment for the next two months: to soak the feet of every shelter guest in buckets of warm water mixed with an antibacterial powder.
"In keeping with the obvious biblical allusion," O'Connell writes, "the foot soak inverts the usual power structure and places the caregiver at the feet of each patient and far from the head. This gesture of respect for the literal and figurative personal space of each homeless person is critical and a marked contrast to how I was taught to take charge during clinical encounters, invading privacy each time."
That experience proved to be an epiphany for O'Connell, who writes, "I naively planned to devote a year to working with homeless persons and then pursue a career in clinical oncology….As I slowly came to understand the continued importance of continuity, consistency, and presence in the care of homeless persons, my dreams of oncology dissipated."
O'Connell's work has just been chronicled by Pulitzer Prize-winning writer Tracy Kidder, who spent five years following him and his colleagues around Boston streets. Kidder's new book, Rough Sleepers: Dr. Jim O'Connell's Urgent Mission to Bring Healing to Homeless People, is a fitting testament to the way in which dedicated individuals and small groups can make a difference in countless lives, one night at a time.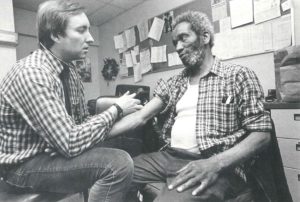 As he approaches 40 years on the streets, O'Connell's tireless devotion to the homeless is more urgent than ever. Housing prices continue to soar in Boston, and the COVID-19 pandemic has further amplified the risks of living on the streets. The city's homeless shelter on Long Island in Boston Harbor closed in 2014, creating an outdoor homeless encampment near Boston Medical Center now spreading into city parks and neighborhoods.
Despite his Sisyphean task, O'Connell believes, "One person can make a difference, even in the most intractable situation. (Our) work is surprisingly compelling. These are folks who suffered from all the social determinants of ill health: they've grown up in poverty, they've been in foster care, they've been through poor schools, suffered from ADD, psychiatric issues, and substance abuse issues. When you look at how to care for a population like that, I think what we all find is it is about as challenging as it comes. If you like being a doctor, like being a nurse, or like working with teens, this is the ideal population to try to struggle with."
Dr. O'Connell is a member of Irish America's Healthcare & Life Sciences 50 list for 2022.