The "Ireland Live…From New York" concert launching new voices from Ireland is Gallery's U.S. solo concert debut
Saturday, October 29, 2022, at 8:00 PM
Enda Gallery will headline his first solo concert in the United States at the New York Irish Center on Saturday, October 29. Gallery – who has been attracting attention with his new music innovations spanning a spectrum of styles from hip hop and roots to traditional folk – runs the record label Welcome to the New World (started in Berlin and now based in County Clare Ireland), which puts out songs with independent artists like Strange Boy and the viral sensation Tolü Makay ("Aye").
With over 100 million streams to his name as songwriter, producer, and artist, Enda Gallery released his debut album, "The Journey to Zero" in 2021, when it was named RTE's album of the week. His debut single received a BBC6 premiere from Cerys Matthews, and his follow-up single, "It's Alright," appeared on the BBC Introducing Mixtape, and received BBC6 and RadioX airplay, and can be heard on the soundtrack of the break-out hit BBC/Hulu series "Normal People."
Opening for Gallery, who will perform a striking mix of his original songs and covers in a 75-minute set, will be local New York folk singer-songwriter Rosa Tu,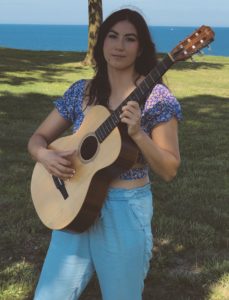 whose album "Drink All the Wine" deals with loss, death, and the importance of living vibrantly.
Gallery is currently finishing up a handcrafted West Coast tour (his first) where he is playing short sets at a variety of intimate alternative music spaces in Los Angeles and San Francisco. Gallery's current tour is supported by Culture Ireland.
Originally from Leixlip, County Kildare, Gallery was based in Berlin for a time (pre-pandemic), before he decamped in 2020 to County Clare in the West, where Welcome to the New World is now based. His adventurous and innovative producing and songwriting methodology brings to mind a young Prince.
Gallery has been dipping his toe in the US scene with teaser appearances at the Irish Arts Center in New York (earlier this year), and at NYIC's six-hour-long Celtic cabaret, "40 Shades of Green," on St Patrick's Day 2022. His October 29 show is part of the New York Irish Center's new concert series "Ireland Live… From New York," which features notable musical artists from Ireland and from different corners of the Irish diaspora.
Gallery will perform on the New York Irish Center's Reilly Room Stage, 1040 Jackson Ave, Long Island City, New York, 11101, tickets are available for purchase for $25.00 from the
NYIC website.