Haven by Emma Donoghue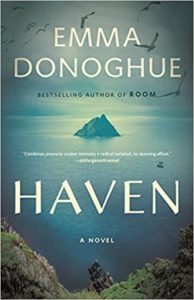 It's seventh-century Ireland. Clonmacnoise is a newish monastic settlement, with about thirty monks in residence, along with the families who work for them and an order of nuns. The monastery also offers temporary accommodation to guests who come to study or just to retreat from the world. One of these visitors, Artt, believes in harder fasting than is required in the monastery, and he's not too fond either of some of the goings-on there. He resolves to set off and find an "untouched" haven where he can live a pure life. Two of the brothers from Clonmacnoise agree to accompany him. After an arduous journey down the Shannon and then out into the North Atlantic, they finally set eyes on the Skellig Islands. With just the three men and the hundreds of birds on the uninhabited island, the location itself looms large as possibly the main character in the book. Their quest for sustenance and shelter on the barren land turns into quite the survivalist story. Wonder what all the Star Wars fans will make of it?!
Hide and Seek by Andrea Mara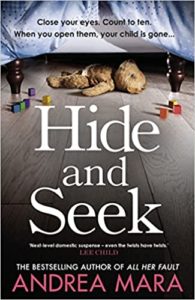 It's 1980s Ireland and a bunch of children are playing hide and seek on a housing estate beside a woods. When the game is over, three-year-old Lily Murphy is missing. Her parents and all of the neighbors join forces to search, but there's no sign of the little girl. More than thirty years later, Joanna and her family move into a new home which seems absolutely perfect for them. But when Joanna learns that Lily Murphy and her family used to live in that very house, she finds herself compelled to find out what might have happened to Lily. There are lots of people still living in the area who remember the family, but some are less keen than others to share their recollections. At times credibility is stretched a little thin, but overall it's a fast-paced whodunnit with lots of different strands to the story.
The Wedding Party by Cathy Kelly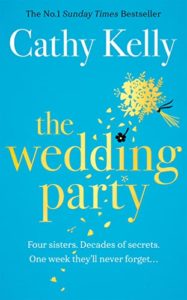 The gorgeous Robicheaux sisters are heading back to their childhood home for the remarriage of their parents Stu and Meg, who had split a number of years earlier but have since rekindled their passion for each other. Home was the rundown Sorrento Hotel, which even in its heyday was shabby chic around the edges. Now it's in need of major restoration, but the sisters agree to help their mother patch up the worst of it in order to accommodate the wedding. That's if the wedding will even go ahead, however. The problems that destroyed their first marriage may not be as mended as Stu promises – Meg has some decisions to make. In the meantime, the four sisters are each struggling with various issues that threaten to spill over into crises that will have ripple effects throughout the entire family. At what point will they realize that they can help each other? It's Cathy Kelly land – so the reader can relax, you're in good hands and all will be well.
Yours Mine Ours by Sinéad Moriarty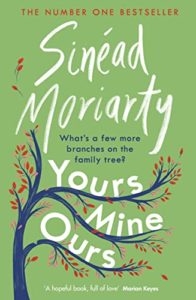 Anna and Conor have finally split up after almost twenty years of marriage and two children, much to the delight of her siblings who can't believe she stayed so long in such a miserable union. But Conor is blaming her new partner James for wrecking the home he always thought was happy, and he makes no attempt to hide his rage from his two children Grace and Jack. James has a teenage daughter of his own, and when he and Anna make the decision to live together as a blended family things don't go nearly as smoothly as they would have hoped. James's daughter Bella resents Anna trying to mother her, and nine-year-old Jack can't stand James's attachment to a tidy house and his lack of football skills. Another must for fans of Moriarty and an engaging look at the problems faced by many families nowadays.
The Belladonna Maze by Sinead Crowley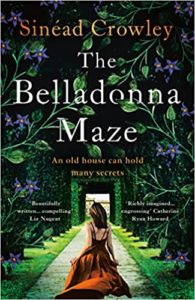 Hollowpark, home of the Fitzmahon family in the west of Ireland, has a long and storied history. The signature maze in its garden – named after a deadly poison – is a magical hiding place for those who know its secrets, but a place of dread and fear for others. After all, it's where a young girl once went missing, never to be seen again. Some of the locals resent the Fitzmahon family as a result, which Grace soon finds out when she arrives to Hollowpark as a nanny for young Skye. But Grace also discovers that odd things are happening in the house and she keeps seeing a young woman who isn't really there. This is a complete departure from her normal crime fiction books for Sinead Crowley, who is also the arts correspondent for RTE, but she pulls it off flawlessly and The Belladonna Maze is a very engaging read.
Breaking Point by Edel Coffey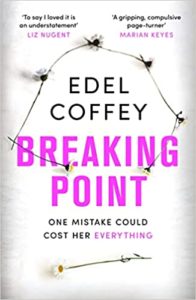 Susannah is a high-flying pediatrician whose colleagues know she can always be relied on to solve the trickiest of cases and help children in extreme need. She's also a bit of a personality medic with books, papers and TV appearances adding to her already busy life. She adores her two young daughters but feels she doesn't get to spend as much time with them as she should. One catastrophic morning, running very much on autopilot, Susannah does the unthinkable – she leaves her baby in the back seat of the car when she pulls up at work. It's one of the hottest days of the year in a sweltering New York summer and baby Louise is tragically beyond help. The subsequent investigation and trial feeds the media headlines keep feeding the public's grim fascination with the tragedy, but for news reporter Adelaide it's all just a step too far. It's also reminding her of a time in her life she has worked hard to forget. This Coffey's first book, and likely to be the first of many, we'd imagine.
The Letter Home by Rachael English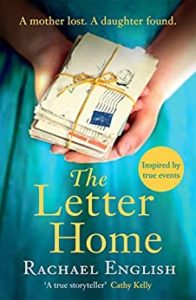 There is a warmth about Rachael English's writing that stays with the reader long after the book is finished – and it's become even more evident with this newest: her sixth book. Journalist Jessie Daly leaves Dublin in a hurry after a disastrous television appearance and a social media storm, and retreats to her parents' home in Clare. When she helps an old friend who's researching a local woman who lived during the Famine, Jessie becomes sucked into the story of Bridget Moloney and her daughter Nora. In Boston, Kaitlin Wilson is researching her family tree after a conversation with relations takes an unexpected turn. She's also starting to question her career and her relationship – two things that underpin her very existence. Glimpses of Famine Ireland (along with some of the shame of contemporary slavery and poverty) are interspersed throughout the story. It's a very enjoyable read and an uplifting diversion from the relentless bad news cycle.
What Eden Did Next by Sheila O'Flanagan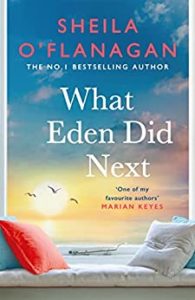 Although her husband died before getting to meet their daughter, or even knowing his wife was pregnant, Eden has always felt very well minded by her in-laws. Andy's family love her and include her in everything and she is very grateful for their support. But when a blast from the past arrives in her life and she starts to feel that maybe she could start to move on with her life, her in-laws are not thrilled and make their disquiet known. Eden knows that it's up to her to make the decisions about the life she and daughter Lila will lead, but she is also torn between her past and their future. Shot through with Sheila O'Flanagan's trademark warmth and humanity, What Eden Did Next was one of the hits of the summer with readers in Ireland, and made its appearance on many a holiday reading list!
Bessborough: Three Women. Three Decades. Three Stories of Courage. by Deirdre Finnerty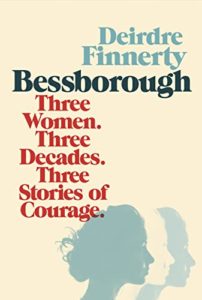 With Bessborough, Mayo native Deirdre Finnerty has written a book that will resonate very deeply with readers in Ireland, and those who have been following some of the traumatic stories from this side of the pond. We are all very used at this stage to hearing the horror stories of young Irish women and their babies in mother and baby homes and the trauma they suffered being parted from their infants. By basing the book directly on the stories of three women in the 1960s, 1970s and 1980s, Finnerty drives home how recent all of this was. Joan, Terri and Deirdre share their stories and their hurt. In some cases, there were emotional and happy reunions with the babies adopted away from their mothers; in other cases, such an ending was not to be. The book started life as a BBC article (Finnerty is based in London with the BBC). Finnerty writes: "Writing [this book] has challenged what I thought I knew about the country of my birth and the state that was created after independence – a state that confined a higher number of pregnant women and girls in institutions than any other country in the world in the twentieth century." Sobering words, indeed.
The Nurse by Claire Allan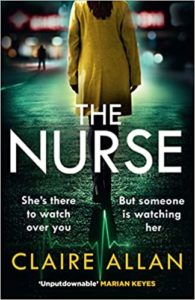 Nell Sweeney is a young, newly-qualified nurse who lives with a friend and enjoys her job in a busy hospital. Her mother hasn't spoken to her in a few days, but that's not unusual, given her changeable shift patterns at work. When her housemate phones to say she's a bit worried as she hasn't seen Nell in a few days, mum Marian is initially sure there's nothing to worry about. But things quickly escalate and it's soon clear that this is a missing persons case which needs investigating. An unnamed narrator started a 'game' on social media that he is now starting to have second thoughts about – frightening women on the street by walking closely behind them and recording their reactions. It's his way of 'reclaiming' the streets for men, but some of his social media followers are taking it a little too literally. A disturbing read.
The Burning Boy by Nicola White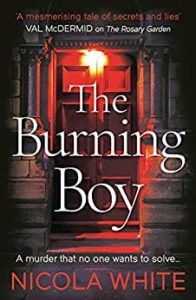 Nicola White has produced quite accomplished crime novels over the past few years, and this latest – her third – is no exception. It's Dublin in the mid-1980s and when a serving Garda is found murdered in Phoenix Park you'd expect there to be a massive hue and cry. But Kieran Lynch's dying body was found in a spot known to be a gay meeting area, so even his Murder Squad colleagues are reluctant to throw themselves fully into the investigation. Detectives Vincent Swan and Gina Considine are two of the few officers who actually commit to a thorough investigation, even though both are hiding personal information that – in at least one case – is deeply relevant to the case. Swan and Considine are every bit as hardboiled as the best detectives in contemporary fiction – Harry Bosch, Carol Jordan, Harry Hole et al – and White is developing their back stories very nicely. An author, and a series, to watch. And better still, one that will appeal just as much to those who don't generally like crime fiction as those who lap it up. Her gimlet gaze on social issues and her excellent ability to capture 1980s Ireland just enhance the enjoyment.
Again, Rachel by Marian Keyes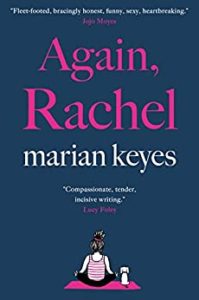 There was great excitement at the news that Marian Keyes was giving readers a second outing with her beloved Rachel Walsh – of the 1997 bestseller Rachel's Holiday. The Walsh family, of course, have been staples of Keyes's beloved books, and this is the seventh book in the Walsh canon. Rachel is working in The Cloisters, an addiction center, and she is more than able for the exploits of the men and women she is working with and can set her watch by their denial timeline. She's not quite so brilliant when it comes to her own ability to face the truth, however – and it takes the reappearance of her once-beloved Luke to help her start facing up to the way in which their story ended, and the amount of blame she shares for how things all went wrong. Keyes is very skilled at infusing her characters and stories with a warmth and empathy that lets you feel you are sitting in the house with them, laughing at their spats and identifying with the family dynamic. It's a must for fans – but we're sure they've all read it already!
It Could Never Happen Here by Eithne Shortall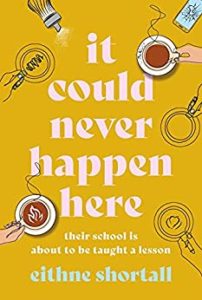 Glass Lake primary school, in West Cork, is a school with a very involved parent cohort (mostly mothers it must be said!). They call themselves the Lakers, and very little happens in the school without their knowledge or say-so. Beverley Franklin is one of the alpha mums, and when a scandal involving her own daughter threatens the future of the annual school musical (and its hotly anticipated debut on national television) she pulls out all the stops to get things back on track. She is so focused on protecting the school and its reputation that she misses what's going on under her nose in her own house. Shortall has created a recognizable and relatable group of characters in the fictional Cooney, and her teenagers and children, particularly, are very well-drawn. It's a very engaging and enjoyable read.
A Good Father by Catherine Talbot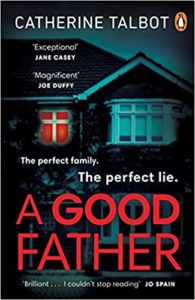 Des is a good husband and a good father. He's a good man. Or so he tells himself, regularly. In reality, Des is a seething mass of jealousy and fury. The reader is regularly privy to his attempts to calm himself before losing it in front of his wife and children. The way in which he congratulates himself for not losing it is deeply disturbing. Ireland is such a small country that it's difficult to read a book like this without being very forcefully reminded of real-life cases in which men have murdered their families. Talbot does an excellent job of building the tension – Des has already told the reader in the opening line what he plans to do, and we have eight months in which to move inexorably towards this awful outcome. In a recent interview, the author says she is working on a book with Des's wife Jenny as the narrator, and that will help square the circle – in this book her voice is hugely absent.