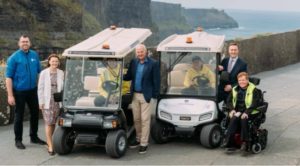 County Clare's Cliffs of Moher are high on the list of Ireland's natural attractions. But for some accessing the cliffs, that tower over the rugged west Clare coast and offer stunning ocean views, had been difficult, even impossible, until now. 
Two electric-powered vehicles, operated by trained staff, will now ferry those who are not ambulatory to the top.
"This service is offered to those who are in need and the beauty of the experience is that users get to see and learn about the Cliffs in a way that they wouldn't have otherwise," Geraldine Enright, Director of the Cliffs of Moher Experience, said in a statement to the press.
The parking lots, visitor center, main building, restrooms, and main viewing areas have been fully accessible for those with reduced mobility or disabilities – but the electric buggies provide a richer experience. 
On opening day, July 26, "The Lifts of Moher" proved to be hugely popular, particularly for individuals with mobility issues, those with disabilities, the elderly, their families and carers. 
American tourist, Laura Sitters, who had recently suffered a hip injury, was elated when she arrived at the cliffs, and staff member, Kieran Kelly was waiting with an electric vehicle to show her the legendary views. 
"People who have limited mobility for whatever reason should have the opportunity to see the cliffs and the waves crashing down at the base of the cliffs," Sitters later said in a press statement.
The cliffs are located in the beautiful Burren region, and are a natural gateway to one of the most enchanting and captivating coastal driving routes in the world – Ireland's "Wild Atlantic Way", so it makes sense that the popular new transport vehicles would be named, "The Atlantic Way Shuttle," and "The Burren Buggy."
No pre-booking for the buggies is required but is subject to availability.
Fore more information, visit cliffsofmoher.ie
Irish Royal Sites on Tentative List for UNESCO World Heritage Site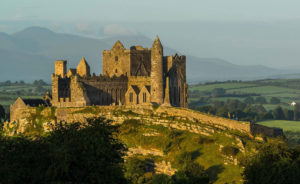 Each of Ireland's four provinces has its own royal historical site – a sacred Neolithic royal inauguration and ceremonial site, to be exact.
And after 12 centuries of existence, these Royal Sites are on UNESCO's nomination list. 
The Royal sites are Eamain Macha (Navan Fort) portrayed as the royal site for the kings of Ulster; Dún Ailinne for the kings of Leinster; Cashel for the kings of Munster and Rathcroghan for the kings of Connaught. Tara was the seat of the kings of Meath and the seat of the Irish high kings. 
In addition, the Hill of Uisneach, which since pre-Christian times has been regarded as the ceremonial and sacred center of Ireland, where the ancient provinces meet, and the Passage Tomb Landscape of County Sligo are also seeking recognition.
Valentia Island is also seeking to become a UNESCO site, and its progress is boosted by a similar campaign in Canada. 
One hundred and fifty years ago, a transatlantic cable was laid between Valentia and Heart's Content in Canada. It transformed the world forever, by cutting communication times between Europe and North America from weeks to minutes. "It would be a huge boost for Valentia and the entire area," Fine Gael TD Brendan Griffin, who has been involved in the project for a number of years said. "UNESCO sites attract more that 20,000 visitors a year on their own …. It will transform the island."
Currently, Ireland has only two dedicated UNESCO World Heritage sites. One is Skellig Michael, a rugged, remote island, that like Valentia, is off the coast of Kerry. It houses the remains of a 6th century monastery. The second dedicated Irish site is Brú na Bóinne in County Meath, an archaeological landscape estimated to be from the Neolithic of the Late Stone Age, or 3300 B.C.E. The landscape is within the bend of the River Boyne and includes three massive tomb passages, the Knowth, Newgrange, and Dowth.
Historic U.S. Flag Presentation Commemorates the First Atlantic Flight Crossing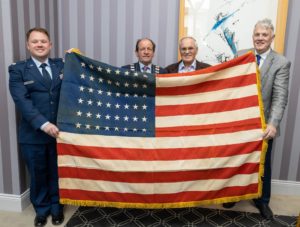 On April 12, 1928, Col. James Fitzmaurice and his co-pilots embarked on an impressive journey. They flew from a military base in Baldonnel, Dublin, and arrived on Canada's Greely Island on the 13th, on a German plane dubbed the Bremen. Their historic feat was celebrated in Canada and in cities across the United States.
In commemoration of that flight, a week of celebration took place in Fitzmaurice's hometown, Portlaoise, County Laois, and on August 30, 2022, a 94-year-old American flag was donated to the town's Heritage Center.
Fitzmaurice had been presented with the flag by then President Calvin Coolidge, who also awarded the pilot with the United States Distinguished Flying Cross for "heroism or extraordinary achievement while participating in an aerial flight."
The flag presentation was made by Major Thomas Nolta, Military Attaché to the U.S. Embassy in Ireland. Major Nolta, an aviator himself, spoke movingly of the courage of Fitzmaurice, his flight crew, and the influence of early aviators on today's pilots.
Teddy Fennelly, a County Laois expert on Col. Fitzmaurice, gave a presentation on the pilot's time in America and Canada.
The priceless 48-star flag, made before Hawaii and Alaska joined the states, had been acquired by Ross MacMahon, a relative of Col. Fitzmaurice, who, in turn, gifted the flag to the heritage center.
"I am delighted to formally add to the treasure trove of aviation artifacts already in Portlaoise by formally presenting this flag to Laois County Council," MacMahon said. He went to speak of Fitzmaurice's early influencers, some local men who built a plane in a garage in Portlaoise."One of the first planes to fly in Ireland was built by the Aldritt Brothers in their motor garage with the help of carpenter John Conroy and mechanic William Rogers. Young James made many visits to the garage and was inspired by the kindly disposition of those men towards him," MacMahon said.
The Irish American Partnership Names Decorated Golfer Leona Maguire as Ambassador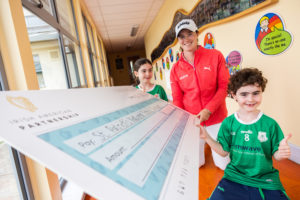 On August 14, 2022, The Irish American Partnership (IAP) announced  Leona Maguire as its new ambassador.
Maguire, 27, is a decorated golfer from Co. Cavan, who on February 5, 2022 made history as the first Irishwoman to win a LPGA title, when she finished three strokes up, at the Drive On Championship held at Crown Colony Golf and Country Club in Fort Myers, Florida.
The IAP is a nonprofit organization that connects Irish and Irish American communities by supporting education and community programs in Ireland and Northern Ireland, through the IAP's  O'Neill Direct Grants to Schools program.
The Partnership invests in "the people, culture, and ideas that build a peaceful and prosperous Ireland, one that preserves the Irish way of life we cherish while also creating a more inclusive and equitable society for all,"said the Partnership's CEO Mary Sugrue.
"Coming from a family of teachers, I appreciate the importance and value of education, and I'm delighted to play a part in giving back to schools. By investing in Ireland's future – its youth – the Partnership is ensuring that every child can have the resources they need to learn, and to grow," Maguire said in accepting the role of ambassador.
More than 65 schools in Ireland have received funding through the $250,000 in grants the Partnership offered in 2022 alone, and it has committed to providing another $1 million to schools over the next four years. 
Since its inception in 1986, the Partnership has donated over $50 million to support educational and cultural advancement programs and initiatives, such as nationwide university access scholarships, empathy education in secondary schools, education centers for homeless youth, STEM resources for primary schools, technology apprenticeships as a gateway to employment, and more recently, an Outdoor Play & Learning program, launched by Partnership patron and fellow professional golfer, Pádraig Harrington. 
Virtual Record Treasury of Ireland Launched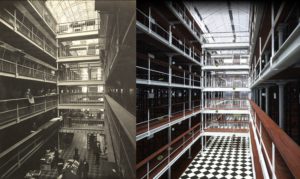 Over a century ago, The Record Treasury of the Public Record Office of Ireland was destroyed during the Civil War on June 30, 1922. Only 378 brown paper parcels survived the heat, fire, and debris. Nevertheless, staff and historians carefully preserved the remaining documents, scraps, and scorched files for the next hundred years.   
And then comes the digital age, and a plan to re-imagine and recreate, through digital technologies, the lost archives.
Beyond 2022 began as a project by Trinity College Dublin, in collaboration with the National Archives in Ireland and UK, the Public Record Office of Northern Ireland, and the Irish Manuscripts Commission, to create a digital archive, and they have succeeded grandly. 
Taoiseach Micheál Martin and Minister for Culture Catherine Martin introduced the newly launched Virtual Record Treasury of Ireland on June 28.
"It is an invaluable historical resource for people of all traditions across the island and for everyone of Irish heritage around the world. It is an immense achievement and testament to the commitment and dedication of the Beyond 2022 project team," the Taoiseach said at the launch. 
The 1922 fire destroyed over seven centuries of Irish history and records, with some information dating back to the Medieval and Norman era, starting circa 1169. 
The new digital record treasury comprises over 50 million words, carefully categorized by over 70 international partners, and spans seven centuries; over 6,000 maps; more than 150,000 database records; and 2.7 million knowledge graphs. 
Researchers and developers identified replacement and duplicate documents for key archives like the 1766 Religious Census of Ireland, where over 80 percent of lost documents were recovered; the Cromwellian Surveys of the 17th Century, which identified the Irish land ownerships during the Cromwell invasions; and the Medieval Exchequer, a database with information on Irish politics, economics, and society after English invasions. 
Killian Downing, the Europeana Members Councilor and Dublin City University archivist, said, "I'm really in awe of the painstaking work, dedication, and vision of the Beyond 2022 team and partners who have worked together to launch the Virtual Record Treasury of Ireland." 
"Digitally reconnecting archival sources is for me the epitome of digital transformation, and only made possible by the diligent work of archivists, librarians and conservators, who everyday preserve, catalog and digitize collections, making our shared history accessible for everyone," he added.
You can visit Virtual Record Treasury https://virtualtreasury.ie 
Irish Museum of Time Nominated for the Travel Writers Guild Award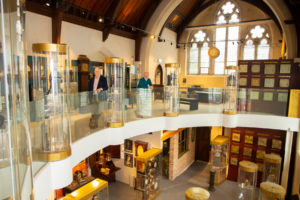 Home to the oldest Irish-made grandfather clocks and 16th-century timepieces, the Irish Museum of Time is up for the prestigious British Guild of Travel Writers International Tourism Awards for 2022.
The museum, also known as Ireland's National Horological Museum, is a redone gothic-style church on Greyfriars Street in Waterford City. The museum celebrates the "remarkable beauty and technological genius" of the craftsmen who created the near-ancient timepieces. 
The Guild of Travel Writers is one of the U.K.'s leading travel media organizations.
To win the Travel Writers Tourism award, the establishment must meet strict criteria and submit to an annual audit by Guild members. 
The Irish Museum of Time,  earned its nomination after a visit from award-winning travel writer and guild member, Isabel Conway, who called the horological exhibits "superb."
"Wander ancient Waterford's medieval laneways around its multi-award-winning Viking Triangle and you'll find The Irish Museum of Time that traces Ireland's long history of horology, all gathered in a Gothic Revival church that celebrates the skills of clock and timepiece makers, dating back to the sixteenth century,"Conway wrote.
Eamonn McEneaney, Director of Waterford Treasures, called the nomination a "huge honor."
The next step for the Irish Museum of Time nomination is a shortlist vote by guild members, hopefully moving the historic Irish museum to the finalist stage. 
The Guild of Travel Writers International Tourism awards will take place in November 2022 in London.
For further announcements or information, visit bgtw.org
Ireland's Wild Atlantic Way Named Best European Road Trip Site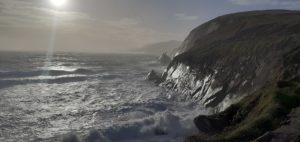 The Wild Atlantic Way, a 1,600-mile driving route along the western coast of Ireland, has been named the best European road trip tour. 
Researchers from Euro Car Parts took data from social media apps like Instagram and TikTok, where the route has been mentioned over 48,500,000 times. Combined with social media popularity and average trip lengths, Euro Car Parts compared The Wild Atlantic Way to other popular road trip excursions. 
"Having access to these stunning roads across the UK and Europe makes the prospect of traveling around in your car all the more exciting. With so much choice, we hope our research makes it a little easier for people to choose their next destination," said Helen Robinson, the Corporate Communications Director of Euro Car Parts. 
The Wild Atlantic Way starts in the Inishowen Peninsula in the northernmost corner of Co. Donegal. It covers 15 Signature Discovery Points along the way, as highlighted by the Wild Atlantic Way online guide. 
Some iconic views include the Malin and Fanad Head in Donegal, Downpatrick Head in Mayo, the Cliffs of Moher in Clare, Skellig's View, and Valentia Island in Kerry. The route ends with a spectacular view of the Atlantic Ocean from Old Head of Kinsale in southern Cork. 
Euro Car Parts suggests planning 2-3 weeks for the coastal road trip. 
In April of this year, the Wild Atlantic Way was named one of Europe's most 'Instagramable' road trips, with over 1,373,838 hashtags. It was ranked the fourth most popularly Instagrammed road trip in the world, based on a study conducted by car insurance company Uswitch. 
The Causeway Coast in Northern Ireland ranked fifth in the Best European Road Trip Tour for its landmarks like the Giant's Causeway and Dark Hedges road, popularized by the Game of Thrones series.
Helping Children to 'act up' After Covid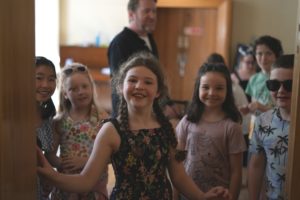 One of the worst impacts of the Covid-19 pandemic was the inability to socialize in person. Without in-person schooling, children lost a critical period of social development, and many adults expressed a loss of faith in their charisma and presence outside of Zoom or video chats.  
Since 1871, The Gaiety Theatre has given the people of Dublin opera, musicals, drama, revues, comedy, concerts, dance, festivals and now it's helping people return to normal after the pandemic.
The famous theater's acting school was recently awarded a Covid Crisis Response Education Award for navigating a new stage through Covid-19.
This award  recognizes and rewards the most effective and outstanding initiatives created/developed within an Irish-based third level institution.
According to exit surveys and feedback forms taken by the Gaiety School, over 70 percent of parents reported their child's confidence had significantly improved after taking one of their performance classes.
Many detailed how they had seen a very noticeable difference in their social skills, perception of themselves and confidence speaking in group settings, the school noted.
Adults who attended part-time courses also gave the classes a thumbs up. They reported that their confidence had been greatly enhanced and that the experience had even improved their social lives.  
Check out your local acting studios to find classes that fit your child's age and interest. 
For information on the Gaiety School of Acting visit: www.gaietyschool.com.
Judy Collins Rocks Tanglewood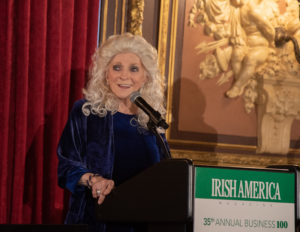 Most performers' singing voices begin to dull and grow flat as they age, but not Judy Collins. She sang her biggest hits, including Joni Mitchell's "Both Sides Now," at the Tanglewood music venue recently, and her performance was met with high praise.
"If Joni Mitchell's song 'Both Sides Now' had a destiny, that destiny was fulfilled Saturday, September 3 at Tanglewood. But, of course, that means it is fulfilled every time Judy Collins performs it."
"Joni Mitchell owns the copyright. Judy Collins owns the song, and she proved it Saturday night at the very start of her set," David Noel Edwards wrote in The Berkshire Edge. 
The "Send in the Clowns" singer performed alongside rock and roll guitar icon Richard Thompson, co-founder of The British Buffalo Springfield.
Thompson, one of the best guitarists in rock and roll history, harmonized with Collins' vocals with his meticulous and precise guitar-playing skills. 
At the Tanglewood theater, video screens magnified the performances – allowing fans and attendees the perfect view of Thompson's guitar-picking skills that mimicked traditional Irish music.
He first gained notoriety as the lead guitarist and songwriter for Fairport Convention, a folk-rock group that he co-founded in 1967.
The return of Collins and Thompson to the Tanglewood music center is highly anticipated. To plan for their next performance, visit bso.org/tanglewood.
Judy continues to perform nationally and internationally, and has a fully-packed tour schedule.  If you find yourself in Ireland in the New Year, check out her concert at St. Patrick's Cathedral in Dublin on January 26. 
For information on Judy's tour see www.judycollins.com  
Boston Priest Wins 'Great Immigrants' Award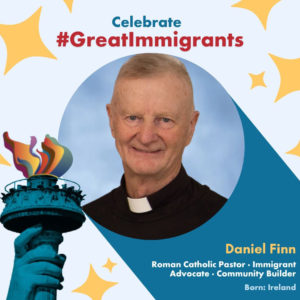 Congrats to Father Dan Finn, recipient of the "2022 Great Immigrants Award" from Carnegie Corporation of New York.  The prestigious award is bestowed on Independence Day each year, to celebrate the exemplary contributions of immigrants to American life. 
"Father Dan was one of 34 naturalized citizens whose contributions and actions have enriched and strengthened our society and our democracy," according to Carnegie Corporation.
A native of County Cork, Finn moved with his family to Massachusetts as a teenager and became a U.S. citizen in 1973.  He co-founded the Irish Pastoral Center of Boston in 1987, when young Irish were emigrating due to a faltering U.S. economy.
Father Finn called the center the first of its kind to be established in the United States.  "In the past 35 years, we have seen our mission expand in many ways, primarily serving the Irish and Irish American communities.  As a grassroots, multi service organization, we continue to provide a comprehensive range of services, programs and supports to immigrants, which are needed as much now as ever,"he said.
In 2015, U.S. Citizenship and Immigration Services honored Finn with an "Outstanding Americans by Choice Award." – By Michael Quinlin.
The Irish Pastoral Center of Boston is located at 540 Gallivan Blvd, Dorchester, MA 02124.
Caroline Kennedy Begins Service as U.S. Ambassador to Australia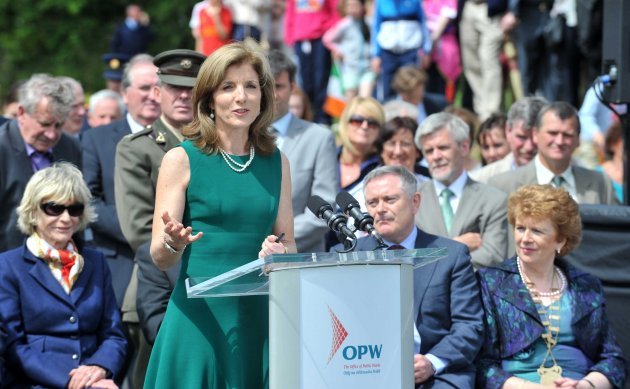 Caroline Kennedy formally took up her position as U.S. Ambassador to Australia on July 25, 2022.
After being appointed by President Biden in December 2021, confirmed by the U.S. Senate in May, and a formal presentation of her diplomatic credentials to Australian Governor General David Hurley, she officially assumed the ambassador role after 18 months of vacancy.
From 2013 to 2017, she served as U.S. Ambassador to Japan under the Obama administration.
The daughter of late president John F. Kennedy and Jacqueline Kennedy, the longtime diplomat said she was "excited" to begin her service.
"There is so much excitement in D.C. about this relationship and this partnership, not only the bilateral relationship but the regional work together and really our work as global partners, "she said on her arrival in Sydney.
On August 5, she traveled to the Solomon Islands, in the southwestern Pacific Ocean, to commemorate the 80th anniversary of the Battle of Guadalcanal.
The Battle of Guadalcanal was a World War II military campaign against Japanese troops in the Pacific Ocean, where her father was a patrol boat captain.
"For me personally, it has great significance, since my father served in the Pacific and was rescued by two Solomon Islanders and an Australian coast watcher," Kennedy said.
When asked about the future of Aukus partnership, a security pact between Australia, the United Kingdom, and the United States, Kennedy told reporters that new developments would be coming "in weeks."
The partnership's current goal is to acquire nuclear-powered submarines for Australia.
"The United States and Australia are the closest of allies, and we are global partners working toward peace and stability, health, security and economic prosperity in this region and beyond," Kennedy said.
Michael Collins Remembered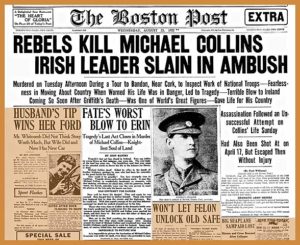 A chapter in Irish history came to an end when the leaders of Fianna Fáil and Fine Gael, deadly opponents when first created by the Irish Civil War, spoke at the 100th anniversary of Michael Collins' death.
Thousands of people gathered at the site of the ambush in Béal na mBláth (which translates as Mouth of the Flowers) County Cork on August 22, 2022, to mark the 100th anniversary of Collins' assassination. 
Collins, the Commander in Chief of the then newly created Irish Army and Chairman of the Provisional Government, was shot dead by an unidentified assassin in an ambush at the start of the Irish Civil War in 1922. 
In a historic move, both Fianna Fáil leader and Taoiseach Micheál Martin, and Fine Gael leader Tánaiste Leo Varadkar each gave a speech at the centenary commemoration. This address was the first time a Fianna Fáil leader acknowledged the anniversary of the pro-Treaty General's death.
Addressing the 5,000-strong crowd, Martin described Collins as one of the great heroes of Irish history, a man who played an irreplaceable role in securing Irish freedom.   
 "He was a dynamic leader who could both inspire people and, in the middle of a bloody conflict, build a new administration from nothing. He is a key reason why we have been able to build a country which while it still faces major challenges, has been transformed for the better. For this, today, as much as ever before, he deserves our gratitude and deserves to be remembered as one of the greatest Irish men who ever lived," Martin said.
Tánaiste Leo Varadkar also addressed the crowd, and described Collins as a "prophet of freedom," adding that he was both a "realist and an idealist." Varadkar also said Collins's life was a "profile in courage."  
 "He had the courage to take on an Empire, forcing it to the negotiating table. He then risked his reputation and his life by working to secure a peace settlement persuading the majority of people to support it," he said.
Eleanor Moore, a great-grandniece of Michael Collins, also addressed the commemoration, thanking everyone for attending and stating that the weekend had been "amazing for the family."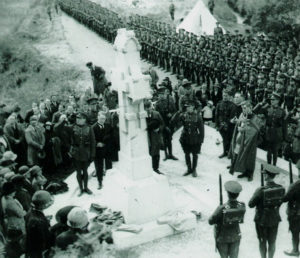 Martin and Varadkar then laid wreaths at a memorial dedicated to Collins, which was followed by a moment's silence and a performance of the Piper's Lament and the Last Post. 
The ceremony concluded with a powerful and emotional performance of Amhrán na bhFiann, the Irish national anthem, which received a rousing round of applause. 
The commemoration at Béal na mBláth was just one of dozens of events to celebrate the life and achievements of Collins in Co. Cork. There was a commemoration parade in the town of Faxbridge, through Pearse St. and finishing at Emmet Square, where the Cork GAA Club laid a wreath. Following the parade and wreath-bearing, the Clonakilty Brass Band performed at Emmet Square and the Barrack Street Band in Asna Square, and the Comhaltas Ceoltóirí on Pearse St. 
A short film about Collins, filmed and directed by the schoolchildren and staff at Lisavaird National School, where Collins studied as a child, opened on August 16.
Called Tales From Home, the 11-minute film is a reenactment of local stories from Collin's childhood which focuses on the "innocent side of things," said Lisavaird Principal Kieran O'Donovan, adding, "he was a boy from Lisavaird before he was the Big Fella,"
"The teaching of history in terms of the War of Independence can be fragile, especially when you talk about the Civil War," O'Donovan continued.
Tickets for the Tales From Home sold out in both premiere locations, one at The Park Cinema in Clonakilty, where Cork County mayor Danny Collins attended the show. 
At the Michael Collins House Museum in the town of Clonakilty, the grandniece of Collins loaned his diaries to be put on display for the very first time in a sealed glass case, free and opened to the public. 
His five diaries covered the critical period of 1918 to 1922 when tensions in the newly freed state continued to rise. The diaries were obtained by General Collins' older brother, Johnny. He passed them down to his son, Liam, who gave the diaries to his daughter, Helen.  
"Our granduncle Michael Collins lived an extraordinary life. The diaries will give the public a much greater understanding of this exceptional and courageous man," Helen Collins said.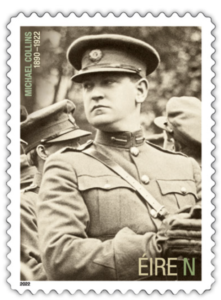 Dr. Anne Dolan told RTÉ News that "I think you're seeing sides to him that complicates him. He's a much fuller figure than, I think, we would have expected."
RTÉ News broadcast the Béal na mBláth commemoration live on its news channel. Additionally, RTÉ had multiple shows, documentaries, and series dedicated to the life and history of Michael Collins and his colleagues throughout August.
An Post released a stamp in Collin's honor on Thursday, August 18. The design by Ger Gerland, features a sepia-toned photo of Collins in an Irish military uniform taken by C & L Walsh. A commemorative First Day Cover envelope was also released, with a black and white photo of Collins. In a mark of his Cork background, the traditional Corcaigh is sprawled across the cancellation mark in a similar font to the Béal na mBláth monument.