Irish Man Rows from New York City to Galway in World Record-Breaking Feat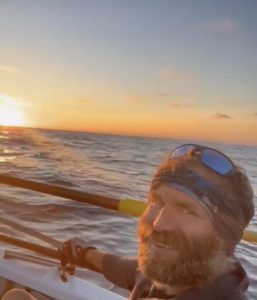 Starting at Chelsea Piers on the West side of the Island of Manhattan, former pro-rugby player Damian Browne rowed across the Atlantic Ocean to Trá na bhForbacha, or Furbo Beach, in Galway, Ireland.
Browne, 42, who played rugby for Connacht and Leinster, left with a rowing partner, Fergus Farrell, on June 14.
But just two weeks into the trip, Farrell withdrew due to health concerns, leaving just Browne in his 20-foot craft named Cushlamachree in the tumultuous waters of the Atlantic. 
The historic one-man journey was a 112-day total that stretched over 3,400 miles. His average speed was approximately 1.4 miles per hour. 
Browne arrived at Furbo Beach due to unrelenting weather conditions at the Port of Galway on Tuesday, October 4, when one of his oars had snapped in half, and his boat flipped over in 35-knot winds that slammed him against the rocks along the Galway coast. As his boat crashed against the shore, he then contacted the Irish Coast Guard, who assisted him to Furbo Beach. And to highlight his fierce courage, it is reported that Browne cannot swim.
Once back on land, Browne received a warm and lively welcome from his wife, Rozelle, and daughter Elodie, Farrell, supporters, and friends and declared the journey a major success.
"Now, I just feel absolute relief because Damo's got home because I'd left him alone out in that ocean, so I'm relieved that he's here," Farrell told reporters. Farrell became sick on board and had to receive medical attention due to severe exhaustion, exacerbated by a recent spinal injury and collapsed lung. 
The cross-ocean journey, called Project Empower, is part of a fundraising campaign for four charitable organizations: The National Rehabilitation Hospital Foundation, The Galway Simon Community, Madra, and Ability West.
Browne documented his expedition on social media, saying in an Instagram post that he was "fighting mother nature every step of the way." 
"Constantly hit with adverse currents, so it was incredibly stressful because you would work so hard and put so much into getting one mile or two miles, and then you could come off the oars for 15 minutes, and you could have half of that mile wiped out, and you'd have to put the head down again to regain it," Browne told the Irish Independent. 
In 2018, Browne rowed from San Sebastian, Spain to Antigua, an island in the heart of the Caribbean. He also climbed Mount Everest. 
Co. Meath Man Killed Fighting in Ukraine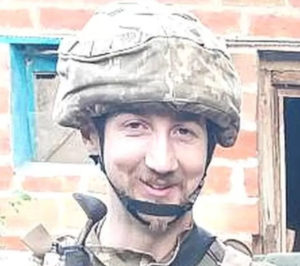 Rory Mason, 23 of Dunboyne, Co. Meath, joined the International Legion for the Defense of Ukraine as part of the Ukrainian Armed Forces in March 2022, shortly after the Russian invasion of Ukraine.
On Wednesday, October 5, the Mason family confirmed he was "killed in action" on Wednesday, September 28, while fighting in the Kharkiv region of Ukraine near the Russian border.
The Legion for the Defense of Ukraine said that the unit came under attack while conducting operations.
A spokesperson for the family said: "Given Mr. Mason was killed on the front line of an active war zone, information on what occurred is limited and the family's priority at this point is to repatriate Rory's remains."
Mason's father said he enlisted to fight for Ukraine because he had a "deep sense of right and wrong and an inability to turn the other way in the face of injustice."
A statement from his family said that while they are "deeply saddened at his death, we are enormously proud of his courage and determination and his selflessness in immediately enlisting to support Ukraine."
"Those who fought alongside Rory speak of a truly brave and courageous man who could have left at any time but chose not to. In the words of a colleague who served with him, 'Rory was a man who from a glance could seem shy however when it came to actions and character, he proved, again and again, he was a man of fortitude, principal, and honor,'" his father, Rob, added.
Mason had attended the Dunboyne National School and St. Peter's College in Dunboyne.
"The entire St Peter's College community, students, past pupils, teachers and the Board of Management offer their condolences and deepest sympathies to Rory's family at this very difficult time."
A Ukrainian MP said that its citizens will forever thank Rory Mason and his family for all their efforts to help their country "in their great need."
He is survived by his parents, Rob and Elizabeth, and his younger brother, 22, and sister, 21.
Adare Manor Voted World's Best Resort
Adare Manor is a sprawling, picturesque estate just outside the heart of Co. Limerick. And it was named the World's Best Resort by the renowned publication Condé Nast Traveller in the 2022 Readers' Choice Awards.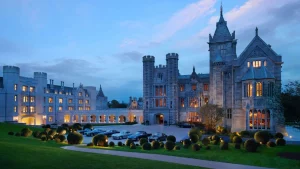 Condé Nast describes Adare Manor as a "thoroughly modern reinvention of a country escape," adding the "new wing blends seamlessly."
Over 240,000 Condé Nast Traveller readers submitted their votes and experiences of the world's top hotels, resorts, cities, spas, islands, airports, and more.
The five-star Irish resort beat the Four Seasons Resort and Atlantis, The Palm in Dubai, The Uxua Casa Hotel in Brazil, and two luxe vacation resorts in Bali. 
"While retaining an old-school, aristocratic vibe, Adare's fanciful gargoyles, genuinely warm staff, grand and intimate spaces, and super-comfortable rooms make it somewhere uniquely and unabashedly the Ireland of now," the review reads.
Some of the amenities that Adare Manor offers are a spa, a gym, an indoor pool tucked in the woodlands of the estate with glass windows that offer views into the Limerick landscape, a golf course, a full bar, and a Michelin-starred restaurant, the Oak Room.
The top-tier rooms, like the Signature Suites, are staffed with butlers and decorated with Georgian-era writing desks, 19-century oil paintings, and meticulously carved wood paneling. The Classic and Deluxe rooms are furnished "to perfection in 19th-century style," according to their website. The Classic rooms overlook the River Maigue, the golf course, and the woodlands. 
"It is an absolute honor to be recognized as the number one Resort in the World by such a prestigious international media brand," Adare Manor's General Manager Brendan O'Connor said about the award.
"We're very lucky to have such an incredibly historic and beautiful estate that provides a magical backdrop for every guest to create lasting memories, but furthermore, this award is a testament to all our team across every department that make the Adare Manor experience truly special."
The resort will host the Ryder Cup in 2027, with rooms starting at €950 per night in November.
Irish Dance 'Feis' Fixing Scandal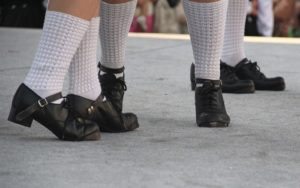 An Coimisiún Le Rincí Gaelacha (CLRG), the Irish Dancing Commission, announced an investigation into accusations of results fixing in Irish dancing competitions by prominent dance school teachers. The CLRG appointed a former judge to investigate the claims.
The commission said that the ethics committee received complaints with documented evidence back in July. The complaints and evidence allege that several Irish dancing teachers offered various "inducements to promote dancers to a higher than deserved placing at particular competitions," the BBC NI reported.
The claims also allege that at least 12 teachers in Ireland and other countries schemed to rig high scores for certain dancers in the CLRG's international competitions, like the All-Ireland Irish Dancing Championships, Oireachtas Rince na Cruinne (World Irish Dancing Championships), and other local and provincial championships in Ireland. 
In a statement, the CLRG said: "Such unethical behavior cannot and will not be tolerated by this organization."
"The process will no doubt be difficult and arduous, but this grossly unethical behavior must be eliminated from our competitions, dance schools and governing organizations."
The Irish Independent investigated some of the claims and said that in one case, a teacher and a competition judge appeared to be exchanging sexual favors for higher scores.
The CLRG added that no further comments will be made until the investigation is completed and that any registered member that is found to have engaged in such behavior will be subject to due and full process as outlined in their disciplinary procedures.
Catherine Martin, the Irish Minister for the Arts, said she would write to the CLRG to ensure that the integrity and confidence in Irish dancing competitions can be restored.
The 2022 African American Irish Diaspora Network Leadership Awards Gala
On Thursday, September 29, a milestone event took place at the African American Irish Diaspora Network Leadership Awards Gala.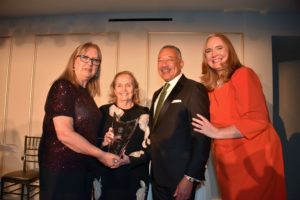 The African American Irish Diaspora Network's organizational goal is to foster the relations between African Americans and Ireland based on shared heritage and culture.
This year's event was co-chaired by Dr. Miriam Nyhan Grey and Keith Wright and honored four leaders with global reputations in social justice, scholarly excellence, business leadership, and advocacy.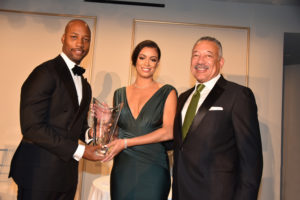 Among those who were honored were: President Mary McAleese, the former President of Ireland and Chancellor of Trinity College Dublin, who received the Frederick Douglass-Daniel O'Connell Social Justice Award; Henry Lewis "Skip" Gates Jnr., Harvard University Professor and Executive Producer of "Finding Your Roots" who was awarded the AAIDN Inspiration and Vision Award; John Samuelsen, International President of the Transportation Workers Union, who received the John Lewis-John Hume Leadership Award; and Fionnghuala "Fig" O'Reilly, 2019 Miss Universe Ireland, NASA Datanaut and Executive Director of the NASA Space Apps Challenge, who was awarded the AAIDN Heritage and Diaspora Spirit Award.
Keynote speaker President McAleese presented the address entitled 'Widening the Lens of History: A New Future from a Recast Past.'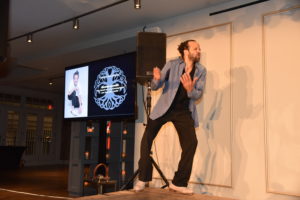 "We do not revise history for the sake of it but forge new collaborations to tell it anew for the sake of truth, inclusion, equality in our time- to right the record, to right the old catalogue of wrongs, to repair where we can and take responsibility where we must. Above all to learn. And above all to heal. For there is much to heal," McAleese said. 
Proceeds from the event support scholarship opportunities for students in Ireland and at Historically Black Colleges and Universities, known as HBCUs, activities that amplify the "artistic and cultural dynamism of the African American and Irish artists" and support the Black, Brown, and Green Voices program that started at New York University.
Bono Announces 14-City Book Tour for His New Memoir, Surrender: 40 Songs, One Story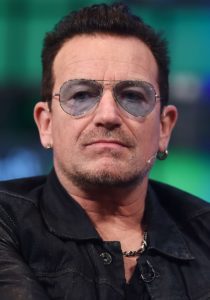 U2 frontman Bono announced the dates and cities for his upcoming book tour for his new memoir, Surrender: 40 Songs, One Story. The book tour, named 'Stories of Surrender', is a limited run of theater dates produced by Live Nation and supported by Penguin Random House.
The iconic Dublin-born artist will appear in North America and Europe starting November 2 at the Beacon Theatre in New York City. He will make a stop in Dublin before ending the tour in Madrid on November 28.
Bono's 40-chapter memoir, each named after a U2 song, covers the story of his awe-inspiring life, the challenges he's faced, and the family and friends that supported him.
"I miss being on stage and the closeness of U2's audience," Bono said about the tour.
"In these shows I've got some stories to sing, and some songs to tell… Plus, I want to have some fun presenting my ME-moir, SURRENDER, which is really more of a WE-moir if I think of all the people who helped me get from there to here."
Bono also created 40 original drawings that will be featured throughout the book.
Tickets go on sale starting Friday, October 7 at 10 am EST. Each ticket for the tour comes with a copy of SURRENDER, which is released on November 1.
The cities and dates for are as follows:
| | |
| --- | --- |
| Wed, Nov 2 | New York, NY – Beacon Theatre |
| Fri, Nov 4 | Boston, MA – Orpheum Theatre presented by Citizens |
| Sun, Nov 6 | Toronto, ON – Meridian Hall |
| Tue, Nov 8 | Chicago, IL – The Chicago Theatre |
| Wed, Nov 9 | Nashville, TV – Ryman Auditorium |
| Sat, Nov 12 | San Francisco, CA – The Orpheum Theatre |
| Sun, Nov 13 | Los Angeles, CA – The Orpheum Theatre |
| Wed, Nov 16 | London, UK – The London Palladium |
| Thu, Nov 17 | Glasgow, UK – SEC Armadillo |
| Sat, Nov 19 | Manchester, UK – O2 Apollo Manchester |
| Mon, Nov 21 | Dublin, IE – 3Olympia Theatre |
| Wed, Nov 23 | Berlin, DE – Admiralspalast |
| Mon, Nov 28 | Madrid, ES – Teatro Coliseu |