Emmy nominee and Golden Globe-winning actor Gabriel Byrne has returned to Broadway with his autobiographical solo show, Walking With Ghosts, based on his memoir of the same name, and an earlier work called Pictures in My Head, which offers fascinating glimpses into his public and private life.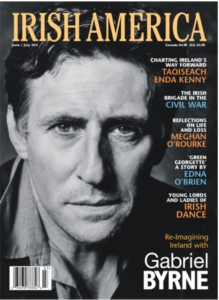 Bryne, who adorned the cover of Irish America in July 2011 is not just a brilliant actor but also film director, film producer, screenwriter, audiobook narrator, and author. Byrne has won multiple awards including a Golden Globe for Best Performance by an Actor in a Television Series category (2008) for his role in In Treatment and Best Actor in a Leading Role (2021) for his performance in the film Death of a Ladies' Man as well as a Lifetime Achievement Award from the Irish Film and Television Awards.
Walking with Ghosts first premiered in Dublin, then at the Edinburgh Fringe Festival, London's West End, and now on Broadway – where it has been welcomed with rave reviews from critics and fans.
"Alone on a nearly bare stage, Byrne is literally framed by designer Sinéad McKenna's triple picture frames and dimly reflected on a cloudy mirrored backdrop. For nearly two hours (plus interval), Byrne proves himself to be a virtuoso but subtle storyteller, mixing humor and pathos, joy and sorrow in a mesmerizing journey through the highs and lows of his early life" writes Mark Ludmon in Britishtheatre.com.
Catch a performance of Walking With Ghosts at the Music Box Theatre until December 29, 2022.