The Irish Government and New York Attorney General's Office have stepped in to stop the sale of the American Irish Historical Society's landmark townhouse headquarters on Fifth Avenue.
According to New York Attorney General Letitia James, an interim board and executive director will work with members of the American Irish community, supported by Helena Nolan, Consulate General of Ireland, to revive the Historical Society as a cultural center and select a new board within six months. Additionally, the Government of Ireland has set aside up to 300,000 to help fund utility and service costs for the building.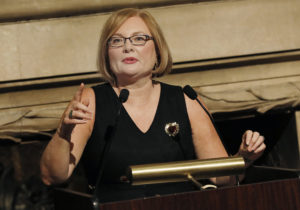 The AIHS was founded in 1897, to honor the Irish and Irish-American contributions to nation-building throughout history. The Fifth Avenue townhouse was purchased in 1940 and has served as the organization's headquarters and primary asset.
In recent years, the American Irish Historical Society (AIHS) has fallen into financial hardship and the mansion was listed for sale in order to settle financial obligations.
"Irish Americans have contributed so much to New York's past and present," said Attorney General James. "For decades, the American Irish Historical Society has been a home for the Irish American community to celebrate and honor their culture and traditions,"  adding that an interim leadership team and interim board of directors, will bring critical oversight to help restore this important organization and ensure it thrives for generations to come.
John Keefe, an expert in non-profit management solutions, has been named as interim executive director. He spoke to the New York Times about the society's potential, saying "[a lot more] can be done with this organization than has been done in the recent past."
Consul General Helena Nolan expressed her gratitude to Attorney General James and her team for their support in finding a solution, saying "we are very pleased to see a plan in place to revitalize the Society and preserve the organization's headquarters in New York City."
Working alongside Keefe is Elizabeth Stack, Executive Director of the Irish American Heritage Museum in Albany, New York, and former Associate Director of the Fordham University Center for Irish Studies; John MacIntosh, Managing Partner at SeaChange Capital Partners, an organization that helps nonprofits work through complex challenges; and Gregory P. Pressman, Of Counsel at Schulte Roth and Zabel.
U.S. Rep Brian Higgins, a member of the Congressional Friends of Ireland Caucus, issued a statement saying: "Thanks go out to Attorney General Letitia James and her team for their commitment to maintaining the American Irish Historical Society, an effort that will help preserve these stories and continue to carry Irish cultural contributions forward."