The Irish Roots of Yellowstone
One of the surprise hits of TV's streaming era is the Kevin Costner neo-Western Yellowstone. Now, fans of the show will be getting a look at the Dutton clan's origin story –which features an Irish immigrant in a central role.
The new Paramount TV adventure series, entitled 1923, stars show biz legends Harrison Ford and Helen Mirren, the latter of whom decided to play her western U.S. settler as an Irish immigrant.
"The big Irish immigration to America, because of the potato famine, was in the late 19th century," Mirren said recently, in the run-up to the show's late December premiere.
"That absolutely chronologically works for (my character). She's now in her late 60s, we imagine. So she would've come, I think, as a young woman from Ireland."
Mirren added that it has "slightly annoyed" her over the years that so many U.S. Westerns "have all these people speaking with modern American accents when in fact, so many of them were fairly recent immigrants."
Though quintessentially British, Mirren herself has a long history with Irish characters. She starred in the 1984 film Cal, based on a Bernard McLaverty story, as well as the 1996 film Some Mother's Son about the Northern Ireland hunger strikes.
Mirren even reportedly lived with a young aspiring actor named Liam Neeson when both were working hard to make it big in the industry.
Mirren added: "I think that's one of the extraordinary elements of America. The people who arrived, and are still arriving, are people with enormous resilience and enormous courage and independence."
In 1923, Mirren and Ford go back in time 100 years before the events of Yellowstone took place.
Irish American Brian Geraghty (Boardwalk Empire, The Alienist) also stars alongside Jerome Flynn, Darren Mann, and Michelle Randolph.
Neeson, Gleeson, Meaney, Condon and Hinds
The much-anticipated Irish thriller In the Land of Saints and Sinners seems to feature roughly half of the Irish film industry – Liam Neeson, Colm Meaney, Kerry Condon, Jack Gleeson, Ciaran Hinds, and so on.
With all of these big names, however, producers have still not yet settled on a precise release date beyond sometime in early 2023.
So, you'll see the film's talent popping up in other projects. Liam Neeson recently teamed up with fellow Irishman and director Neil Jordan (Michael Collins, The Crying Game) for the detective noir mystery movie Marlowe, based on a book by Irish novelist John Banville.
Neeson will also be seen in the upcoming thriller Retribution.
Ciaran Hinds, meanwhile, will appear in the British-Japanese drama Cottontail alongside his daughter, Aoife.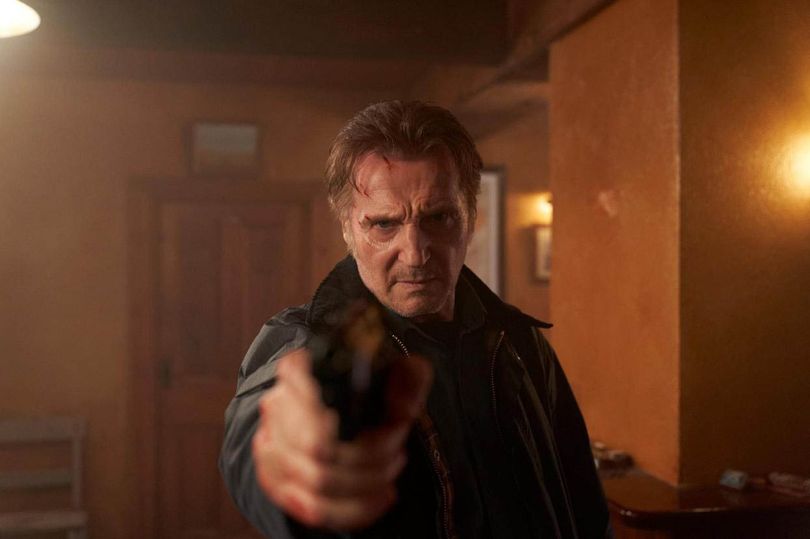 "The Dry is Anything But"
Hinds also stars in the Irish drama-comedy TV show The Dry on the Sundance Now network.
The Dry is slowly but surely gathering accolades from all the right critics.
The New York Times recently highlighted the show in its feature aimed at TV addicts looking for something new to binge over the course of a weekend.
"This eight-episode Irish dramedy feels a lot like This Way Up, Back to Life and even One Mississippi — shows where returning home during a time of crisis becomes its own crisis, shows where the secrets are sad, but the characters are funny," the Times noted.
The Dry stars Roisin Gallagher as Shiv Sheridan, newly sober and back in Dublin for her grandmother's funeral. This sets off many of the triggers that fueled Shiv's alcoholism in the first place.
Siobhan Cullen and Moe Dunford also star in The Dry alongside Hinds and Gallagher.
"If you like shows with meaty relationships, high-strung sisters, dirtbag exes and a juicy mean streak tempered by a thoughtful understanding of human frailty, watch this," the Times added.
The Wonder-ful
One of the more interesting Irish projects on Netflix right now ­– based on a fascinating Emma Donoghue novel ­– is The Wonder, starring Florence Pugh and Niamh Algar.
Oh, and also Ciaran Hinds.
Set in post-Famine Ireland, The Wonder is about an English nurse who heads off to Ireland to tend to a young girl who refuses to eat, becoming a source of fascination to many of the Irish Catholic locals.
All sorts of tension ­– political, cultural, personal – simmer underneath the surface in The Wonder, which was written by Donoghue, who was nominated for an Oscar after adapting her best-selling novel Room for the big screen.
If all that's not enough Ciaran Hinds for you, you have to wait for the forthcoming Showtime series Three Women, based on Lisa Taddeo's celebrated non-fiction study of the romantic lives of the titular characters.
Niamh Algar, meanwhile, is currently shooting an ITV medical thriller called Malpractice, playing an overwhelmed doctor in a British hospital.
A Mystery in Cork
Looking down the road, Netflix is putting an Irish spin on the true-crime podcasting trend. In the forthcoming series On Record (formerly known as Bodkin), an Irish American podcast host sets out to solve a crime in his family's homeland.
Three people have up and vanished from an Irish coastal village, but once the podcast investigation team begins to look into the crime, they discover that the real mysteries seem to lie in the private lives of various colorful locals.
Will Forte stars as the Irish American from Chicago with roots in Cork. On Record will also star The Dry's Siobhan Cullen as a non-nonsense investigative journalist.
On Record – which is being produced by Barack and Michelle Obama's High Ground company – will also feature Robyn Cara, David Wilmot, and Chris Walley.
Emma in 'Emily'
The literary Bronte sisters – Emily, Anne, and Charlotte – conjure up images of windswept landscapes and Gothic Castles from the British countryside.
Then there's that famously fancy name, with its umlauts and air of (let's say) French finery.
But it's fitting that, in the forthcoming movie Emily, the Bronte family father is played by Irish actor Adrian Dunbar.
That's because Patrick Bronte was actually born into a large family from Drumballyroney, in Country Down. Patrick had an Anglican father, a Catholic mother, and many siblings, all named – without any umlauts at all – Brunty.
Dunbar himself is also from Northern Ireland – Enniskillen, Fermanagh – and is perhaps best known for his longtime role in the BBC police procedural Lien of Duty.
Emily ­– written and directed by Australian-Irish actress Frances O'Connor ­– stars Emma Mackey in the title role and is slated to be released early in 2023.
Colin Farrell Can't Get Enough
Fresh off the Banshees of Inisherin, Colin Farrell is giving the detective genre another go.
Farrell starred in Season Two of HBO's popular True Detective series. The show's first season starring Matthew McConaughey and Woody Harrelson, was a surprise hit in 2014, and so audiences looked to its second season the following year with high hopes.
Reviews, however, were mixed, as the storyline followed Farrell and co-star Rachel McAdams through the seedy side of life in California, where Vince Vaughn loomed menacingly.
Farrell also played a hard-boiled lawman in Miami Vice alongside Jamie Foxx.
Now, Farrell is reportedly developing a new detective show for Apple+, entitled Sugar, also starring Irish American Amy Ryan, as well as Anna Gunn and James Cromwell.
Details are scarce right now, though one online report describes Sugar as a "genre-bending contemporary take on the private detective story set in Los Angeles."
From 'Bad Sister' to Desperate Mother
Sharon Horgan's next project seems decidedly uncomedic.
The writing and acting star who grew up in Meath – and has made a name for herself writing and starring in comic-tinged shows like Bad Sisters – will soon be shooting a BBC drama alongside Michael Sheen.
Entitled Best Interests, the show will follow a married couple whose daughter (Niamh Moriarty) is diagnosed with a medical condition so serious it may not be treatable. The family then has to decide how – or even if – to take extreme measures to treat their daughter.