"The stories of past courage can define that ingredient – they can teach, they can offer hope, they can provide inspiration." – John F. Kennedy
This magazine was created to bring you the stories of our people. As is often the case, the best stories are those in which individuals triumph over circumstance.
The Good Friday Agreement, a major development in the Northern Ireland peace process in the 1990s, was a milestone that many doubted would ever come to pass. But against the odds, the multi-party agreement was signed on April 10, 1998, and now, throughout Easter week, in the U.S. and in Ireland, and in many corners of the world, where the Irish have settled, the 25th anniversary of that Agreement is being celebrated.
We have several stories in this issue that explore the journey to the signing of that historic document and the common thread that moves through them all, is the deep and lasting relationship between America and Ireland, and the level of caring that Irish Americans have for that soul place that after all these years in America, I still call home.
With the North in mind, I had a look through our archives at stories that we did over the years. I read our 1986 interview with Cardinal O'Connor in which he talked about visiting the North and feeling "the injustice in the air."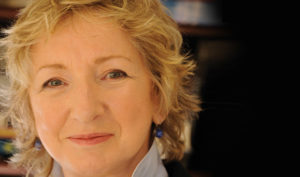 In Irish America's premier issue, October 1985, we ran a story on the MacBride Principles, a set of fair hiring practices set out for American companies doing business in Northern Ireland. The seed of that 'equal rights' goal was planted in NYC Comptroller Harrison Goldin's office, and nurtured along by Pat Doherty, it spread across the country. When President Clinton finally signed it into law in 1999, it provided a tremendous boost to the peace process.
John Dearie planted perhaps the most important seed of all when in 1992, he invited then-candidate Clinton to meet with Irish Americans to discuss his policy on Ireland. Those of us at that event witnessed Clinton's charisma and his genuine joy at being in a room full of Irish people. You felt that he was genuine in his commitment to doing what he could about the situation in the North.
In our cover story on Sean Granahan, we find a man also genuinely committed to helping others – by bringing healthcare to those in need, "regardless of identity, status or ability to pay."
We see that same Irish dedication and empathy in many of our Business 100 honorees. Mary Ann Pierce is taking a group of young women entrepreneurs under her wing with her AwakenHub organization.
Kevin Conway, as grand marshal of the St. Patrick's Day Parade in New York, used his time in the spotlight to help raise over a million dollars to feed the hungry, the homeless, and the aged in New York City.
Another of our honorees, Sean Downes, with his brother Larry, formed Friends of Sinn Féin to help move the peace process along following Gerry Adams's first visit to the U.S. in 1994.
More recently, Adams joined President Clinton at an event in New York to celebrate the Good Friday anniversary. It was a night of meeting old friends, and genuine goodwill towards all, and as usual, Clinton really connected with the crowd. He was genuine in his praise of those who committed themselves to the peace process. And in looking towards the future, he said himself that he was working on developing the discipline of gratitude.
"Everybody has self-inflicted wounds and also unfair wounds inflicted on them. You still have to get up tomorrow and decide what you're going to do. Every day you give into wallowing in the past is another day lost in a life that passes quickly, even if you live to be a hundred."
Mortás Cine